Overview
Have there been any IKEA toy recalls in 2023?
Yes. On April 06, 2023, IKEA recalled BLAVINGAD fishing games due to possible choking risks from a small rivet that can detach from a wooden play piece. (1)(2)
According to the New York State Department of Health, choking is the fourth leading cause of accidental death in children younger than five years old. (3)
With toys, food, and various household items potentially becoming a choking risk, it's very important to childproof your home and monitor all recalls (not just recalled toys).
Read on for more information on IKEA toy recalls and what to do if you have any of these products.
IKEA Toy Recall 2023
Recall Details
On April 06, 2023, IKEA recalled the BLAVINGAD fishing games toy set because a small metal rivet in the wooden play pieces can come loose and possibly detach, posing a choking risk to young kids. (1)(2)
About 25,000 of these toys have been sold in the US, plus around 2,200 in Canada. (2)
IKEA received four reports of the rivets coming loose from global customers. None have been reported in the US. (2)
Thankfully, none of these incidents resulted in injuries or required medical attention (2)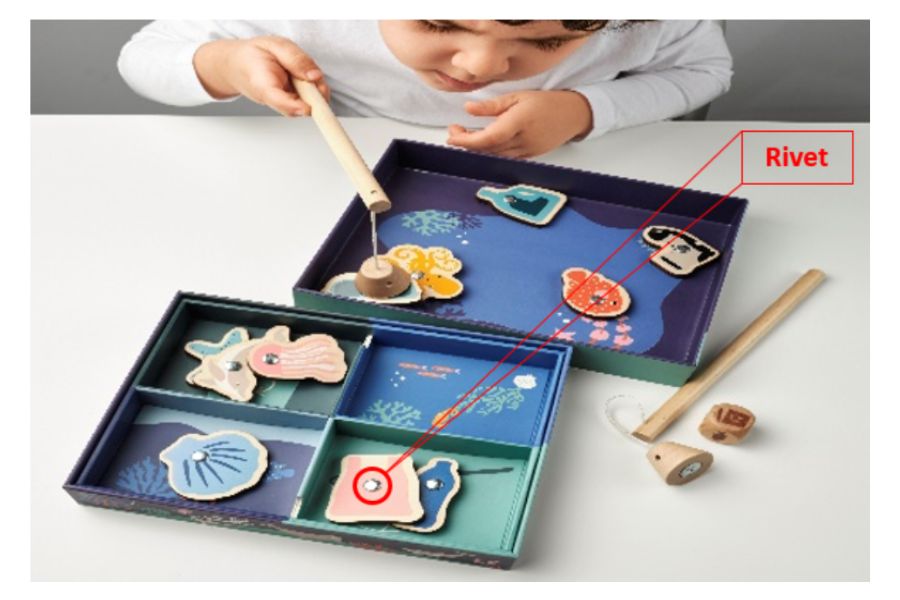 What IKEA Toys Are Being Recalled?
This recall only involves the IKEA BLÅVINGAD fishing game. No other toys are affected. (1)(2)
The ocean-themed fishing game set consists of 11 pieces and a die. Two wooden fishing lines have strings and magnets that attract the metal rivets on the wooden play pieces. (1)(2)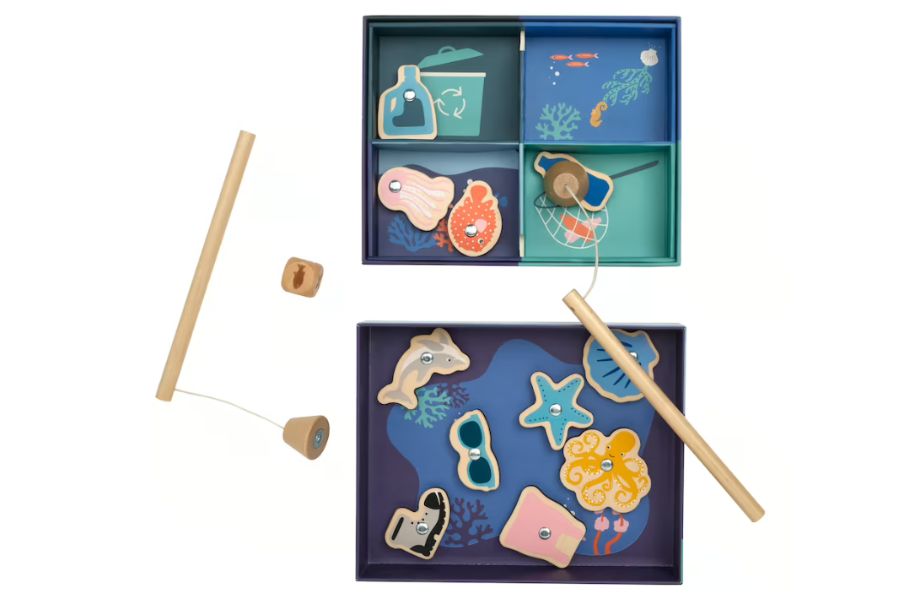 How Do I Check If My IKEA Toy Is Recalled?
Your IKEA toy is included in this recall if it's a BLAVINGAD fishing game and has the following details on the back of the blue box: (2)
Product name: BLÅVINGAD

Product article number: 10539622

Supplier number: 21576

Other information: Made in China
What To Do With The Recalled IKEA Toys?
Immediately stop using this recalled BLAVINGAD fishing game set. Contact IKEA to get a full refund. (2)
How Do I Claim A Recall From IKEA?
Toll-free phone number: 888-966-4532 from 9 AM to 10 PM ET, from Monday through Friday

Recall website: ikea.com/us/en/customer-service/product-support/recalls

Main website: IKEA.com/us/en (click "Product Recalls" found at the bottom of the page)
Do I Need A Receipt For IKEA Recall?
No. This recall doesn't require a receipt or any form of purchase proof.(1)(2)
Are These Recalled IKEA Toys Still Safe To Use?
No. The small metal rivets might detach anytime, posing a choking risk to your children. (1)(2)
Where Are These Recalled IKEA Toys Made?
These IKEA toys are made in China. (2)
FAQs
Can I Still Return A Recalled IKEA Dresser?
Yes. You can return the recalled IKEA dresser or any recalled IKEA products at any IKEA store. (4)
What IKEA Dish Is On Recall In Canada?
On May 19, 2021, IKEA recalled HEROISK and TALRIKA dishes or plates, bowls, and mugs because they can become brittle and break, posing a burn hazard if these products are being used with hot food or liquids when this happens. (5)(6)
The recall was issued for products purchased from IKEA outlets in Canada and the US. (5)(6)
What Can You Buy From IKEA?
IKEA sells a wide range of home goods and furniture products, including nursery and baby essentials such as:
Table lamps

Cribs and

crib mattresses

Play gyms

Nursery dressers and cabinets

Toy storage

Kids desks
Other Recent Baby Product Recalls & Safety Warnings
Stay informed with the latest news by signing up for our regular Motherhood Community recall alerts to ensure you never miss an important recall.
Check these comprehensive lists of product recalls by category:
Other individual product recalls:
Our Recommendations For Toys
Other Toy Recalls
Here's a list of other recalled toys:
References
(1) https://www.ikea.com/us/en/customer-service/product-support/recalls/ikea-recalls-blavingad-fishing-game-due-to-choking-hazard-pub22fa03d0
(2) https://www.cpsc.gov/Recalls/2023/IKEA-Recalls-BLAVINGAD-Fishing-Games-Due-to-Choking-Hazard
(3) https://www.health.ny.gov/prevention/injury_prevention/choking_prevention_for_children.htm)
(4) https://www.ikea.com/ca/en/customer-service/knowledge/articles/c50e01cc-695e-4194-b4e1-3e9e5gf5004f.html
(5) https://www.ikea.com/us/en/customer-service/product-support/recalls/ikea-recalls-heroisk-and-talrika-bowls-plates-and-mugs-pub1bd8d7a0
(6) https://www.ikea.com/ca/en/customer-service/product-support/recalls/matvra-childrens-bib-recall-pub8333f020