Overview
The Dorel Juvenile Group, Inc. issued a Maxi Cosi recall on March 3, 2023, due to safety concerns over the affected car seats' anchoring system. (1)(2)
According to the press release, crash tests showed that the lower seat anchors on these child seats might fail, possibly allowing the seat to detach and posing a risk of injury. (1)(2)
This voluntary recall involves six car seat models and two base models: (1)(2)
Maxi Cosi: one base and five car seat models

Safety 1st: one base and one car seat models
This article covers the Maxi Cosi recall (click here for the Safety 1st car seat recall).
Maxi Cosi Car Seat Recall 2023
Recall Details
Dorel Juvenile Group issued the voluntary recall of 59,450 car seats, explaining that the affected Maxi Cosi infant base might detach because the products' anchoring system (lower seat anchors) can fail. (1)(2)
Due to these potential hazards, the affected Maxi Cosi car seats fail to comply with the requirements of the Child Restraint Systems under FMVSS 213 (Federal Motor Vehicle Safety Standard number 213). (1)(2)
What Maxi Cosi Car Seats Were Recalled?
The recall includes rear-facing Maxi Cosi infant base and car seats manufactured from May 1, 2020, to February 28, 2023. (1)
All colors and fashions of the following models are included in the recall: (1)
IC313 Maxi Cosi Coral XP Car Seat

IC335 Maxi Cosi Infant Car Seat Base

IC336 Maxi Cosi Mico XP Max Infant Car Seat

IC337 Maxi Cosi Mico XP Max Infant Car Seat

IC338 Maxi Cosi Mico XP Max Infant Car Seat

IC370 Maxi Cosi Mico Luxe + Infant Car Seat
Many of the car seat models above have also been sold as part of a travel system (a combination of stroller and car seat): (1)
TR416 Maxi Cosi Gia XP Travel System w/ Mico XP

TR427 Maxi Cosi Zelia 2 Max Travel System MXP

TR428 Maxi Cosi Tayla Travel System w/ Mico XP

TR430 Maxi Cosi Adorra Travel System w/ Mico XP

TR433 Maxi Cosi Tayla XP Travel System w/ Coral XP

TR434 Maxi Cosi Mara XT Travel System w/ Coral XP
Canadian Maxi Cosi car seat models affected by this recall: (1)
01371 CAN Maxi Cosi Lila CP Travel System

22304 CAN Maxi Cosi Coral XP Infant Car Seat

22321 CAN Mico XP Max Car Seat

22334 CAN Maxi Cosi Mico XP Max

22524 CAN Maxi Cosi Coral XP Base

22526 CAN Maxi Cosi Mico XP Base
This recall also includes the following Safety 1st models (manufactured by Dorel Juvenile Group): (1)
IC351 Safety 1st Onboard 35 Securetech Car Seat

IC372 Safety 1st Securetech Infant Car Seat Base
How Do I Know If My Maxi Cosi Car Seat Has Been Recalled?
Check the label on the carrier shell and/or base of your Maxi Cosi car seat to locate the model number and date of manufacturing as shown in these photos: (1)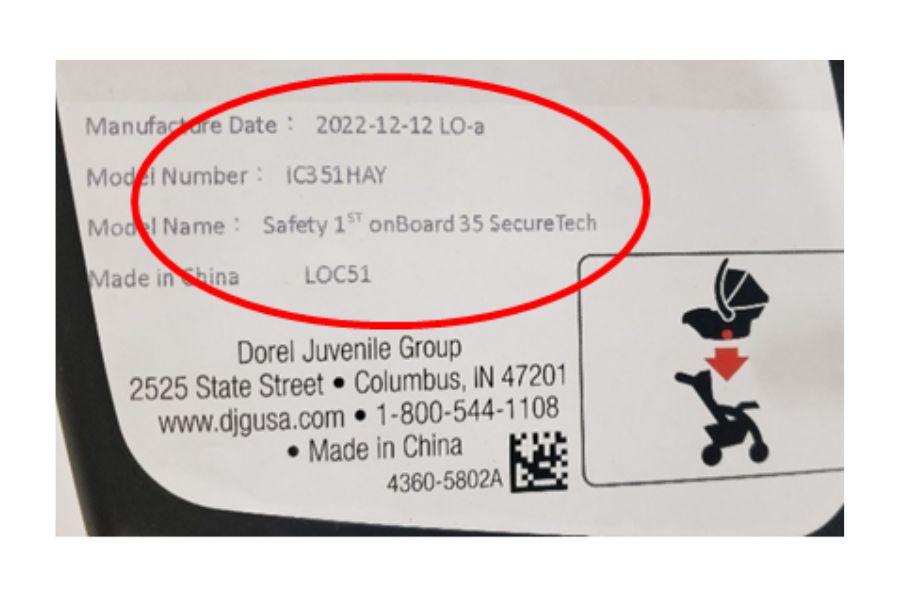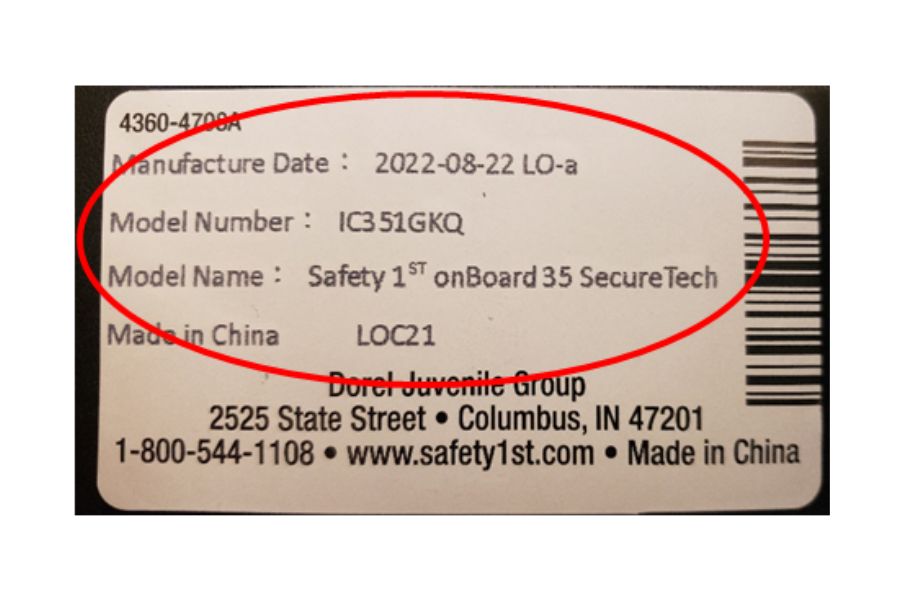 Are All Maxi Cosi Car Seats Affected By This Recall?
No. Only the infant car seats (as listed above) with bases that have self-retracting latch systems are included in this recall.
What Do I Do With The Recalled Maxi Cosi Car Seats?
The company will send a free replacement base to affected customers. You can continue using the affected car seats by securing them to your vehicle using the seat belt, with or without the carrier shell or base. (1)
Is It Still Safe To Use The Recalled Maxi Cosi Car Seat?
Yes. According to the recall notice, these seats can still be safe to use if secured with belt installation (using the seat belt in the vehicle interior) while you're waiting for the free replacement base. (1)
Only the base's anchoring system has possible defects. The seats' functionality isn't affected.
How To Get A Refund
The company will provide a free replacement base for affected customers, not a refund. (1)
According to the recall advisory, notification letters will be sent to registered customers. (1)
You can register your Maxi Cosi car seat using this link maxicosi.com/us-en/registration/.
Contact Dorel Customer Service for more information: (1)
You also contact the NHTSA (National Highway Traffic Safety Administration) Vehicle Safety Hotline: (1)
1-888-327-4236 or 1-800-424-9153

nhtsa

.gov
Maxi Cosi Recall 2021
In August 2021, three models of the 2019-2021 Maxi Cosi child car seats were recalled under NHTSA Campaign Number 21C003000: (3)
According to the recall notification, these recalled seats might not adequately protect a forward-facing child weighing over 65 lbs from a potential head injury in the event of a crash if the seats: (3)
Were installed in a

forward-facing position

Secured using the

lap belt

but without using the

top tether
Due to these reasons, the car seats fail to meet the requirements of federal motor vehicle safety standards, even if the problem only affects the forward-facing mode.
Children weighing less than 65 lbs or shorter than 49 inches can still use these recalled seats according to the labeled installation methods (both forward and rear-facing modes). (3)
Dorel Juvenile Group provided affected consumers with a free Maxi Cosi RodiSport Booster Seat if they were using the car seat for children over 65 lbs. (3)
There weren't any consumer reports of injuries or incidents relating to this Maxi Cosi Pria recall. (3)
You can contact Maxi Cosi customer service through the following:
consumercare.maxicosi.com/s/contactsupport
Maxi Cosi Car Seat Recall FAQs
Are Maxi Cosi Car Seats Safe?
Yes. Although some Maxi Cosi infant and child car seats have been recalled, the company explains that these can still be used using restraint systems (i.e., your vehicle's seat belt).
Does Maxi Cosi Have A Lifetime Warranty?
No. Maxi Cosi only offers: (4)
One-year warranty on child restraints of car seats

Two-year warranty on strollers
Where Are Maxi Cosi Car Seats Manufactured?
The Maxi Cosi car seats are made in China. (1)
Car Seat Recommendations
Car Seat Recalls
If you have a car seat you no longer use, consider taking it to the Target Car Seat Trade-In Program (a 2-week event that usually happens in April and September) to swap your used items with a 20% discount coupon you can use for various baby essentials.
References
(1) https://www.maxicosi.com/us-en/infant-base-with-self-retracting-latch-notice
(2) https://www.nhtsa.gov/recalls?nhtsaId=23C002
(3) https://www.maxicosi.com/us-en/pria-recall-information
(4) https://www.maxicosi.com/us-en/warranty