Overview
Are you a new mom planning on breastfeeding your little one? That's fantastic!
Whether you'll be staying at home, working from home, or working at the office, a breast pump can help you have a steady milk supply for your baby.
Both the Spectra S2 and Medela Pump in Style are among the most popular choices for breast pumps.
Aside from being available in most retail outlets, both are also offered by medical suppliers such as Edgepark and Aeroflow. You may also get these breast pumps for free, depending on your insurance plan.
But which one is better: Spectra S2 or Medela Pump in Style? Let's go through their pros and cons to find out.
Is Spectra S2 Or Medela Better? Main Differences
Spectra S2 vs. Medela Pump in Style are among their respective brands' most popular breast pumps. Here are their main differences based on our comparison:
Medela Pump in Style has portability options, but Spectra S2 is quieter and is more hygienic (it's a closed system pump).
Spectra S2 is cheaper and has highly customizable settings, but Medela Pump in Style comes with more bottles, a cooler bag, and a rechargeable battery pack (sold separately).
Key Features
Pump Type
Spectra S2 is a double electric breast pump that may also be used as a single breast pump. It's a hospital-grade pump.
Medela Pump in Style also has capabilities as a single or double electric breast pump. However, it's not a hospital-grade pump.
Weight
Spectra S2 Breast Pump weighs 2.0 lbs.
Medela Pump in Style weighs 7 lbs.
Does Spectra S2 Need To Be Plugged?
Spectra S2 doesn't have a portability option. It must be plugged in before it can be used.
Medela Pump in Style comes with a battery pack (eight AA), so you can bring this on the go.
Car Adapter
You can use both breast pumps with a car adapter, but this is sold separately.
Backflow Protection for Motor
Both breast pumps have backflow protection (using a backflow protector) so that the breast milk won't go into the motor.
Is Spectra 2 A Closed System?
Spectra S2 has a closed system that makes the milk go straight from your breast to the bottle. This makes the pump more hygienic because the milk doesn't go through the tubing.
Surprisingly, Medela Pump in Style remains an open system. You'll have to make sure that the tubings are thoroughly cleaned and sterilized after use. Before cleaning, Medela recommends clearing out the tubes by running the motor a few minutes after you're done pumping.
Note that if you want a Medela breast pump but feel worried about the Pump in Style's open system, you can opt for the variation with PersonalFit Flex connectors that convert the pump into a closed system.
You may also try other products (closed system) from the brand: Medela Freestyle FLEX, Lactina, and Symphony.
Settings
Spectra S2 has three settings: cycle speed, vacuum strength, and mode (expression mode or massage mode).
Medela Pump in Style offers 2 Phase Expression Technology with a one-touch let-down mode. This pump allows faster milk expression if you choose the Maximum Comfort Vacuum setting.
Display
Spectra S2 has an LCD with push buttons, a nightlight, and a timer.
Medela Pump in Style doesn't have a display, only dials for the settings.
Pump Strength
Both of these breast pumps have adjustable suction options.
Spectra S2 can offer a maximum strength of up to 270 mmHg. This pump also comes with 12 strength levels, so you can find the one that's most comfortable for you to express milk.
Medela Pump in Style isn't a hospital-grade pump and can only offer up to 240 mmHg.
Noise Level
Spectra S2 is quieter than Medela Pump in Style.
Pump Bag and Cooler Options
Spectra S2 doesn't come with a bag or cooler. But you can get a tote with a cooler and some extra bottles in the S2 Plus Premier bundle offered by Spectra Baby USA.
Medela Pump in Style comes with a cooler bag with three options: a Metro Bag, tote, or backpack. The cooler bag can fit four bottles and has an ice pack that contours with the bottles for convenient milk storage on the go.
Bottles and Accessories Included
Spectra S2 comes with two wide-neck bottles, duckbill valves, two 24mm flanges, two 28mm flanges, two backflow protectors, tubing, and a 12-V AC adapter.
Medela Pump in Style comes with four 5oz bottles, two 21mm breast shields, two 24mm breast shields, tubing, one cooler, one cooling element or ice pack, one microfiber bag, one battery pack (eight AA batteries not included), and a power adaptor.
Which Is Easier To Clean Medela Or Spectra?
Spectra S2 is easier to use and clean because you don't have to get milk off the tubings between pumping sessions.
Medela Pump in Style is easier to organize, thanks to the pump bag that also secures the pump with a Velcro strap, so it stays in place.
Ease of Use
Both pumps have a hands-free option, can pump both breasts simultaneously with a pumping bra, and are fairly easy to use.
Spectra S2 saves your preferred settings, so you don't have to keep on entering the details each time you need to use the pump.
Medela Pump in Style has dials and a one-touch let-down button for faster milk flow.
Which One is Easier to Clean?
Spectra S2 has fewer pump parts to clean. Spectra Baby USA even forbids you from washing the tubing because a wet tube might damage the breast pump.
Medela Pump in Style has more pump parts to clean. You'll have to include the tubing when washing and sterilizing in between pumping sessions.
Plastic Materials
For your baby's safety, both Spectra S2 and Medela Pump in style use BPA-free plastic materials on all tubings, flanges, breast shields, and bottles.
Other Special Features
Spectra S2 comes with a night light and timer.
Medela Pump in Style doesn't have a night light or timer.
Spectra S2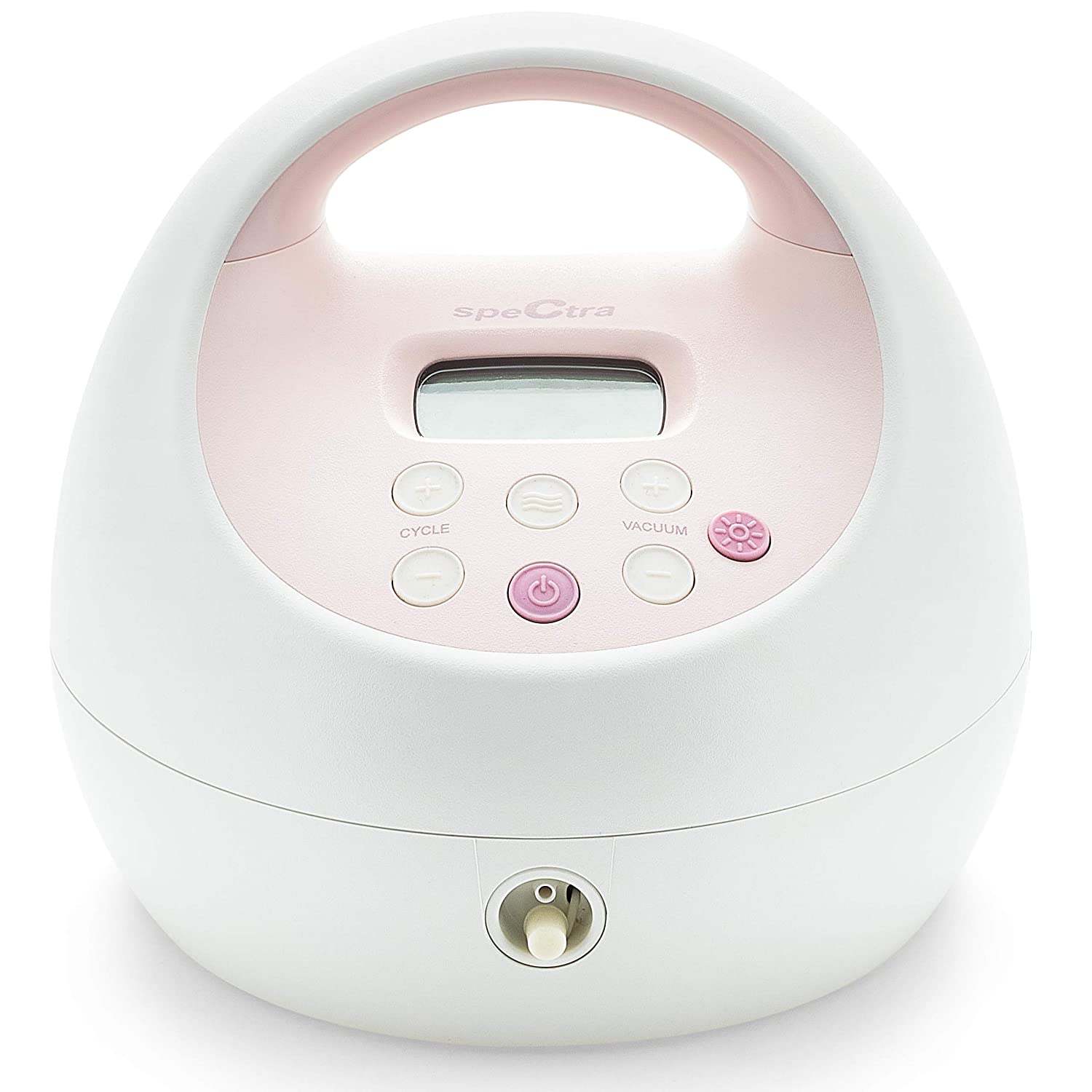 Medela Pump in Style
Medela Pump in Style Advanced
Warranty
Spectra Pump offers a two-year warranty on its pump motor.
Medela Pump in Style only has a one-year warranty on the pump.
Both brands offer a 90-day warranty for their pump parts.
Buying Spare Parts
It's easy to find spare parts and accessories for Medela breast pumps. You'll even find many of these at your local supermarket, retail shops, and online stores.
Extra parts for Spectra S2 and other Spectra pumps aren't easily available and are usually more expensive than Medela spare parts.
What Customers Say About Spectra S2
Positive Reviews
"I LOVE this pump SO much!! The first baby, I had an Evenflo pump, and my lactation consultant said a formula company shouldn't make pumps. It was a horrible pump. This one, though, is so great. It's everything that it says it is. I have a hard time pumping on one side; it doesn't do the job like a baby does. But this pump got more out than my last one! Big win for me! Plus, it didn't take that long to pump as well. Easy to clean too and is very quiet." – Target reviewer
" Great pump. With the Spectra from just my morning pumping session, I have gone from pumping 4-6 oz to pumping 8-9oz! I don't personally like pumping. I'd prefer to breastfeed, but I've gone back to work and have to pump. The Medela PISA felt like a tugging/pulling, and it would actually hurt sometimes. The Spectra feels more like a quivering suckle, as natural feeling as a pump can be, I imagine. I love this pump as much as anyone can love a pump. I 100% recommend this over the Medela PISA." – Amazon reviewer
"I've used Medela with two previous babies – the Spectra is the same or better, but half the price! Definitely recommend. Would have liked it to come with a carrying case or bag, though." – Walmart reviewer
Negative Reviews
"My Medela pump broke, so I bought a Spectra to try. I definitely should have bought another Medela. The Spectra feels like it's ripping out my nipples (on every cycle) and not worth the $159. It takes forever to empty all my milk out of my breasts. I wish I would've just bought another Medela. I dread every time I have to pump with the spectra. On the plus side, I do like the light it comes with. Very handy at night time when trying to pump." – Target reviewer
"Works great, and we bought two (one for work and one for home), but one stopped working after 2 months, and Spectra isn't willing to help. Their response was to buy another power adapter (which didn't help) or buy another pump. After 2 months! Searching online this is a common occurrence, and Spectra doesn't support its users." – Amazon reviewer
"This pump did not work for me. I purchased it through insurance with my third kid. I used a Medela Freestyle with the other 2 kids and loved it. But this one does not empty my breasts all the way, so I've struggled with clogged ducts and now supply issues. After working with multiple lactation consultants, I was finally told that my body could just be used to the Medela type of pump. I'm getting rid of my Spectra and buying another Medela." – Walmart user
What Customers Say About Medela Pump in Style
Positive Reviews
"This pump works great. It's super easy to set up, and I was able to pump a good amount in between feedings with my newborn in minutes. The actual flanges are comfortable and soft around the edges compared to older pumps, where the parts were all hard plastic. Everything fits nicely into the bag it comes with, and it is perfect for on the go pumping." – Target reviewer
"Best breast pump. Awesome, better than Ameda. Yes, I own both! I'm a full-time working mom of 2 sweet boys, 2.5 yrs and 6 mos. I purchased the Ameda with my first and used it full time (3x a day, 5 days a week) for 4 months. I purchased the Medela with my second and have used it full time (3x a day, 5 days a week) for 3 months now, and still going strong. I have a LOT to say about these pumps, but the bottom line is Medela is far superior." – Amazon reviewer
"The Medela Pump In Style Max Flow is amazing. I love how there ain't too many parts pretty minimalist. I did express more milk, and I tried different brands, and it hurts, but the vibration helped a lot. I consumed more milk. I was planning to stop breastfeeding but glad I didn't. Cleaning wasn't hard. I always wash it right after use. I really love the 4 bottle cooler, and you can also put the pump in your diaper bag too! It's not bulky and huge like the other ones." – Walmart Reviewer
Negative Reviews
"Would not recommend this pump! It is so noisy and does not empty me fully. Ordered this pump through insurance, and had I known, I would've chosen Spectra." – Target reviewer
"This pump's outstanding feature is its extreme portability. I used it for the first four weeks after giving birth to my first child, and it did help me to establish my supply along with occasional breastfeeding (we had latch issues; I became an exclusive pumper). The downsides that I have with this pump were that it was not powerful enough at a setting that did not cause me excessive soreness to clear painful blocked ducts – something I struggled with constantly." – Amazon reviewer
"I loved the idea of this pump. The bag, all the accessories, the silicone on the flanges, the pump size, but it just didn't remove milk for me. I usually get at least 4 ounces per session, and I didn't even get half an ounce in almost 30 minutes with the Pump in Style with Max Flow. I did not like the pre-timed settings. I needed more time in the stimulation phase, so I had to turn the pump off and back on a couple of times. I got this for breast pump review (Stellar Product Testing Panel)." – Walmart reviewer
Pros
Spectra S2
Hospital-grade suction
Closed system
Cheaper and lighter than Medela Pump in Style
Quieter than Medela Pump in Style
Has both massage and expression modes
Has separate buttons for suction and vacuum speeds
Has digital display, timer, and nightlight
Breast shield and flange are a single unit
Medela Pump in Style
Has portability options, thanks to the battery pack
Comes with a pump bag and cooler pack
Has more accessories (four Medela bottles as opposed to Spectra S2's two)
Has micro-vibrations that mimic a nursing baby
Separate breast shield and flange for easy cleaning
Cons
Spectra S2 Plus
No battery option
Fewer accessories compared to Medela
Medela Pump in Style
More expensive than Spectra S2
No separate adjustment for suction speeds and vacuum speeds
No digital display, nightlight, or timer
Is Breast Pump Covered By Insurance?
Both the Spectra S2 and Medela Pump in Style are available in most retail outlets and medical supply companies selling breast pumps.
While moms in the US can get breast pumps for free through insurance, the model you'll receive will still depend on your insurance coverage and product availability on the store accredited with your insurance company.
Call your insurance company to inquire if you're eligible to get Spectra S2 vs Medela Pump in Style for your breastfeeding needs.
Are Spectra And Medela Bottles Interchangeable?
Spectra S2 and Medela Pump in Style aren't interchangeable without added accessories; you can't use bottles from one pump for the other unless you get a bottle converter (sold separately).
Summary & Recommendation
In choosing between Spectra vs Medela, we recommend getting Spectra S2 because it has a quieter yet stronger pump. Also, it's more hygienic, cheaper, lighter, and comes with a longer warranty.
Medela Pump in Style is a faster pump with portability options and more accessories, but you can always opt to get the Spectra S1 if you want all the features of the Spectra S2 but need a portable breast pump.