Did Parent's Choice Baby Wipes Get Recalled?
Walmart pulls out as many as 18 lots of Parent's Choice baby wipes (its house brand) from store shelves. However, the retail giant hasn't issued an official statement or press release to recall the products as of press time. (1)
They told the Miami Herald that it's due to a "quality issue," but the company hasn't given a detailed explanation for the removal of its store brand: (1)
"Walmart proactively removed select lot numbers of Parents Choice baby wipes from stores due to a quality issue. We are working closely with the supplier and FDA to investigate the issue.

Customers may return the product to any Walmart store for a refund."
Baby Wipes We Trust:
Water Wipes
Heavy Metals And Arsenic Fears: Rumors About The Baby Wipes Spread Online
Unconfirmed rumors began in late April 2022 when a product removal notice reportedly sent to Walmart stores circulated on social media and online forums, particularly in parents' groups on Facebook, Reddit, and Twitter. (1)(2)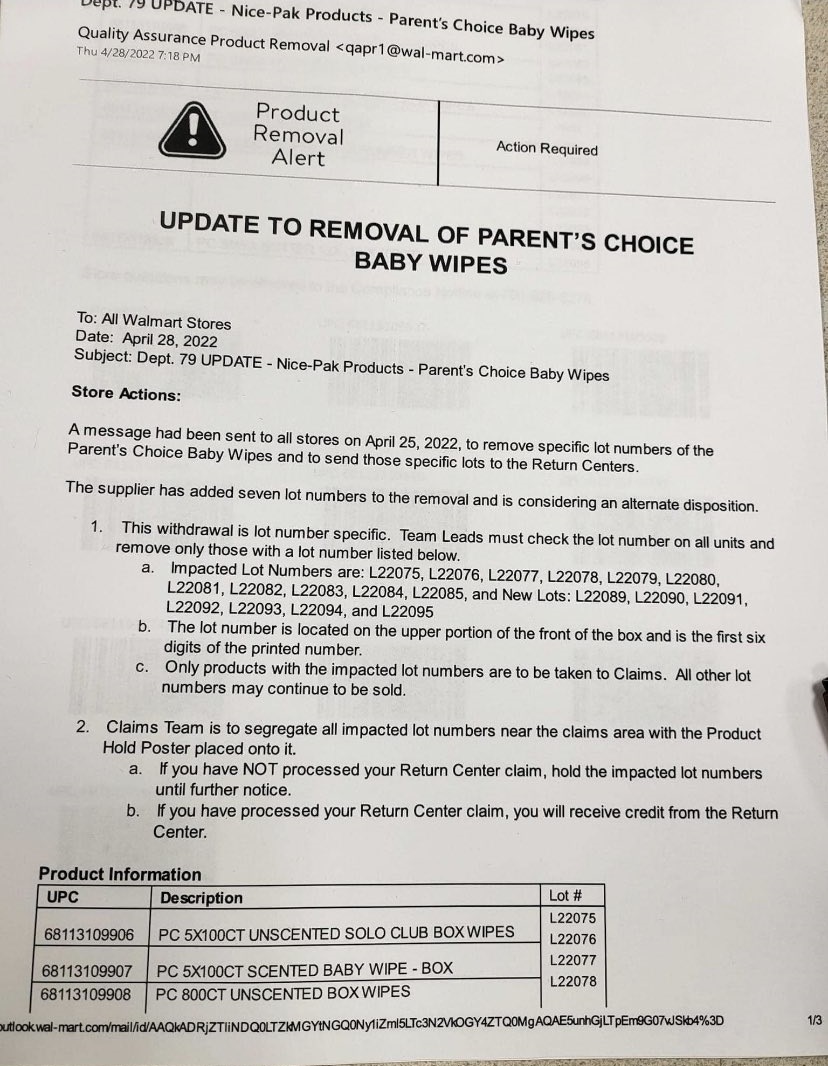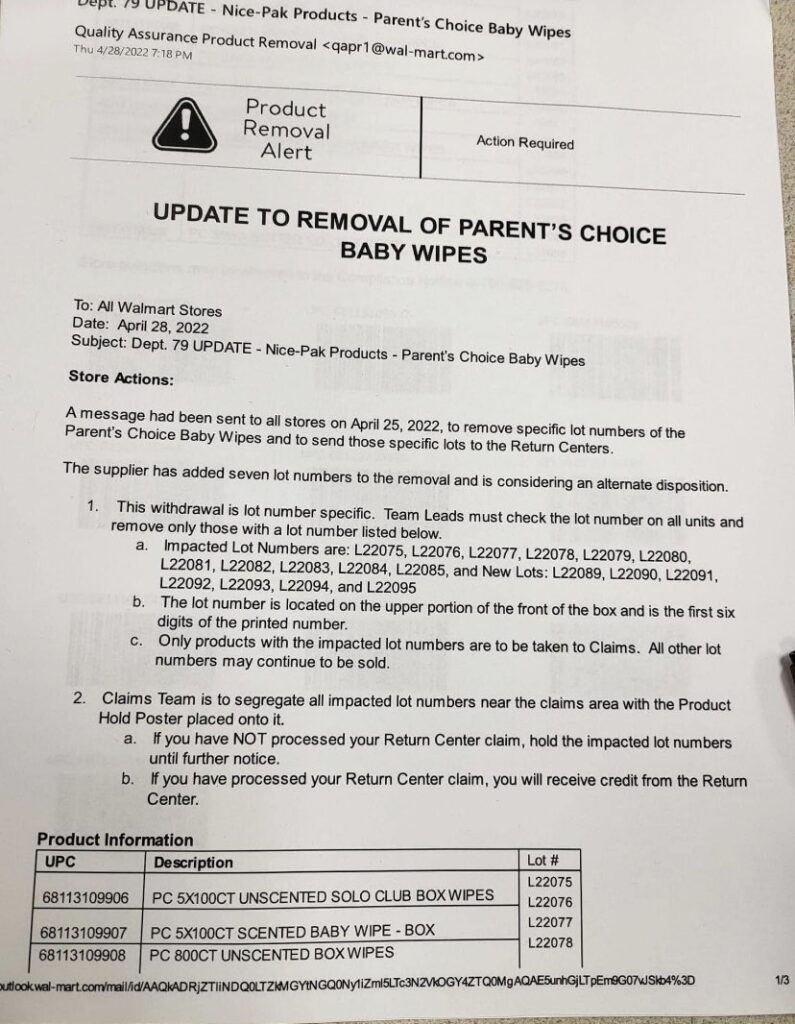 This notice told employees to remove specific lot numbers (listed below) of the Parent's Choice Baby Wipes and send these products to the Return Centers. (2)
A trending post on BabyCenter claimed that the wipes turned into orange color and caused diaper rashor a burning sensation. The post also claimed that the color doesn't come off and could be due to exposure to heavy metals like mercury and arsenic. (2)
However, these appear to be unfounded rumors on social media. (2)
Why Were The Wipes Removed From Stores?
Walmart is still investigating this quality issue but denies that it's due to heavy metal contamination. (2)
As of press time, boxes and flip-top packs of Parent's Choice Baby Wipes (scented and fragrance-free) remain available on Walmart, Amazon, and other online retailers.
Lot Numbers Of Parent's Choice Wipes You Can Return To Walmart
If you bought unscented and scented baby wipes from the Walmart brand, check for the following lot numbers: (1)
L22075
L22076
L22077
L22078
L22079
L22080
L22081
L22082
L22083
L22084
L22085
L22089
L22090
L22091
L22092
L22093
L22094
L22095
Note that these lot numbers come from the product removal notice reportedly sent to Walmart stores that circulated on social media and aren't officially posted by the company. (1)
Although there isn't an official product recall, Walmart accepts returns of these items from concerned customers. (1)
How To Check If Your Baby Product Is Recalled
Parents worry about the possible recall of these baby wipes with the ongoing formula shortage in the US, including Parent's Choice Formula, following the massive Similac recall involving Cronobacter and Salmonella bacteria.
That's why it's important to regularly check for recalls on baby food, baby diapers, baby formula, and other baby essentials, especially if your little one has sensitive skin or food allergies.
Here are some ways to check if your baby product has been recalled:
Check Official Federal Websites
recalls.gov
cpsc.gov of the CPSC (Consumer Product Safety Commission) – for children's and household products
fda.gov of the FDA (US Food and Drug Administration) – for food, medicine, baby formula, and other baby product recall
nhtsa.gov of the NHTSA (National Highway Traffic Safety Administration) – for car seat and vehicle recalls
Check Retailer Websites
You can also check posts on the recall sections posted by online retailers like Sam's Club, buybuy BABY, Target, and Walmart.
Some popular brands like Similac (similacrecall.com) also have a dedicated site for recall announcements.
Examine The Products At Home
Different products have varied places to display the codes, but for the Parent's Choice baby wipes, the lot numbers are on the upper front portion of the box and the printed number display (first six digits).
FAQs
Where Are Parent's Choice Baby Wipes Made?
They're made in Jonesboro, Arkansas (US).
Can Parent's Choice Wipes Be Used On Face?
Yes. Baby wipes like Parent's Choice are gentle enough for use on your baby's sensitive skin, including their face. You can also check for hypoallergenic options to ensure it's the best baby wipes.
Do Parent's Choice Wipes Contain Alcohol?
No. These wipes have calendula and chamomile but don't contain alcohol and other harsh ingredients like dyes, parabens, phthalates, and fragrance.
Product & Food Safety For Babies
It's important to always check for recalls and check for safety issues of any products you use for your baby.
Baby bottle recall
Diaper recall
Aside from recalls, you can also check for products that are safe on sensitive skin.
In buying disposable diapers, for example, check the official websites of the brands (e.g., Pampers or Huggies) for any safety issues, recall notices, or information on whether these products don't have harsh chemicals that can cause diaper rash.
The CDC (Centers for Disease Control and Prevention) also reminds us about the safe and proper use of wipes and diapers: (3)
Don't recycle baby wipes. Always use a fresh one when cleaning your baby.
Always wipe from front to back.
Keep dirty wipes, diapers, and clothes from surfaces that are difficult to clean.
Put the dirty wipes inside the dirty diaper.
Dispose of the dirty diapers and used baby wipes inside a plastic-lined lidded trash bin or a diaper pail.
Apply diaper cream if needed.
Put on a fresh diaper and fasten (don't make it too tight).
Wash your child's hands using soap and water.
REFERENCES
(1) https://www.miamiherald.com/news/recalls/article261064982.html
(2) https://www.snopes.com/news/2022/05/04/parents-choice-baby-wipes-recalled/
(3) https://www.cdc.gov/healthywater/hygiene/diapering/in-the-home.html