---
Enfamil Formula Recall 2021 & Tampering Issues: What You Need To Know
Updated on 21 December 2021 •
13
minute read
11123
Views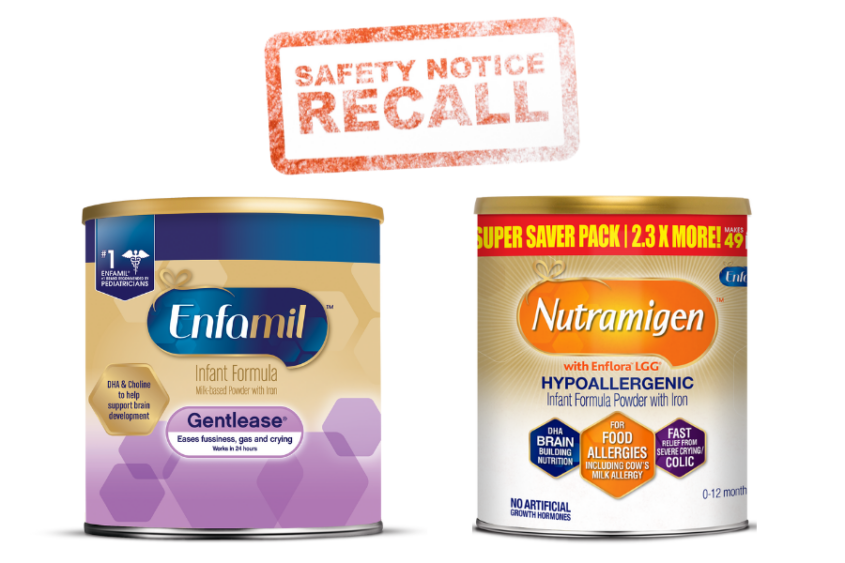 Overview
Enfamil is one of the most popular formula brands, but are there recalls for this brand? Is it safe and healthy for your baby? Which products have been included in Enfamil formula recalls, and what should you do if you bought these items?
Finding the best formula for your baby can be a big challenge. Aside from checking the ingredients and nutritional values of these infant formula products, you should also watch for product recalls.
If you're searching for a new formula for your baby, you can find many that have compositions similar to breast milk.
You might feel secure in choosing your baby's formula from well-known brand names such as Enfamil.
Does Enfamil Have A Recall?
Drinking or ingesting contaminated products can lead to gastrointestinal issues, other health problems, or even death in severe cases.
That's why it's always important to watch out for formula recalls and safety issue warnings or news.
The following are the formula recalls and tampering issues for Enfamil:
Enfamil Powder Formula Tampering (2019)
One of the most recent issues involving Enfamil didn't result in a formula recall. But many parents expressed concern that it may have affected several products from the brand.
Ashley Frydrych bought two tubs of an Enfamil baby formula from a Publix Super Market in Tampa Bay, Fla, on June 1, 2019. While the first one was fine, she noticed that the second container was weird. (1)(2)
At first, she thought that the contents of the second container didn't smell or look like the regular formula she buys for her baby because the brand had just changed its formulation. (1)
She prepared a bottle, but her baby refused to drink it. (1)
"I tried to feed him at 11 and he didn't take the bottle. I thought he was full. I tried to feed him again at 3 a.m. He didn't take the bottle, I thought maybe his stomach hurt," Frydrych explained. (1)
The following morning, she continued to use the formula, but her husband noticed that the contents immediately separated. The powdered contents settled at the bottom while the water was on top. (1)(2)
Upon checking the container, they were surprised to find that the contents smelled and looked more like flour than baby formula. (1)
Her husband tasted the content and confirmed that it was flour, Frydrych told news station WFTS. (1)(2)
"Initially I was really upset at myself because I noticed that it was different but we disregarded it. I didn't trust my instincts and even my husband didn't initially either. The formula was in the container without the pouch.

It's a child's formula. It's their lifeline, so why would you tamper with that? The real worry for me, what if it was worse? What if it was a cleaner? What if it was an allergic reaction?"
Concerned that other formulas may have been tampered with as well, Frydrych immediately reported it to Publix. The store quickly took action.
The supermarket released the following statement: (1)
"Food safety is our top priority. The incident was reported to the FDA for investigation. We checked the other lot and date codes for the remaining product, and they were all formula."
Frydrych also called out Enfamil, asking the company to change their packaging to avoid similar incidents in the future. (1)
In response, Enfamil assured its customers that they are confident about the safety of their products and their long history of quality.
Enfamil released the following statement: (1)
"We encourage consumer feedback that we can share with our team who are continuously looking at ways to innovate our products and packaging.

Importantly, we want parents to know that we take any potential tampering issue very seriously.

We make all of our packaging both tamper-resistant and tamper-evident and we highlight with retail customers the liberal terms of our returns policy designed to ensure that any product returned to a merchant does not make its way back to the shelf or is not otherwise made available for purchase.

We encourage consumers to check the appearance of the package, the label and the product—even differences that may be minor could be meaningful.

If a consumer is uncomfortable using a product they have purchased, they are welcome to call us 1-800-BABY123."
After conducting separate investigations, both Publix and Enfamil assured customers that this was considered an isolated incident. So, no recall was issued on the formula. (1)(2)
CVS Recall Of Enfamil Formulas (2018)
In 2018, CVS temporarily recalled all Enfamil formulas from stores across the country after one mom, Alison Denning, purchased a tampered container from a CVS outlet in Oldsmar, Florida. (1)(3)
According to Denning, the protective seal on the lid looked intact, but she was surprised when the interior seal was broken. Instead of formula, the contents smelled like baking flour. (1)(3)
Just to make sure, she purchased another formula to compare the first one's contents. (4)
She explained that the contents of the second formula had a slightly yellowish color, were harder to pack, and looked a little more grainy than the first one she got. It confirmed her suspicion that the first package didn't contain the formula. (1)
So, she reported the issue to CVS. The store offered to refund her purchase, but Denning also informed Enfamil about the safety issue.
Enfamil manufacturer Mead Johnson sent her a shipping box so they could test the product.
Even before Mead Johnson tested the possibly tampered formula, CVS Pharmacy issued a temporary recall of all Enfamil and got the rest of their stocks off the shelves. (3)
CVS announced: (3)
"The health and safety of our customers is our highest priority and we have robust quality assurance policies and procedures in place to ensure the quality and safety of the products we sell.

We take our customer's report of suspected tampering of Enfamil purchased at our Oldsmar store seriously. We will be contacting the supplier, and as a matter of precaution we have removed all Enfamil products from this store pending the outcome of our investigation."
After completing their investigation, CVS and Mead Johnson declared that it was an isolated incident. (3)
No official Enfamil recall was issued. But the company encourages anyone purchasing any of its products to check the package appearance because even differences that might look minor could be hiding a safety or tampering issue. (5)
Enfamil assures customers that their products are safe but welcomes calls to their hotline (1-800-BABY123) from anyone who thinks their formula might have been tampered with. (5)
Possible Product Tampering of Enfamil AR (2018)
Chelsea Bellinger of Buckeye, Arizona, believes that the Enfamil AR formula she bought from a nearby Walmart in Arizona might have been tampered with. (4)
According to Bellinger, her husband had prepared several formula bottles for their baby and put them in the fridge before going to bed.
Early the following morning, she noticed that the powder contents had settled in all the bottles her husband had prepared. The liquid and solid parts were completely separated. (4)
At first, she thought that her husband just didn't shake the bottles properly when he prepared them. But she was surprised when the powdered contents still didn't dissolve when she shook the bottles. (4)
So, she decided to heat the baby bottles but realized the consistency didn't look right. Upon checking, she saw that the bottles had clumpy solids at the bottom. She dumped everything in the sink. (4)
She also checked the powder in the container. The consistency and color were different from what she was used to seeing. But she wasn't sure what powder might have been used to replace the formula. (4)
Bellinger reported the issue to Walmart. (4)
A spokesperson for the company explained that they reviewed security footage at the store and conducted an internal review to determine whether the possible tampering happened there. (6)
It was declared as an isolated incident. Neither Walmart nor Enfamil issued a recall on relevant products relating to Bellinger's concern. (4)
Enfamil encouraged its customers to check the packaging of any formula or baby product they buy for signs of tampering in response to the incident. They are encouraged to call the company hotline at 1-800-BABY123 if they have any questions. (4)
Store Recall of Enfamil Newborn (2011)
Enfamil Newborn stocks were pulled out from Supervalu, Walgreen Co, Kroger, and Wal-mart stores in 2011, over reports that it can cause a rare bacterial infection. (7)
Avery Cornett, a 10-day-old infant in Missouri, reportedly died after drinking Enfamil Premium Newborn from lot number ZP1K7G. (7)
Initial investigations showed that Cronobacter sakazakii, a deadly bacteria, caused the death. (7)
But Mead Johnson assured customers that their products are safe in a written statement:
"We are confident that all our products are safe and nutritious when prepared, stored and used as instructed on the label." (8)
During the investigation, the situation first appears to have become worse for the company:
While tests were being taken from the late baby's home and in company facilities, another infant reportedly died after allegedly drinking the formula. (7)(8)
Two other babies in Illinois and Oklahoma have also been infected, but they both recovered. (7)(8)
The infant deaths angered many parents who have been trusting Enfamil products. Sales plummeted as furious parents boycotted the brand. (7)
Pending the full investigation results, several retailers recalled Enfamil Premium Newborn products or pulled out stocks from their shelves.
Walmart spokeswoman Dianna Gee issued the following statement:
"As a precautionary measure, we made a company decision to remove the specific lot of the product from our store shelves nationwide. We're not saying the product's unsafe."
But after numerous tests, the FDA (Food and Drug Administration) and CDC (Centers for Disease Control and Prevention) cleared Mead Johnson Nutrition Co. and declared the products safe.
According to a joint statement from the two government agencies, their tests showed that unopened cans of Enfamil Newborn powdered formula didn't have Cronobacter. (7)
The agencies also revealed that they found Cronobacter in the following samples: (7)
An open container of infant formula
An open bottle of nursery water
Prepared infant formula
Because the unopened formulas have tested negative for the deadly pathogen, the agencies are unsure how the contamination occurred. But said that it must have happened after the packages had been opened. (7)
So, even if the separate incidents involved the same formula, the agencies declared that there was no evidence that these infections were related. (7)
"There is currently no evidence to conclude that the infant formula or nursery water was contaminated during manufacturing or shipping.

Parents may continue to use powdered infant formula, following the manufacturer's directions on the printed label."
No product recall was issued by Mead Johnson or the FDA over the issue. (7)
Mead Johnson's general manager for North America, Tim Brown, issued the following statement afterward:
"We're pleased with the FDA and CDC testing, which should reassure consumers, healthcare professionals and retailers everywhere about the safety and quality of our products." (7)
Mead Johnson, FDA, and CDC reminded parents to follow safe practices and procedures in preparing and storing baby formula to help avoid possible contamination. (7)(8)
Enfamil Gentlease Recall (2006)
In 2006, Mead Johnson recalled Gentlease powdered infant formula from lot number BMJ19, with a "best before date" code of "1 Jul 07". The affected products may contain metal particles of up to 2.7 mm in size. (9)
According to the recall advisory, in the rare instance that the formula was inhaled by the baby and reached the lungs, the metal particles can cause serious risks to the baby's respiratory system and throat. (9)
Injuries or symptoms associated with this problem are likely to show up within four hours: (9)
Coughing
Breathing difficulties
Swallowing difficulties
Consumers were advised to check the embossed lot number and expiration date at the bottom of the can. Those affected by the recall should immediately stop using the product and call Mead Johnson at 888-587-7275 for further assistance. (9)
Mead Johnson announced that around 41,464 cans from lot number BMJ19 had been distributed through retail stores across the US starting December 16, 2005. Thankfully, no illnesses or health incidents have been reported. (9)
EnfaCare LIPIL Recall (2004)
Mead Johnson recalled 505 cases of EnfaCare LIPIL for possible Enterobacter sakazakii contamination. (10)
According to the recall advisory, the pathogen may cause the following deadly conditions in newborns, particularly infants with weakened immune systems or premature babies: (10)
Sepsis (bacteria in the blood)
Meningitis (inflammation of the brain's lining)
Necrotizing enterocolitis (a severe intestinal infection)
The recall alarmed many parents because EnfaCare LIPIL is especially formulated for premature babies and newborns with special dietary requirements. (10)
It affected lot code BME01 with an expiration date code of "1JAN04." No other lots or products were affected by this recall, and no illnesses were reported. (10)
Customers who purchased this formula were told to call Mead Johnson Consumer Resource Center at 888-587-7275 for milk powder replacement. (10)
Enfamil Nutramigen Recall (2001)
In 2001, Mead Johnson Nutritionals recalled 4.6 million cans of Enfamil Nutramigen ready-to-use and powder formula due to incorrect preparation instructions written in Spanish. (11)
Following these incorrect instructions can lead to serious health problems, especially if the formula has been consumed for several days: (11)(12)
Irregular heartbeat
Seizures
Possibly even death
Babies who are already ill or living in hot climates have a greater risk of experiencing potentially fatal complications. (12)
This formula was distributed in the US, Guam, Puerto Rico, and the Dominican Republic. (12)
This recall involved 3.7 million cans of powder formula (16-ounce) with the following lot codes: (11)
BHC43
BHC44
BJC45
BJC46
BJC47
BJC48
BKC49
BKC50
BLC51
BLC52
BLC53
BMC54
BMC55
BMC56
BAM57
BAM58
BBM59
BBM60
BBM61
BCM62
BCM63
BCM64
BDM65
BDM66
BEM67
BEM68
BEM69
BEM70
BEM71
BEM72
BFM73
BFM74
It also affected 930,000 cans of the ready-to-use version (32-ounce) with these lot codes: (11)
MBM90
MBM91
MCM92
MCM93
MCM94
MDM95
MDM96
MEM97
MFM00
MFM01
In some places, retailers were allowed to continue selling the formula. Still, the correct preparation instructions should be added as tear-off sheets that the customers could immediately see. (12)
Safe Formula Preparation And Storage
The CDC recommends carefully reading the instructions on the formula's container. Different formulas may have different requirements or instructions for: (13)
How many scoops you'll need to prepare with a certain amount of water
Storage instructions
When preparing and storing your baby's formula, you should also follow these safety precautions: (13)
Always wash your hands with soap and water before preparing the bottles and feeding your baby.
Prepare your baby's formula on a clean, sanitized surface.
Keep bottles clean and sterilized. It would be better to keep these items away from high-traffic areas in your home.
Always use water from a safe source in preparing any formula. Contact your local health department if you're unsure about the safety of your tap water.
Only use the correct amount of water listed on the formula's instructions. Too little water may cause your baby to be dehydrated or could cause strain on their digestive system and kidneys. But too much water may lead to a formula that doesn't meet your baby's nutritional needs.
Always keep the formula container tightly closed and stored in a cool, dry place indoors.
Most formulas need to be consumed within one month after opening.
Always check for discoloration, weird smells, or signs of contamination before preparing a bottle.
Always check the expiration date ("use by" date). Never use an expired formula.
Use a prepared formula within two hours of preparation or one hour after feeding begins.
You can store premixed bottles in the fridge for 24 hours, but only if your baby hasn't started feeding on them.
Any used or leftover formula should be discarded after each feed, even if there's still plenty of liquid inside the bottle. The combination of your baby's saliva and formula may cause bacteria to grow in these leftovers.
You should never give your baby formula from a recalled lot or batch with contamination or other safety issues.
What To Do If Your Baby's Formula Or Food Has Been Recalled
After any formula or food recall announcement, do the following:
Double-check the product name, batch number or lot code, and the "use by" or expiration date.
If the product you have is part of the recall, immediately stop giving it to your baby and contact the manufacturer or store for the refund or replacement process.
Call your pediatrician if your baby shows signs of stomach upset or other medical issues from drinking the recalled product.
Formulas Or Products That Haven't Been Recalled
The following formulas haven't been recalled:
Similac Pro-Advance Non-GMO Infant Formula with Iron
Earth's Best Non-GMO Soy-Based Infant Powder Formula
Kabrita Goat Milk Toddler Formula Powder
Else Plant-Based Complete Nutrition for Toddlers
Enfamil Neuropro
Enfamil A2 with Prebiotics
Happy Baby Organics Infant Formula
Enfamil Enspire Baby Formula with Iron
Meyenberg Whole Powdered Goat Milk, Gluten Free
But make sure to always check with your pediatrician before starting or switching formulas.
Baby Formula Recalls From Other Brands
What Baby Formula Is On Recall 2021?
The following are some of the recalls from other formula brands:
Able Groupe Baby Formula Recall
Able Groupe recalled all lot codes of HiPP, Holle, Kendamil, and Bioland (Lebenswert) formulas in August 2021 for failure to meet FDA requirements for pre-market notifications, minimum iron levels, and proper labeling (for possible iron supplements). (14)
These are European formulas imported by LittleBundle. (14)
According to the recall advisory, regularly feeding your baby with formula with low iron levels (below the minimum of 1 mg iron per 100 calories) may lead to iron deficiency anemia. This condition can lead to irreversible cognitive or functional development outcomes. (14)
For return or refund processing, customers were instructed to contact recallquestions@ablegroupe.com.
Designed by Nature Recall
The FDA recalled all the baby formula products (base formula, goat, and cow milk) of Designed by Nature on June 14, 2021, for possible health risks due to incorrect labels. They are not intended for use as infant formula, but that's not indicated on the labels. (15)
The company also admits not testing for the presence of Cronobacter, which can be dangerous, even deadly, for babies. (15)
Other formulas recalled in previous years:
Kirkland Signature Brand, Non-GMO Formula For Babies Sensitive To Lactose Recall (Canada)
Costco Wholesale Canada Ltd. recalled the formula on October 25, 2019, for possible Cronobacter spp. contamination in products distributed at Costco stores in Canada. (16)
The recall affected lot codes EXP 2020 NO 05 T05DVBV (1.36 kg) and EXP 2020 NO 05 T05DVBV (2-pack, 2 x 1.36 kg). (16)
Calcilo XD Formula Recall
On September 17, 2019, Abbott Laboratories recalled Calcilo XD powder cans (13.2oz / 375g) with lot number 79696K80 over inconsistencies in the aroma and color of this specific batch. (17)
Similac TummiCare One Infant Formula Recall (Philippines)
Abbott Laboratories recalled this formula in the Philippines on August 14, 2019, due to differences in the preparation scoop size and the label instructions. It only affected batch no. 03518QU. (18)
The product itself is safe to consume. But incorrect formula preparation using the scoop (included in the box) might not provide enough nutrients to support normal growth. (18)
Parent's Choice Advantage Infant Formula Recall
Perrigo Company plc recalled this formula on June 21, 2019, for possible metal foreign matter. It only affected one batch with lot code C26EVFV and "use by" date of February 26, 2021 (35-ounce, 992-gram containers). (19)
You can Consumer Affairs if your formula is included in this recall. (19)
Store Recall of Milupa Aptamil 1 Pronutra (Slovenia)
Retailer Mueller Drogerija recalled this Danone formula in August 2018 after a customer in Slovenia found some dead insects in a pack of this formula. (20)
The recall affected the 800-gram package with item number 100762029 and date 13-10-2019. (20)
Dumex Mamil Gold Infant Milk Formula (Step 1) Recall in Singapore
Dumex recalled this formula (850g) with batch number 09117R1 and expiry date 11-9-2019 over possible contamination with Cronobacter sakazakii. (21)
Bebe Mandorle Stage 2 (Bio) Recall
La Mandorle recalled this product on November 5, 2018, for possible contamination with the deadly bacteria Cronobacter sakazakii. (22)
Lactalis Nutrition Santé (LNS) Recall
Lactalis Nutrition Santé (LNS) recalled formulas from name brands Picot AR, Celia, Milumel, and Taranis on December 2, 2017, for possible contamination with Salmonella agona. (23)
The formulas were manufactured in Craon, France, starting on February 15, 2017. The contaminated formulas can cause gastrointestinal problems, vomiting, diarrhea, headaches, chills, fever, and abdominal cramps. (23)
Gerber Good Start Soy Formula (Tampering)
In May 2017, a two-month-old toddler was rushed to the hospital in Arizona after consuming a Gerber Good Start Soy formula that may have been tampered with. (24)
Police arrested Jennifer LaPlante concerning the incident. She reportedly replaced the formula contents with baking flour, sugar, or rice cereal before returning them to the store for a refund. (24)
Geber didn't issue a recall because this was considered an isolated incident. (24)
Sammy's Milk Baby Food (Powdered Infant Formula) Recall
In September 2016, the FDA recalled this Graceleigh, Inc. formula failing to meet infant formula regulations. The product has low iron content and isn't tested for the deadly Cronobacter pathogen. (25)
Why Was Similac Recalled?
Abbott Laboratories Inc. recalled several Similac formulas due to possible contamination with larvae or full-grown adults of the small common beetle discovered at one area of a plant in Sturgis, Michigan. (26)
This recall affected as much as 5 million Similac infant formula containers. (27)
REFERENCES
(1) https://www.abcactionnews.com/news/region-hillsborough/local-mom-finds-baby-formula-replaced-with-a-flour-like-substance-for-second-time-in-a-year
(2) https://www.wnct.com/news/national/tampa-mom-says-she-bought-bad-baby-formula-at-publix-fda-now-investigating/
(3) https://www.usatoday.com/story/money/nation-now/2018/08/30/cvs-pulls-enfamil-powdered-baby-formula/1145698002/
(4) https://www.ksbw.com/article/cvs-pulls-popular-baby-formula-from-shelves-pending-internal-review/22873555
(5) https://www.newschannel5.com/news/national/cvs-pulls-powered-enfamil-baby-formula-off-shelves-nationwide
(6) https://www.ksbw.com/article/cvs-pulls-popular-baby-formula-from-shelves-pending-internal-review/22873555#
(7) https://www.reuters.com/article/us-meadjohnson-idUSTRE7BL17R20111231
(8) https://www.nytimes.com/2011/12/23/business/walmart-removes-enfamil-formula-after-boy-dies.html
(9) https://www.aappublications.org/content/27/2/2006195
(10) https://www.aappublications.org/content/22/2/88
(11) https://www.nytimes.com/2001/07/10/us/national-briefing-science-and-health-recall-of-baby-formula.html
(12) http://flca.info/HTMLobj-154/Recalls.pdf
(13) https://www.cdc.gov/nutrition/infantandtoddlernutrition/formula-feeding/infant-formula-preparation-and-storage.html
(14) https://www.fda.gov/safety/recalls-market-withdrawals-safety-alerts/able-groupe-recalling-products-labeled-infant-formula-formulas-have-insufficient-iron-levels
(15) https://www.fda.gov/safety/recalls-market-withdrawals-safety-alerts/designed-nature-voluntarily-recalls-goats-milk-cows-milk-and-base-milk-formulas-due-possible-health
(16) https://healthycanadians.gc.ca/recall-alert-rappel-avis/inspection/2019/71427r-eng.php
(17) https://www.fda.gov/safety/recalls-market-withdrawals-safety-alerts/abbott-laboratories-recalls-calcilo-xdr-infant-formula
(18) https://www.fda.gov.ph/fda-advisory-no-2019-238-voluntary-recall-of-similac-tummicare-one-infant-formula-820-grams-with-batch-no-03518qu/
(19) https://investor.perrigo.com/2019-06-21-PERRIGO-ISSUES-VOLUNTARY-RECALL-FOR-PARENTS-CHOICE-ADVANTAGE-INFANT-FORMULA-MILK-BASED-POWDER-WITH-IRON
(20) https://www.foodsafetynews.com/2018/08/company-governments-investigate-contaminated-infant-formula-powder/
(21) https://www.channelnewsasia.com/singapore/recall-of-dumex-mamil-gold-infant-milk-formula-ava-804776
(22) https://www.tellerreport.com/life/–recall-of-la-mandorle-infant-formula-infected-with-bacteria-.B1xg6Gp-aQ.html
(23) https://www.lactalis.fr/wp-content/uploads/2017/12/CP_Lactalis-new-recall-on-infant-and-nutritional-products_21122017_ENG-1.pdf
(24) https://www.dailymail.co.uk/news/article-4508364/Arizona-mom-accused-contaminating-baby-formula.html
(25) https://www.fda.gov/food/alerts-advisories-safety-information/fda-investigates-sammys-milk-baby-food–infant-formula-improper-manufacturing-safety-concerns
(26) https://www.reuters.com/article/us-abbott-idUSTRE68L4ZI20100922
(27) https://buffalonews.com/news/similac-recalls-powdered-formula/article_a7d6e134-56bc-56c7-b29d-11edd4093b1e.html
as seen on