Overview
Bobbie Formula is a European-style baby product made in the US, with FDA approval. It's certified organic, has a gentle formulation, and is made with milk from grass-fed and pasture-raised cows.
Now, the FDA has tight regulations for infant formula, especially regarding nutritional content (minimum and maximum limits), packaging, and labeling.
Yet many American parents still prefer buying European formulas due to the perception that these products might be healthier than or superior to most US brands.
The problem with European formulas is that many aren't FDA approved.
This might lead you to ask questions like:
"Is Bobbie safe and ideal for my baby?"
"What are Bobbie's ingredients, and why are they important for my little one's development?"
"Have there been any Bobbie Formula recalls I should know of?"
"Are Bobbie Formula reviews good or bad?"
"Where can I get Bobbie, and do I need a subscription?"
Find answers to these Bobbie Formula questions below.
What Is
Bobbie
Formula?
Bobbie is a European-style formula that provides complete nutrition for babies ages 0 to 12 months old. This organic milk is the first European formulation to be FDA-regulated in the US.
The brand offers two formula options: the flagship formula and a gentler variant. Both are USDA Organic certified (United States Department of Agriculture). They also have Kosher certification and pass EU (European Union) regulations.
Bobbie
Formula Review: Organic Vs. Organic Gentle
Bobbie's formulas are both organic and formulated to be gentle on your baby's tummy.
Bobbie Organic Infant Formula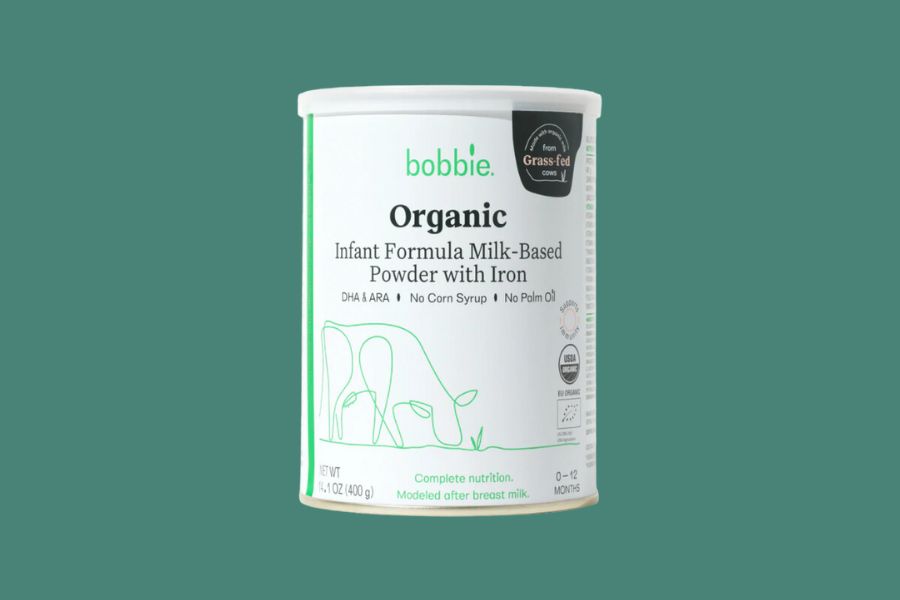 Bobbie
Organic Gentle
Infant Formula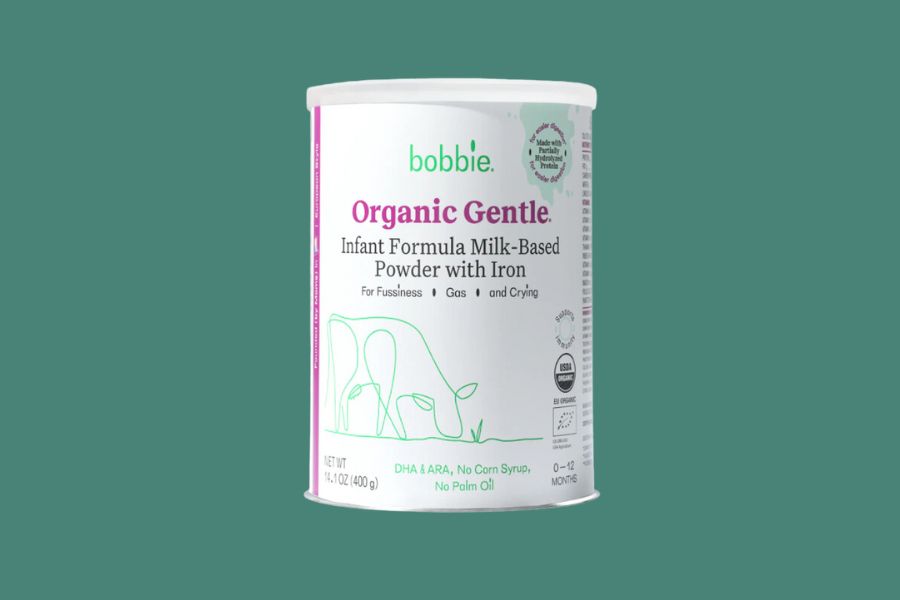 Here are their main differences:
Bobbie Organic Infant Formula

has 60%

whey

and 40% casein intact proteins; it's easy on small

tummies

and can be ideal for most

feeding journeys

.
Bobbie

Organic Gentle

Infant Formula

uses 100% partially hydrolyzed (broken down)

whey

protein; it's

easier

on small

tummies

and can be ideal for fussy feeders.
Read our Bobbie formula review for a more detailed comparison between these organic baby formulas.
All the details below, including the ingredients, apply to both Bobbie products unless otherwise stated.
Nutritional Analysis: What Makes
Bobbie
Different From Other
Formula Brands
?
Is
Bobbie
Formula Goat Milk?
No. Bobbie formulas are made from cow's milk.
USDA-
Certified Organic
Nonfat
Cow's Milk
Bobbie formulas are made from organic ingredients that are certified by the USDA.
Ingredients Of
Bobbie
Formula
What's in Bobbie formulas? Both formulations have the following ingredients:
1. Organic
Lactose
(Carbs In Formula)
Lactose is breast milk's primary carbohydrate.
Surprisingly, lactose composition in breast milk doesn't appear to be affected by the mom's diet. This made some researchers conclude that lactose is essential to babies' nutrition. (2)
The European Union doesn't allow corn syrup in baby formula and requires at least 4.5 g of lactose per 100 kcal in milk-based products (except for lactose-free formulas). (3)
Carbohydrate content in Bobbie (declared as organic lactose):
These products are free from corn syrup and other added sugars.
2. Proteins In
Bobbie
Formulas
Learning More About
Whey
Vs. Casein & Hydrolyzed Proteins
Whey and casein are two of the major protein components of whole milk. (4)
Some studies have shown that whey and casein might have anticarcinogenic properties, protecting the body from certain cancers (e.g., breast, colon, and prostate gland). (4)
Intact whey proteins might also have antiviral and antimicrobial properties. (4)
Whey is the liquid part of milk. It remains a liquid in the stomach. This makes it easier to digest.
In contrast, casein makes up the solid parts and becomes curds or "clots," making it more difficult to process.
Protein content in Bobbie:
Bobbie Organic

(from organic nonfat milk and

whey

protein concentrate) – 2.0 g

Bobbie

Organic Gentle (from partially hydrolyzed protein) – 2.3 g
The gentle formula has 100% partially hydrolyzed (broken-down) whey proteins, so it's easier to digest than the flagship formula.
Whey
to Casein
Protein Ratio
In
Breast Milk
Vs.
Bobbie
Formulas
Breast milk contains more whey than casein. It has a protein ratio (whey to casein) of 70-30 or 80-20 during early lactation. Although this number balances at around 50-50 during later lactation. (5)
In contrast, cow's milk has a whey-to-casein ratio of 18-82. (5)
Bobbie Organic uses added whey to increase the protein ratio instead of only using whole milk components. This added whey helps create a similar formulation (60-40 protein ratio) as breast milk.
Bobbie Organic Gentle only has whey proteins.
3. Fats In
Bobbie
Formulas: Organic Expeller-Pressed Oils
Breast milk has around 40-50% of fats. That's because dietary fats and essential fatty acids have important roles: (6)
Support brain development

Promote absorption of fat-soluble vitamins, including vitamins A, D, E, and K
Cow's milk doesn't have all these essential fatty acids that babies need. So, manufacturers add various oils to their formulas. (7)
Often, manufacturers use highly processed oils such as canola and sunflower. The bad news is that they can be highly inflammatory or might contain harmful fats. (8)(9)
Bobbie uses plant-based, organic expeller-pressed fats to meet babies' dietary fat requirements.
The formulas have:
Organic high oleic (

safflower

or sunflower) oil

Organic canola oil

Organic

coconut oil

Organic linoleic (sunflower or

safflower

) oil
We're not big fans about there being canola oil in this product, and would consider this one of its drawbacks.
4. Iron
Although low iron content is an issue with many European formulas, this isn't a problem with Bobbie, which meets both FDA and EU standards.
Both Bobbie formulas have 1.2 mg of iron per 100 calories.
That's within the FDA's 1 mg minimum or the European Commission's 1.3 mg maximum limits. (10)
Are There Questionable Ingredients In
Bobbie
Formula?
Water-Extracted
DHA
(Docosahexaenoic Acid) &
ARA
(Arachidonic Acid)
DHA and ARA are polyunsaturated fatty acids that support brain development. They're also good for the eyes. (11)
EU regulations require that all formulas have DHA, which isn't required in US formulas.
As a "European-style" formula, Bobbie declares that their products meet the EU's requirement of 20 mg per 100 kcal of DHA.
Because conventional DHAs are often extracted using hexane, a "processing aid" that can be toxic to humans, they might be considered a questionable ingredient. (12)
The good news is that Bobbie uses water-extracted omega-3 DHA sourced from sea algae.
However, some studies have also shown that both DHA and ARA can cause side effects, including the following: (11)
Flatulence (gas)

Diarrhea

Jaundice (discoloration or yellowing of body tissues, especially around the eyes)

Lower mean blood pressure

Apnea (a sleeping disorder that affects breathing)

Unexpected death in the worst cases; however, it's only attributed to serious medical conditions, including necrotizing colitis (intestinal inflammation often linked to premature babies), sepsis (the body's extreme response to infection), and SIDS (sudden infant death syndrome)
Why Are
Bobbie
Formulas So Popular?
Many American parents willingly pay a higher, premium price to buy imported European formulas. They believe that these European brands are superior and safer than US formulas.
However, many of these European brands aren't FDA-approved and might even be confiscated at customs while you're waiting for your shipment to arrive.
Bobbie is a unique brand because it offers a US-made, FDA-approved formula as an alternative to these brands from Europe.
They're also free from the following ingredients:
1. Free From
Corn Syrup
Bobbie formulas are free from high-fructose corn syrup, an added sugar that can increase children's appetite and promote obesity. It's sweeter than regular table sugar and is more readily absorbed by the body. (13)
EU regulations don't allow corn syrups in baby formula. (3)
2. Free From
Maltodextrin
While EU regulations allow maltodextrin as a carbohydrate for infant formulas, Bobbie products are free from this ingredient.
Studies have shown that maltodextrin may increase the risks of various diseases or medical conditions, including the following: (14)(15)
Cardiovascular diseases

Diabetes

Obesity

Chronic inflammatory diseases
3. Free From
Palm Oil
Palm oil is a common ingredient in many baby formulas because it closely matches breast milk's fatty acid profile. (16)
Because breast milk is the gold standard, infant formula manufacturers try to create a product that can meet babies' nutrition needs, similar to breastfeeding. However, studies have shown that palm oil can have negative effects. (16)
According to a 2020 Nutrients journal review, several clinical studies that compared the effects of baby formulas with or without palm oil showed that this ingredient can cause the following: (16)
Reduced calcium absorption (important for brain development)

Reduced fat absorption (important for bone and teeth development)

Bone mineralization (compromises bone tissue quality)

Increased risk of constipation (harder stool consistency)
4.
Free From GMOs
(Genetically Modified Organisms)
Bobbie products are free from GMOs.
Researchers have pointed out that some products containing GMOs have not been adequately tested before their commercial release. (17)
Also, they've expressed alarm that infants and children have increased susceptibility to the possible negative effects of genetically modified food. (17)
According to the researchers, these substances' toxicity and potential hazards are untested. Still, these could have permanent and irreversible effects that can last even up to their adult life. (17)
5. Free From
Pesticides
Bobbie formulas are also free from pesticides.
Their toxicity can vary, but here are some of the possible harmful effects of pesticides: (20)
Reproductive effects (e.g., fertility issues)

Hormonal effects

Carcinogenic effects
Bobbie assures consumers that their products are safe and free from harmful pesticides or their residues. Both formulas have the following certifications:
Clean Label Project Purity Award

Clean Label Project

Pesticide

-Free Certification
6. Free From Soy Allergens (New
Formulation
)
Although older formulations of Bobbie had soy, the new formulation removed any soy content. Bobbie said they swapped their soybean oil for non-GMO, organic expeller-pressed canola oil.
For some people, a soy allergy can lead to the following symptoms: (23)
Itching

Hives

Skin rash

Swelling (tongue, lips, or throat)

Wheezing

Shortness of breath or trouble breathing

Diarrhea

Stomach pain

Vomiting
Serious soy allergy symptoms: (23)
Hiccups

Coughing and/or wheezing

Itchy or red eyes

Swelling (lips, tongue, or throat)

Skin rash

Itching

Hives

Stomach pain

Spitting up

Vomiting

Diarrhea

Bringing knees to the chest

Arching back
7. Free From Fillers
Bobbie also assures consumers that their formulas are free from fillers.
This ensures you get the full value for your money and keep your child away from questionable or unknown ingredients that might affect their health, growth, and development.
8. Tamper-Resistant Cans (For Added Safety)
Bobbie uses special tamper-resistant cans to ensure that the products are safe and untampered from the manufacturing facility until they reach your home.
Once the lid is opened and the seal is broken, it can no longer be resealed.
This helps give consumers peace of mind that their baby formula is safe from tampering, an issue that has previously affected the baby formula industry.
You can read about these formula tampering reports in our formula recall article.
Who Made The
Bobbie
Formula Brand
& What Are Their Best Practices?
Bobbie is a mommy-founded company owned and managed by moms Laura Modi and Sarah Hardy.
The company's journey began in 2016 when Modi was shopping for her first baby's infant formula.
While checking the supermarket for the best infant formula, she was shocked that everything on the shelves contained palm oil, corn syrup, and fillers.
But even if she wouldn't normally buy products with these ingredients for herself, she didn't have a choice for her little one. So, she felt guilty for buying this product for her baby.
In 2018, Modi founded Bobbie Baby, LLC, in the basement of her San Francisco home. At the time, she was pregnant with her second baby.
Hardy would join her friend in this business in 2019.
By 2020, the brand began making organic baby formulas with their manufacturing partner Perrigo Nutritionals, now with facilities based in Vermont and Ohio.
Is
Bobbie
Formula
FDA
-Approved?
Yes. Bobbie has been FDA-approved since August 20, 2020.
Product Recall
The Bobbie formula recall was issued before the brand's products were manufactured in the US.
In June 2019, in coordination with the FDA, Bobbie issued a recall for the older formulation of the product, which was made in Germany, for failure to meet US nutritional standards and labeling requirements. (27)
It was only sold in the San Francisco Bay Area, California. The FDA has since ended the recall in April 2020, and the new US-produced formulation received the go-signal from the federal agency just a few months later. (27)
NOTE: This recall doesn't affect any of the new US-made Bobbie baby formulas.
Pros & Cons Of
Bobbie
As A
European-Style
, American-Made
Baby Formula
Best Features & What Makes It Special
Meets
European
& American Standards
Many American parents consider European formulas healthier, safer, and better than US brands. (1)
This can be because many European brands are free from corn syrups and other added sugars, palm oil, and highly processed vegetable oils. (1)
These parents also believe that European standards are stricter than FDA requirements. (1)
Bobbie is a European-style formula made in the US, and it appears to offer the best of both worlds.
It's free from the various questionable ingredients in many US brands but also meets FDA requirements, especially regarding iron content (a common issue with European-imported brands).
Bobbie formulas are made from the milk of grass-fed cows raised in family-owned Organic Valley farms across the US.
Strict Tests For All Batches
According to Bobbie's safety page, their manufacturing partner Perrigo Nutritionals conducts 2,000+ quality checks for all batches of their formula products.
Products only hit the market shelves if the entire batch passes all these numerous quality and safety checks.
The brand also provides consumers with a unique lot code tracker (hibobbie.com/pages/safety) to double-check the batch's safety tests and other information about the Bobbie products they have at home.
Cons & Downsides
Some of the downsides to Bobbie formulas include the following:
Lack of probiotics or prebiotics found in other (but not all)

European

or

US formulas

Contains canola oil, which is highly processed and inflammatory

Some customer complaints about the formula cans being too small and difficult to get the formula from

Some complaints from consumers about the scoop getting lost and mixed up with the formula, requiring them to dig around the container to find it in a newly opened can
Potential Side Effects
With its gentle formulation and the lack of palm oil, Bobbie can be less likely to cause side effects such as bloating, gas, or constipation. (16)
However, there have been some complaints about their babies experiencing these side effects with Bobbie products.
Factors To Consider When Choosing
Baby Formulas
Safety
As a primary source of nutrition for many babies, safety is very important in infant formulas. It must be one of the first factors to consider when choosing the right formula for your little one.
Here are safety some tips to consider:
Ingredients To Avoid
If possible, choose only a formula that's free from the following potentially harmful ingredients (as explained above):
Corn syrup

Maltodextrin

Palm oil

Canola oil

GMOs

Gluten

Pesticides

Soy allergens

Fillers

Antibiotics
Formula Recalls To Monitor
Many formula recalls have been issued due to potential contamination with bacteria or other impurities that can be harmful, even deadly, to babies.
It's important to monitor baby formula recalls. Join our mailing list or bookmark our formula recall article to keep yourself updated.
Here are some recent formula recalls and safety alerts we've covered:
Meets Your Baby's Needs: USDA &
FDA Requirements
Baby formulas need to meet the FDA's nutritional requirements to ensure that they can provide adequate nutrition to little ones.
Some of the FDA's nutrient specifications per 100 kcal of baby formula: (28)
Protein: 1.8 g to 4.5 g

Essential

fatty acid

(linoleic acid omega-6): ≥300 mg (≥2.7% of calories)

Fat: 3.3 g to 6.0 g (≥ 30% of calories)

Iron: ≥0.15 mg

Calcium: ≥ 60 mg

Folic acid (folacin): ≥4 mcg

Magnesium: ≥6 mg

Iodine: 5 mcg to 75 mcg
Bobbie products meet all the FDA's nutrient requirements except for the flagship formula's lower magnesium content (only 5 mg).
They also meet USDA Organic's requirements for dietary reference intakes (based on recommended daily servings). (29)
You can find the full list of USDA Organic and FDA requirements, plus each baby formula's contents, in our article on Bobbie Formula reviews.
FAQs
Is
Bobbie
Formula Good For Newborns?
Bobbie formulas are intended for babies 0-12 months old. However, while they're approved for newborns, always consult your baby's pediatrician before starting their formula-feeding journey.
Does The
FDA
Approve
Baby Formulas
?
No. Baby formula companies aren't required to get FDA approval before they can market and release their products in the US. (30)
However, all formula products are regulated by the FDA and must meet all federal nutritional requirements. (30)
These companies must also inform the FDA before they begin marketing their products. They must also comply with FDA labeling standards. (30)
The FDA can recall any infant formula that doesn't meet these standards or requirements. (30)
Bobbie
Testing & Trial
You can get your baby a starter bundle (two Bobbie cans offered on a "buy one, get one" basis). This can help you decide before getting a regular subscription.
How Do I Mix And Feed
Bobbie
To My Baby?
The number of Bobbie powder scoops you add to each baby bottle and the amount of water will vary depending on different factors, including:
Your baby's age

Their feeding frequency
Always follow the recommended formula preparation guidelines on the label.
Feeding Charts
Here's a handy feeding chart from Bobbie Formula: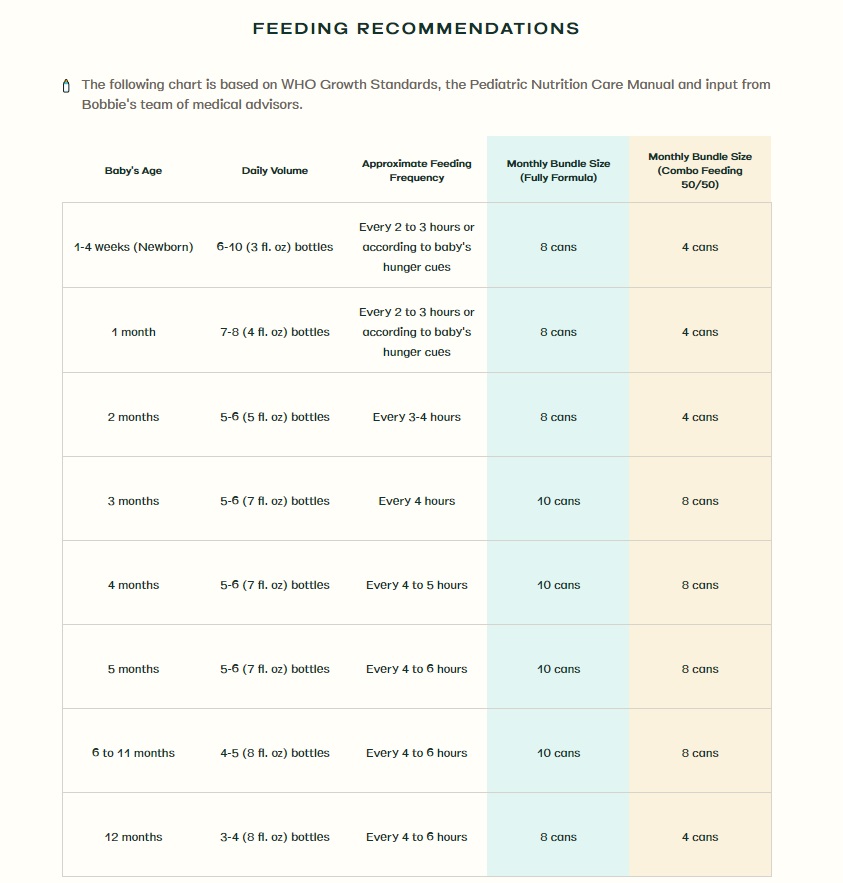 Where Can I Buy
Bobbie
Formulas?
Bobbie

's official shop (hibobbie.com)

Target
Does
Bobbie
Offer Formula Subscription Service?
Yes. Bobbie lets you choose between a one-time purchase or a subscription service. Options include the following:
Comparison:
Bobbie
Vs. Other
Infant Formulas
Bobbie
Vs.
Holle
Products
Both these brands meet European standards.
Holle offers more product options, including goat milk, follow-on formulas, organic baby food pouches, and cereals.
Bobbie only has cow's milk for 0-12 months old.
Here's a comparison of similar products from both brands:
Bobbie
Organic Formula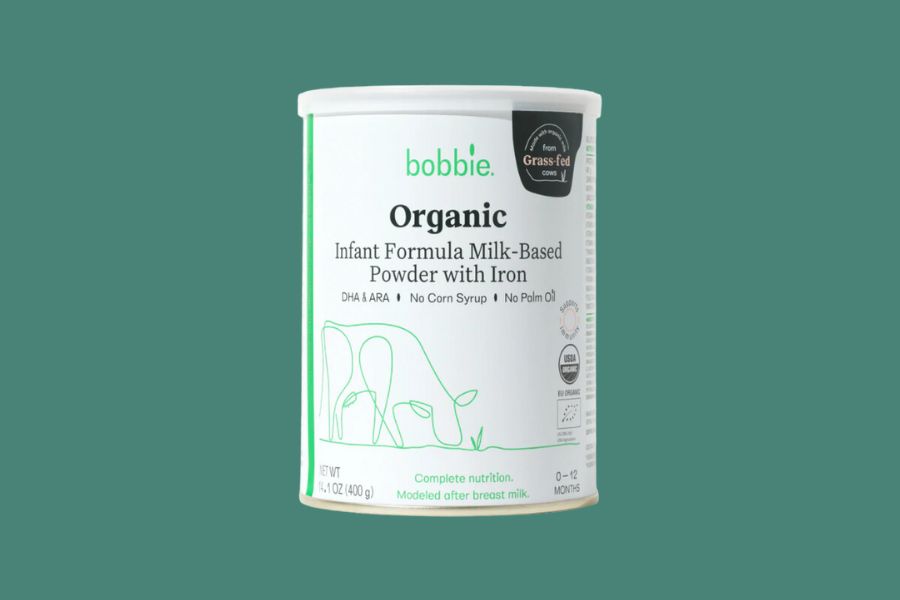 Best Features:
Uses nonfat milk

Meets

FDA

standards

The new

formulation

hasn't been recalled

USDA Organic

certified

More calcium content
Downsides:
The same

formulation

for 0-12 months old
Holle Stage 1 Formula Organic (
Cow's Milk
)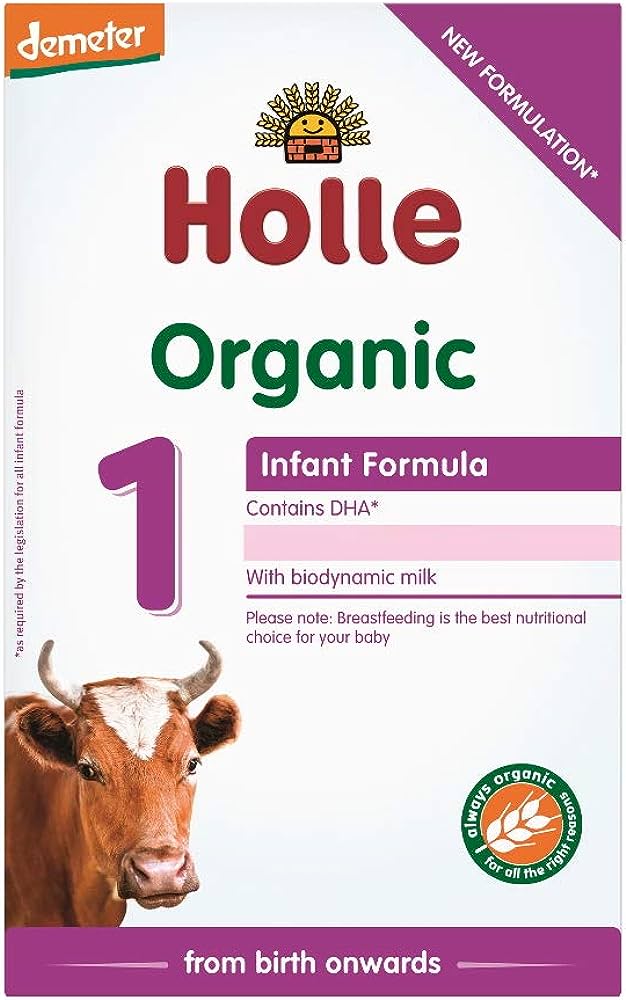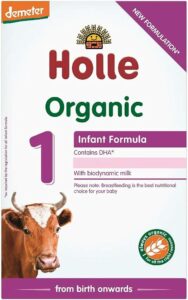 Best Features:
Formulated for 0-6 months old (choose stage 2 for 6+ months)
Downsides:
Only has 0.54 mg of iron (doesn't meet the

FDA

's minimum requirement, but can still be used with iron supplementation)

Recalled in August 2021 for failure to meet the

FDA

's nutrient and labeling standards, along with other

European formulas

from Able Groupe (31)

Contains

maltodextrin

and

palm oil

(explained above)
Bobbie
Vs.
Kendamil
Products
Products from both brands meet European standards and are free from palm oil. Like Bobbie, the Kendamil products we compare below also meet the FDA's iron standards. (31)
While Bobbie only offers organic formulas for 0-12 months old made from cow's milk, Kendamil offers a wider range of products (available in EU stores but possibly limited in the US), including:
Regular (inorganic)

cow's milk

formulas

Goat milk

Toddler or follow-on milk (12-36 months)

Baby food (porridge)
Kendamil
Organic First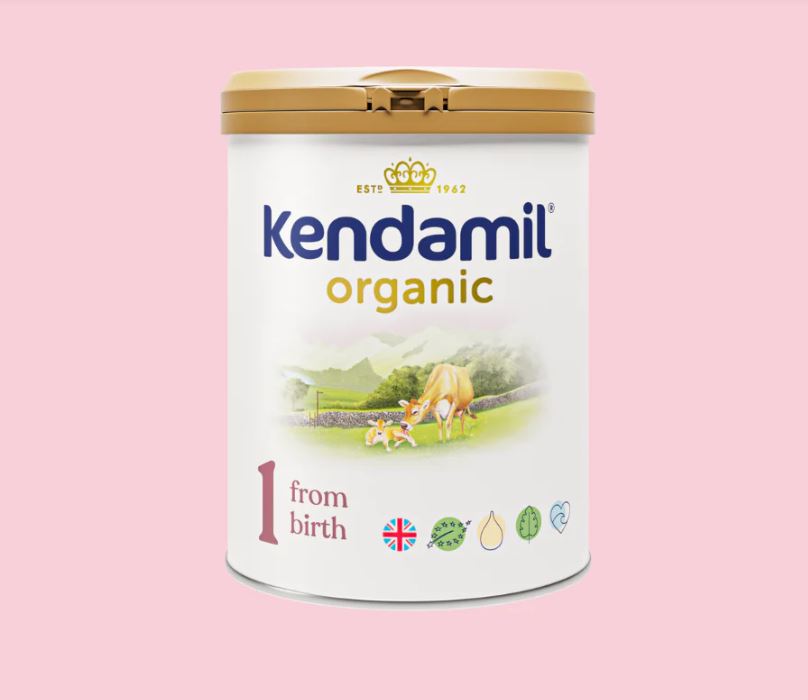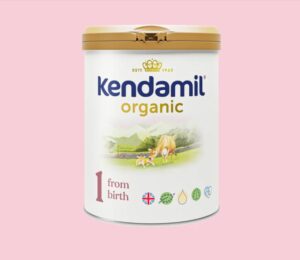 Best Features:
Uses

whole milk

to provide a natural source for a natural source of MFGM (milk fat globule membrane)

Formulated for 0-6 months (choose stage 2 for 6+ months)
Downsides:
Not easily available in the US

Recalled in August 2021 for not meeting the

FDA

's nutrient and labeling standards (31)
Kendamil
Classic First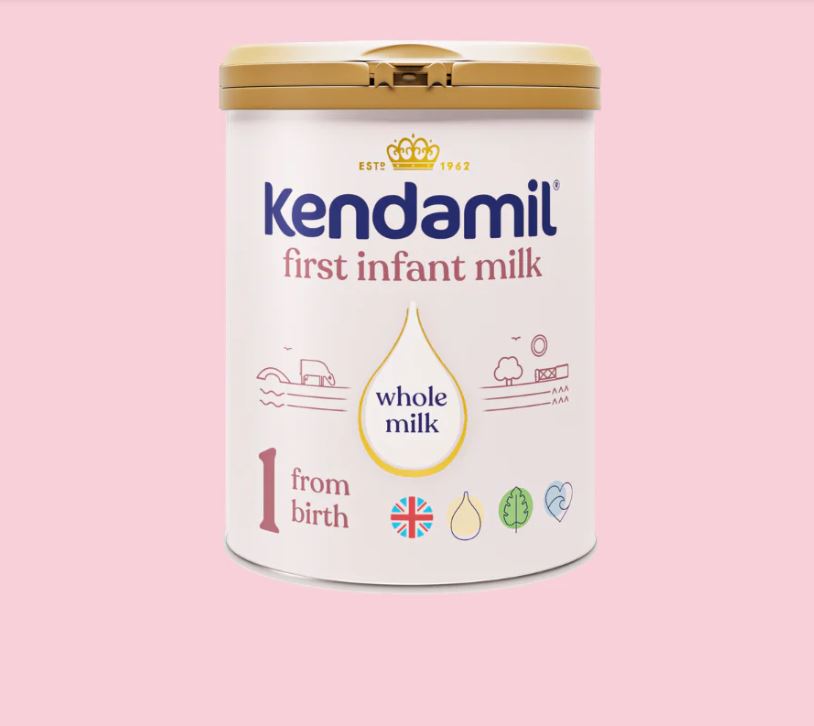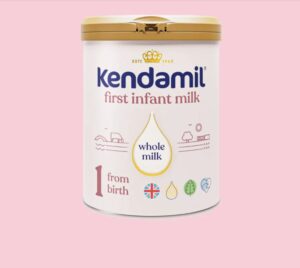 Best Features:
Also uses

whole milk

Not included in the Able Groupe recall of

European formulas
Downsides:
Other
Baby Formula
Articles & Guides
References
(1) https://www.nytimes.com/wirecutter/blog/us-parents-european–baby-formula/
(2) https://www.ncbi.nlm.nih.gov/pmc/articles/PMC6893676/
(3) https://eur-lex.europa.eu/legal-content/EN/TXT/?uri=celex%3A02016R0127-20210408
(4) https://www.ncbi.nlm.nih.gov/pmc/articles/PMC5149046/
(5) https://www.ncbi.nlm.nih.gov/pmc/articles/PMC4882692/
(6) https://academic.oup.com/jn/article/129/11/2094/4721978
(7) https://www.healthychildren.org/English/ages-stages/baby/formula-feeding/Pages/Why-Formula-Instead-of-Cows-Milk.aspx
(8) https://www.hsph.harvard.edu/nutritionsource/2015/04/13/ask-the-expert-concerns-about-canola-oil/
(9) https://www.medicalnewstoday.com/articles/canola
(10) https://www.ncbi.nlm.nih.gov/pmc/articles/PMC10143847/
(11) https://www.ams.usda.gov/sites/default/files/media/ARA%20TR.pdf
(12) https://www.mdpi.com/2304-8158/11/21/3412
(13) https://health.clevelandclinic.org/avoid-the-hidden-dangers-of-high-fructose-corn-syrup-video/
(14) https://www.ncbi.nlm.nih.gov/pmc/articles/PMC6409436/
(15) https://www.ncbi.nlm.nih.gov/pmc/articles/PMC4940893/
(16) https://www.ncbi.nlm.nih.gov/pmc/articles/PMC7759907/
(17) https://pubmed.ncbi.nlm.nih.gov/11860219/
(20) https://www.ncbi.nlm.nih.gov/books/NBK236264/
(23) https://kidswithfoodallergies.org/living-with-food-allergies/top-food-allergens/soy-allergy/
(27) https://www.fda.gov/food/alerts-advisories-safety-information/fda-alert-infant-formula–bobbie-baby-inc-june-2019
(28) https://www.govinfo.gov/content/pkg/CFR-2022-title21-vol2/pdf/CFR-2022-title21-vol2-part107-subpartD.pdf
(29) https://wicworks.fns.usda.gov/sites/default/files/media/document/infant-feeding-guide.pdf
(30) https://www.fda.gov/food/people-risk-foodborne-illness/questions-answers-consumers-concerning-infant-formula#:~:text=No%2C%20FDA%20does%20not%20approve,to%20marketing%20a%20new%20formula.
(31) https://www.fda.gov/safety/recalls-market-withdrawals-safety-alerts/able-groupe-recalling-products-labeled-infant-formula-formulas-have-insufficient-iron-levels