Recall Information
On December 11, 2022, baby nutrition company ByHeart announced the voluntary recall of five batches of their Whole Nutrition Infant Formula because of possible cross-contamination with Cronobacter sakazakii. (1)(2)
The formula was recalled out of an abundance of caution after one test sample from the company's third-party packaging facility tested positive for the bacteria. (1)(2)
This formula recall helps keep babies and children safe from the possible ill effects of taking any of the possibly contaminated product batches. (1)(2)
Thankfully, no distributed ByHeart products tested positive for the bacteria, and no consumer complaints have been received to date, according to the recall notice issued by the FDA (U.S. Food and Drug Administration). (1)(2)
The FDA clarifies that the formulas produced by ByHeart's own manufacturing facility located in Reading, PA, aren't contaminated. Instead, the cross-contamination may have occurred through their third-party packager. (1)(2)
ByHeart explains that they own their entire manufacturing supply chain, except the final canning, which is handled by a "reputable third-party packager." (1)
So, the manufacturing facility continues to run 24/7, and the restocking of these recalled formulas is expected by January 2023. (1)(2)
All the formula products packaged at the third-party facility that day, plus the manufacturing facility's first production the following day, have been isolated for destruction. These weren't packaged and distributed to consumers. (1)
Which
ByHeart
Products Are Included & How To Identify Them?
This voluntary recall affects five batches of ByHeart Whole Nutrition Infant Formula (24 oz containers). It's a milk-based powder with iron formulated for babies 0-12 months.
These affected formula batches have been distributed directly to US consumers.
Check the bottom of the can for these recalled product batches with use-by dates of "01 JAN 24" or "01 JUL 24": (1)(2)
22273 C1

22276 C1

22277 C1

22278 C1

22280 C1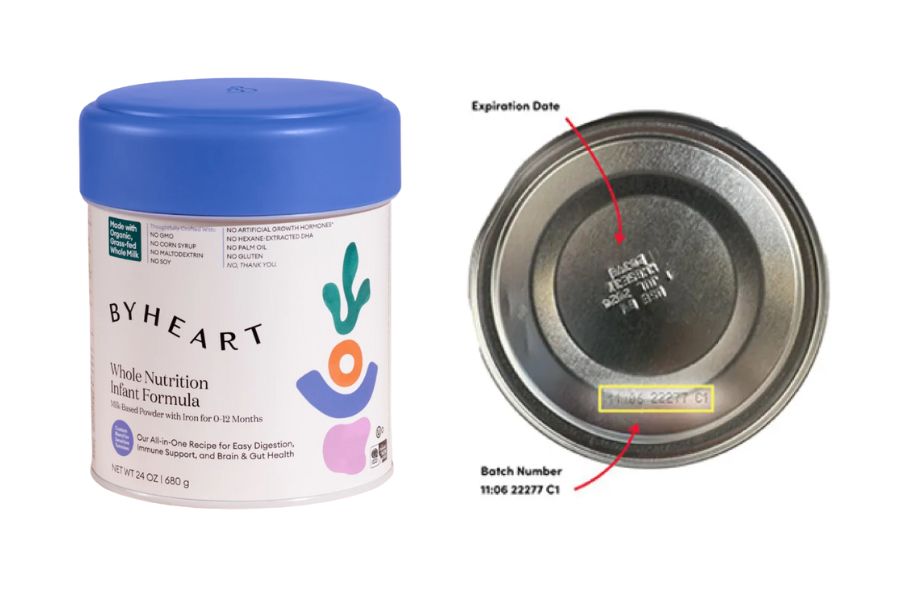 What To Do With The Recalled
ByHeart
Formulas & How To Get A Refund
If you have formulas from the recalled product batches, dispose of them immediately. Don't feed the recalled formulas to your baby.
You don't have to return the recalled ByHeart products.
After disposal, you can contact the company for a refund. The brand is also directly reaching out to all customers who recently purchased from their store.
Although ByHeart's manufacturing facility continues to operate 24/7, the company admits that the fastest way they can replace the affected formulas is to cover the cost of alternate formula (two cans). (1)
The brand also promises to provide affected customers with two extra cans for free on their next ByHeart Whole Nutrition Formula order. (1)
For further questions or clarifications, you can also contact the infant formula manufacturer through these channels:
Text: 1-909-506-2354

Email:

[email protected]

Recall page:

byheart

.com/pages/founders-letter
Is It Still Safe To Use The Recalled
ByHeart
Formula?
No. Bacterial contamination can be dangerous to babies, possibly leading to serious illness or even death. (3)
Although we understand your concerns over finding another product amid the ongoing baby formula shortage, it's too risky to give your child any recalled formula.
What's Cronobacter Bacteria?
Cronobacter sakazakii is found in the natural environment and often lives in very dry places, including dry foods such as powdered milk, powdered infant formula, and herbal teas. (3)
What Are The Symptoms Of
Cronobacter Infection
?
The symptoms of Cronobacter infection can vary but watch out for the following signs in infants (0-1 year old): (2)(3)
Fever

Excessive crying

Poor feeding

Fatigue or very low energy

Irritability
Call your pediatrician and immediately bring your child to the hospital if they experience: (2)(3)
Jaundice (yellow whites of the eyes and skin)
These can be a sign of serious complications such as meningitis (swelling of the linings surrounding the spinal cord and brain) or sepsis (a life-threatening infection). (3)
According to the CDC, babies two months old or younger have a higher risk of developing meningitis due to Cronobacter infection. (2)(3)
What Happens If I Used A Recalled Formula?
Cronobacter infections are rare. However, they can be deadly to infants. (3)
Although it's still possible that your child might not get sick, there's always the risk of serious, life-threatening infections.
According to the CDC (U.S. Centers for Disease Control and Prevention), healthcare providers aren't required to report Cronobacter cases to the health department. So, the actual number of cases in the US is unknown. However, the CDC usually receives reports of around two to four infant Cronobacter infections per year. (3)
ByHeart
Founders' Message
ByHeart founders Ron and Mia explain that they are accountable to their consumers, and they're recalling their possibly contaminated products as part of their accountability to always try to do the right thing.
They assured parents of the brand's safety, adding that their babies also drink ByHeart products.
Part of their statement reads: (1)
"Parents can remain confident in the safety of ByHeart's products as we continue to expand our investments in infant formula innovation, clinical studies, and industry-leading quality standards.

Our manufacturing facility in Reading, PA, continues to operate 24/7, and we are committed to providing you infant formula come January.

…The safety of your family is our number one priority – and we are here for you and with you. As you know, we're ByHeart customers, too. My baby Simone just finished drinking ByHeart, and Ron's seven-month-old, Avner, is on it currently.

We know that the most important thing we can do is be transparent with you and over-communicate and we will continue to do just that."
ByHeart
Formula Recall
Recent Updates & Warnings
The FDA Issues Warning Letters To Baby Formula Manufacturers
Update: August 31, 2023
The FDA issued warning letters to ByHeart Inc., Mead Johnson Nutrition (Reckitt for Enfamil), and Perrigo Wisconsin, LLC, over inspection findings over the last several months. (6)
The exact reasons for these warnings weren't disclosed, and no recalls were issued about any product from these affected manufacturers. (6)
ByHeart
Formula Recall
FAQs
Who Owns
ByHeart
Formula Company?
ByHeart is owned by Ron and Mia Belldegrun. (4)
Where Is
ByHeart
Formula Manufactured?
ByHeart's Whole Nutrition Infant Formula is manufactured in small batches at their facility in Reading, Pennsylvania.
According to ByHeart's FAQs, their ingredients are sourced from all over the world.
Is
ByHeart
Formula
FDA
-Approved?
According to ByHeart's CEO and co-founder Ron Belldegrun, their formula is FDA-registered. It's also kosher and gluten-free, farm to formula-verified, non-GMO certified, and made with organic, grass-fed whole milk. (4)
What Other Brands Of Formula Have Been Recalled?
The recent recall only affects Byheart Whole Nutrition Infant Formula.
However, there have been other formula recalls in the past, including the massive Abbott recall of Similac, Alimentum, and EleCare products in 2022 due to possible Cronobacter sakazakii and Salmonella contaminations. (5)
Some formula recalls we've also covered:
What's The Safest
Baby Formula
?
Here are some baby formulas (US brands) for you to try with your doctor's approval:
These European formulas can also be the best organic options for your little one:
IMPORTANT: Please consult your pediatrician or healthcare provider before switching to any of the baby formulas we recommend above. Many European formulas aren't FDA-approved, but many parents prefer them over US brands.
Other Formula Articles & Resources
References
(1) https://byheart.com/pages/founders-letter
(2) https://www.fda.gov/safety/recalls-market-withdrawals-safety-alerts/byheart-issues-voluntary-recall-five-batches-its-infant-formula-because-possible-health-risk
(3) https://www.cdc.gov/cronobacter/outbreaks/infant-formula.html
(4) https://www.forbes.com/health/family/byheart-formula-review/
(5) https://www.similacrecall.com/us/en/home.html
(6) https://www.fda.gov/news-events/press-announcements/fda-issues-warning-letters-three-infant-formula-manufacturers