Is There A Recall On EleCare Formula?
Yes. Abbott Nutrition issued a voluntary recall on Similac formula products, including Elecare and Alimentum, for possible bacterial contamination (Cronobacter sakazakii and Salmonella).(1)
This recall was issued on February 17, 2022, following reports of four babies hospitalized due to Salmonella and Cronobacter bacteria, including one possible death due to Cronobacter. (1)
Only powdered formulas are included in this baby formula recall. It doesn't include any metabolic deficiency nutrition formulas, liquid formulas, or other nutrition products.
This recall worsened the baby formula shortage problem in the US.
Finding Alternative Baby Formulas Amid The Shortage
The massive Similac recall and other issues hounding suppliers earlier this year led to a formula crisis, with many parents facing difficulties in finding baby formulas.
Here are some infant formulas to try (US brands) if your baby doesn't require specialized or metabolic formulas (but be sure to get your doctor's approval):
*Check out our interviews with Serenity Kids founders on their toddler formula, and their baby food pouches.
The following European formulas are among the best organic options for your baby:
Kendamil
Loulouka
Lebenswert
IMPORTANT: Please ask your pediatrician before switching your baby to any of these formulas. Although many parents still prefer them over US brands, many European formulas aren't approved by the FDA.
What Is The Formula Recall For?
Abbott Nutrition voluntarily recalled the formulas following the safety warning issued by the FDA (U.S. Food and Drug Administration) against the consumption of any products manufactured by their facility in Sturgis, Michigan. (2)
The safety warning was issued following consumer complaints of four infants from three different states (Texas, Minnesota, and Ohio) reportedly hospitalized after consuming these powdered infant formulas.
Health officials were alarmed after one of the babies died of a possible Cronobacter infection. However, they have yet to determine whether a contaminated Similac product directly caused the death.
These recalled products have already been distributed across the US and exported to other countries.
How To Tell If Your Formula Is Recalled?
Check code at the bottom of Similac powdered formula for the following information:
The code contains K8, SH, or Z2 (see photo below).
The first two digits are numbers from 22 to 37.
All products with expiration dates of April 1, 2022 (APR 2022) or later are included in this recall.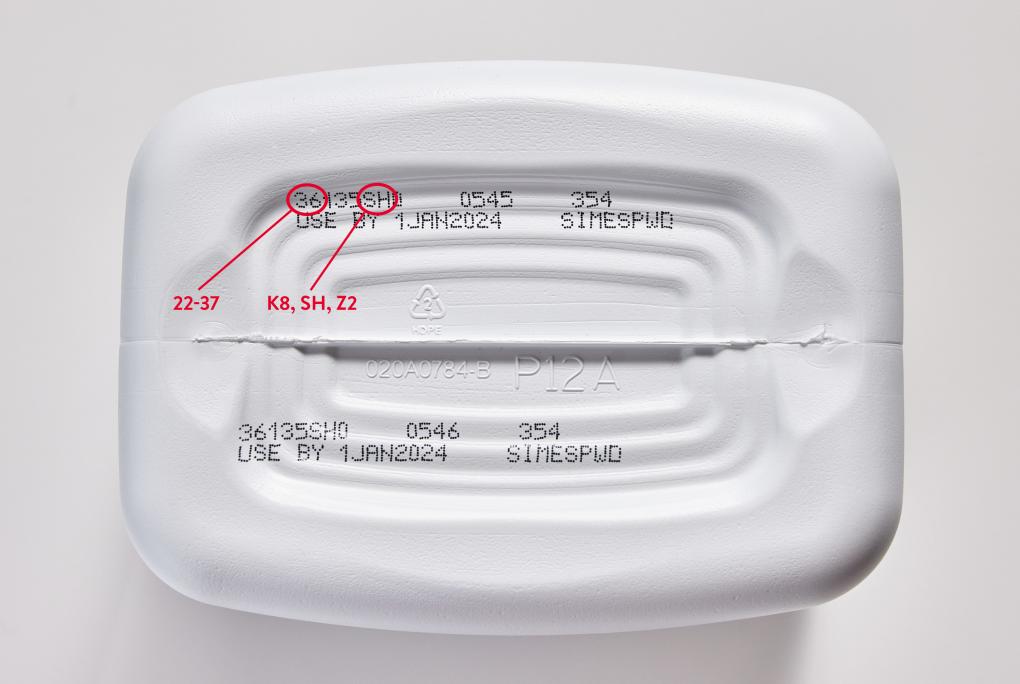 You can also enter the lot number on the Similac recall website (www.similacrecall.com) to check if the formula you have is among the recalled products.
Discard affected products, even if they look alright. You can't see these deadly pathogens, but they can be present in your baby's formula.
Call Similac at 1-800-986-8540 for refund processing or product replacement.
What Are The Symptoms Of Bacterial Infection?
Cronobacter bacteria can cause severe, life-threatening infections, which can be deadly: (3)
Meningitis or the inflammation of the membranes protecting the brain and spine)

Sepsis (blood infection)

Bowel damage
The CDC (Centers for Disease Control and Prevention) explains that it can be deadly to babies, especially newborns. (3)
The following are the possible symptoms of sepsis or meningitis that a baby can experience after contaminated formula consumption: (3)
Grunting breaths

Irritability

Poor feeding or no appetite

Temperature changes

Unusual movements

Jaundice (yellow skin and/or whites of the eyes)
Salmonella bacteria can cause salmonellosis.
Symptoms of a mild case can include the following: (4)
Diarrhea

Fever

Abdominal cramps
A more severe case can have the following symptoms: (4)
Dehydration (very little urine, dry mouth and throat, and dizziness when standing up)

High fever

Body aches

Headaches

Lethargy

Rash

Blood in the urine or stool

Prolonged vomiting
Severe cases can also be deadly. (4)
Immediately seek medical attention and notify your healthcare provider if your baby experiences any of these symptoms, as mentioned above.
Abbott's Samples Tested Negative
Abbott clarified that samples related to these complaints tested negative for the deadly pathogens (Cronobacter and Salmonella). (1)
They also assure customers that all formulas undergo routine pathogen tests before release.
Here's Abbott's statement:
"All finished products are tested for Cronobacter sakazakii, Salmonella Newport and other pathogens and they must test negative before any product is released.
Additionally, retained samples related to the three complaints for Cronobacter sakazakii tested negative for Cronobacter sakazakii. And the retained sample related to the complaint for Salmonella Newport tested negative for Salmonella Newport." (1)
In a statement posted on its recall website, the company informs caregivers and parents that pathogens (such as Cronobacter sakazakii) can be found in the environment and areas around the home. (1)
Contamination can happen at home. So, it's important to follow the proper preparation, handling, and storage instructions of all powdered formulas found on the packaging to reduce the contamination risks.
Preliminary Results Of The FDA's Investigation
The FDA, the Food and Drug Administration, inspected Abbott's facility, conducted tests, and reviewed internal records for irregularities or issues that may have led to the contamination.
In its advisory, they announced some results of their preliminary investigation: (2)
Several environmental samples tested positive for

Cronobacter sakazakii

FDA investigators had unfavorable inspectional observations
Upon checking Abbott's records, this is what the FDA found:
Positive for environmental contamination with

Cronobacter sakazakii

Product destruction (presence of

Cronobacter

)
Frank Yiannas, the FDA Deputy Commissioner for Food Policy and Response, released the following statement:
"As this is a product used as the sole source of nutrition for many of our nation's newborns and infants, the FDA is deeply concerned about these reports of bacterial infections.
We want to reassure the public that we're working diligently with our partners to investigate complaints related to these products, which we recognize include infant formula produced at this facility, while we work to resolve this safety concern as quickly as possible." (2)
In response, Abbott Nutrition admitted that they found evidence of Cronobacter sakazakii while testing their Sturgis, Mich., facility. However, they clarified that the positive samples were from non-product contact areas. (1)
The investigation is ongoing, but they haven't found evidence of Salmonella Newport in their facility. (1)
Court Dismisses Some Cases Against Abbott
Update: May 22, 2023
Some Abbott cases were dismissed by Chicago District Judge Matthew Kennelly after the parents who filed them were unable to prove that they received contaminated formula and that their kids were directly affected. (58)
The parents had claimed they experienced economic loss because of Abbott formulas' "substantial risk of bacterial contamination." (58)
FDA Improves Powdered Baby Formula Safety Measures
Update: March 22, 2023
The FDA improves its safety measures for baby formula and instructs manufacturers, packers, distributors, retailers, exporters, and importers, to do the following to protect the most vulnerable population, infants: (5)
Ensuring their full compliance with

all

relevant rules and regulations on human food and infant formula production

Evaluating and also improving their in-process controls and all production stages (e.g., inspecting raw materials and ingredients, identifying their manufacturing facilities' areas of concern, etc.)

Ensuring that all adulterated or misbranded formulas are immediately reported to the FDA
The federal agency also instructs these firms to inform them of any samples or lots that test positive for bacterial strains, particularly Cronobacter spp. or Salmonella. This instruction applies even when the company hasn't released any of the affected lot/s. (5)
Top FDA Official Resigns After Criticism Of Formula Crisis
Update: January 26, 2023
Frank Yiannas, FDA deputy commissioner of the Office of Food Policy and Response, resigns from his post following criticism over how the agency handled the Similac recall and formula crisis. (6)
An independent review requested by FDA Commissioner Robert Califf pointed out the need for the food program to be reorganized. The review also recommends "a strong leader" to limit internal conflicts. (6)
In his defense, Yiannas cited issues with the food program's "decentralized structure." He said this hampered their function, preventing them from protecting the public and working as an integrated team. (6)
Yiannas' resignation is effective on February 24. (6)
Abbott Under Criminal Investigation For Possible Role In Formula Shortage
Update: January 24, 2023
The Justice Department, through its consumer protection branch, is reportedly doing a criminal investigation on Abbott's possible part in the ongoing US formula shortage. (7)
Over a year after it was first announced, the shortage continues to affect babies in the US, especially those who relied on specialty formulas only available from Abbott. (7)
The Justice Department's investigation will look into Abbott's role in the shortage, especially because its manufacturing plant was shut down from February to June 2022.
Also, the massive formula recall removed a huge number of formulas, possibly millions of cans, worsening the shortage. (7)
Scott Stoffel, Abbott's spokesperson, said they're "cooperating fully" with the investigation. (7)
In previous investigations, the FDA (Food and Drug Administration) reportedly discovered various violations and lapses at Abbott's manufacturing facility, such as lax safety protocols and logs of bacterial contamination on several occasions. (7)
Reckitt Benckiser (Enfamil) Predicts Formula Shortage Until Spring
Update: December 4, 2022
Enfamil maker Reckitt Benckiser predicts that the US formula shortage crisis will continue until spring. (8)
Now the US' largest formula supplier after troubles hounded the previous spot-holder Similac, Reckitt Benckiser declared that it's operating its formula factories 24/7 to ramp up production. (8)
However, the company also sees a continued formula crisis despite the increased volumes of infant formula they're producing and the government's efforts to increase supplies on the shelves. (8)
Abbott's Sturgis Plant Reopens Again After Flooding
Update: July 10, 2022
Following a three-week shutdown due to massive floods in the area, Abbott's plant in Sturgis, Michigan, finally reopened again on July 1, 2022. With the plant back in operation, Abbott restarts EleCare production and will soon make other specialty and metabolic formulas. (9)
FDA Will Allow Overseas Formulas Beyond Shortage
In hopes that another shortage won't happen again, the FDA plans to allow continued overseas formula importation beyond the shortage. (10)
The federal agency announced that it will issue official guidance in September regarding how these temporary importers could meet the requirements to continue supplying baby formulas beyond mid-November. (10)
FDA: Another Formula-related Infant Death Reported
Update: June 22, 2022
Another baby reportedly died in January, and the FDA is investigating the matter in relation to their Abbott probe because the infant consumed the company's formula. (11)
According to FDA officials, they only received the report about this infant's death last June 10. (11)
US To Import Baby Formula From Mexico
As Abbott's Sturgis plant remains closed and the formula crisis continues, Operation Fly Formula will bring 1 million pounds or around 16 million 8-oz bottles of Gerber Good Start Gentle infant formulas from Mexico. (12)
These imported formulas will arrive starting on June 24 in Fort Worth, Texas. (12)
Recalled Abbott Formulas Accidentally Sold In Canada
Update: June 20, 2022
Retail pharmacy giant Shoppers Drug Mart reportedly sold recalled Abbott baby formulas due to an "online error," the CFIA (Canadian Food Inspection Agency) warns consumers.
These products were recalled in February 2022 but accidentally sold to unsuspecting consumers. The CFIA asked consumers who bought formulas from Shoppers Drug Mart to check for the following codes found at the bottom of the product's packaging or container:
First two digits start with numbers from 22 to 37

The code has K8, SH, or Z2

Expiration date code starting from 4-1-2022 (APR 2022)
The store also issued a secondary recall on these recalled Abbott infant formulas. (13)
Newly Reopened Abbott Plant Closes Again Due To Flooding
Troubles continue to hound Abbott Nutrition as its Sturgis plant closes again just days after reopening due to floods affecting the area. (14)
Severe thunderstorms hit Michigan, resulting in power outages and flood damage, including areas of the Abbott plant. The company has informed the FDA of the new setback and announced that production will likely be delayed for a few weeks. (14)
They will conduct comprehensive testing with an independent third party to ensure the plant's safety. EleCare production will resume after re-sanitization and the FDA's approval to resume production. (14)
Operation Fly Formula Brings More Formulas From Across The World
President Joe Biden's "Operation Fly Formula" has brought millions of formulas from across the world in special flights to help solve the US formula crisis.
More formulas have been shipped in by the middle of June:
Vice President Kamala Harris greeted the shipment of 200,000 8-ounce bottles of Kendamil formula at Dulles International Airport in Virginia from the United Kingdom. More Kendamil formulas will arrive on three more flights within the coming weeks. (15)
Two shipments of Bubs formula coming from Australia brought 95,000 cans of baby formula or 380,000 lbs equivalent to approximately 4 million eight-ounce bottles. These arrived in LAX from Australia and will be sent to Walmart, The Kroger Company, and Albertsons Companies. (16)(17)
Another shipment of Nestlé Health Science Alfamino and Alfamino Junior (specialty infant formulas) amounting to 44,000 pounds (equivalent to approximately 548,000 eight-ounce bottles) also arrived in the middle of June at the Louisville International Airport from Switzerland. (17)
The operation will continue in the coming months.
Abbott announced that it will import 686,350 cans equivalent to around 16.5 million 8 fl oz bottles of Similac Total Comfort (designed for babies with sensitive tummies) and Similac NeoSure (designed for premature and low birthweight infants) beginning in June coming from their manufacturing facility in Granada, Spain. (14)
The first shipment of Aptamil First Infant Milk Stage 1 from Danone's manufacturing facility in Ireland will also arrive in July. This formula is designed for healthy babies but might not be ideal for premature babies or infants with metabolic and digestive issues. (15)
Danone plans to ship a total of 750,000 cans of formula equivalent to 19 million 8-ounce bottles. (15)
Nine Baby Deaths Reported During FDA Investigation
Update: June 10, 2022
During the course of the FDA's investigation, a total of nine babies reportedly died. These incidents were reported from December 1, 2021, to March 3, 2022. (18)
Two of the infant deaths were included in the investigation and were among the four confirmed Cronobacter sakazakii infections that made Abbott recall Similac, Elecare, and Alimentum formulas in February.
One of the fatalities was a baby who had consumed EleCare infant formula. However, no details were given about this baby or the formula's lot number. (18)
Abbott Reopens Sturgis Plant, Formula Stocks To Hit Shelves On June 20
Update: June 6, 2022
Abbott Nutrition announced that it has finally restarted its facility in Sturgis, Michigan, on June 4, 2022. (19)
The company prioritized EleCare and other specialty or metabolic formulas which are designed for babies with severe food allergies or digestive problems.
These formulas newly produced formulas are expected to hit market shelves by June 20, and could soon help alleviate the US formula shortage. (19)
Abbott also announced that it will restart Similac production as soon as possible, along with other formulas.
US Formula Shortage Reaches 70%, Companies Around The Globe Help
Update: May 31, 2022
The out-of-stock rates for baby formulas in the US have gone up to as high as 70% as of the week ending May 22 across the US, announced retail data firm Datasembly. (20)
As the numbers continue to rise, baby formula companies around the globe responded to US President Biden's call for help.
Several foreign companies announced they will ship products to the US, especially after the FDA relaxed some regulations to help solve the crisis as quickly as possible.
Here are some of the additional companies that promised to help out:
Bubs Australia – will send at least 1.25 million cans of baby formula (21)

UK manufacturer Kendal Nutricare (makers of Kendamil) – will send formulas over the next six months to fill around 100 trucks (22)
Some Babies Hospitalized Due To Formula Shortage
Update May 24, 2022
In several parts of the US, some babies were hospitalized amid the formula shortage. Many of these kids needed specialty formulas like Elecare because they couldn't digest full proteins.
These kids relied on the amino acids (building blocks of proteins) in EleCare as nourishment because these didn't have to be digested.
After the February recall, however, their parents couldn't find Elecare and similar alternatives. They had to try other formula options but the children experienced dehydration because they couldn't tolerate the new formula. (23)
For many of these kids with medical conditions, finding the right formula can be a tedious process because the new one has to meet their nutritional needs but shouldn't trigger potentially dangerous reactions like dehydration or diarrhea.
Other babies were hospitalized due to intolerance to a new formula or for experiencing mineral imbalances after taking homemade formula.
Children's Wisconsin warns that homemade formulas can lead to liver and/or kidney damage. These can also cause your baby's heart to stop due to an imbalance. (24)
Jennifer Crouse, the Clinical Nutrition Manager at Children's Wisconsin, added that parents shouldn't water down formulas because it can lead to brain swelling or organ failure. (24)
She recommends asking your pediatrician before giving any formula substitute to your baby.
Data from different hospitals across the US showed several children hospitalized due to the formula shortage:
Two children were hospitalized at Le Bonheur Children's Hospital in Memphis, Tennessee because they were using EleCare for short bowel syndrome (they couldn't absorb full-size proteins). (23)

Three babies were admitted to the Medical University of South Carolina Shawn Jenkins Children's Hospital in Charleston for intolerance, and another for mineral imbalance after taking homemade formula. (25)

An undisclosed number of babies and older kids were admitted to Children's Healthcare of Atlanta in Georgia for malnutrition. They all had specific dietary needs and weren't able to tolerate new formulas. (24)(26)

Several children (the exact number wasn't disclosed) were also treated at the ER or admitted to Children's Wisconsin for malnutrition or failure to thrive after taking inappropriate substitutions such as homemade formula. (24)
States Hardest Hit By The Formula Shortage
In April 2022, these states had out-of-stock rates over 50%: (27)
Tennessee

Iowa

South Dakota

North Dakota

Missouri

Texas
Nevada announced in May that it also experienced a 50% decrease in its baby formula supply. (28)
Scammers Take Advantage Of Formula Shortage
The FTC (Federal Trade Commission) said that scammers are taking advantage of the situation and selling formulas for hefty prices through fraudulent online stores. (29)
These scammers are copying logos and creating fraudulent social media accounts or websites that mimic the original sites of recognizable formula brands. They sell formulas with highly marked-up prices or scam customers into paying for products that they never deliver. (29)
FTC Tips To Avoid Scammers
The FTC recommends the following to avoid getting scammed: (29)
Search for "scam," "review," or "complaints" about the brand or product you find online

Don't pay with gift cards, money transfers, or cryptocurrency.

Choose credit card payments for buyer protection so you can process a refund if your order doesn't arrive.

Research and know your rights, especially about shipments and refund policies.

Check with your pediatrician, local WIC office, or other local resources if they might have available formula stocks.
AAP Lowers Age Recommendation For Cow's Milk
The AAP (American Academy of Pediatrics) recently lowered its age recommendation for cow's milk from one year to six months of age. The new recommendation was met with mixed reactions. (30)
However, despite varying recommendations from pediatricians, they all agree that cow's milk should only be given to babies for the shortest time possible. It should only be used as a temporary substitute until you find your baby's formula.
WARNING: Cow's milk should never be given, even as a temporary substitute, to babies using specialty formulas for allergies or those with special health needs unless recommended by your pediatrician.
Cow's Milk Preferable To Diluted Or Homemade Formula
According to Dr. Hanna Jaworski, division chief for Pediatrics at Spectrum Health, cow's milk has its risks, including an increased possibility of anemia. However, it can still be a better option than diluted or watered-down formula. (31)
Jaworski recommends cow's milk over homemade or diluted formula. However, she warns that this should only be as a "bridge" for temporary use for a day or two until you find your baby's preferred formula. (31)
She also recommends keeping the volume at 24 oz or less and providing your little one with their formula or a close alternative as quickly as possible. (31)
Cow's Milk Only As A Last Resort
Dr. Megan Sikkema, a pediatrician at Bronson Methodist Hospital, warns parents against following the AAP's new recommendations unless absolutely necessary. She said that it should only be done as a last resort. (31)
She added that if you really can't help but give cow's milk to your baby, make sure it's only for as short a time as possible. Switchback immediately once you find some formula.
If your baby is ready to eat solid foods, Sikkema also recommends giving them iron-rich food.
Harmful DIY Baby Formula Recipes Go Viral
Bloomberg reported that harmful DIY baby formula recipes have gone on various social media platforms as desperate parents seek alternatives amid the shortage. (32)(33)
According to the report, Twitter posts about homemade baby formula rose as much as 2,100% (around 5,000 tweets) from the first to the second week of May. (33)
WARNING: Homemade baby formulas can be dangerous.
The FDA warns parents against making homemade infant formula because it could lack vital nutrients needed to support their baby's growth.
Children's Wisconsin also warns that it can lead to liver and/or kidney damage, and might even cause your baby's heart to stop due to an imbalance. (24)
One baby has been hospitalized due to mineral imbalances from using homemade formula. (25)
After the Bloomberg report was published, some social media platforms removed or labeled the posts: (33)
Several YouTube and TikTok videos or posts were removed

Aside from these videos flagged by Bloomberg, YouTube, under their Harmful & Dangerous policies, also removed content selling, promoting, or providing homemade baby formula instructions.

Meta, Facebook's parent company, told Bloomberg that external content reviewers are adding warning labels on posts with baby formula misinformation.
In contrast to the other platforms, however, Twitter didn't consider these posts a breach of their misinformation policy. They told the outlet that they'll review their practices "over time." (33)
Abbott CEO Shares "Serious Steps" For Addressing Formula Shortage
Robert Ford, CEO of Abbott Laboratories, apologized to the public for the company's role in the formula shortage after recalling Similac, Elecare, and Alimentum products in February 2022. (34)
He explained that the voluntary recall was the right thing to do because the company didn't want to risk the children's lives and health.
Ford said that they will do the following once production starts: (34)
Invest in upgrading their safety and quality processes and equipment

Make significant investments to ensure the issue doesn't happen again

More than double the current production
He also detailed the "serious steps" being taken to address the infant formula shortage: (34)
"Rigorous inspections" of finished products

Acceleration of production processes

A $5 million fund for families affected by the recall after their children were hospitalized due to the lack of specialized products they needed

Converting production lines for adult nutrition products at their facility in Columbus, Ohio, to prioritize the ready-to-feed liquid infant formula production

Air-shipping millions of the most widely used infant formulas from an FDA-approved facility in Ireland to the US
Abbott had a 40% share of the US infant formula market before the recall. So, the February recall and plant shutdown badly affected the formula supply. (35)
But Ford clarified that none of the bacterial strains from four complaints were found in Abbott's products. (34)
He added that genetic sequencing of Abbott retained products and the samples from the four complaints didn't have any connection. (34)
The FDA Refutes Abbott's Claim About The Bacterial Strains
However, FDA officials recently refuted Abbott's claim, explaining that they were unable to get a conclusive match because they hadn't collected bacterial strains from the other patients. (36)
According to the FDA's food director Susan Mayne, they only had sequences from two babies. Although these didn't match with Abbott's samples, the sequences from the other two babies remain unknown. (36)
Court Consent Decree Before Abbott Resumes Production
A consent decree filed at the US District Court for the Western District of Michigan has been signed off by a federal judge, revealed Abbott spokesperson Jonathon Hamilton. (37)
This 33-page agreement between Abbott and the FDA details steps they must comply with before they can resume infant formula production: (37)(38)
Cleaning and sanitizing the facility and all its equipment

Restarting the equipment and doing test runs

Conducting multiple tests

Checking on ingredients

Hiring an independent third party expert who will review its processes
The company also needs to review and change the following: (38)
Employee training programs

Product sampling and testing plans

Environmental monitoring program
To avoid any massive recall in the future, the court consent decree also requires Abbott to promptly stop production and immediately notify the FDA about any contamination detected. (37)
Abbott Allegedly Enriched Shareholders Even If Plant Needed Repairs
Two years before the recall, Abbott's net profits soared from $3.6 billion to $7.1 billion, based on Securities and Exchange Commission records. (39)
Abbott enjoyed profits as high as 94% between 2019 and 2021 even when bacteria were detected in some products within the same period. (39)
Groundwork Collaborative chief economist Rakeen Mabud claimed that even if the plant needed repairs, Abbott chose to prioritize its shareholders. (39)
The company allegedly increased dividends by over 25% and also offered shareholders a special stock buyback program worth $5 billion. (39)
American Economic Liberties Project senior fellow Moe Tkacik also accused Abbott and similar companies of using their products as their personal ATMs. She insisted that buybacks should be banned because these are a form of manipulation and had been illegal until 1982. (39)
She also believes in putting restrictions on companies like Abbott's whose largest customers are federal programs such as the WIC or those that directly receive federal funding. (39)
The economists want to ban buybacks, put stricter antitrust enforcement, and impose limits on shareholder dividends. (39)
Abbott's Response
The company denies that its buyback program affected its products' safety.
According to a company spokesperson, they were able to invest in facility improvement even with the stock buybacks, thanks to their "strong balance sheet." (39)
Senate To Investigate Abbott's Buyback Program
Senator Ron Wyden has reportedly requested the company for more information about its stock buyback program. (39)
The Senate Finance Committee will also investigate Abbott's investments in their facility's safety improvements while enjoying record revenues. (40)
Indictment Eyed Over Baby Formula Shortage
House Speaker Nancy Pelosi said that criminal charges might be filed after the nationwide baby formula shortage is resolved to ensure that it won't happen again. However, the priority right now is to solve the crisis to protect the nation's hungry, crying babies. (41)
Pelosi called the shortage "unconscionable and tragic" but didn't specify details of the possible indictment or who they were planning to charge. She also clarified that her remarks aren't associated with any of her colleagues. (41)
Biden Invokes Defense Production Act
On May 18, 2022, US President Joe Biden invoked the Defense Production Act to directly address the baby formula shortage. It will direct suppliers to prioritize orders from baby formula manufacturers before any other customers of the same goods. (36)
"Priority orders" for Reckitt Benckiser (Mead-Johnson's Enfamil) and Abbott Nutrition were the first authorizations under the Defense Production Act: (42)
Abbott Nutrition (Similac) – raw materials such as sugar and corn syrup

Reckitt Benckiser (Enfamil) – filters and other single-use products to generate certain oils needed in their infant formula process
These priority orders are expected to help increase production outputs for both companies: (42)
Increase Abbott production by one-third once the plant resumes operations

Allow Reckitt facilities to operate to maximum capacity
Biden Launches "Operation Fly Formula"
Biden also launched "Operation Fly Formula" for various government agencies to use military planes to fly formulas that meet US standards overseas to help restock shelves. (36)
These special flights sped up the process and allowed baby formulas to reach the US within 72 hours instead of shipments normally taking two weeks. (25)
The first round of flights will bring formulas equivalent to 1.5 million doses of eight-ounce bottles. (25)
First Operation Fly Formula Shipment Arrives In The US
A total of 78,000 lbs or 132 pallets of Nestle Alfamino Infant and the Alfamino Junior formulas have arrived in the US on board the first "Operation Fly Formula" flight. (25)
These medical-grade specialty formulas were prioritized because they serve a critical purpose for children with cow's milk protein allergies.
Brian Deese, White House National Economic Council director, said that the military cargo plane carried an estimated 15% of the specialty baby formula needed in the US.
The medical-grade shipment came from Germany with products that originated from Zurich, Switzerland. These were flown to Indianapolis and taken to a Nestle distribution center located about a mile away. (42)
After going through the standard quality control checks, these medical-grade formulas will be distributed to doctor's clinics, pharmacies, and hospitals. A Biden administration official said that delivery priority will be given to worst-hit regions. (42)
This first batch can provide infant formulas for around 9,000 babies and 18,000 toddlers for one week, according to Agriculture Secretary Tom Vilsack. (25)
More Formula Flights Expected Soon
The next flight will bring 114 pallets of Gerber Good Start Extensive HA formula from the Netherlands through Germany. (42)
The "Operation Fly Formula" shipment is expected to arrive in Pennsylvania for distribution by another Nestle facility in the area. (42)
House Approves Bills To Address Formula Shortage
WIC Flexibility
One bill granting the secretary of the Department of Agriculture the permanent flexibility to issue waivers in the event of supply disruption was immediately approved by the House through a majority bipartisan vote. (43)(44)
This measure allows WIC participants to get any kind of available formula from any supplier rather than be limited by WIC-approved brands that might be unavailable. (43)(44)
With as much as 50% of infant formula sales in the US done through the WIC program (Special Supplemental Nutrition Program for Women, Infants, and Children), this bill can help plenty of families. (36)
The bill also requires baby formula manufacturers to create a special contingency plan to protect against any supply disruptions in the event of a recall. It will help prevent a similar shortage from happening again. (44)
It was passed in the House and the Senate. It's now up to the president to sign it into law. (45)
Emergency Spending Bill
The second Democrat-sponsored bill (emergency spending bill) was also passed; however, it wasn't as popular as the previous one.
The bill seeks a $28 million emergency spending fund to boost the FDA's resources, including hiring more staff. (36)
According to the chair of the House Appropriations Committee, Rep. Rosa DeLauro, this budget will increase the FDA's staff so that more people can do the following: (36)
Prevent fraudulent products from reaching the store shelves

Inspect international and domestic suppliers

Acquire better data on the marketplace
However, a total of 192 Republican lawmakers voted against it, claiming that "throwing millions of dollars at the problem won't fix it." (45)
Rep. Bill Huizenga is against giving the FDA more funds to get more staff. They said that increased formula production is necessary, not more people in the FDA. (36)

Republican Conference Chair Elise Stefanik accused Biden's "failed leadership," saying that it's responsible for America's baby formula crisis. (45)

Rep. Andy Harris, chair of the Appropriations subcommittee, claimed that it wasn't a money problem that needs to be solved but a leadership issue. (44)
Instead, Republican House representatives filed a counter bill that aims to obtain formulas from overseas sources. They call it the "Babies Need More Formula Now Act." (45)
The House's emergency budget measure is expected to meet more resistance in the Senate. Republicans have questioned the FDA for its accountability over the shortage and possible lapses that could have led to the deaths of the two babies. (40)
FDA Commissioner Faces Congress
FDA Commissioner Dr. Robert Califf faced Congress over an investigation about the baby formula shortage in a May 2022 bipartisan hearing. He's the first administration official to speak out about the crisis. (46)
Lawmakers, including Rep. Rosa DeLauro, repeatedly asked the FDA head over the agency's slow action to investigate a whistleblower complaint on the Abbott plant's alleged safety violations.
However, Califf reportedly refused to share details of the agency's ongoing investigation. (46)
The commissioner admitted to reading the whistleblower complaint but didn't specify any details or the steps he took to immediately address the issue.
Instead, Califf announced that Abbott could restart production in a week or two. However, this is pending safety upgrades and certifications. (46)
FDA Asks For More Budget
During the hearing, Califf asked lawmakers to increase the FDA's budget from $2.1 billion last year to $8.4 billion to be used for food safety and nutrition. (40)
It will include a $76 million increase allocated for improving technology to reduce toxins in food and quickly trace the source of foodborne illnesses. (40)
Making Food Safety A Priority
Groups are also calling on the federal agency to prioritize food safety to avoid a repeat of the formula crisis.
Congressional leaders and various groups also want to hold the FDA accountable for whatever lapses or responsibilities it might have overlooked that led to the Abbott plant closure and baby formula shortage.
Several groups are also calling on the FDA to restore the deputy food commissioner position removed during the Trump administration. They believe that having a leader in this position can unify and improve the FDA's food program. (47)
Abbott Nutrition Releases On-hold Baby Formulas Amid Shortage
Update: May 4, 2022
Due to the baby formula shortage, the FDA reportedly requested Abbott Nutrition to release the specialty and metabolic nutrition formulas that were put on hold during the February 2022 recall. These formulas are needed particularly by babies with special dietary considerations and those in hospitals. (48)
Abbott announced they're releasing metabolic nutrition formulas to fulfill the FDA's request and offering these products to patients for free. However, stocks are limited because Abbott hasn't resumed production. Instead, these were just the products made before the recall. (48)
Patients can get these formulas in coordination with healthcare professionals but on a need or case-by-case basis. (48)
To assure worried consumers, the company clarified that these nutrition formulas had been tested and all complied with release requirements before distribution. (48)
The main products (Similac, Alimentum, and EleCare powder formulas) included in the February 2022 recall won't be included in this release.
However, the specialty formula Similac PM 60/40 will be released despite being included in the February recall because only one lot had been affected. The stocks from the other lots will be the ones released. (48)
Specialty and metabolic nutrition products for release: (48)
Calcilo XD

Cyclinex-1 and 2

Glutarex-1 and 2

Hominex-1 and 2

I-Valex-1 and 2

Ketonex-1 and 2

Phenex-1 and 2

Pro-Phree

Propimex-1 and 2

ProViMin

Similac PM 60/40

Tyrex-1 and 2
Abbott's reopening might help with the formula shortage. Still, the company clarified that it would take 6-8 weeks after their resumption before the newly produced baby formula products are available for distribution.
However, the Sturgis plant isn't reopening yet.
In their press release, Abbott announced that they're still working with the FDA to address the current situation and take corrective actions at the formula plant before production resumes. (48)
Whistleblower Reported Abbott's Lapses To FDA Months Before Babies' Deaths
Update: April 29, 2022
An Abbott Nutrition former employee became a whistleblower against the company, alleging several safety and security lapses at the plant in Sturgis, Michigan. The facility produced the Similac formulas recalled in February 2022. (49)
He also claimed to have reported the company's safety lapses to the FDA in October 2021, months before Similac products were linked to the deaths of two babies.
In his report, the former employee alleged that Abbott covered up numerous unsafe practices and security lapses at the Sturgis plant, but they retaliated when he raised these concerns. (49)(50)
This whistleblower believes that the babies' deaths could have been prevented had the company followed proper safety protocols. (49)(50)
He alleged that despite the safety concerns, Abbott managers possibly "sanitized" certain files to hide any information that could show the company's ill practices before the FDA's 2019 audit. (50)
He also alleged that despite discovering contamination in some products, the company altered time codes, discarded the contaminated lot, but still released the other infant formulas in production without testing them. (50)
It was also alleged that the company shipped products with actual weights lower than the product label and didn't take any corrective measures despite knowing about deficient test procedures. (49)
In response, Abbott Nutrition issued a statement denying the whistleblower's allegations, and discrediting him as a former employee who was allegedly dismissed due to serious violations of their food safety policies. (51)
According to Abbott, this dismissed employee came up with the false report he submitted to multiple authorities, after his dishonorable dismissal.
The company insists that despite recalling their products as a precaution, none of these tested positive for the pathogens that made the babies sick. (51)
Addressing the whistleblower's allegations, Abbott maintains that they follow these protocols: (51)
Take employee concerns very seriously, especially about the products

Foster compliance to make sure they produce the highest quality baby formulas

Empower their workers to identify and report any issues that might compromise their products' safety and quality
The whistleblower's report reached House Appropriations Committee Chair Rep. Rosa DeLauro who was seeking answers following the massive Similac recall. (49)
Rep. DeLauro expressed alarm over the 34-page report, questioning why the FDA didn't act quickly. DeLauro believes that FDA should have inspected the plant immediately to verify the report, considering it involved possible unsafe production processes for baby formula. (52)
Safety Issues At Abbott Plant Revealed in FDA's Report
Update: March 28, 2022
Federal safety inspectors released the results of their preliminary safety report on March 22 after conducting an inspection at Abbott's Sturgis plant. (53)(54)
The FDA's safety inspection report from January 31 to March 18, 2022, showed the following: (53)(54)
Abbott's failure to maintain sanitary conditions, particularly on surfaces used to prepare or handle formula and other parts of the plant

Some workers were observed by inspectors entering the production area without properly sanitizing their shoes and hands

Abbott's records show a history of

Cronobacter

bacteria contamination (eight times) from fall 2019 to February 2022

Lack of a process control system that covers safety procedures in all stages of processing, that could prevent the baby formula from being contaminated by

Cronobacter

bacteria or other microorganisms in the processing environment or from the formula's ingredients (55)
What's surprising is that Abbott admitted to receiving the first report from Minnesota health officials back in September 2021, and the FDA conducted a safety report, yet safety alerts weren't issued right away. (53)(54)
Cases from Ohio and Texas were reported in the following months.
But it turned out that the FDA had already conducted plant inspections in September 2021 and found several safety violations then: (53)(54)(55)
Some employees enter the production area with improperly sanitized shoes or fail to sanitize their hands properly

Unsanitary conditions (e.g., trash under the tables or dirty counters)

Lack of temperature controls
Lawmakers, parents, and product safety advocates are seeking explanations from the FDA over the possible judgment lapses that may have caused the deaths of two infants due to infant formula contamination.
Consumer Reports pointed out that the FDA knew about Abbott's safety issues even before the September 2021 inspections, especially because the company had been involved in similar safety concerns before.
Brian Ronholm, Consumer Reports' director of food policy, pointed out that the FDA knew about the Abbott plant's insufficient microbiological testing back in 2019. Federal safety inspectors found surface contamination at the facility but didn't act on it. (56)
He added: (56)
"It seems evident that the agency should have acted sooner. There will be plenty for the FDA to review about their enforcement process when this investigation concludes."
It's unclear why the FDA may have overlooked the safety issues, considering that these were indicated in the safety reports they made after the inspection. Furious parents want the FDA and Abbott to be held accountable for possible lapses that may have led to the two babies' deaths. (53)(54)
Considering the recent formula shortage in the US due to supply chain issues, everyone wants Abbott and the FDA to get to the bottom of the contamination concern to stop it from happening again.
An Abbott spokesperson assures the public: (56)
"We have already begun implementing corrective actions and enhancements at the facility, leveraging new technology and strengthening our processes, to give parents and customers renewed confidence in the quality of manufacturing at our Sturgis plant when we restart operations there."
Abbott explained that their quality systems can actually detect the presence of pathogens. It's the reason why their internal records showed Cronobacter sakazakii contamination in some batches. These finished products were destroyed and weren't distributed to customers. (56)
They also announced that the samples collected from their plant didn't match the Cronobacter sakazakii microbes from these reported cases.
Abbott declared: (56)
"Importantly, the unique genetic makeup of the Cronobacter sakazakii microbes found in nonproduct areas at the Sturgis facility did not match the Cronobacter sakazakii microbes from the reported cases."
However, Consumer Reports pointed out that there can be several different strains of a pathogen in the plant.
James E. Rogers, PhD, Consumer Reports' director of food safety and research, said: (56)
"I am not sure why Abbott would emphasize this fact because plants can contain multiple strains of a pathogen.

Just because the patient strains and those isolated so far don't match does not mean that the patients were not, or could not be, sickened by Cronobacter from infant formula."
According to experts, bacterial contamination might happen to baby formula because it isn't subjected to the same high temperatures (designed to kill pathogens) used in other commercial foods.
Still, baby formula companies should find a way to address and correct this serious safety concern to avoid contamination.
What Formula Has Been Recalled In 2022?
ByHeart Formula Recall
Update: December 12, 2022
Five batches of ByHeart Whole Nutrition Infant Formula have been voluntarily recalled on December 11, 2022, because of possible cross-contamination with the bacteria, Cronobacter sakazakii. While Cronobacter infections are rare, they can be deadly to infants.
Ready-to-Feed Liquid Products Recalled Over Faulty Bottle Caps
Update: October 16, 2022
Abbott Nutrition voluntarily recalled certain liquid ready-to-feed products (2 fl oz bottles) in mid-October 2022 due to faulty bottle caps from a manufacturing error. The affected bottles possibly have improperly sealed caps, which can lead to spoilage. (1)
According to Abbott's recall notice, these spoiled products can cause other gastrointestinal symptoms such as diarrhea and vomiting. (1)
Abbott clarified that these products were manufactured by their facility in Columbus, Ohio. Products from other facilities aren't included in this recall. (Read our Similac recall article for the complete list of affected lots)
The following ready-to-feed brands are included in this recall: (1)
Pedialyte Electrolyte Solution

Similac Water (Sterilized)

Similac Pro-Total Comfort

Similac 360 Total Care Sensitive

Similac 360 Total Care

Similac Stage 1

Similac Special Care 24

Similac NeoSure
WARNING: Don't feed these recalled ready-to-feed products to your little one.
You can contact Abbott Nutrition for more information:
Similac, Alimentum, Elecare, & Similac PM 60/40
Aside from EleCare being recalled in February 2022, this recall also includes Alimentum, Similac PM 60/40, and other Similac powdered infant formulas.
The other formulas are also recalled due to possible bacterial contamination with Cronobacter sakazakii and Salmonella.
Angel Formula
The FDA recalled "Healthy Beauty" Angel Formula by Moor Herbs in January 2022 for failure to meet FDA requirements. (57)
References
(1) https://www.similacrecall.com/us/en/home.html
(2) https://www.fda.gov/news-events/press-announcements/fda-warns-consumers-not-use-certain-powdered-infant-formula-produced-abbott-nutritions-facility
(3) https://www.cdc.gov/cronobacter/infection-and-infants.html
(4) https://www.cdc.gov/salmonella/index.html
(5) https://www.fda.gov/media/166044/download
(6) https://news.bloomberglaw.com/health-law-and-business/fda-food-safety-chief-yiannas-resigns-after-formula-recall-1
(7) https://nypost.com/2023/01/23/justice-department-investigates-abbott-baby-formula-plant/
(8) https://www.cnbc.com/2022/12/01/reckitt-expects-us-infant-formula-shortage-until-spring.html
(9) https://edition.cnn.com/2022/07/09/health/abbott-formula-plant-reopens/index.html
(10) https://www.reuters.com/world/us/fda-allow-global-baby-formula-makers-sell-us-past-shortages-2022-07-06/
(11) https://www.independent.co.uk/news/world/americas/baby-formula-death-fda-investigation-abbott-latest-b2107345.html
(12) https://www.whitehouse.gov/briefing-room/statements-releases/2022/06/22/president-biden-announces-tenth-operation-fly-formula-mission/
(13) https://www.thestar.com/local-burlington/news/2022/06/19/do-not-consume-recalled-baby-formula-sold-by-mistake-by-shoppers-drug-mart-triggering-new-warning-to-parents-and-shoppers-about-potential-salmonella-poisoning.html
(14) https://www.abbott.com/corpnewsroom/nutrition-health-and-wellness/abbott-update-on-powder-formula-recall.html
(15) https://www.msn.com/en-us/news/us/19-million-bottles-worth-of-baby-formula-set-to-arrive-next-month/ar-AAYCmd6
(16) https://abc7.com/baby-formula-shipment-los-angeles-operation-fly/11955694/
(17) https://www.wnky.com/operation-fly-formula-carries-44000-pounds-of-formula-to-louisville/
(18) https://efoodalert.com/2022/06/08/nine-baby-deaths-reported-to-fda-during-abbott-nutrition-investigation/
(19) https://www.fox13news.com/news/abbotts-baby-formula-plant-reopens-how-long-before-parents-see-more-supply
(20) https://www.fox5ny.com/news/baby-formula-shortage-out-of-stock-rates
(21) https://www.theguardian.com/australia-news/2022/may/29/australian-company-to-ship-baby-formula-to-shortage-hit-us
(22) https://www.businessinsider.com/baby-formula-shortage-us-operation-fly-formula-royal-family-2022-5
(23) https://www.cnn.com/2022/05/18/health/memphis-children-hospitalized-formula-shortage/index.html
(24) https://www.tmj4.com/news/i-team/babies-hospitalized-at-childrens-wisconsin-during-formula-shortage
(25) https://www.cnn.com/2022/05/22/politics/baby-formula-us-military-aircraft/index.html
(26) https://www.ajc.com/news/atlanta-news/some-children-hospitalized-in-georgia-due-to-baby-formula-shortage/Y3VOBHUA4BFSPCOXZLV2C4NLLU/
(27) https://www.cbsnews.com/news/baby-formula-shortage-2022-states/
(28) https://thenevadaindependent.com/article/nevada-among-hardest-hit-by-baby-formula-shortage-parents-count-on-community
(29) https://www.cnbc.com/2022/05/18/baby-formula-shortage-is-bringing-out-scammers-ftc-warns.html
(30) https://healthychildren.org/English/tips-tools/ask-the-pediatrician/Pages/Are-there-shortages-of-infant-formula-due-to-COVID-19.aspx
(31) https://wwmt.com/news/local/recommended-of-babies-cows-milk-dropped-6-months-amid-formula-shortage-baby-sturgis-abbott-fda-aap-american-academy-pediatrics
(32) https://www.bloomberg.com/news/articles/2022-05-21/dangerous-diy-baby-formula-recipes-go-viral-as-parents-get-desperate
(33) https://www.businessinsider.com/harmful-homemade-baby-formula-recipes-viral-social-media-2022-5
(34) https://www.washingtonpost.com/opinions/2022/05/21/abbott-ceo-robert-ford-formula-elevil/
(35) https://www.foodsafetynews.com/2022/05/infant-formula-producer-says-it-will-reopen-manufacturing-facility-if-court-oks-consent-decree/
(36) https://www.npr.org/2022/05/18/1099937734/biden-invokes-defense-production-act-for-baby-formula-shortage
(37) https://www.fda.gov/news-events/press-announcements/fda-provides-new-updates-activities-mitigate-infant-formula-supply-challenges-abbott-nutrition
(38) https://www.cnn.com/2022/05/16/health/abbott-formula-shortage/index.html
(39) https://www.theguardian.com/environment/2022/may/20/abbott-baby-formula-shareholder-profits
(40) https://www.nytimes.com/2022/05/19/health/baby-formula-fda-robert-califf.html
(41) https://www.newsweek.com/nancy-pelosi-opens-door-criminal-charges-over-baby-formula-shortage-1707575
(42) https://apnews.com/article/biden-health-indianapolis-00f39fd46778ecdd543c22f3630d79ba
(43) https://www.fox13news.com/news/nestle-flies-baby-formula-us-shortage
(44) https://www.cbsnews.com/news/baby-formula-shortage-house-passes-bills/
(45) https://www.washingtonpost.com/politics/2022/05/19/republicans-baby-formula/
(46) https://apnews.com/article/biden-covid-politics-science-e4aef87dfb74039f1612ca5279e85227
(47) https://www.afdo.org/wp-content/uploads/2022/04/FDA-Letter-FINAL.pdf
(48) https://abbott.mediaroom.com/2022-04-29-Abbott-to-Release-Metabolic-Nutrition-Formulas
(49) https://delauro.house.gov/media-center/press-releases/icymi-delauro-shares-whistleblower-report-contaminated-infant-formula
(50) https://www.cnn.com/2022/04/28/health/baby-formula-whistleblower/index.html
(51) https://www.abbott.com/corpnewsroom/nutrition-health-and-wellness/abbott-statement-on-complaint-by-former-employee.html
(52) https://www.businessinsider.com/whistleblower-told-fda-infant-formula-plant-before-2-babies-died-2022-4
(53) https://abcnews.go.com/Health/wireStory/fda-details-problems-plant-recalled-baby-formula-83608810
(54) https://www.usnews.com/news/business/articles/2022-03-22/fda-details-problems-at-plant-behind-recalled-baby-formula
(55) https://www.fda.gov/food/outbreaks-foodborne-illness/fda-investigation-cronobacter-infections-powdered-infant-formula-february-2022
(56) https://www.consumerreports.org/baby-formula/fda-failed-to-act-before-infant-formula-recall-a1963857913/
(57) https://wgntv.com/news/recalls/infant-formula-recalled-nationwide-for-possible-health-risks/
(58) https://www.reuters.com/legal/judge-tosses-some-claims-abbott-baby-formula-litigation-2023-05-22/