Overview
The manufacturers of ByHeart claim that their product is the first US formula that closest mimics breast milk levels, with ingredients such as lactoferrin (an abundant protein in breast milk and colostrum), lactose, and prebiotic fibers.
ByHeart differs from other brands because they conducted their own clinical trials, comparing their formula with breast milk and another formula (see results below).
This new infant formula was launched in March 2022, becoming the first new US formula manufacturer in over 15 years. (1)
ByHeart Whole Nutrition Infant Formula makers also take pride in the product being the first infant formula to be certified with the Purity Award by Clean Label Project.
Is ByHeart a European-style formula? What are this organic infant formula's ingredients – and are there questionable ingredients you should know about? How does it fare versus Bobbie formula? Are ByHeart formula reviews good or bad?
Find answers to these questions below.
What's
ByHeart Formula
& Where Is It Made?
"We are the first new infant formula brand in the U.S. to show our closeness to breast milk in our own nationwide clinical study, so parents can see for themselves why this formula is going to give their babies the foundation for a strong, healthy life ahead," says ByHeart co-founder Mia Funt. (9)
Similar Formulation & Taste As
Breast Milk
ByHeart is a "whole nutrition" formula made in the US. It's formulated to be as close to breast milk as possible. The brand explains that they achieve this by using the following:
Whole milk

instead of skimmed milk

Lactose

as the primary

carbohydrate

Alpha-lactalbumin

and

lactoferrin

as the

protein blend
Is
ByHeart Formula
FDA
-Approved?
ByHeart Whole Nutrition Infant Formula is FDA-registered.
ByHeart
Whole Nutrition
Infant Formula Review
How Much Does
ByHeart Formula
Cost & Where Can I Buy It?
ByHeart formula is sold on the company's website (byheart.com) for around $39 for a 24 oz (680 g) can.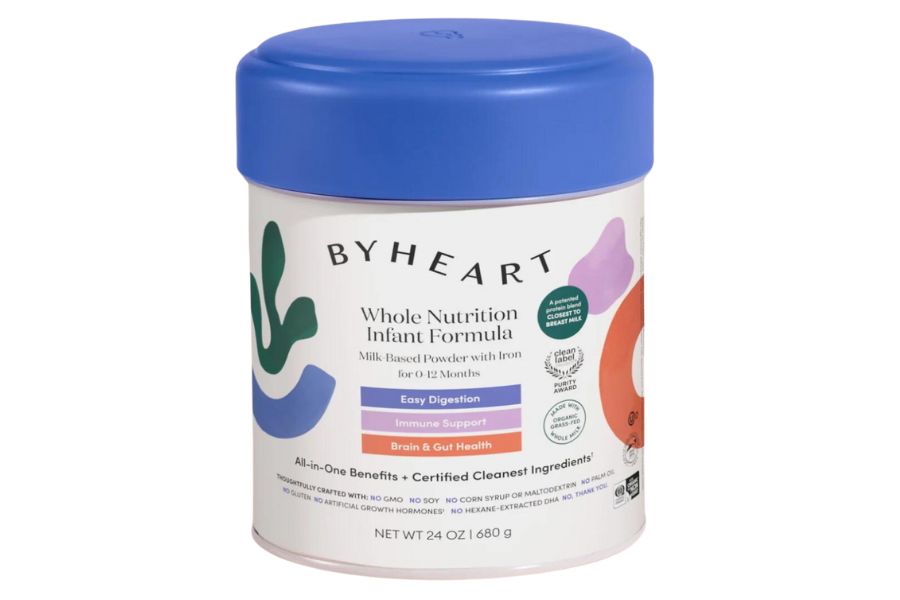 NOTE: As of writing, the formula is still out of stock, but ByHeart announced it will be available again in early summer 2023.
ByHeart To Become Available At Target & Relaunch Online Orders
Update: August 24, 2023
On August 21, 2023, ByHeart announced that their baby formula will soon be available on Target shelves. This will be the first time that the product will be available since the brand's recall in December 2022. (13)
The brand also announced that they will relaunch their direct-to-consumer program and will receive online orders later this year, though no specific dates were mentioned in the press release. (13)
Is
ByHeart Formula
A Safe Brand?
Best Features, Safety, & Benefits
ByHeart claims that their Whole Nutrition formula has the following benefits:
Easy digestion

Easy nutrient absorption

Less

spit-up

Softer

poops

Less gas

Provides immune support

Promotes gut health

Supports brain and eye development

Promotes faster sleep
Using Clean Ingredients
The infant formula brand takes pride in producing a product that's made with clean nutrition:
Made with organic,

grass-fed whole milk

FDA-registered

Farm-to-formula verified (traceability from the ingredients to the finished products)

Clean Label Project

-verified (

Purity Award

recipient and certified

pesticide

-free)

Non-GMO

QAI (Quality Assurance International) certified; meaning it's free from GMOs (genetically modified organisms)

Kosher-certified
This formula is also free from the following:
Corn syrup

GMOs

Soy

Maltodextrin

Hexane-extracted

DHA (docosahexaenoic acid)

Palm oil

Artificial growth hormones
Are There Heavy Metals In
ByHeart Formula
?
As a Clean Label Project verified product, ByHeart formula passed screening tests for more than 400 contaminants, including pesticides, heavy metals, and various industrial or environmental toxins.
Aside from these tests, ByHeart's own standard quality protocols also screen for more than 700 contaminants and toxins.
ByHeart also won the Clean Label Project's Purity Award.
Age Range
Ingredients Of
ByHeart
Organic Formula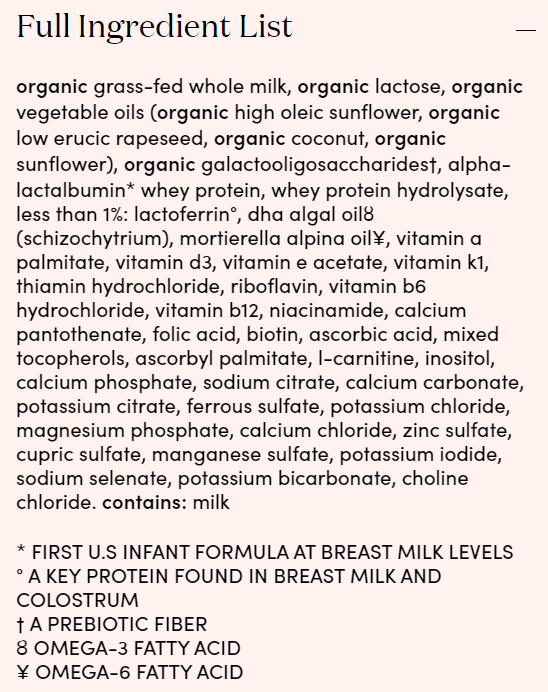 Nutritional Facts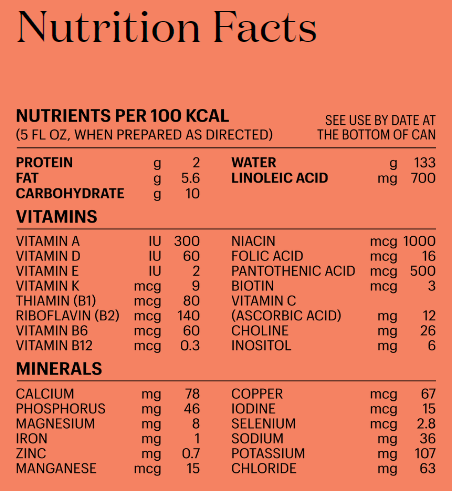 Pros: How Is
ByHeart Formula
Different From Other Formulas?
Meets
FDA
Regulations
Based on the nutritional facts from ByHeart (posted above), the formula meets the FDA's nutrient specifications (set per 100 kcal of baby formula): (2)
Calcium: ≥ 60 mg

Essential

fatty acid

(as linoleic acid omega-6): ≥300 mg or ≥2.7% of calories

Fat: 3.3 g to 6.0 g (≥ 30% of calories)

Folic acid (folacin): ≥4 mcg

Iodine: 5 mcg to 75 mcg

Iron: ≥0.15 mg

Magnesium: ≥6 mg

Protein: 1.8 g to 4.5 g
Is
ByHeart
A Gentle Formula?
ByHeart uses a combination of breast milk's most abundant proteins: alpha-lactalbumin and lactoferrin, with pre-broken-down proteins for a gentle formulation.
The brand explains that they chose this protein blend to "close the gap" between breast milk and formula by creating a formulation as close as possible to the real thing.
Because the proteins are smaller and broken down, the formula can be easy to digest and gentle on your baby's tummy. According to ByHeart, these proteins also help support babies' immune systems.
Organic Dairy Product From Pasture-Raised Cows
The brand uses organic dairy sourced from grass-fed cows (partnering with Maple Hill Creamery, an established milk product provider that follows regenerative farming practices).
ByHeart explains that they also decided to use whole milk (instead of skimmed milk like other brands) for the formula to be as close to breast milk as possible. They added that breast milk is full-fat.
Uses
Lactose
& Free From Added Sugars
Like breast milk, ByHeart formula only has lactose as its primary carbohydrate, instead of using added sugars like corn syrup that other brands might use for their formulas.
They explained that lactose isn't just an energy source but also a prebiotic for your baby's gut. Together with the prebiotic GOS (galactooligosaccharides), it helps promote better digestion and balanced gut flora.
Water-Derived, Hexane-Free Omega-3
DHAs
& Healthy Fats
DHA in ByHeart is sourced from Schizochytrium sp. oil (extracted from freshwater microalgae), which can provide up to 40% omega-3 DHA content. This is an essential fatty acid found in breast milk that your baby needs for brain development.
Some formula manufacturers use potentially hazardous chemicals such as hexane for DHA extraction from the oil.
But ByHeart partners with Adams, a family business that produces organic, non-GMO, non-hydrogenated, hexane-free, expeller-pressed plant-based oils.
The company also sources the formula's ARA (arachidonic acid) content from Mortierella Alpina oil. This is another fatty acid naturally found in breast milk.
Note that although DHA and ARA are commonly added to infant formulas, some studies have shown that they might cause diarrhea, jaundice (yellowing of skin and eyes), apnea (a breathing disorder while sleeping), and increased flatulence. (10)
Is There
Palm Oil
In
ByHeart Formula
?
None. Many baby formula manufacturers favor palm oil because of its close association with breast milk. However, studies have shown that baby formulas with palm oil may lead to negative effects, such as: (3)
Bone mineralization (can cause bones to become brittle)

Lower fat and calcium absorption

Constipation
Can
ByHeart
Cause Constipation, Gas, Or Other Side Effects?
With its gentle formulation, ByHeart Formula isn't expected to cause gas, constipation, bloating, or other side effects.
Subscription Options
No subscription options are currently available, but ByHeart will announce once their product becomes available again.
Clinical Trials
ByHeart conducted their own clinical trials with 300+ babies to compare their formula with breast milk and another formula.
Here are the results of their clinical trial: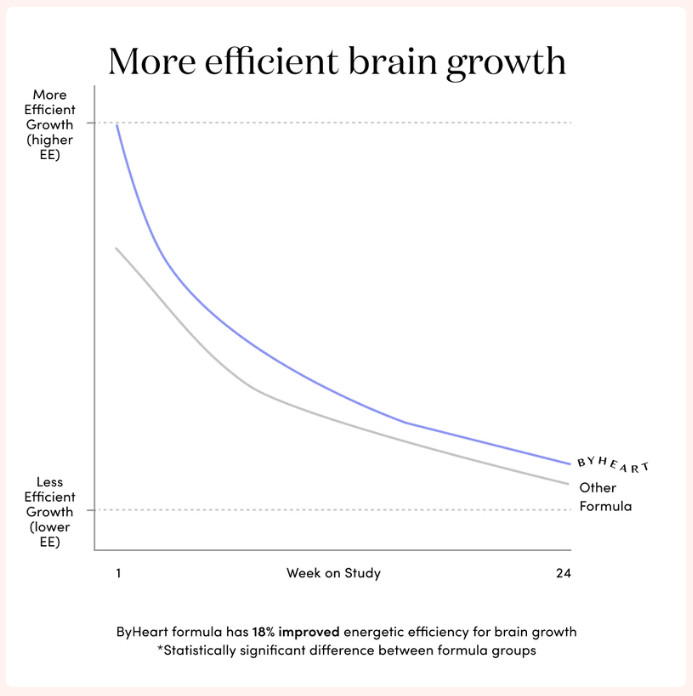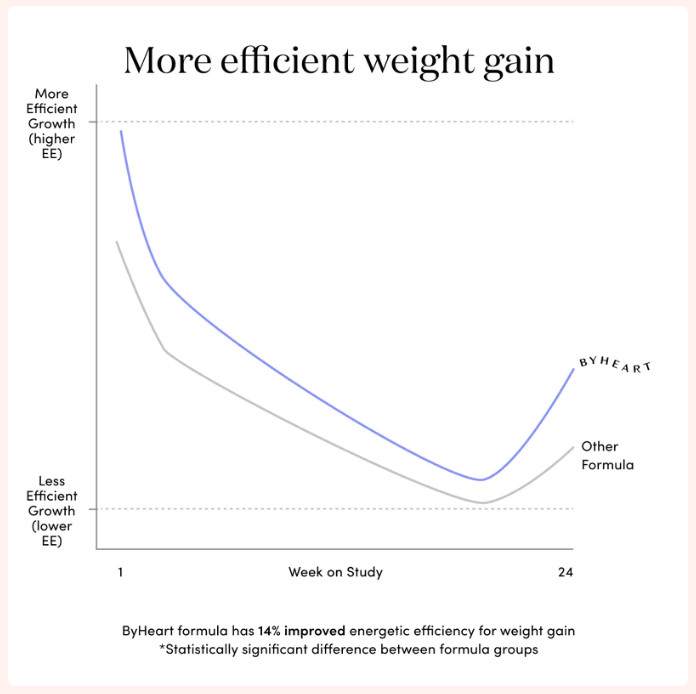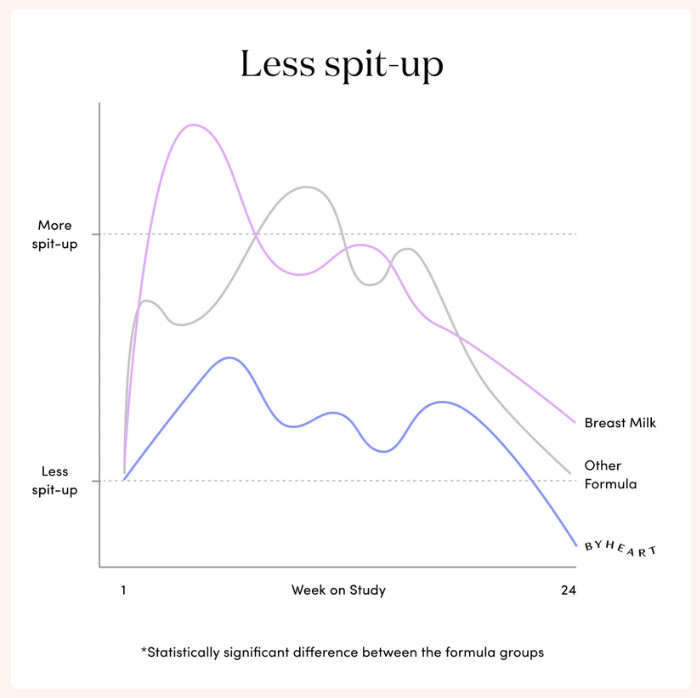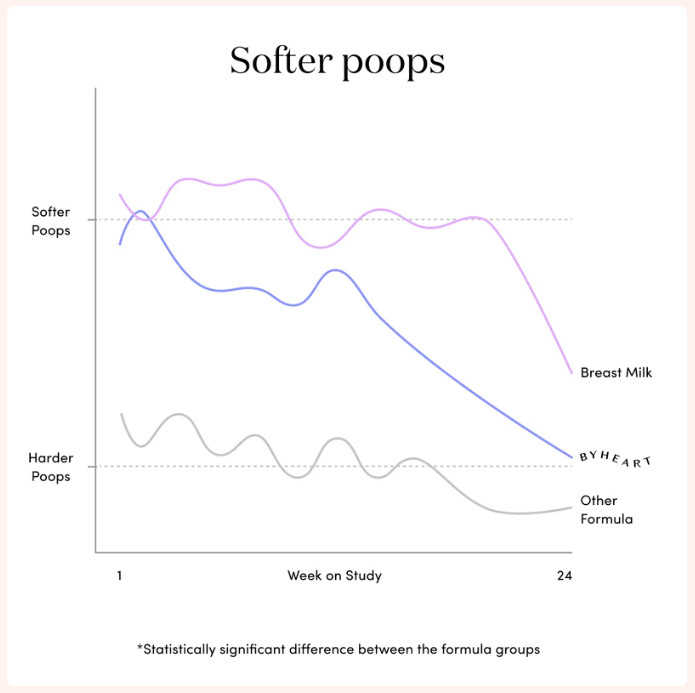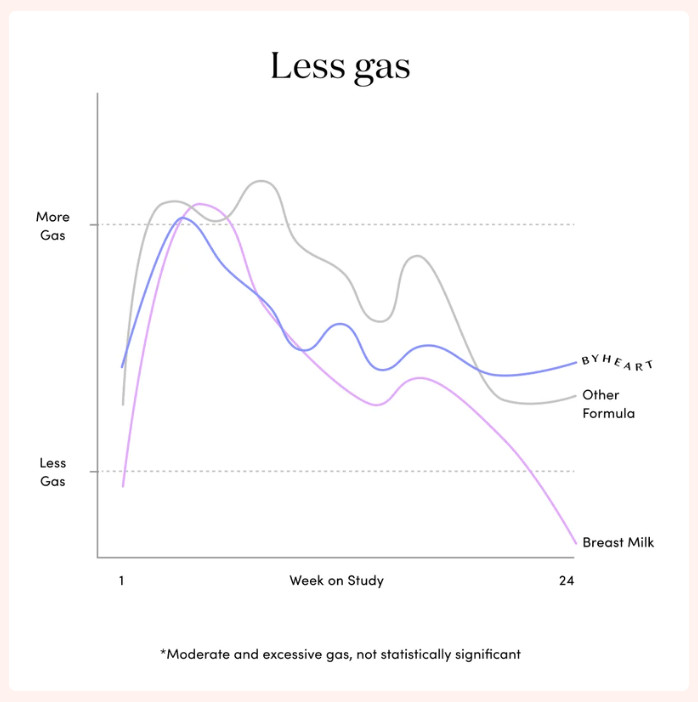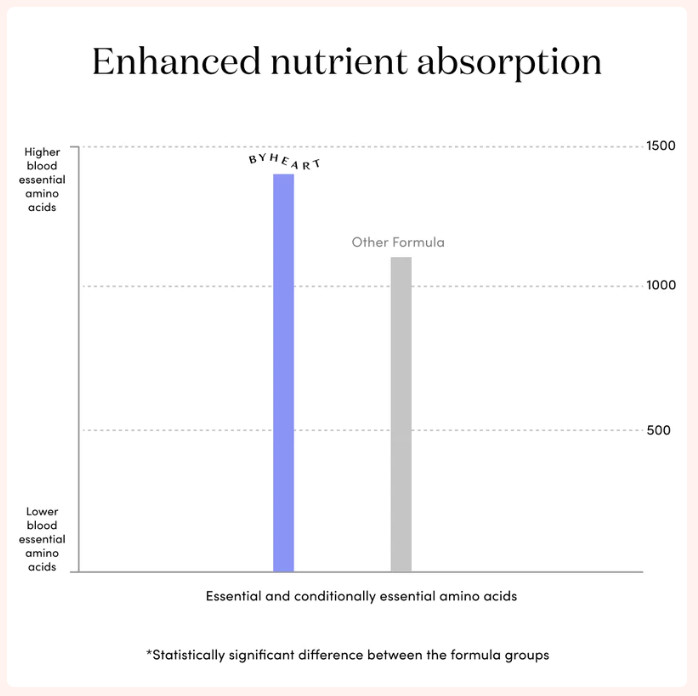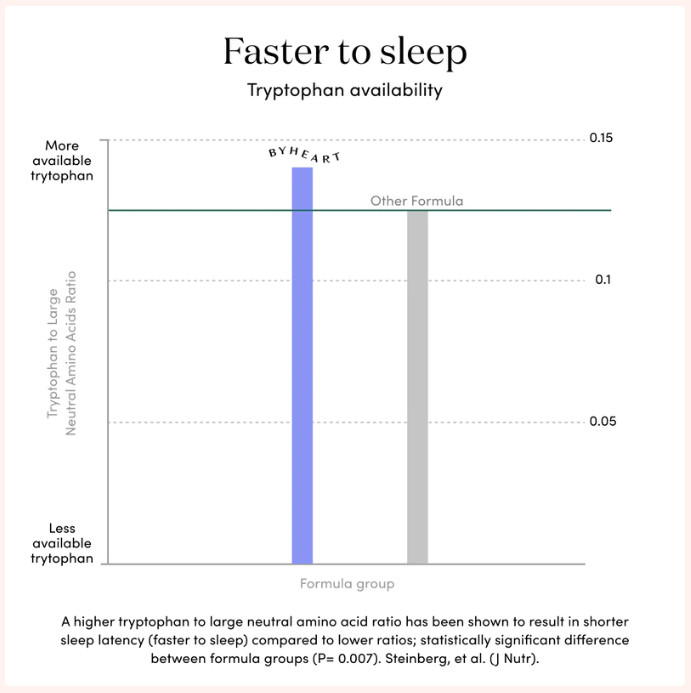 Cons & Things To Consider Before Choosing
ByHeart Formula
2022 Product Recall
ByHeart announced their formula recall in December 2022 over possible cross-contamination with the deadly bacteria, Cronobacter sakazakii. (4)(5)
This bacteria is naturally found in the environment but can also become a contaminant in powdered infant formula, herbal teas, and other food products. (6)
It's the same bacteria involved in the massive 2022 Abbott (Similac) recall, which led to the disruption of the supply chain and a massive baby formula shortage.
According to ByHeart, one test sample from their third-party packaging facility had tested positive for the bacteria. (4)(5)
They clarified, however, that: (4)(5)
None of the formulas produced in their

manufacturing facility

in Reading,

Pennsylvania

, tested positive for the bacteria

None of distributed

ByHeart Formulas

had tested positive for the bacteria

The company hasn't received any reports of illnesses or other ill effects from taking possibly contaminated formulas
Only five batches of ByHeart Formulas are affected by this recall:
22273 C1

22276 C1

22277 C1

22278 C1

22280 C1
Get more information about the ByHeart formula recall here.
The recall has affected ByHeart's production and visibility on the market. As of July 2023, they're still out of stock.
However, ByHeart announced earlier this year that they acquired a new packaging facility last December 26, 2022. (7)
This means the brand will have full control over the manufacturing process, from acquiring the ingredients to sending the packaged formulas to subscribers and partner stores. In the past, they had to rely on a third-party packing company. (7)
The company explained that they're working diligently to get this new packing facility up and running and fully registered by the FDA. (7)
ByHeart explained that they originally planned on resuming production after the recall. But they experienced issues with their third-party packager's ability or willingness to meet their standards and timelines. So, they decided to expedite their long-term plan to purchase their own packing facility.
Are There Questionable Ingredients In
ByHeart Formula
?
ByHeart Formula contains "low erucic rapeseed oil," also known as canola oil. It can be highly processed and inflammatory, so we consider this ingredient a drawback. (8)
Potential Allergens
ByHeart contains milk, a common allergen.
Other Cons & Limitations
Unlike most baby formula brands, ByHeart Formula isn't readily available in other shops or stores except their own website.
Also, the brand only has one formula option, unlike major brands such as Similac and Enfamil, which have at least a dozen choices.
What Customers Say:
ByHeart Formula Reviews
Positive Reviews
"…made myself stick to trying ByHeart for 2 weeks and now he loves it! he will no longer even touch a formula bottle made with Bobbie. the switch to byheart was soooo worth it, he is a bit gassy on this formula but not constipated at all and that's what matters to me! it's night and day." – Reviewer on Reddit

"For everyone saying it's foamy, we have a baby brezza and it never foams? I've never made it any other way, so not sure here. We also can't live without our baby brezza specially at night and for being able to make bottles with one hand in the middle of the very long nights with a newborn. ByHeart does smell horrible, but my 4 week old seems to absolute love it and poops, farts, and burps like a champ!" – Reviewer on Reddit

"My son is 4 weeks old and suffers from bad reflux. My breastmilk supply is low so I started him off on Bobbi but I'm suspecting he has some lactose sensitivity and that Bobbi was making the reflux worse. I've switched him over to ByHeart last 3 days and his digestion seems better. I'm really hoping he responds well to ByHeart because it's even cleaner than Bobbi. It also seems their proteins are broken down more which helps with digestion. ByHeartbiscalso cheaper than Bobbi so that's another plus." – Reviewer on What to Expect Community

"I love byheart! My baby has been on it for about 2 months. She spits up less. I love the ingredients. The customer service is 5 stars (even during these "unprecedented times"). It does smell more savory than other formulas. And there's a lot of foam if you shake too vigorously. But I can live with those things." – Reviewer on What to Expect Community

"It has more designer ingredients like lactoferrin, nucleotides, and prebiotics. The milk is also not only organic but grass fed (and whole), as silly as it sounds that does make a difference. Bobbie is a much more basic formula and covers the essentials with the only extra really being the dha, and it has a lot of it! If it works for your baby just stick with it." – Reviewer on Reddit
Negative Reviews
"We bought it and my daughter REFUSES to drink it. We combo feed pumped milk + Bobbie. But she's had some constipation and I was hoping byheart would help. But she won't touch it, even when it's mixed with Bobbie or breastmilk." – Reviewer on Reddit

"I bought it but was really disappointed by the smell and taste, which are really bitter/rancid. I've been importing European formula before this so maybe my expectations were too high but seriously bummed as I was hoping to move to ByHeart." – Reviewer on What to Expect Community

"The moment that I opened the can I immediately smelled a very very bad smell I shook the can a bit to figure out if it was the formula or something around me and as I was shaking the can I noticed little black spots please do not buy this formula I had to go to the store and spend money I didn't have." – Reviewer on What to Expect Community

"The lack of the ability to measure by 1 (one) fluid ounce is a bit odd and makes transitioning more difficult. The scoop is 8.3g per 2oz water, and hoping they'll release a smaller one." – Reviewer on Reddit

"I am sketched out by their new manufacturing. They don't have any credibility on what they are doing and raised 190 million dollars so will do whatever they can to answer to investors. I dunno. Feels like a gamble." – Reviewer on Reddit
The Story Of
ByHeart
Infant Formula Company
In September 2016, siblings and co-founders Ron Belldegrun and Mia Funt started ByHeart to create a better, "updated" baby formula recipe than the "outdated" recipe used by the three big companies that dominate this industry.
At the time, Funt's daughter Neve was one year old, but she had some challenges with breastfeeding and formula feeding. She felt like she was compromising whenever she couldn't breastfeed her daughter. (9)
She explained: (9)
"I had ALL of these questions when I stood in front of a shelf of formulas, and I couldn't find one that I would feel confident feeding my baby."
ByHeart conducted a survey in 2021 to gauge what parents wanted to have in a formula.
The brand discovered that: (9)
Over half of the surveyed parents feel that existing formula brands are "forcing" them to choose one benefit or pro over another.

About 60% admitted that they didn't understand the formula ingredients.

As much as 84% of the surveyed parents wished to find a formula as close to

breast milk

(nature's "gold standard") as possible but with clean ingredients and all-in-one benefits.
The siblings worked with a team of nutritionists and scientists to create a formula that meets these parents' wishes.
The team developed a formula from scratch using organic, grass-fed whole milk (most formulas have skimmed milk) and a patented protein blend for a product with a similar composition to breast milk.
They also used broken-down proteins (for a gentle formulation) and an 80:20 whey protein-to-casein ratio similar to colostrum or early breast milk content. (9)
Aside from manufacturing baby formula, the brand also launched Cluster, a peer-powered platform that offers nutrition and feeding support from nutrition science experts, professionals, pediatricians, and parents.
Funt explained: (9)
"The pandemic made us all realize more than ever the importance of proactive health – nowhere is that more vital than in a baby's first year of life. We will only really fulfill our mission if we can offer more families of all circumstances access to nutrition, education, and care.

So we couldn't be more excited to benefit from our direct conversations with our parents to learn how to best support them, serve them and innovate for them."
Formula Company
's Manufacturing Practices
Although a small player in the baby food and formula industry, ByHeart stands out by producing products from their own manufacturing facility.
Before the ByHeart Formula recall in December 2022 (see above), they hired a third-party packing company for the final product.
This will change when the company reopens (no official announcement yet about when this will happen) because they've acquired their own packing facility.
ByHeart
&
Formula Feeding
FAQs
How Long Does
ByHeart Formula
Last?
An unopened can of ByHeart Formula can last for 24 months (but be sure to check the expiry dates at the bottom of the can).
Each can of ByHeart contains 24 oz of formula. The brand estimates that a formula-fed baby will need around five cans of ByHeart per month.
Feeding Plan: How Do I Prepare
ByHeart Formula
For My Baby?
Unlike other baby formula brands that simply provide you with a list of suggested preparations based on age, ByHeart takes it one step further by creating a customized feeding plan.
Here's how it works:
You need to answer a few questions, such as your baby's age and how much they eat or drink.

ByHeart

calculates how much your baby needs based on nutrient recommendations by the AAP (American Academy of

Pediatrics

).

You receive the feeding plan.

You can also change, update, or cancel your feeding plan via text or email at any time.
Can I Use
ByHeart Formula
For Combination Feeding?
Yes. You can mix breast milk & formula, but be sure to check with your pediatrician before giving any formula to your little one.
How Many Bottles Can I Make With One Can Of
ByHeart
?
Each can of ByHeart can make up to 46 4-oz formula bottles.
Bobbie

Organic Infant Formula
We also recommend the following European formulas (but ask your pediatrician if your baby needs iron supplementation):
Holle Organic (Bio)

Hipp Dutch Combiotic Formula

Kendamil

Lebenswert

Loulouka
You might also find ideas from other MC formula articles:
Product Comparison:
ByHeart Formula
Vs. Other Formula Brands
Safety
Both these US-produced brands received the Clean Label Project Purity Award.
They also have similar formulations in terms of:
Being free from

corn syrup

,

palm oil

, GMOs, soy, and

maltodextrin

Having canola oil (which we consider a con/drawback because of its inflammatory properties)
ByHeart is the first to receive the Clean Label Project Purity Award, while Bobbie is the first to get both the Clean Label Project Purity Award and Clean Label Project Certification as a Pesticide-Free Product.
What Makes Bobbie Better
ByHeart tests their products for around 700 contaminants and toxic chemicals, but Bobbie has superior testing because each batch undergoes 2,000+ quality and safety tests.
Bobbie also has tamper-resistant cans to ensure product safety across the supply chain until it reaches your doorstep.
What Makes ByHeart Better
ByHeart has established product safety and effectiveness with a clinical trial, while Bobbie's trial is still ongoing.
Style, Quality, & Ingredients
Bobbie Formula

is marketed as a "European-style" American formula brand

ByHeart

is simply marketed as a

US formula

brand
Both brands boast of high-quality milk products sourced from grass-fed cows. Their products are designed for 0-12 months old.
What Makes Bobbie Better
Bobbie Formula is USDA-Certified Organic (United States Department of Agriculture) and has two variations:
Bobbie

Organic Infant Formula

Bobbie

Organic Gentle

Infant Formula
ByHeart only has one formula product.
Bobbie Organic Infant Formula contains more of the following than ByHeart:
Iron

Carbohydrates

Linoleic acid

Inositol

Thiamin (vitamin B1)

Riboflavin (vitamin B2)

Vitamin B6

Zinc

Copper

Selenium

Potassium

Chloride
This formula uses organic nonfat milk.
What Makes ByHeart Better
ByHeart uses two protein sources closer to breast milk proteins: alpha-lactalbumin and lactoferrin as the protein blend (not used by Bobbie). It also uses organic whole milk and has prebiotics.
This formula contains more of the following than Bobbie:
Calcium

Fats

Vitamin C

Choline

Vitamin D

Vitamin K

Vitamin B12

Folic acid

Pantothenic acid

Phosphorus

Magnesium

Sodium
Convenience, Costs, & Shopping Options
You can opt for subscriptions from both brands. ByHeart is currently unavailable, but the brand announced it will soon be available again.
What Makes Bobbie Better
It has tamper-resistant cans.

The brand also offers a starter bundle option for those who want to try the formula without getting a subscription (no word yet on whether this option will be available once the ByHeart formula is back on the market).

The products are also available on Target (ByHeart was only sold on their website, with no word on whether this will change once the product becomes available).
What Makes ByHeart Better
It costs slightly less (at around $1.62 per oz) than Bobbie (around $1.84 per oz) and can be a better value for your money.

It has a scooper attachment under the lid plus a level edge (several parents complained about the lack of these features in

Bobbie formula reviews

).
Taste
Both brands claim to be formulated as close to breast milk as possible, and some parents agree that they have a similar taste and texture.
What Makes Bobbie Better
Bobbie smells better than ByHeart (some parents complained about this formula having a rancid or "bad" smell).
What Makes ByHeart Better
Many parents report that their babies preferred ByHeart after switching from Bobbie.
Manufacturing Practices,
FDA
Regulation, & Brand Values
They're both FDA-regulated.
What Makes ByHeart Better
ByHeart acquired their own manufacturing facility so they can produce their own products (unlike Bobbie Formula, which is produced by Perrigo Nutritionals).
They also manage everything from choosing their own ingredients and suppliers to manufacturing the products. Although they started by outsourcing their packing, they've acquired a packing facility and are already working on getting this FDA-approved to resume production.
What Makes Bobbie Better
Bobbie's collaboration with Perrigo isn't exactly a negative thing. Perrigo is a trusted manufacturer that also makes various formulas and other products for different brands. Some parents feel they can trust Bobbie more because of this collaboration with a trusted formula manufacturer.
ByHeart Formula
vs. Hipp Dutch Combiotic Formula
What Makes ByHeart Formula Better
It's a

US formula

brand that's

FDA

-regulated.

It meets all the

FDA

's requirements for

US formulas

, including the minimum iron content.

It doesn't have

palm oil

.

It uses

whole milk

.
What Makes Hipp Dutch Combiotic Formula Better
It's a

European formula

that meets strict EU (European Union) standards.

It features a combiotic formulation (combination of probiotic +

prebiotic

).
ByHeart
vs.
Similac
Pure Bliss
Both products are made with milk from grass-fed cows.
What Makes ByHeart Formula Better
It's made of organic ingredients.

It doesn't have soy ingredients. Soy is a common potential allergen and can cause side effects such as gas, bloating, constipation, vomiting, stomach upset, or diarrhea. (11)(12)
What Makes Similac Pure Bliss Better
It has more iron content (1.9 mg);

ByHeart

only has 1.0 mg.
ByHeart
vs.
Enfamil
Simply Organic
Both are organic formulas that meet the FDA's formula requirements.
What Makes ByHeart Formula Better
It's made with milk from

grass-fed

cows.

It doesn't have

palm oil

, soy, and

maltodextrin

.
What Makes Enfamil Simply Organic Better
It's certified

USDA

organic milk.

It has more iron content (1.8 mg).
Over the years, various formula recalls have been issued over different safety issues, such as possible contamination with bacteria (especially Cronobacter sakazakii) or other impurities, which can be harmful, and even deadly to babies.
So, it's important to monitor baby formula recalls.
Sign up for our regular recall alerts and never miss an important recall again: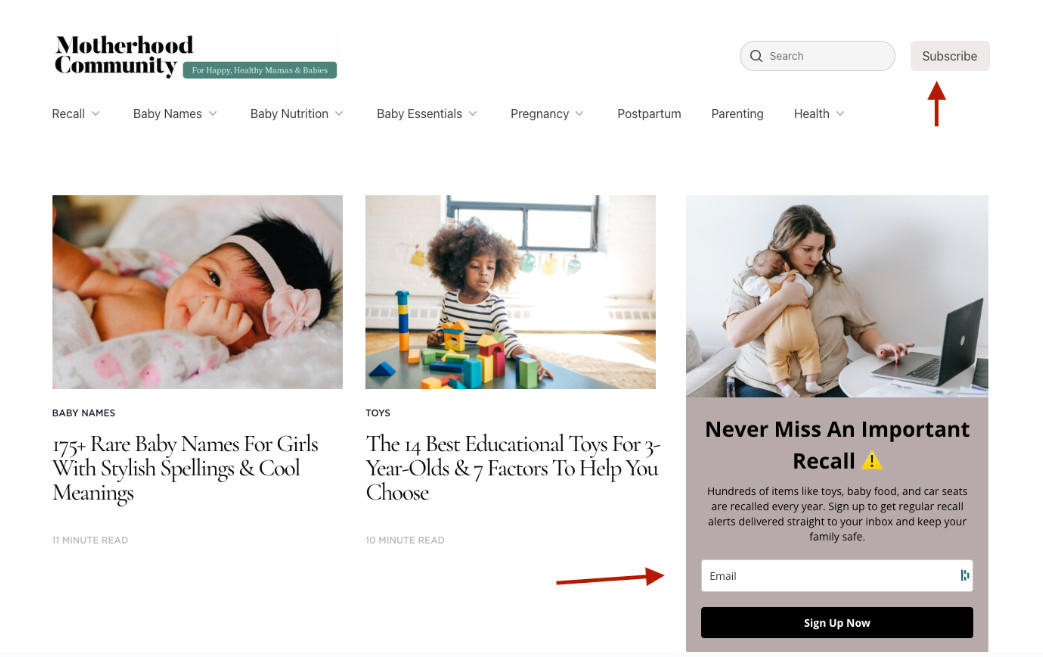 Here are some recent formula recalls and safety alerts we've covered:
References
(1) https://www.prnewswire.com/news-releases/byheart-celebrates-the-fda-registration-of-their-reading-pennsylvania-facility-becoming-the-first-new-infant-formula-manufacturer-in-the-us-in-over-15-years-301534863.html
(2) https://www.govinfo.gov/content/pkg/CFR-2022-title21-vol2/pdf/CFR-2022-title21-vol2-part107-subpartD.pdf
(3) https://www.ncbi.nlm.nih.gov/pmc/articles/PMC7759907/
(4) https://byheart.com/pages/founders-letter
(5) https://www.fda.gov/safety/recalls-market-withdrawals-safety-alerts/byheart-issues-voluntary-recall-five-batches-its-infant-formula-because-possible-health-risk
(6) https://www.cdc.gov/cronobacter/outbreaks/infant-formula.html
(7) https://support.byheart.com/en-US/when-did-you-acquire-this-company-215681
(8) https://www.medicalnewstoday.com/articles/canola
(9) https://www.forbes.com/sites/marijabutkovic/2022/03/23/byhearts–mia-funt-on-the-launch-of-its-next-generation-infant-formula-raising-190-million-in-funding-and-the-future-of-baby-nutrition/?sh=25ed5d175d6b
(10) https://www.ams.usda.gov/sites/default/files/media/ARA%20TR.pdf
(11) https://www.nccih.nih.gov/health/soy
(12) https://www.hsph.harvard.edu/nutritionsource/anti-nutrients/lectins/
(13) https://www.prnewswire.com/news-releases/byheart-the-only-new-us-made-brand-to-rewrite-the-infant-formula-recipe-from-scratch-announces-retail-debut-nationwide-to-be-followed-by-highly-anticipated-dtc-relaunch-301905043.html