Overview
Searching for baby formula options for your little one? Bobbie Formula might be worth a try. This new formula is made in the US with a formulation inspired by European formulas.
Is Bobbie a trusted and safe brand? Have there been any Bobbie formula recalls? What formulas do they offer, how are they different, and which one should I choose for my baby?
For an in-depth look at all things Bobbie, check out our summary here.
Continue reading for more information.
What's
Bobbie Formula
& Where Is It Made?
European-Style
US Formula
Bobbie is the first European-style formula to be FDA-regulated in the US.
What Is
Bobbie Formula
Compared To?
It's similar to European formulas such as:
Why Is
Bobbie Formula
So Popular?
Many parents in the US prefer European formulas because they believe these brands are better than those made in the US.
Bobbie is a US formula alternative for brands from Europe that the FDA doesn't approve.
What's The Cost Of
Bobbie Formulas
?
Bobbie has two formula products:
Bobbie Organic Infant Formula
Bobbie Organic Gentle Infant Formula
Is
Bobbie Formula
Good For Newborns?
Bobbie is formulated for babies 0-12 months old. However, always consult your pediatrician before starting your baby's formula-feeding journey.
Why Was Bobbie Recalled?
In June 2019, the FDA issued the Bobbie formula recall for an older product formulation made in Germany and sold in the San Francisco Bay Area, California. This old formula didn't meet US nutritional standards and labeling requirements. (1)
The FDA ended the recall in April 2020. (1)
This recall doesn't affect the new Bobbie baby formulas made in the US.
Is
Bobbie Formula
A Safe & Good Brand?
Bobbie assures consumers that their products are safe, scientifically supported, and made with world-class manufacturing practices.
Each batch goes through and passes 2,000+ quality tests.
The products also meet Kosher, USDA Organic (the United States Department of Agriculture), FDA, and EU requirements.
Being USDA Organic certified means that products of this brand are made of organic ingredients and are free from GMOs (genetically modified organisms).
Using Clean Ingredients
Bobbie takes pride in being the first baby formula brand to receive both:
Clean Label Purity Award (free from 400+ harmful chemicals, phthalates, and contaminants)

Pesticide Free Certification
Are There Heavy Metals In
Bobbie Formula
?
No. The Clean Label Purity Award tests for various chemicals of concern, including heavy metals and pesticide residues. (2)
Does
Bobbie Formula
Have
FDA Approval
?
Yes. Bobbie received the green light from the FDA on August 20, 2020.
Bobbie Baby Formula Reviews
Bobbie formulas have the following:
USDA-certified organic

cow's milk

Organic

lactose

Organic

whey

protein

Organic expeller-pressed oils

Water-extracted

DHA

(docosahexaenoic acid)

ARA

(arachidonic acid)

Iron that meets FDA and EU standards
They're also free from:
Corn syrup

Maltodextrin

Palm oil

GMOs

Pesticides

Soy allergens

Fillers
Main differences:
Bobbie Organic Infant Formula

(easy on small

tummies

, ideal for most

feeding journeys

): 60%

whey

and 40% casein intact proteins

Bobbie Organic Gentle Infant Formula (easier on small

tummies

, ideal for fussy or gassy feeders): 100% partially hydrolyzed (broken down)

whey

protein
Continue reading for more detailed reviews of these Bobbie organic baby formulas:
Bobbie Organic Infant Formula
Best Features & Safety
Bobbie's flagship formula costs slightly less than the Gentle variant

Closer formulation to

breastmilk

(contains both

whey

and casein

milk proteins

)
Age Range
Ingredients Of Bobbie Organic Formula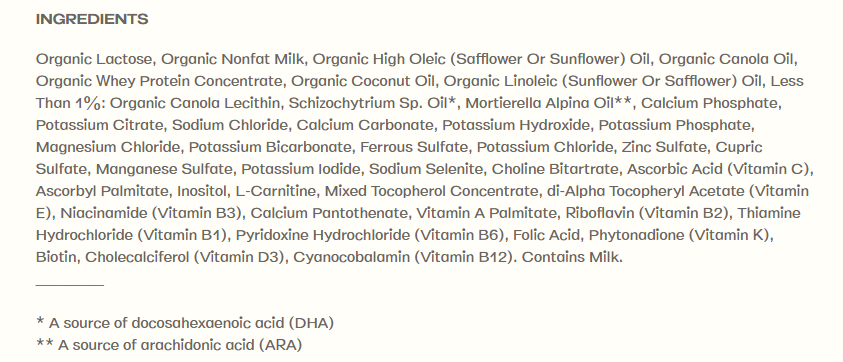 Nutritional Facts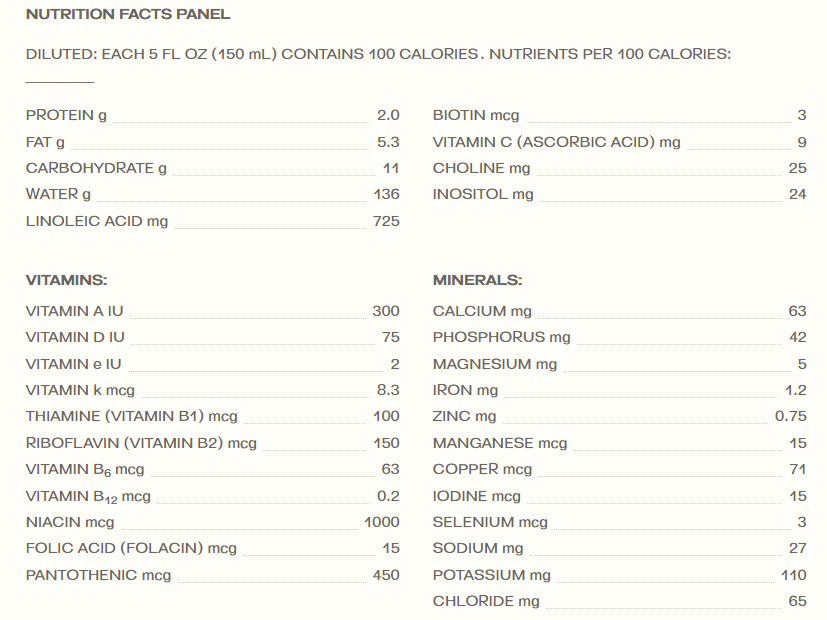 Are There Questionable Ingredients In This
Bobbie Formula
?
DHA

and

ARA

(explained below)

Canola oil
Product Recall
Cons
Some complaints that the formula smells fishy and causes vomiting or

constipation
What Customers Say
Positive Reviews
"This formula is great!! I love that it is clean so I know that I am giving my baby good ingredients." – Reviewer on Bobbie

"No spit ups, no colics, no constipation. Highly recommend it. A bit pricey but soooo worth it!!" – Reviewer on Target

"My baby is 10x happier since switching to Bobbie!" – Reviewer on Target

"My son loves his Bobbie formula, and despite my disappointment with not being able to exclusively breast feed, using formula has also allowed my husband to embrace the feeding process." – Reviewer on Bobbie
Negative Reviews
"…the small 14oz bottles are not practical! Having to stick my finger in to get the scoop is also not the best experience!" – Reviewer on Bobbie

"Smells horrible. And made my baby extremely constipated/spitty." – Reviewer on Target

"We tried Bobbie for our baby's first formula but unfortunately their digestive system didn't tolerate it well." – Reviewer on Bobbie

"My only request is to include some way to keep the scooper out of the formula like other formula brands do. It's annoying to dig it out with each new can and feels unsanitary to keep it in the can after you've touched it." – Reviewer on Bobbie
Bobbie Organic Gentle Formula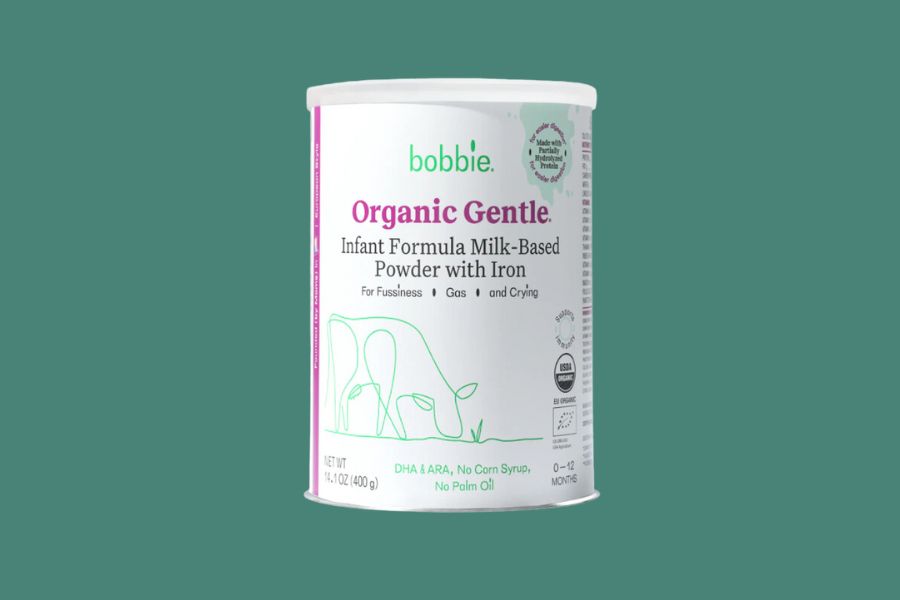 Best Features & Safety
Gentler and easier to digest than the brand's flagship formula
Age Range
Ingredients Of Bobbie Organic Gentle Formula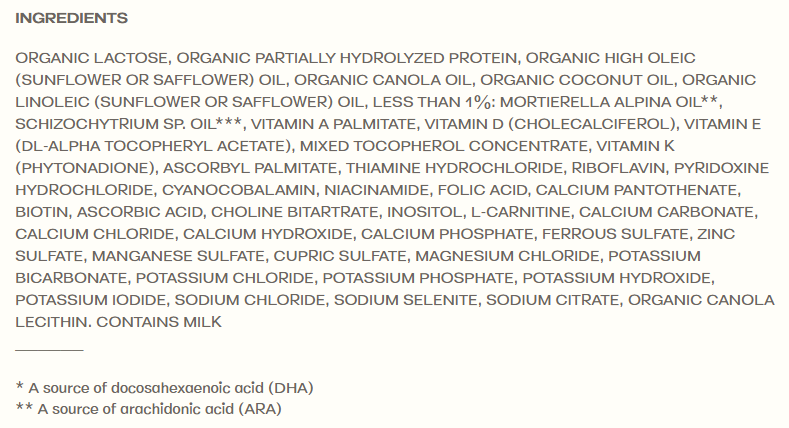 Nutritional Facts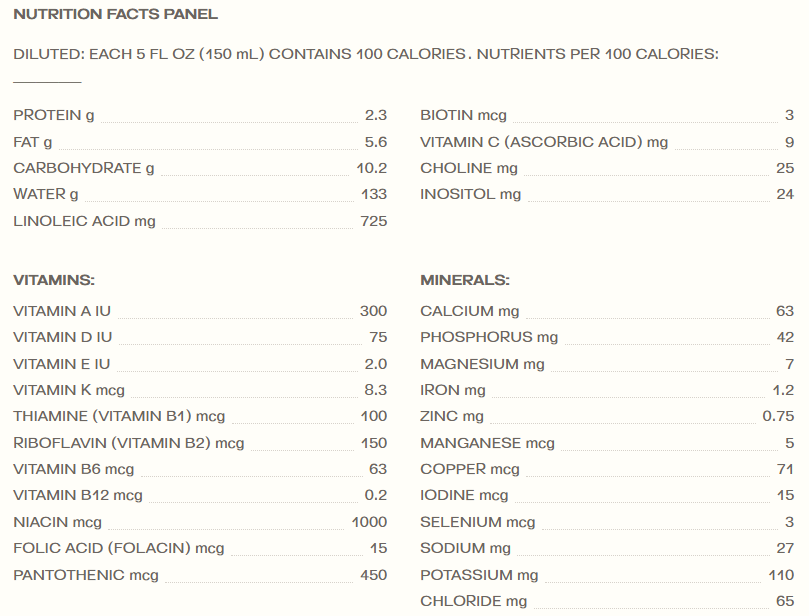 Are There Questionable Ingredients In This
Bobbie Formula
?
DHA

and

ARA

(explained below)

Canola oil
Product Recall
Cons
Costs slightly higher than the flagship formula
What Customers Say
Positive Reviews
"Thank you so much, Bobbie. For being more than just a formula but a great friend to rely on for me and my baby. Since day 1 of his formula journey he was a big fan and helped him grow. We can't thank you enough"- Reviewer on Bobbie

"Great for my baby! My baby had trouble with another formula with blood in his stool so the pediatrician recommended one with hydrolyzed protein, but I didn't like the ingredients. So thankful to have found Bobbie Gentle without corn syrup!! My little one had no trouble transitioning to this one." – Reviewer on Bobbie

"Bobbie is by far the best formula there is in the US on the market. My baby was fussy with the Bobbie original formula and we made the switch to the Gentle version and it did the trick. My baby is less fussy/ less gassy. Because of that she will go down for naps and for bedtime quicker. She also is spitting up less as well." – Reviewer on Bobbie

"We are loving the new, gentle formula. Our baby is happy and likes the taste." – Reviewer on Bobbie
Negative Reviews
None yet
Pros: How Is
Bobbie Formula
Different From Other Formulas?
Nutritional Analysis &
High-Quality
Ingredients That Pass
FDA Regulations
As a European-style formula, Bobbie is free from many questionable ingredients found in most US brands, including highly processed vegetable oils, corn syrups, maltodextrin, and other added sugars.
The brand also assures consumers that they use high-quality ingredients and that their products meet FDA requirements.
The following are the FDA's nutrient specifications for each 100 kcal of baby formula, prepared as directed on the container: (3)
Protein: 1.8 g to 4.5 g

Fat: 3.3 g to 6.0 g (≥ 30% of calories)

Essential

fatty acid

(linoleic acid omega-6): ≥300 mg (≥2.7% of calories)

Vitamin A: 250 IU to 750 IU

Vitamin B1 (thiamine): ≥40 mcg

Vitamin B2 (riboflavin): ≥60 mcg

Vitamin B6: ≥35 mcg

Vitamin B12: ≥0.15 mcg

Vitamin C (ascorbic acid): ≥8 mg

Vitamin D: 40 IU to 100 IU

Vitamin E: ≥0.7 IU

Vitamin K: ≥4 mcg

Niacin (includes niacin as nicotinic acid or niacinamide as nicotinamide): ≥250 mcg

Folic acid (folacin): ≥4 mcg

Pantothenic acid: ≥300 mcg

Biotin: ≥1.5 mcg (requirement for non-

milk-based

formulas)

Choline: ≥7 mg (requirement for non-

milk-based

formulas)

Inositol: ≥4 mg (requirement for non-

milk-based

formulas)

Calcium: ≥ 60 mg

Phosphorus: ≥30 mg

Magnesium: ≥6 mg

Iron: ≥0.15 mg

Zinc: ≥0.5 mg

Manganese: ≥5 mcg

Copper: ≥60 mcg

Iodine: 5 mcg to 75 mcg

Selenium: 2 mcg to 7 mcg

Sodium: 20 mg to 60 mg

Potassium: 80 mg to 200 mg

Chloride: 55 mg to 150 mg
Based on the brand's declared nutritional values on the product labels (see above for the exact values), both the flagship and the gentle formulas meet these FDA standards (except for the magnesium content in the flagship formula, which is only 5 mg).
Organic Dairy Product From
Pasture-Raised Cows
Bobbie formulas are made using milk from grass-fed cows raised in Organic Valley family-owned farms across the US.
Lactose
As Carbs & Free From Added Sugars
Similar to European formulas, Bobbie primarily uses lactose as the carbohydrate source. The products are free from added sugars.
Lactose is also the primary carbohydrate in breast milk.
Fats
Breast milk actually has around 40-50% of fats because essential fatty acids and dietary fats are important for brain development. They also play a role in the absorption of fat-soluble vitamins (e.g., A, D, E, and K). (4)
Because cow's milk doesn't provide all the essential fatty acids and nutrients babies need, manufacturers supplement their formulas using various oils. (5)
Highly processed oils, including canola and sunflower, are among the most common choices. However, they might be highly inflammatory or can contain harmful fats. (6)(7)
Bobbie claims that they use a plant-based, organic expeller-pressed fat blend of organic coconut oil, canola, and safflower or sunflower oils to meet the fat requirements without using highly inflammatory oils.
These Bobbie oils are supposedly refined without using high heat, inorganic bleaching agents, or chemical solvents. They can provide an organic fat blend similar to mature breast milk (often produced starting from 10-15 days after the body begins making milk).
We should note that we're not fans of the use of canola oil, especially in infant formula. For this reason, we'd consider this a drawback.
Water-Extracted
Omega-3
DHA
&
Bobbie products also have water-extracted omega-3 DHA, another nutrient important for brain health.
Conventional DHAs used in many products are often extracted using hexane (a common "processing aid" but can be toxic to humans). (8)
According to Bobbie, their products meet the EU standards of 20 mg per 100 kcal of DHA. It's sourced from sea algae.
Iron Content
Low iron content is often an issue with European formulas.
For example, Able Group formulas (including HiPP and Holle products) were recalled in 2021 because many of the products contain less than 1 mg iron per 100 calories yet don't have warnings on the label that supplementing with iron might be necessary. (9)
Bobbie contains 1.2 mg of iron per 100 calories. It meets the FDA's 1 mg minimum and the European Commission's 1.3 mg maximum. (10)
Is There
Palm Oil
In
Bobbie Formula
?
None.
Palm oil is commonly used in baby formulas because it has similar fatty acid profile as human milk. In theory, it can provide formula-fed infants with a product akin to what they can receive during breastfeeding. (11)
However, according to a 2020 Nutrients journal review, multiple clinical studies comparing formulas with or without palm oil have shown that formula with this ingredient can lead to: (11)
Reduced fat and calcium absorption

Bone mineralization

Increased risks of

constipation

due to harder stool consistency
Formulas without palm oil appear to be better for babies. (11)
The study researchers theorized that fat absorption might be affected by the difference in the positions of fatty acids on the triacylglycerides between human breast milk and palm oil. (11)
Meeting
USDA Organic
& Nutritional Requirements
Bobbie formulas are certified as USDA Organic, meaning they're also non-GMO.
They also meet USDA Organic's recommended dietary reference intakes (if calculated as one serving x the number of recommended servings per day): (12)
Carbohydrates
0-6 months: 60 g

6-12 months: 95 g
Fats Or Lipids
0-6 months: 31 g

6-12 months: 30 g
Linoleic acid
0-6 months: 4.4 g

6-12 months: 4.6 g
Proteins
0-6 months: 9.1 g

6-12 months: 11 g
Calcium
0-6 months: 200 mg

6-12 months: 260 mg
Iron
0-6 months: 0.27 mg

6-12 months: 11 mg
Zinc
0-6 months: 4 mg

6-12 months: 5 mg
Vitamin A
0-6 months: 400 mcg

6-12 months: 500 mcg
Vitamin B1 (Thiamin)
0-6 months: 0.2 mg

6-12 months: 0.3 mg
Vitamin B2 (Riboflavin)
0-6 months: 0.3 mg

6-12 months: 0.4 mg
Vitamin B3 (Niacin)
0-6 months: 2 mg

6-12 months: 4 mg
Vitamin B6 (Pyridoxine)
0-6 months: 0.1 mg

6-12 months: 0.3 mg
Vitamin B9 (Folate)
0-6 months: 65 mcg

6-12 months: 80 mcg
Vitamin B12 (Cobalamin)
0-6 months: 0.4 mcg

6-12 months: 0.5 mcg
Vitamin C (Ascorbic Acid)
0-6 months: 40 mg

6-12 months: 50 mg
Vitamin D
0-6 months: 10 mcg or 400 IU

6-12 months: 10 mcg or 400 IU
Vitamin E (Tocopherol)
0-6 months: 4 mg

6-12 months: 5 mg
Vitamin K
0-6 months: 2 mcg

6-12 months: 2.5 mcg
Sodium
0-6 months: 0.11 g

6-12 months: 0.37 g
Similar Formulation & Taste As
Breast Milk
Bobbie's flagship milk-based product has a similar formulation to breast milk in terms of ratios between milk proteins whey and casein.
It uses more whey proteins than casein solids (60-40). The gentle formula uses 100% partially hydrolyzed or broken-down whey proteins.
Cow's milk has an 18-82 whey-to-casein ratio. (13)
Breast milk has the opposite: it usually contains more whey than casein (around 70-30 or 80-20 during early lactation, becomes 50-50 during later lactation). (13)
Gentle Formulation For Easy Digestion
Whey is easier to digest because it's from the milk's liquid portion (casein makes up the solids).
The flagship formula contains more whey than casein, making it easy to digest.
The Gentle formula uses 100% partially hydrolyzed whey, which makes it even easier to digest.
Can Bobbie Cause
Constipation
, Gas, Or Other Side Effects?
In theory, Bobbie is less likely to cause gas, bloating, constipation, or other side effects because of its gentle formulation and lack of palm oil (it can lead to hard stools). (11)
However, some parents have complained about their babies experiencing constipation or vomiting after taking the brand's flagship product (see below).
Mom-Founded
Infant Formula Company
The company was founded by moms Laura Modi and Sarah Hardy after Modi's lightbulb moment while shopping for her first baby's infant formula in 2016.
On their website, the founders explained that Modi felt guilty buying a product filled with corn syrup, palm oil, and fillers for her baby. She doesn't buy products that have these ingredients for herself.
Modi founded Bobbie Baby, LLC in 2018 in the basement of her San Francisco home while pregnant with her second baby. Hardy joined the business in 2019.
In 2020, the brand started manufacturing organic baby formulas with Perrigo Nutritionals based in Vermont and Ohio.
The Formula Company
's Manufacturing Practices & Product Traceability
Bobbie assures parents of safe formula products because Perrigo conducts 2,000+ quality checks for each batch.
According to Bobbie's safety page, products only leave the manufacturing facility and hit market shelves if they pass all the quality and safety checks.
Consumers can use the brand's lot code tracker (hibobbie.com/pages/safety) to learn more about the Bobbie products they bought.

Tamper-Evident Cans For Added Safety
Some product tampering issues have affected the baby formula industry in the past (read about them in our formula recall article), sparking calls for stricter measures to ensure it doesn't happen again.
Bobbie addresses this issue with tamper-evident cans designed to make it easier to determine whether the container has been opened.
Once the can's lid is opened, it can't be resealed.
Buy Once Or Choose From Different Subscription Options
Bobbie offers flexibility to consumers by offering options to buy the products individually or through a subscription.
A subscription can be ideal if you want to save money because the prices are lower, and you get free shipping.
Subscriptions are offered at four, eight, or 10 cans.
The brand offers a "formulator" (formula calculator via hibobbie.com/pages/formulator) to help you calculate how much your baby will need.
Testing Bobbie For Your Baby With The Starter Bundle
There's also an option to get the starter bundle of two cans, offered on a "buy one, get one" basis.
Bobbie Clinical Trial
The brand is currently conducting a clinical trial (enrollment is closed because they've reached the maximum number of participants).
Those who are part of the trial can receive the following:
Four months' supply of

organic infant formula

if they're

formula feeding

(other participants commit to

breastfeeding

)

One month's supply of Coterie

diapers

Up to $450 in compensation (after completing specific milestones during the study)

Welcome bag with $39 worth of swag items
Cons & Things To Consider Before Choosing
Bobbie Formula
Doesn't have

probiotics

or

prebiotics

Contains canola oil

Some complaints about needing to dig around the container to find the scoop when using a new can for the

first time

Some complaints that the formula cans are too small
Potential Allergens
Bobbie products are gluten-free. However, they contain milk, a common allergen. (14)
Watch out for the following milk allergy symptoms within minutes or hours after taking this product: (14)
Hives

Wheezing

Tingling or itching around the mouth or lips

Coughing

Swelling of the tongue, lips, or throat

Vomiting

Shortness of breath
Some children might also experience the following: (14)
Colic (babies)

Runny nose

Watery eyes

Abdominal cramps

Diarrhea or loose stools (may contain blood)
Milk allergy is potentially life-threatening if the child's airways become narrow and blocked. (14)
Rush your baby or child to ER if they show these signs: (14)
Facial flushing

Breathing difficulties

Swollen throat

Shock (quick drop in blood pressure)
Summary & Recommendations
Bobbie formulas can provide your baby's nutrition needs but also contain DHA and ARA, which might lead to some side effects.
You can choose Bobbie Organic Infant Formula for most feeding journeys or try Bobbie Organic Gentle Formula for fussy babies who need a product that's easier to digest.
NOTE: Always consult with your pediatrician before giving any kind of formula to your baby.
Bobbie &
Formula Feeding
FAQs
How Do I Prepare
Bobbie Formula
For My Baby?
Always follow the printed instructions on the can, including the suggested number of scoops and water volume. The numbers depend on your baby's age.
Yes. Like other formulas, you can also combine Bobbie with breastfeeding.
Where Can I Get
Bobbie Formula
?
Bobbie's official website (hibobbie.com)

Target
How Many Bottles Can I Make With One Can Of Bobbie & How Many Cans Should I Buy?
Here's a feeding guide provided by Bobbie: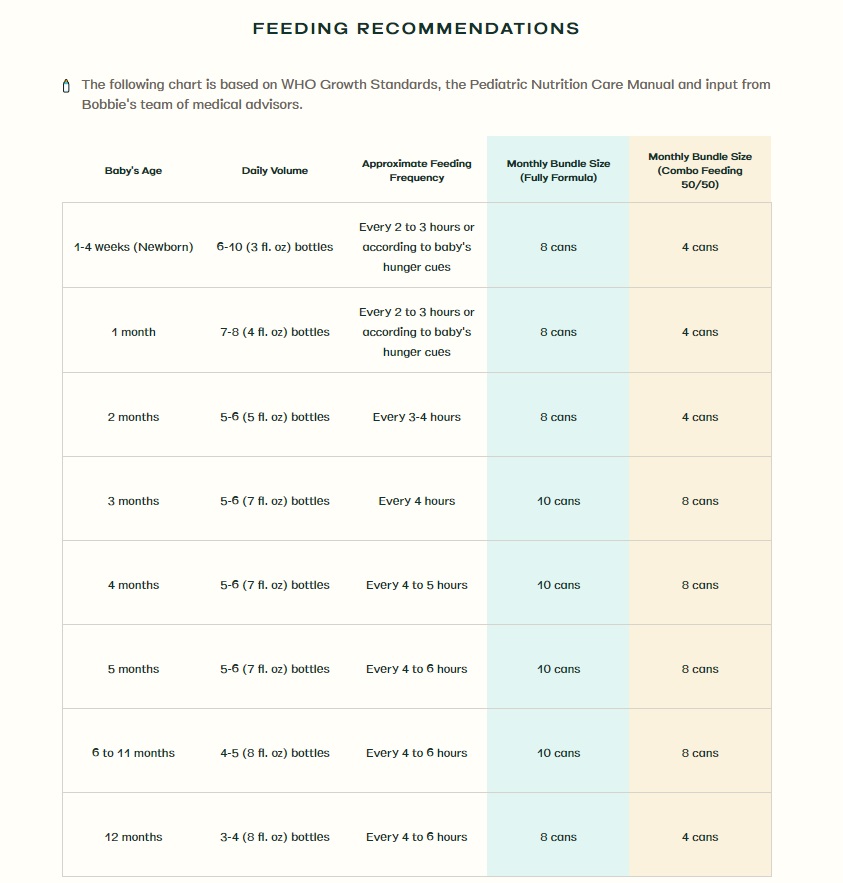 When Does
Bobbie Formula
Expire?
Unopened and unmixed formulas can last 18 months to two years from manufacturing.
Opened cans must be consumed within 30 days.
Premixed formula can last up to 24 hours in the fridge, but leftovers must be discarded within 60 minutes after your baby starts using the bottle.
Product Comparison:
Bobbie Formula
Vs. Other
Formula Brands
Bobbie vs. Kendamil
Products from both brands meet European standards.
However, while Bobbie only has organic formulas from cow's milk for 0-12 months old, Kendamil offers more product options (possibly limited in the US but available in EU stores), such as:
Regular (inorganic) formulas

Goat milk

Toddler milk (12-36 months)

Baby food (porridge)
Bobbie Formula
vs. HiPP Formula
Products from both brands meet European standards, but HiPP offers a wider range of products, including those that contain "combiotics" (a combination of probiotics and prebiotics).
Most Similac formula products aren't organic, but the brand has more options than Bobbie, ranging from everyday nutrition to specialty formulas for babies with certain dietary needs (e.g., cow's milk allergies).
Bobbie has fewer options than Enfamil, which is comparable to Similac in terms of product offerings and content.
Other
Baby Formula
Articles & Guides
References
(1) https://www.fda.gov/food/alerts-advisories-safety-information/fda-alert-infant-formula-bobbie-baby-inc-june-2019
(2) https://cleanlabelproject.org/purity-award/
(3) https://www.govinfo.gov/content/pkg/CFR-2022-title21-vol2/pdf/CFR-2022-title21-vol2-part107-subpartD.pdf
(4) https://academic.oup.com/jn/article/129/11/2094/4721978
(5) https://www.healthychildren.org/English/ages-stages/baby/formula-feeding/Pages/Why-Formula-Instead-of-Cows-Milk.aspx
(6) https://www.hsph.harvard.edu/nutritionsource/2015/04/13/ask-the-expert-concerns-about-canola-oil/
(7) https://www.medicalnewstoday.com/articles/canola
(8) https://www.mdpi.com/2304-8158/11/21/3412
(9) https://www.fda.gov/safety/recalls-market-withdrawals-safety-alerts/able-groupe-recalling-products-labeled-infant-formula-formulas-have-insufficient-iron-levels
(10) https://www.ncbi.nlm.nih.gov/pmc/articles/PMC10143847/
(11) https://www.ncbi.nlm.nih.gov/pmc/articles/PMC7759907/
(12) https://wicworks.fns.usda.gov/sites/default/files/media/document/infant-feeding-guide.pdf
(13) https://www.ncbi.nlm.nih.gov/pmc/articles/PMC4882692/
(14) https://www.mayoclinic.org/diseases-conditions/milk-allergy/symptoms-causes/syc-20375101