Overview
In June 2019, the FDA (‌Food and Drug Administration) recalled the Bobbie Milk-Based Powder Companion Formula (manufactured in Germany and imported to the US) due to inadequate nutrient levels and not meeting the federal agency's requirements. (1)
The FDA has since terminated this safety recall in April 2020. (1)
This baby formula recall isn't connected with the newly formulated European-style, American-made Bobbie formulas currently sold in the US market.
What led to the 2019 Bobbie formula recall, and how did the brand recover from it? Do the brand's formulas now have FDA approval?
Where are they manufactured, and how do you know they're safe for your baby?
What other baby formula brands do we recommend?
Find answers below.
Bobbie Formula
Recall 2019
What
Bobbie Formula
Was Recalled?
In May 2019 the FDA announced the recall of several lots of Bobbie Milk-Based Powder Companion Formula, 14.1 oz (400 g), manufactured in Germany and shipped to the US. (1)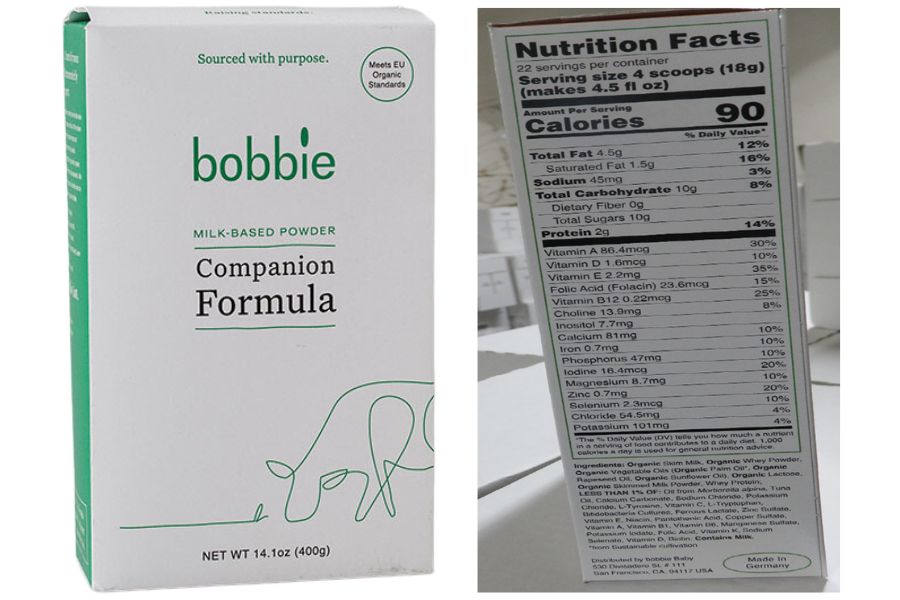 Affected lots: (1)
L6236501Z001; Use By: 9.15.2020

L6236501Z002; Use By: 9.15.2020

L6236501Z003; Use By: 9.16.2020

L6236501Z004; Use By: 9.16.2020
These recalled products were sold in the San Francisco Bay Area of California. (1)
Why Was The
Bobbie Formula
Recalled?
As shown on the packaging, the product's iron content is only 0.7 mg per serving. This is lower than the FDA's minimum requirement of 1 mg per 100 kcal. (1)
Adequate nutrient levels, especially iron, are important for babies' healthy development. This is especially a big concern for babies with low birth weight, born prematurely, or are at risk of becoming iron deficient because of an illness. (1)
Human bodies don't produce iron. If babies continue receiving inadequate iron levels from their formula, they can suffer from iron-deficiency anemia unless they're provided with iron supplementation. (1)(2)
Because iron is essential for moving oxygen from the lungs to other parts of the body, including the brain, iron deficiency can be a serious health concern. (2)
Iron deficiency anemia can affect the child's growth and development if left untreated. (2)
Symptoms of iron deficiency include the following: (2)
Cold hands and feet

Pale skin

Slowed growth and development

Poor appetite

Abnormally rapid breathing

Fatigue

Frequent infections

Behavioral problems

Unusual cravings for non-nutritive items (e.g., dirt, paint, ice, or starch)
Aside from low iron content, the European-made Bobbie formula was also recalled due to the lack of labeling about these nutrients required by the FDA in infant formula: (1)
Biotin

Copper

Linoleic acid

Manganese

Niacin

Pantothenic acid

Riboflavin

Thiamine

Vitamin B6

Vitamin C

Vitamin K
These are considered key nutrients in baby formula. Inadequate levels can lead to nutrient deficiencies, poor growth, and/or serious health issues for developing babies. (1)
It's common for European formulas to have different nutrient levels than US formulas because they follow different standards and requirements.
However, the FDA requires that all formulas sold and used in the US must meet their requirements. (3)
Also, products with inadequate nutrient contents must indicate this on the packaging, noting that supplementation might be necessary. (3)
The affected Bobbie products have been removed from the formula market, and the consumers were informed about it. (1)
While the recall was a big blow to the startup, it paved the way for the brand to improve and become the first European-style brand manufactured in the US and regulated by the FDA.
How Is
Bobbie Formula
Today?
Is
Bobbie Formula
Safe For Babies?
Yes. The new formula, currently manufactured in the US, is an improvement of the old product previously made in Europe.
Bobbie currently has two formula products:
Bobbie

Organic Infant Formula

Bobbie

Organic Gentle

Infant Formula
Both have 1.2 mg of iron per 100 kcal, meeting US (FDA) and EU standards.
They're also USDA Organic certified (United States Department of Agriculture) and made with milk from grass-fed cows.
Like other European brands, these Bobbie formulas use lactose as the main carbohydrate, and are free from corn syrup, an added sugar that can promote obesity and increase appetite. (4)
Although formulated safe for newborns and babies up to 12 months old, be sure to consult your pediatrician before giving any formula to your little one.
Read our in-depth Bobbie Formula review for more information about these products.
Who Makes
Bobbie Formulas
?
This formula brand was founded by Laura Modi as Bobbie Baby, LLC, in 2018, from her San Francisco, California home.
An AirBNB operator at the time, Modi conceptualized the company after having difficulty finding a healthy baby formula for her eldest child. (5)
She was saddened by the questionable ingredients, like corn syrup, in most formulas on the market. (5)
Modi's cofounder and AirBNB "work wife" Sarah Hardy joined the company in 2019. (5)
Although Bobbie began as a European brand sold in the black market along with many other formulas from Europe, it's now a top-selling American-made baby formula manufactured by Perrigo facilities in Ohio and Vermont.
Is
Bobbie
Baby Formula
FDA-Regulated
?
US-made Bobbie Formula was green-lighted by the FDA in August 2020, just a year after the German-made powder formula was recalled.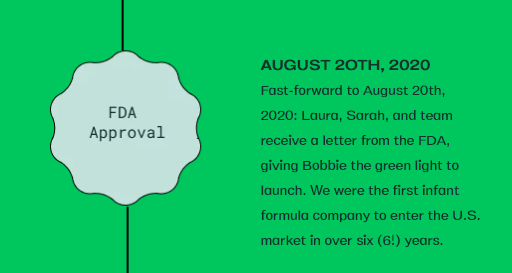 How Did
Bobbie Formula
Fix The Problem & Become
FDA-Regulated
?
The cofounders collaborated with scientists and pediatric nutritionists to create a European-style formula that meets the FDA's regulatory requirements.
Does The
FDA
Approve
Baby Formulas
?
Infant formula manufacturers don't need the FDA's approval before they can produce or market their products. (3)
However, they must still meet the regulatory standards, and the FDA's labeling requirements, or their products might be recalled. (3)
The federal agency has been regulating baby formulas since 1980 under the Infant Formula Act. (3)
The FDA regulates infant formulas to ensure they're safe and nutritious, but recently have been under criticism and fire for failing to prevent the big formula shortage of 2020 following major recalls.
FDA Requirements
For
Infant Formulas
Some of the FDA's nutrient specifications (amount per 100 kcal of baby formula): (6)
Protein

: 1.8 g to 4.5 g

Iron: ≥0.15 mg

Calcium: ≥ 60 mg

Iodine: 5 mcg to 75 mcg

Fats: 3.3 g to 6.0 g (≥ 30% of calories)

Folic acid (folacin): ≥4 mcg

Magnesium: ≥6 mg
Find the full list of these requirements and Bobbie's nutrient contents in our Bobbie Formula review.
Bobbie Formulas
&
Perrigo
Bobbie partners with Perrigo Nutritionals for infant formula production. The private label manufacturer makes cost-effective baby formula products for store brands like Parent's Choice at Walmart, Well Beginnings at Walgreens, and Love & Care at Amazon.
Are
Perrigo
Facilities Safe?
Yes. Perrigo complies with the Safe Quality Food (SQF) Code and meets FDA standards.
The company has been in the industry since 1998 and is the third-largest infant formula manufacturer supplying products to US and Canadian markets.
Where Are
Bobbie Formulas
Manufactured?
How Does
Bobbie
Keep Their Formulas Safe?
2,000+ Tests & Formula Sampling Per Batch
According to Bobbie, each batch undergoes 2,000+ safety tests to ensure products are safe before they hit the infant formula market.
Does
Bobbie
Have Pesticides?
No. Bobbie has Clean Label Project Pesticide-Free Certification.
Are There Heavy Metals In
Bobbie Formulas
?
No. Bobbie also has the Clean Label Project Purity Award.
Lot Code Tracker For Customers
Anyone can check the batch's safety tests using Bobbie's unique lot code tracker (hibobbie.com/pages/safety).
Active Complaint Reviews
The brand also assures consumers that they're actively reviewing and addressing complaints.
Tamper-Evident Cans For Added Security
Bobbie uses tamper-evident cans to assure subscribers that their products are safe on their journey across the supply chain. You'll know if the product has been tampered with.
Formula Subscription
Bobbie offers formula subscriptions so consumers don't have to worry about heading out to find the product for their babies.
Bobbie
During The
Infant Formula
Shortage
Bobbie's formula subscription has been especially helpful to subscribers during the baby formula shortage.
The brand temporarily stopped accepting new subscriptions to ensure their subscribers always had baby formulas when needed.
During the shortage, the brand also expanded to retail, selling in Target stores nationwide.
Bobbie takes pride in being the only US baby formula brand to expand to retail during the formula crisis.
Are
Bobbie
Customers Informed Of Any Recalls?
Yes. Bobbie assures subscribers that they will be informed if the brand issues any recalls.
During the product recall in 2019, Bobbie's cofounders contacted their customers to inform them about the safety issue.
The Latest Bobbie Formula Recall Updates & Warnings
Infant Formula Manufacturers Received FDA Warning Letters
Update: August 31, 2023
The FDA issued three infant formula manufacturers warning letters over undisclosed inspection findings done in the last several months: (10)
Perrigo Wisconsin, LLC

ByHeart Inc.

Mead Johnson Nutrition (Reckitt)
The federal agency did the inspections to help reduce the risks of another formula shortage, but no recalls were issued over these recent warnings. (10)
Perrigo makes Bobbie infant formulas. However, the names of the affected Perrigo-manufactured formula brands weren't stated in the FDA warning letter.
Our Top
Baby Formula
Recommendations
Bobbie

Organic Infant Formula

Serenity Kids A2 Toddler Formula (Use our code MHC for 15% off

first-time

orders, too!)

ByHeart

Baby Formula

Holle Organic (Bio)

Hipp Dutch Combiotic Formula

Lebenswert

Loulouka
As explained above, formulas must meet the FDA's labeling and nutrient requirements. Any formula that doesn't meet these standards can be recalled at anytime.
This happened to many formula products, including the Able Group recall for European products such as HiPP and Holle, which didn't meet the FDA's iron nutrient requirements. (7)
The products also lacked proper labeling that should have warned parents their babies might need supplementation because the formula has inadequate iron levels. (7)
Some baby formulas are sometimes recalled because they exceed the FDA's maximum limits. Although rare, this happened to the Angel Formula recall. (8)
Although we might think more nutrients are better, too much can also be harmful. It can lead to iron overload or a nutrient imbalance that can also affect the body's organs. (8)
Aside from nutritional standards, the FDA and manufacturers can also issue baby formula recalls whenever there are possibilities or reports of potential contamination.
For example, the FDA and Abbott Nutrition recalled Similac products after receiving reports of infant deaths and hospitalizations linked to formulas produced by the brand's Sturgis, Michigan facility. (9)
How Do You Check If A Formula Has Been Recalled?
The FDA's website (fda.gov) is the best source of information for baby formula recalls.
You can stay informed about the latest recalls or other news on baby formula and other product recalls by signing up for our regular Motherhood Community recall alerts.
Other Recent Baby Product Recalls & Safety Warnings
Check these comprehensive lists of product recalls by category:
Other individual product recalls:
Other
Baby Formula
Articles & Guides
References
(1) https://www.fda.gov/food/alerts-advisories-safety-information/fda-alert-infant-formula–bobbie-baby-inc-june-2019
(2) https://www.mayoclinic.org/healthy-lifestyle/childrens-health/in-depth/iron-deficiency/art-20045634
(3) https://www.fda.gov/food/people-risk-foodborne-illness/questions-answers-consumers-concerning-infant-formula#:~:text=No%2C%20FDA%20does%20not%20approve,to%20marketing%20a%20new%20formula.
(4) https://health.clevelandclinic.org/avoid-the-hidden-dangers-of-high-fructose-corn-syrup-video/
(5) https://www.forbes.com/sites/emilyjoffrion/2019/05/14/why-these-two-moms-left-airbnb-to-take-on-the-70b-baby-formula-industry/?sh=7ba8ed7b324f
(6) https://www.govinfo.gov/content/pkg/CFR-2022-title21-vol2/pdf/CFR-2022-title21-vol2-part107-subpartD.pdf
(7) https://www.fda.gov/safety/recalls-market-withdrawals-safety-alerts/able-groupe-recalling-products-labeled-infant-formula-formulas-have-insufficient-iron-levels
(8) https://www.fda.gov/safety/recalls-market-withdrawals-safety-alerts/moor-herbs-recalls-angel-formula-infant-formula-because-possible-health-risk
(9) https://www.similacrecall.com/us/en/home.html
(10) https://www.fda.gov/news-events/press-announcements/fda-issues-warning-letters-three-infant-formula-manufacturers