Is There A Recall On Weighted Blankets?
Yes. On December 22, 2022, a Target blanket recall was issued over entrapment hazards and asphyxiation risks. (1)(2)
About 204,000 Pillowfort Weighted Blankets are included in this recall. (2)
UPDATE: In June 2023, the AAP (American Academy of Pediatrics) warned the CPSC (U.S. Consumer Product Safety Commission) about the dangers of weighted blankets.
Target Blanket Recall 2022
Why Did Target Recall Weighted Blankets?
In April 2022, two girls, ages 4 and 6, reportedly died due to asphyxia while sleeping inside Pillowfort Weighted Blankets at Camp Lejeune in North Carolina. (2)
The children were trapped inside the cover of the weighted blanket, according to the recall advisory issued by Target Corporation of Minneapolis, Minnesota, and the CPSC. (2)
Aside from these two fatalities, Target also received reports of four children who became entrapped in the weighted blankets. Thankfully, these kids survived. (2)
How To Identify The Recalled Target Blankets
This Target blanket recall only covers Pillowfort Weighted Blankets. (1)(2)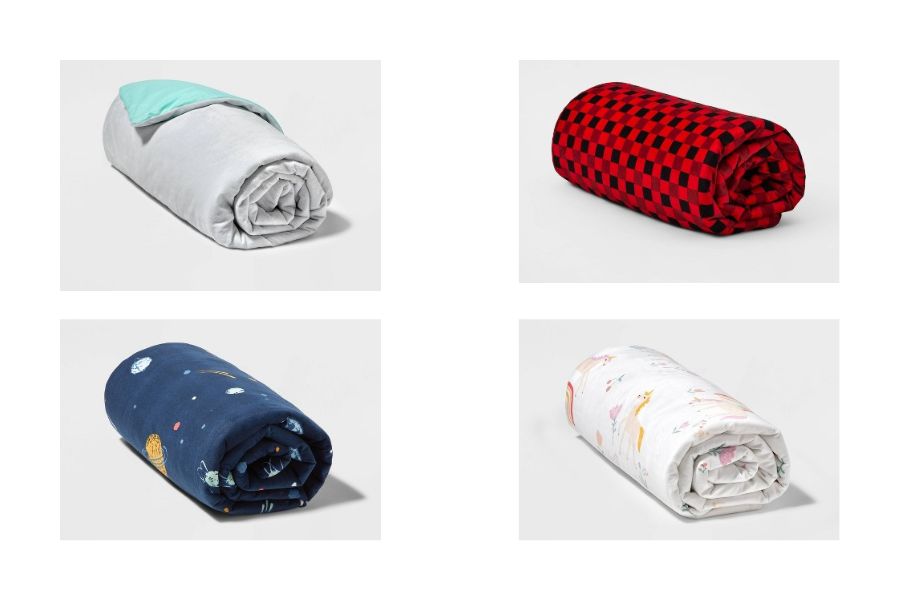 (source: help.target.com)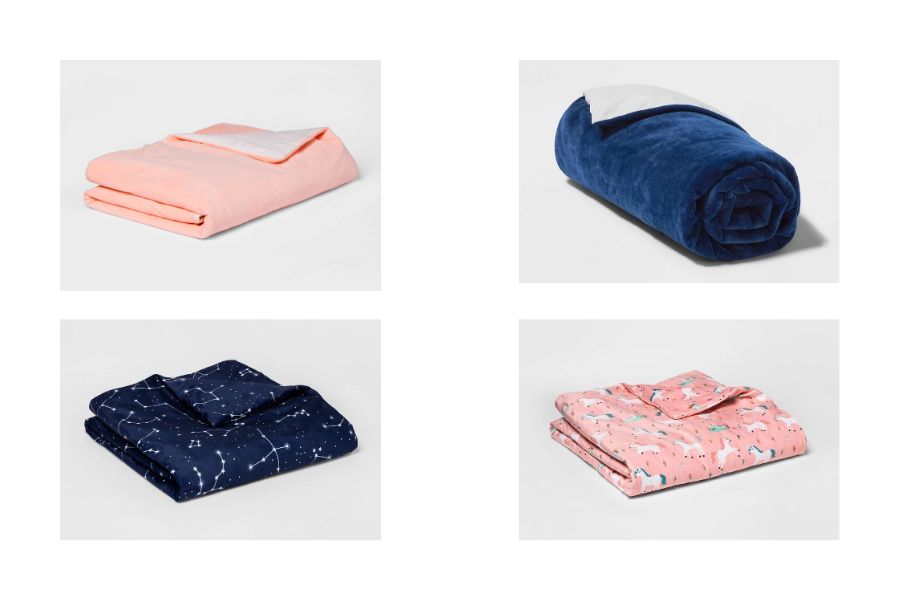 (source: help.target.com)
According to Target, these blankets measure 60 inches long and 40 inches wide, weigh 6 lbs, and have a waterproof, washable, and removable cover.
They're available in eight colors or prints, with the following Target item numbers or online item numbers (in parenthesis): (1)(2)
Blue constellation: 097-02-3904 (76375197)

Blue: 097-02-0363 (75569205)

Buffalo plaid – red: 097-02-1603 (79607547)

Gray: 097-02-0364 (75569206)

Pink: 097-02-0361 (75569204)

Space navy: 097-02-0148 (80774427)

Unicorn – pink: 097-02-3905 (76376093)

Unicorn – white: 097-02-0140 (80774416)
These codes can be found on the fabric tag sewn to the blankets' removable covers.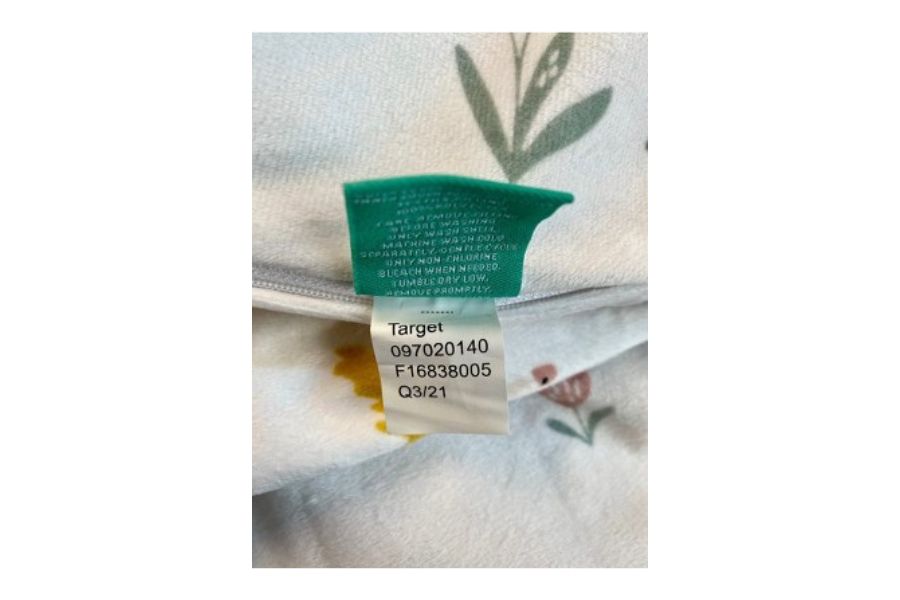 (source: help.target.com)
These recalled Target blankets were sold for $40 from December 2018 through September 2022 online at www.target.com or at Target stores nationwide.
FAQs
Can I Return A Recalled Item To Target?
Yes. Contact Target through the following channels to get a prepaid return label and receive a full refund (in the form of Target store credits) of your recalled Pillowfort Weighted Blanket: (1)
Target Guest Relations (in-store purchases): 1-800-440-0680

Target.com Guest Relations (online purchases): 1-800-591-3869

Official website: target.com, then click on "Recall Information" and on "Home Goods"

Social media: "Products Recalls" on Target's Facebook page (facebook.com/target/)
Target phone lines are available from 7 a.m. to 10 p.m. CT daily. (2)
The company is reportedly contacting all known purchasers to inform them of the recall and the refund process. (2)
Are Receipts Required So I Can Return My Recalled Target Blanket?
CPSC Commissioner Richard Trumka explained that he abstained from voting for the Target recall because the company requires customers to submit a receipt as proof of purchase. (3)
Trumka believes that recalls shouldn't have a provision that requires receipts for consumers to receive their full remedy of a cash refund. (3)
He added that the receipt requirement is particularly inappropriate in this Target blanket recall because Pillowfort is only sold at Target stores, whether online or physical stores. (3)
Since it can't be bought outside Target, Trumka believes that consumers don't have to submit a receipt because the requirement can hinder people from returning a potentially dangerous product: (3)
"Our goal is to get as many unreasonably dangerous products out of people's homes as possible. Unnecessary receipt requirements stand in the way of that goal.

I expect that future recalls will not contain receipt requirements."
Where Are Target Blankets Made?
According to the CPSC's recall advisory, the Pillowfort Weighted Blankets are made in China. (2)
Can My Kids Still Use The Recalled Target Blankets?
No. Target and the CPSC advise against using these recalled Pillowfort Weighted Blankets to reduce the risk of more asphyxiation accidents and possible deaths in these products. (2)
Do Weighted Blankets Have Lead In Them?
There isn't information from Target on whether the weighted blankets have lead or not.
The fillings in weighted blankets can vary, depending on the manufacturer. Some have natural items like rice or millet, while others can have glass beads or plastic pellets.
Still, these products shouldn't contain lead, a heavy metal, because that can be harmful.
Lead poisoning can cause: (4)
Learning difficulties

Developmental delays

Hearing loss

Seizures

Miscarriage

, premature birth, or stillbirth in pregnant women

Reduced sperm count or abnormal sperm
Even exposure to low lead levels can cause serious health problems, especially in children below six years old. (4)
Some lead poisoning symptoms: (4)(5)
Abdominal pain

Depression

Forgetfulness

Irritability
Other Recent Baby Product Recalls & Safety Warnings
Check these comprehensive lists of product recalls by category:
Other individual product recalls:
References
(1) https://help.target.com/help/targetguesthelpprarticledetail?articleId=ka95d000000sZnpAAE
(2) https://www.cpsc.gov/Recalls/2023/Target-Recalls-Childrens-Pillowfort-Weighted-Blankets-Due-to-Asphyxiation-Hazard-Two-Fatalities-Reported
(3) https://www.cpsc.gov/About-CPSC/Commissioner/Richard-Trumka/Statement/Two-Children-Suffocate-in-Target-Brand-Pillowfort-Weighted-Blanket-Recall-Good-Except-Receipts-Should-Not-Be-Required-for-Full-Refund-of-Deadly-Products
(4) https://www.mayoclinic.org/diseases-conditions/lead-poisoning/symptoms-causes/syc-20354717
(5) https://www.cdc.gov/niosh/topics/lead/health.html