Frigg Pacifier Recall 2022
Recall Information
On January 19, 2022, Mushie & Co, LLC recalled around 333,725 units of FRIGG silicone pacifiers (also called Mushie pacifiers) due to a design issue that could turn them into potential choking hazards. (1)
According to the recall notice issued by the CPSC (U.S. Consumer Product Safety Commission), a fine slit located at the base of the silicone nipple can cause it to detach from the plastic shield of the pacifier.
What Pacifiers Are Recalled?
The recall includes FRIGG silicone pacifiers sold from April 2021 through December 2021: (1)
Classic designs
Daisy designs
NOTE: This product recall only affects the silicone pacifiers, not their natural rubber pacifiers.
These affected single pacifiers were imported by Mushie & Co, LLC. and sold through the following online retailers and shops nationwide:
mushie.com
Olivia & Jade Company Stores
SpearmintLOVE
TJ Maxx
Lil' Tulips
amazon.com
How To Identify The Recalled Pacifiers
Some parents might be confused over Mushie and Friggs pacifiers.
Mushie & Co, LLC doesn't make FRIGG pacifiers. Instead, they import it from FRIGG Production ApS / FB Trading ApS of Denmark, according to the company's website.
Sold in over 40 colors and two sizes (0-6 months and 6-18 months), the affected pacifiers have "FRIGG" printed in embossed letters on the handle.
The following picture shows the affected designs: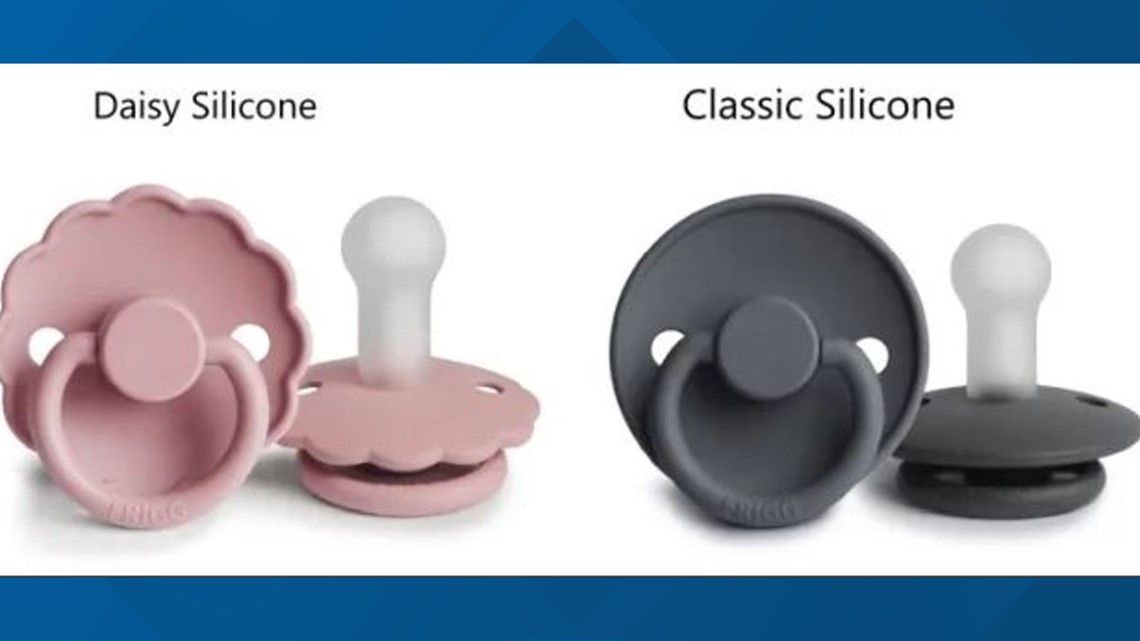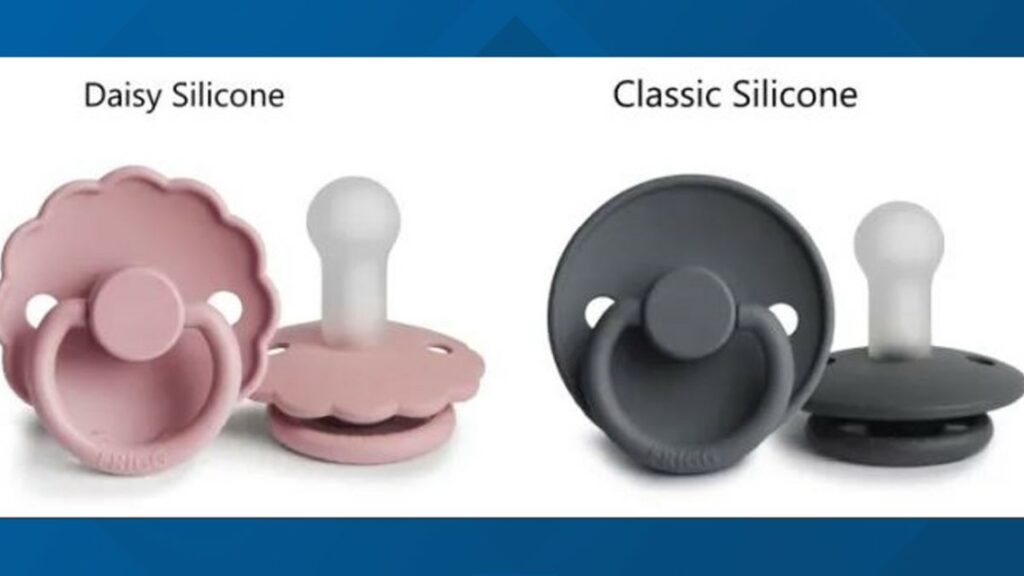 Injuries Or Incidents Reported
The recall alert was issued after the brand's US importer Mushie & Co, LLC, received eight reports of the silicone nipple detaching from the base of the pacifier. (1)
FRIGG Production ApS / FB Trading ApS of Denmark, the pacifier's manufacturer, also received around 200 other reports from customers outside the US. (1)
No injuries or choking incidents were reported relating to this potential hazard, but the brand issued the safety alert and recall to prevent possible accidents.
Are Frigg Pacifiers Still Recalled?
Although the safety recall is for baby pacifiers sold between April 2021 through December 2021, this remains an ongoing recall as of publishing (August 2022).
Currently, the company only sells natural rubber pacifiers. No silicone pacifiers are available on the company's website.
What To Do If You Have Recalled Frigg & Mushie Pacifiers
How To Get Your Refund
To get your full refund or store credit, follow these instructions:
Cut the nipple from the base of your silicone FRIGG pacifier.
Take a photo of both the detached silicone nipple and the base.
Send your photo to Mushie & Co through their email: [email protected].
After taking the photo, properly dispose of these unsafe, recalled pacifiersby throwing the detached pieces into your garbage bin.
You can contact Mushie & Co toll-free at 877-687-4431 from Monday through Friday (ET).
For more details, you can also reach Mushie & Co at: mushie.com/pages/recalls.
Can Your Kids Still Use The Recalled Frigg & Mushie Pacifiers If These Look Okay?
WARNING: Immediately stop giving the recalled pacifier to your baby, even if these look alright.
Although the product might look intact, the silicone nipple can still detach due to the design flaw, posing a choking risk to your baby.
FAQs
Are Mushie Pacifiers Safe?
Mushie natural rubber pacifiers aren't included in this recall. They can be safe for use as long as your baby doesn't have allergies to rubber or latex.
Allergy symptoms can include: (2)
Itching
Hives or rash
Skin redness
Runny nose
Sneezing
Itchy, watery eyes
Scratchy throat
Wheezing
Difficulty breathing
Coughing
Are Frigg Pacifiers Safe Now?
All the Frigg silicone pacifiers are unsafe, so if you still have them at home or see some sold online and in local stores, don't buy or let your baby use them.
Only the natural rubber pacifiers are safe and not recalled.
When Should I Replace Frigg Pacifiers?
Frigg recommends replacing your baby's pacifiers every 4-8 weeks.
However, it's best to check any pacifier for cracks or signs of damage before giving them to your baby.
Are Frigg And BIBS Pacifiers The Same?
No. FRIGG and BIBS pacifiers are different brands, but they offer similarly designed products.
BIBS is a baby product brand established in 1978. They filed a copyright infringement case against FRIGG Production ApS, Sundesutter.dk ApS, and FB Trading ApS for allegedly copying their design. (3)
According to BIBS, the Maritime and Commercial Court in the UK (United Kingdom) ruled in a preliminary decision that the BIBS and FRIGG pacifier products are "commercially identical." However, this isn't a final ruling yet. (3)
REFERENCES
(1) https://www.cbs8.com/article/news/nation-world/frigg-pacifiers-mushie-co-recalled/507-2aa6c57d-eedd-483f-9b57-12fd5a756f10
(2) https://www.mayoclinic.org/diseases-conditions/latex-allergy/symptoms-causes/syc-20374287
(3) https://nibbling.co.uk/wp-content/uploads/2021/09/BIBS_FRIGG_EN.pdf