Overview
The nursery is supposed to be the safest place for our babies, yet as many as 160+ deaths and an average of 52,400 estimated injuries are linked to nursery products each year. This is based on the August 2023 report by Ted Yang under the Directorate for Epidemiology for the US CPSC (Consumer Product Safety Commission). (1)
Which nursery products are involved in these incidents or deaths, and have they been recalled? What can you do to help avoid these heartbreaking situations?
Keep reading to find out. (You can also learn more about toy-related deaths here.)
2023 Report Shows The Potential Dangers Of Nursery & Other Baby Products
ER-Treated Injuries Involving Nursery Products
According to the 2023 CPSC report, around 59,500 injuries associated with nursery and other baby products were treated in the emergency department for children younger than five years old in 2022 alone. (1)
The report clarifies that nursery products were in use when these incidents happened but weren't necessarily the reason for the injuries. (1)
The 2022 stats were higher than the previous years (see table below). (1)

The CPSC report notes that the 2020 numbers may have been lower due to parents' reservations about taking their children to the ER due to the COVID-19 pandemic. (1)
As you can see in the figures below, the recent numbers were similar to those recorded pre-pandemic. The estimated injuries were also close to 60,000 in 2018 and 2019. (1)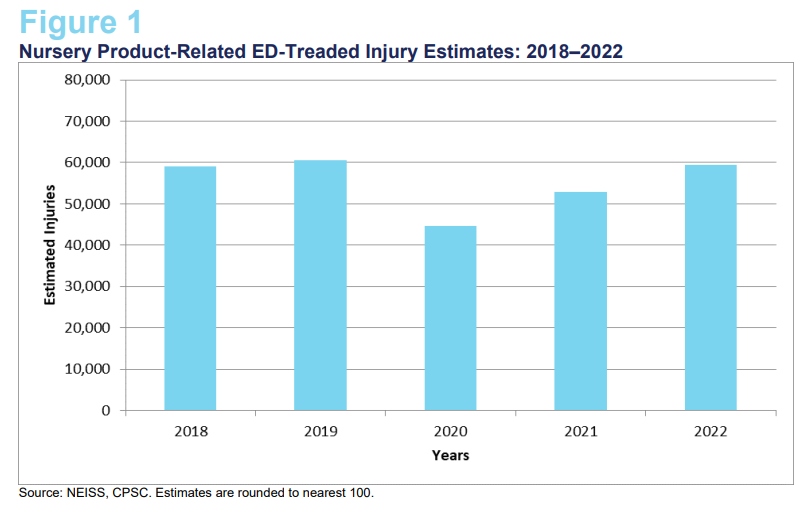 The following table from the CPSC report shows the estimated number of injuries based on different nursery products: (1)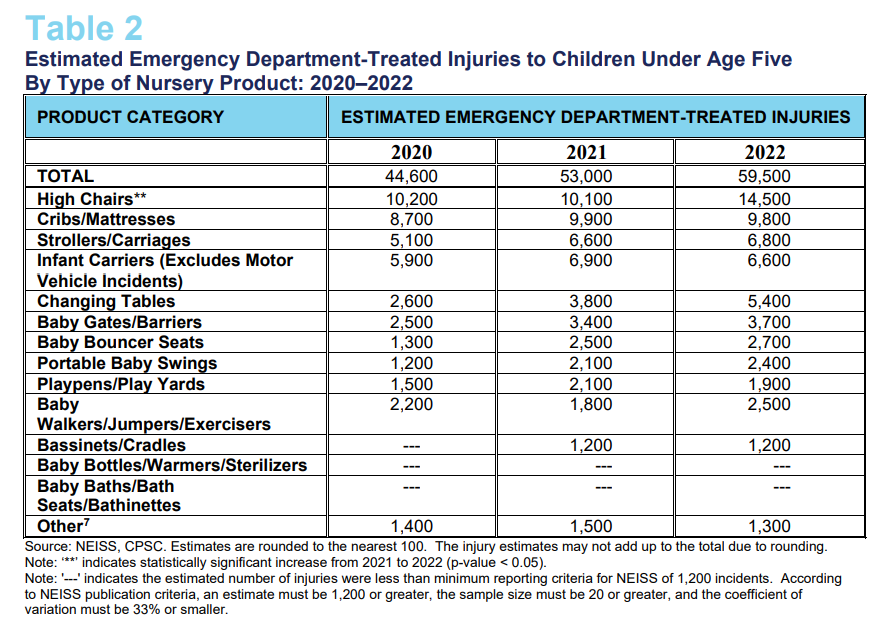 Some of these products have been recalled due to their involvement in infant deaths or injuries:
What's The Number One Cause Of Accidental Death Among Children?
The 2023 CPSC report shows an annual average of 163 deaths from 2018 to 2020. (1)
Despite high chairs being the main cause of injuries with nursery products, the highest number of deaths were linked to cribs or mattresses. (1)
This is followed by bassinets or cradles, playpens or play yards, inclined sleepers, and infant carriers. (1)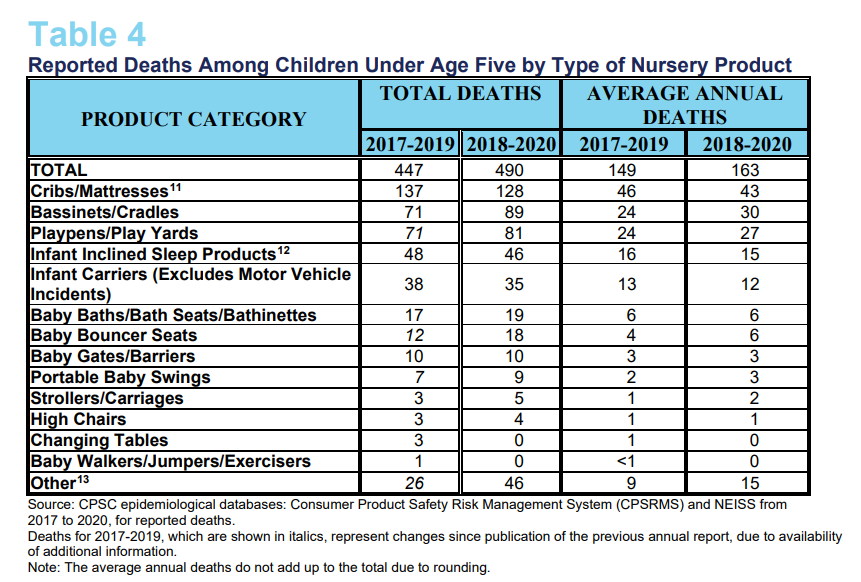 What Accidents Could Happen In A Nursery?
Stats relating to emergency department-treated injuries: (1)
About 63% of the total estimated injuries were due to nursery products like cribs or mattresses and other baby gear such as high chairs, infant carriers, and strollers or carriages.

Falling incidents had the highest record among all the causes of injury.

The head (#1) and face (#2) were the most frequently injured body parts in these reports.

Many incidents also involved contusion/abrasion, laceration, or internal organ injuries.
The nursery deaths include reports of SIDS (sudden infant death syndrome) wherein parents found their children unresponsive in their beds or cribs. (1)
Others were due to accidental strangulation, suffocation, or injuries from faulty products. (1)
Below are some important stats linked to specific nursery products.
Cribs & Mattresses
Some of the incidents happened in recalled, reassembled, or secondhand cribs. However, children can also die in new cribs and mattresses. (1)
128 deaths were linked to cribs and mattresses from 2018 to 2020

Approximately 70% were due to asphyxiation because of a cluttered sleep environment (e.g., extra bedding such as pillows, comforters, or blankets in the crib)

About 9% were due to other hazards, including broken, missing, or nonfunctioning parts, as well as ineffective repairs, badly fitting mattresses, or even incomplete assembly.
The rest of the reported deaths were due to reasons such as: (1)
Strangulations due to nearby strings or cords

Asphyxiations because of co-sleeping with other kids in the crib

Entrapments between crib rail and other objects (such as a tied-down cover in a twin mattress or a picture frame)

Suffocations due to various items (e.g., plastic bags or small objects) inside or near the crib

Electrocution from a power outlet touched from inside the crib
Bassinets & Cradles
A total of 89 deaths involved bassinets and cradles from 2018 to 2020 due to the following reasons: (1)
Suffocation from extra bedding, particularly pillows, was primarily involved in many of these incidents

Other deaths were due to product failure or hazardous surroundings around the nursery item
Playpens & Play Yards
These nursery products ranked third based on the number of incidents. From 2018 to 2020, they were associated with 81 deaths due to the following reasons: (1)
Suffocation from blankets, pillows, or other soft bedding was the main reason for these incidents
Other deaths were due to: (1)
.
Co-sleeping arrangements with other kids in the playpen

Faulty products

Using non-original and ill-fitting mattresses or sofa cushions inside the play yards
Inclined sleepers can be dangerous to your baby. (1)(2)
Although the 2023 CPSC report only listed 46 deaths from 2018 to 2020, these nursery products have been involved in around 100 infant deaths and 1,100+ injuries since the first inclined sleeper (Fisher-Price Rock 'n Play) was released in 2009. (1)(2)
Effective November 12, 2022, inclined sleepers and crib bumpers are banned based on the Safe Sleep for Babies Act, regardless of the date they were manufactured or their involvement in infant death. (3)
The deaths linked to inclined sleepers often involved asphyxiation because the babies ended in a compromised position but couldn't right themselves because of: (1)(2)
Their weak, still-developing muscles and lack of body coordination

The products' inclined design
Infant Carriers
From 2018 to 2020, infant carriers were associated with 35 deaths due to any of the following hazardous practices: (1)
Suffocation because the sleeping baby had their face directly pressing against their caregiver's body

Strangulation of partially restrained babies on the carriers' straps

Suffocation after falling asleep on a blanket placed in the carrier

Fall of an unrestrained and unattended infant after the carrier tipped over
FAQs
What's The Primary Cause Of Children's Deaths?
Unintentional injuries remain the main cause of death in children ages 1+ years. This also applies to adults up to 44 years old (see table below). (4)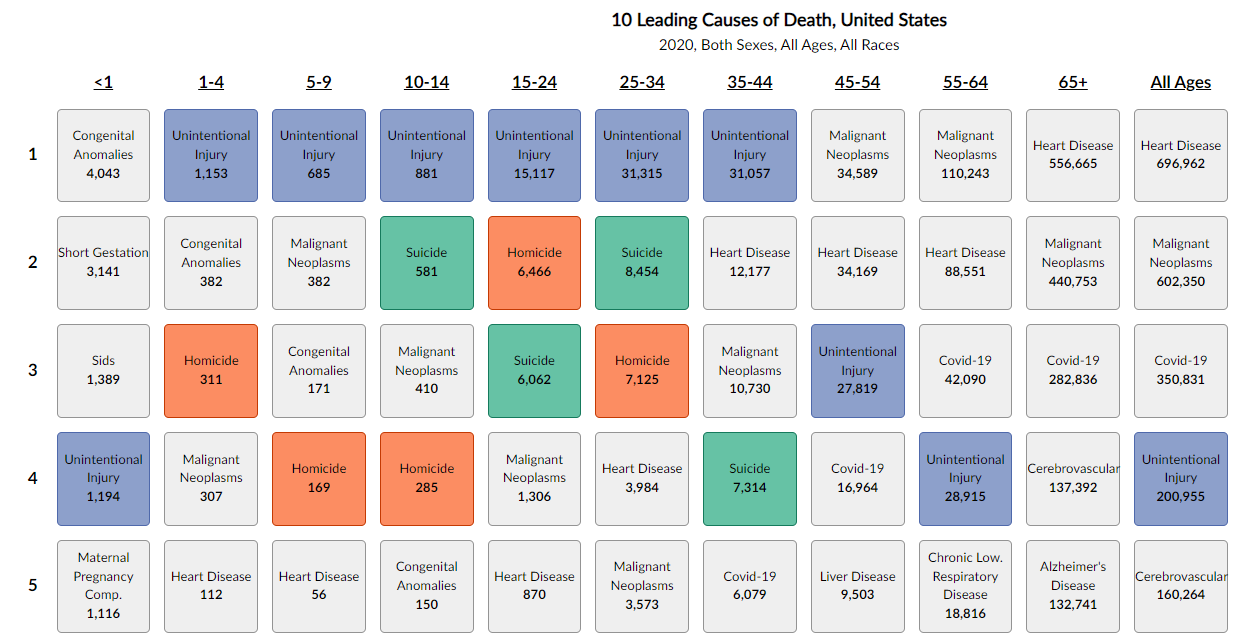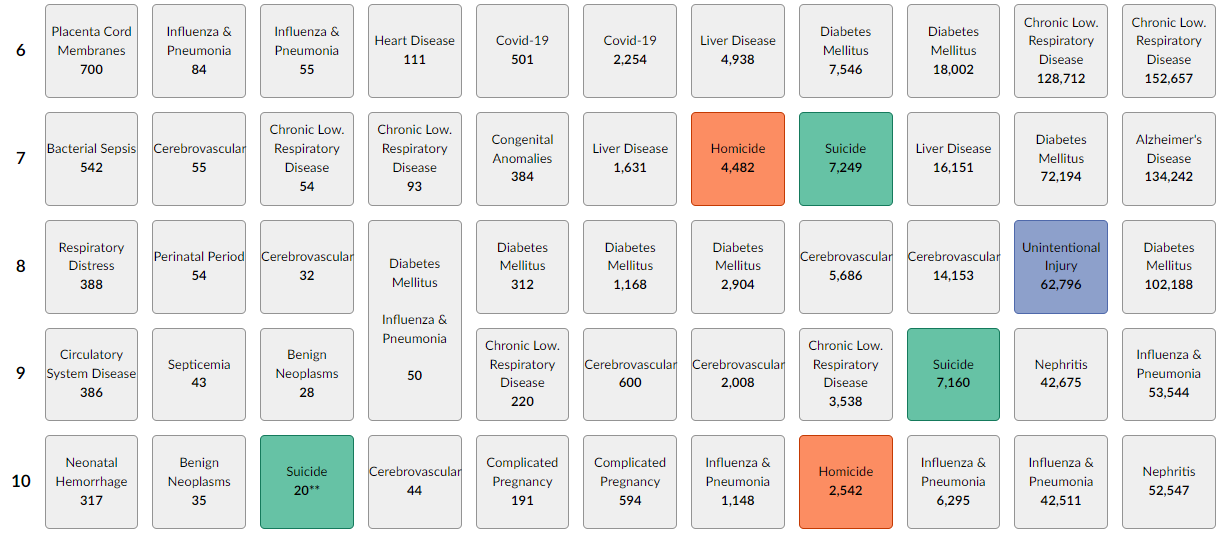 What's The Leading Cause Of Accidental Death For Children Under 5?
Suffocation is the primary cause of injury deaths in children under five years old in the US. It's followed by falls, entrapment, and strangulation in nursery products. (1)(4)
Aside from deaths in nursery products, motor vehicle accidents and drowning are also leading causes of children's deaths. (see the graphs below based on data from the CDC or the Centers for Disease Control and Prevention) (1)(4)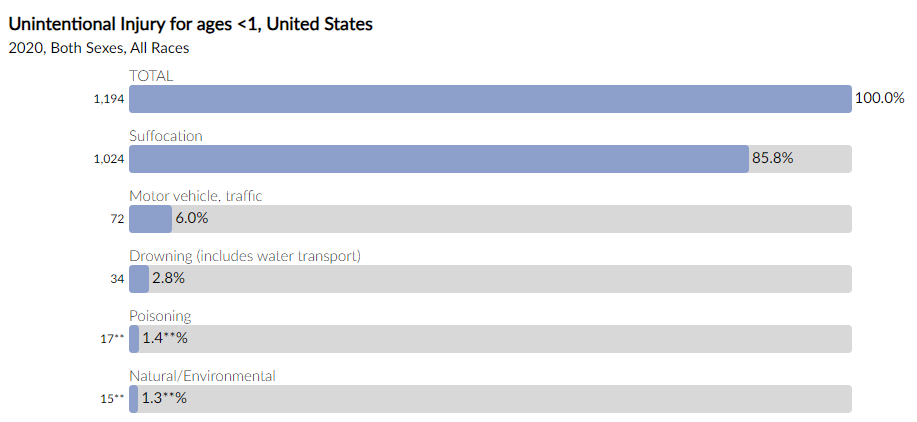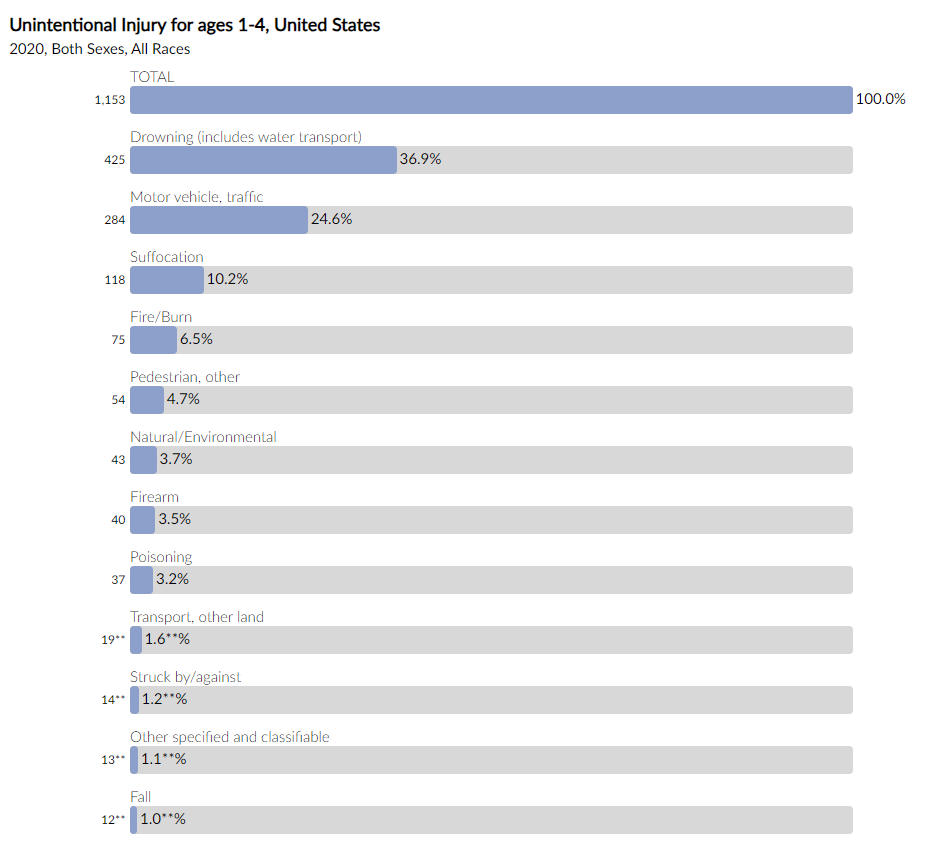 What's The Leading Cause Of Injury Death In Children?
Other stats on injury deaths in children 5+ years old in the US based on CDC data: (4)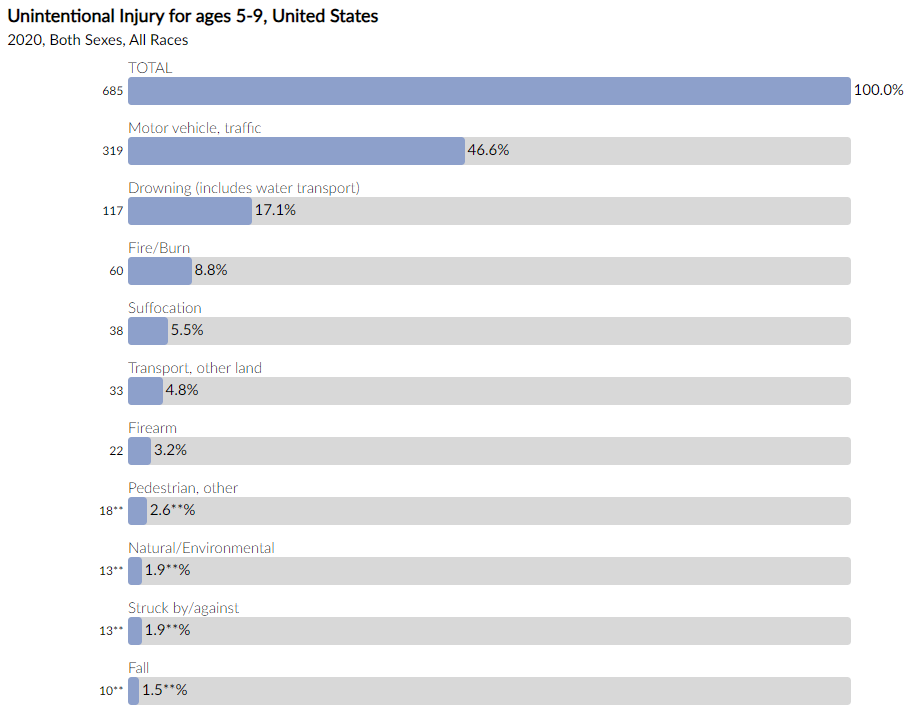 Leading causes of fatalities from unintentional injuries for ages 10-14 in the US based on CDC data: (4)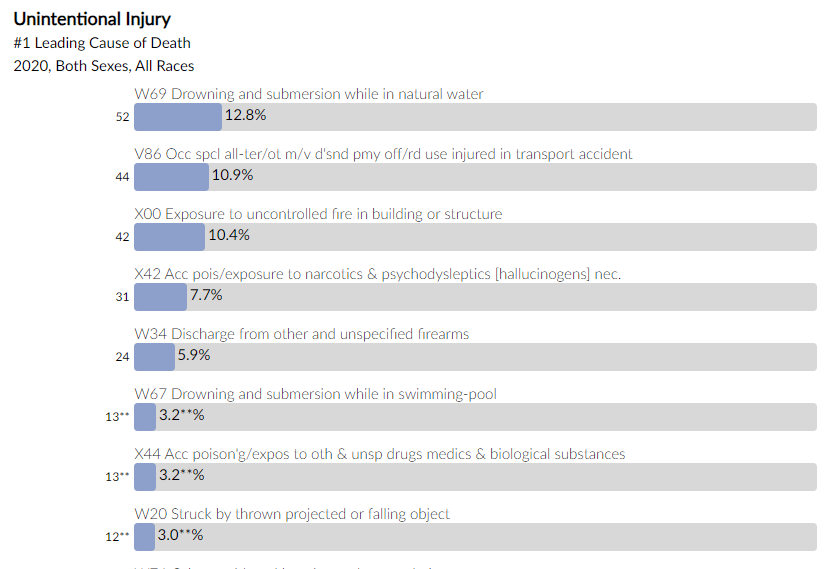 What's The Government Doing To Address This Problem?
Final Rule For Infant Sleep Products
The final rule for infant sleep products (e.g., inclined sleepers, in-bed sleepers, and travel or compact bassinets) became effective on June 23, 2022. (6)(7)
Under this new rule, all products must meet CPSC safety requirements to provide a flat, bare surface dedicated only to one infant's sleeping space. (6)(7)
Infant sleep products must also have a maximum sleep surface angle of 10 degrees. (6)(7)
The final rule only covers products marketed or intended for infant sleep. (6)(7)
New Standards For Crib Mattresses
Effective August 15, 2022, new standards are imposed for crib mattresses: (5)
Addition of a mattress firmness test to reduce suffocation risks from overly soft products

Addition of a dimensional conformity test (mattresses must be the same size as the cribs) to full-size crib mattresses to reduce entrapment hazards

Extension of the dimensional requirements to all non-full-size crib mattresses to reduce entrapment hazards

Addition of cyclic impact tests to check their ability to withstand impact forces to reduce laceration hazards of coils and springs poking through the mattress

Improvement of labels and user manuals for infant positioning and other safety measures to help reduce SIDS and suffocation risks
Ban On Inclined Sleepers & Crib Bumpers
Effective November 12, 2022, all products manufactured and sold as "crib bumpers" and "inclined sleepers for infants" are banned in the US. (3)
This applies to all products, regardless of brand, date of manufacture, and whether or not they've been involved in infant deaths or incidents. (3)
Revised Rules For Baby Gates & Enclosures
Effective January 21, 2023, the following will be mandatory for pressure-mounted gates: (8)
Gates relying on wall cups must meet the 30-lb push-out force test and have a warning label about its correct installation placed in a conspicuous (noticeable) location on the top rail.
Gates that don't require wall cups must have visual side-pressure indicators to show parents they're installed correctly.
Revised Rules On Infant Walkers
Effective February 25, 2023, manufacturers must perform additional tests using the CAMI Infant Dummy Mark II (child-like models made of steel and aluminum). (9)
These tests, based on different directions, determine whether the walker can stop itself (e.g., by using friction pads, etc.) to prevent a child from falling downstairs: (9)
Forward-Facing Step Test

Sideward Facing Step Test

Rearward-Facing Step Test
Effective August 5, 2023, the lowered portion of bedside sleepers must have the same or lower height than your adult bed to reduce the risks of strangulation on the exposed rail. (10)
The rest of the rails must be at least 7.5 inches high. (10)
Revised Rules On
Carriages and Strollers
The following rules became effective on February 15, 2022: (11)
Travel systems (a combination of car seat and stroller) are required to pass the impact and head entrapment tests.

Addition of three alternative test methods for parking brake tests to ensure that the mechanism can't be disengaged by a child sitting in the product; one of the tests requires that the brakes be placed outside the "access zone (children's reach)."
Effective July 3, 2021, these new rules must apply to high chairs during production: (12)
Additional stability tests to reduce the risks of the high chair tipping over; include "Forward and Sideways Stability," "Rearward Stability," and "Stability with Child Climbing into Chair" tests

Additional static load tests to ensure the high chair doesn't collapse; include tests for the high chair tray and the step or footrest

Additional test to ensure the high chair doesn't collapse when an older child (up to 3 years old) bounces up and down the product

Stricter rules on labeling and adding visible warning labels to avoid potential hazards, including "stay near and watch the child during use"
Revised Rules On
Baby-Changing Products
Effective July 31, 2022, the following rules must be followed for baby-changing products: (13)
Additional tests to assess the restraint systems, ensuring that your baby's upward or lateral movement is restricted when using the product to reduce fall risks

Stricter rules on labeling, including capitalized "FALL HAZARD" and "SUFFOCATION HAZARD" statements that must be placed in a conspicuous location on the product
These new rules became effective on September 24, 2022: (14)
Additional performance requirements (e.g., latching and locking mechanism to ensure a foldable tub doesn't collapse when your baby is still inside)

Additional rules on warning labels and instructional manual to address the hazards associated with infant bath tubs; includes "WARNING" or "CAUTION" labels for safety risks in battery-powered infant bath tubs (e.g., button or coin cell batteries are hazardous if swallowed)
Revised Rules On
Frame Carriers
Effective December 3, 2022, the following revised rules apply to frame carrier products: (15)
Requires that only Class 1 fabrics are used; Class 2 or 3 fabrics are more flammable

Additional ignition tests for fabrics to meet the "most stringent flammability requirements"

Additional requirement for non-toy accessories (e.g., hoods, sunshades, and bibs) to also meet the "most stringent flammability requirements"

Addition of other tests and safety requirements to ensure that your child is secured inside the frame carrier (e.g., tests on the straps and other hardware)

Increased test load to "40 lb (18.1 kg) or equal to the maximum weight for the occupant as recommended by the manufacturer" to ensure the product's capacity to carry an infant safely

Additional requirement for "Leg Openings Test" (because some products' leg opening becomes larger when the frame carrier is lowered)

Stricter rules on warning labels (e.g., fall hazards) and the product's recommended maximum child weight range

Includes clarification note that the product's maximum overall weight recommendation includes the child's weight + the cargo in the carrier's pouches or pockets
Effective November 19, 2022, the following rules on product labeling are required for sling carriers: (16)
Additional labeling to address fall and suffocation hazards

Minimum and maximum recommended weights

Product and packaging labels must include the name, address, and telephone number of the manufacturer, seller, distributor, or importer.

The label must have a code mark to identify the manufacture date (minimum month and year).

Warnings and labels must be in English.
Slings designed for double occupants require the following information on the warning statement: (16)
Minimum infant weight

Maximum infant weight

Maximum combined occupant weight
Revised Rules On Infant
Bouncer Seats
Effective December 19, 2022, the following new rules apply to the warning labels on the bouncer seats: (17)
Change the warning from "NEVER leave baby unattended" to "Stay near and watch the baby during use" to avoid confusion (according to the CPSC, some caregivers might misinterpret "unsupervised" or "unattended")

Suffocation-related warnings to clearly indicate that the product isn't safe or intended for sleep; consumers must be informed to move their baby to a flat sleep surface if the infant falls asleep while using the product

Fall risk warning to NEVER use the product on a bed, cushion, sofa, or other soft surfaces

Reminder to always use restraints and adjust to snug fit
Revised Rules On
Infant Swings
Effective January 29, 2022, the warning labels on infant swings must be changed to the following: (18)
Intended user:

From "a child who cannot climb out of the product" to "an infant"

Type of product:

"To swing or glide" to "cradle swing"

Limits:

From infants who "can roll over" to "begins to (roll over)"; also includes "(approximately 5 months)" in the warning statement
How To Keep Your Children Safe With Nursery Products
Suffocation, including during sleep, remains the leading reason for infant deaths. The AAP (American Academy of Pediatrics) recommends following these Safe Sleep guidelines: (19)
Use a firm, flat, noninclined sleep surface (e.g., crib, bassinet, or play yard; only use a firm, flat mattress and fitted sheet inside).

Avoid letting your baby sleep on seating devices (e.g., infant swing or car seat, except when they're riding in your car).

Don't put pillows, loose blankets, stuffed toys, comforters, crib bumpers, or other soft items in your baby's sleep space.

Avoid letting your baby co-sleep with other people (adults or other kids).

Place your infant on their back for sleep.
Aside from these sleep recommendations, here are other ways to keep your children safe:
Nursery products must only be used for their intended purpose (e.g., bouncers aren't meant for sleeping).

Always check the product's warning labels, minimum and maximum limits, expiry dates, and other safety information.

Never place bouncers, rockers, or other baby products on top of soft materials such as couches and beds to reduce fall risks.

We don't recommend buying secondhand products because age, wear and tear, or accidents involving previous users might have compromised their safety.

Regularly check for product recalls to ensure your baby isn't using recalled products.
Recent Baby
Product Recalls
& Safety Warnings
Stay informed with the latest news by signing up for our regular Motherhood Community recall alerts so you never miss an important recall.
Check these comprehensive lists of product recalls by category:
References
(1) https://www.cpsc.gov/s3fs-public/Nursery-Products-Annual-Report-2023.pdf?VersionId=1hFBN.iciNSIXQ4BOcnpk7NtWoFWgJ8g
(2) https://oversightdemocrats.house.gov/sites/democrats.oversight.house.gov/files/Inclined%20Sleeper%20Report%202021.pdf
(3) https://www.cpsc.gov/Business–Manufacturing/Business-Education/Business-Guidance/Safe-Sleep-for-Babies-Act-Business-Guidance
(4) https://wisqars.cdc.gov/data/lcd/home
(5) https://www.federalregister.gov/documents/2022/02/15/2022-02414/safety-standard-for-crib-mattresses
(6) https://www.cpsc.gov/Newsroom/News-Releases/2022/CPSCs-New-Federal-Infant-Sleep-Products-Safety-Standard-Takes-Effect)
(7) https://www.federalregister.gov/documents/2021/06/23/2021-12723/safety-standard-for-infant-sleep-products
(8) https://www.federalregister.gov/documents/2022/11/14/2022-24561/safety-standard-for-gates-and-enclosures
(9) https://www.federalregister.gov/documents/2022/11/29/2022-25812/safety-standard-for-infant-walkers
(10) https://www.federalregister.gov/documents/2023/05/09/2023-09772/safety-standard-for-bedside-sleepers
(11) https://www.federalregister.gov/documents/2021/11/18/2021-25140/safety-standard-for-carriages-and-strollers
(12) https://www.federalregister.gov/documents/2021/04/02/2021-06419/safety-standard-for-high-chairs
(13) https://www.federalregister.gov/documents/2022/04/26/2022-08804/safety-standard-for-baby-changing-products
(14) https://www.federalregister.gov/documents/2022/06/24/2022-13255/safety-standard-for-infant-bath-tubs
(15) https://www.federalregister.gov/documents/2022/09/01/2022-18786/safety-standard-for-frame-child-carriers
(16) https://www.federalregister.gov/documents/2022/08/19/2022-17707/safety-standard-for-sling-carriers
(17) https://www.federalregister.gov/documents/2022/09/06/2022-19179/safety-standard-for-infant-bouncer-seats
(18) https://www.federalregister.gov/documents/2021/10/28/2021-23453/safety-standard-for-infant-swings
(19) https://publications.aap.org/pediatrics/article/150/1/e2022057990/188304/Sleep-Related-Infant-Deaths-Updated-2022?autologincheck=redirected