Overview
Infantino baby carriers haven't been recalled in 2022 as of writing this article. However, the brand recalled several models of their baby carrier in 2020 for possible safety risks.
Infantino Baby Carrier Recall 2020
Recall Information: Falling Hazards
In February 2020, the CPSC (U.S. Consumer Product Safety Commission) announced the recall of several models of Infantino baby carriers because their buckles can break, posing a fall risk. (1)
Were All Infantino Carriers Recalled?
No. The recalled Infantino soft infant and toddler carriers were sold from November 2019 through December 2019, with the models listed below. (1)
What Infantino Baby Carriers Have Been Recalled?
These front-facing infant carriers are cotton, with a front-padded pouch, black straps, and a gray or black body.
Only the models with the following lot codes were included in the recall: (1)
Infantino's Go Forward 4-in-1 Evolved Ergonomic Carrier with lot codes 2018 0619 and 2018 0719
Infantino Flip Front2back Carrier with lot code 2018 0719
Infantino Up Close Newborn Carrier with lot code 2018 0719
You can check for the product name and lot codes on the label sewn into the inside of the carriers.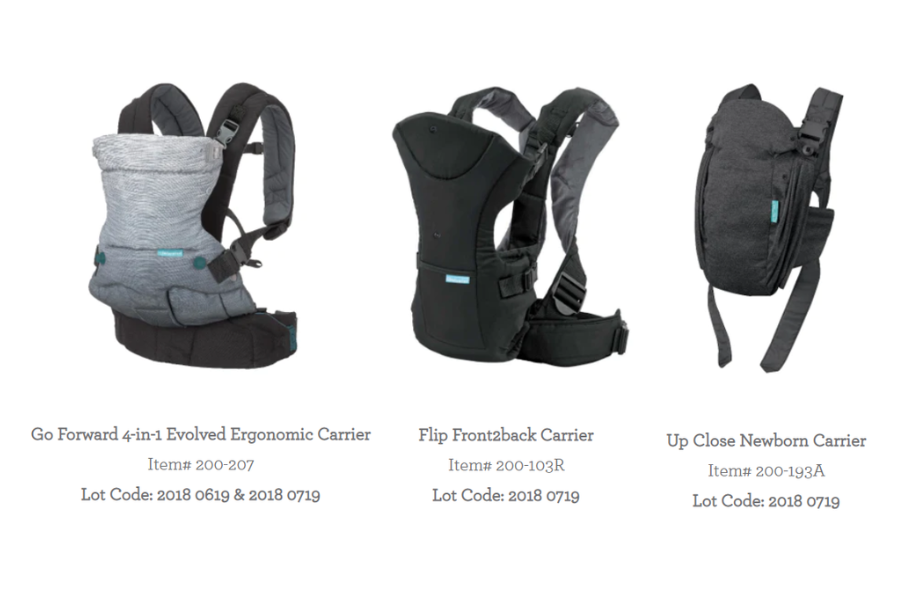 The toddler and newborn infant carriers were manufactured in China and imported by Infantino, based in San Diego, California.
Incidents Or Accidents With The Recalled Infantino Baby Carriers
No injuries or accidents have been reported concerning these Infantino carriers. (1)
What To Do If You Have Recalled Infantino Baby Carriers
You should immediately stop using the recalled carriers and contact Infantino for a free replacement carrier (a new carrier of the same model not affected by the recall or similar products of equal value): (1)
www.infantino.com
800-840-4916 from Monday through Friday, 8 a.m. to 4 p.m. PT
FAQs On Baby Carrier Safety
Are Infantino Baby Carriers Safe?
In its safety statement, Infantino declares the quality and safety of its products. The brand explains that all products pass the standards set by the following:
CPSC
CPSIA (Consumer Product Safety Improvement Act)
Can The Infantino Carrier Cause Hip Dysplasia?
The International Hip Dysplasia Institute doesn't recommend prolonged use of infant carriers and baby slings with narrow bases or seats because these could cause hip dysplasia. (2)
A lawsuit was filed against Infantino in May 2020 after a child was diagnosed with hip dysplasia. The child's mom reportedly carried her on the popular baby carrier multiple times daily, often for extended hours. This lawsuit is ongoing. (3)
On its website, Infantino claims that there isn't any evidence that its products can cause hip dysplasia.
Can Your Baby Still Use The Recalled Infantino Baby Carrier If It Looks Okay?
No. The recalled products' buckle could break anytime, causing falling hazards. (1)
What's The Weight Limit For The Infantino Baby Carrier?
Infantino's Go Forward 4-in-1 convertible baby carrier has a weight limit of 8-32 lbs.
How Do You Use The Infantino Swift Carrier?
There are two ways to use this carrier:
REFERENCES
(1) https://www.foxbusiness.com/markets/target-amazon-baby-carriers-recall
(2) https://hipdysplasia.org/baby-carriers-other-equipment/
(3) https://www.schmidtandclark.com/wp-content/uploads/M.C.-v.-Infantino_Complaint-2020.05.19.pdf