Overview
On March 30, 2023, Delta Enterprise Corp. announced the voluntary recall of around 43,380 units of Delta Children 2-in-1 outdoor swings because the seat restraint straps can break, causing a fall risk. (1)(2)
Which products are affected, are they still safe to use, and what's the remedy for this recall? Were there any injuries reported? Read on to find out.
Delta Children Swing Recall 2023
Recall Details
Delta Enterprise Corp. recalled around 43,380 units of Delta Children 2-in-1 outdoor swings on March 30, 2023, after receiving seven reports of the swing seat restraint straps breaking. (1)(2)
Thankfully, none of the broken swing strap incidents led to an injury. (1)(2)
What Delta Children Swing
s
Are Being Recalled?
This voluntary recall involves Delta Children 2-in-1 Outdoor Kids Swings, which come with a plastic bucket seat and a high back that features a silhouette of any of the following: (1)(2)
Mickey Mouse

Minnie Mouse

PAW Patrol
All these children's swings come with a three-point safety harness, have a 36-inch rope, and measure 16 inches (wide) x 10.8 inches (deep) x 22.2 inches (high). (1)(2)
How Do I Check If My Delta Children Swing Is Recalled?
Find the Delta Children's label (the one with a blue heart) on the swing's bottom to check for the model number. (1)(2)
The product is affected if you find any of these model numbers printed on the label: (1)(2)
SW86508MM

SW86516MN

SW86575MM

SW86576MN

SW86577PW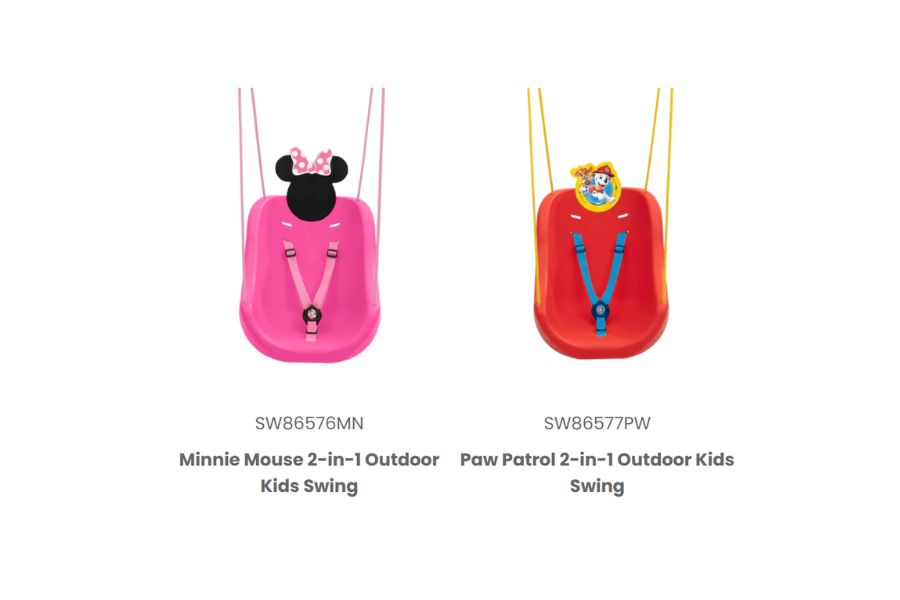 These swings were sold from March 2022 through October 2022 through the following outlets: (1)(2)
Walmart stores nationwide

walmart.com

deltachildren.com
Note that these swings are recommended for children from ages nine months through four years old, and have a weight limit of 50 lbs. (1)(2)
What To Do With The Recalled Swing?
If you have any of these recalled Delta Children swings, stop using them immediately. Contact Delta Enterprise Corp. of New York to get your free replacement straps. (1)(2)
How To Contact Delta Enterprises To Get A Refund Or Replacement
The company isn't offering a refund or replacement. Instead, you receive free replacement straps by reaching them through these channels: (1)(2)
Hotline: 800-377-3777 from 8:30 a.m. to 6 p.m. Monday through Friday

Email: [email protected]

Recall site: deltachildren.com/pages/kids-swing-recall (includes a submission form)

Main website: deltachildren.com (click on "Recall Center")
Are These Recalled Delta Children Swings Still Safe To Use?
No. Despite looking intact, the seat restraint straps can break anytime, causing a fall risk. (1)(2)
Stop using the affected swing and keep it out of your children's reach until the replacement straps are properly installed. (1)(2)
Other Recalled Delta Children Products
Delta Children Inclined Sleeper Recall 2020
On January 29, 2020, Delta Enterprise Corp. recalled inclined sleepers (around 5,900 units) due to infant fatalities linked to similar products from other brands (particularly the Fisher-Price Rock 'n Play Sleepers and Kids II). (3)(4)
Thankfully, there haven't been any infant injuries or fatalities involving these recalled Delta Children sleeper products. (3)(4)
Around 5,900 Delta Enterprise inclined sleepers with the following models were included in this recall: (3)(4)
Beautyrest Beginnings Incline Sleeper (plus Adjustable Feeding Position for Newborns)

Disney Baby Minnie Mouse Incline Sleeper (plus Adjustable Feeding Position for Newborns)

Delta Children 3-in-1 Deluxe Activity Rocker, Feeder, and Sleeper

Simmons Kids Beautyrest 3-in-1 Deluxe Activity Rocker, Feeder, and Incline Sleeper
FAQs
Where Are Delta Children Swings Made?
According to the recall advisory, these Delta Children swings were made in China. (2)
What Are Other Delta Children Products?
Delta Children offers a wide range of products, including:
Other Recent Baby Product Recalls & Safety Warnings
Stay informed with the latest news by signing up for our regular Motherhood Community recall alerts so you can make sure you never miss an important recall.
Check these comprehensive lists of product recalls by category:
Other individual product recalls:
Our Recommendations For Toys
Other Toy Recalls
Here's a list of other recalled toys:
References
(1) https://www.deltachildren.com/pages/kids-swing-recall
(2) https://www.cpsc.gov/Recalls/2023/Delta-Enterprise-Corp-Recalls-2-in-1-Outdoor-Kids-Swings-Due-to-Fall-Hazard?
(3) https://www.deltachildren.com/pages/incline-sleeper-recall
(4) https://www.cpsc.gov/Recalls/2020/Delta-Enterprise-Corp-Recalls-Incline-Sleeper-with-Adjustable-Feeding-Position-for-Newborns-to-Prevent-Risk-of-Suffocation