HABA Recall 2022
Recall Information
HABA recalls 800 units of Discovery Cubes Animal Hide-And-Seek activity toys because the house's seams (made of cloth) can open, providing access to the toy's filling, which a young child can ingest. This poses a choking hazard. (1)(2)
The CPSC (Consumer Product Safety Commission) issued the recall alert on December 1, 2022. (1)
According to the recall advisory, one consumer reported noticing the toy house's open seam. (1)(2)
Thankfully, as of posting this recall warning, no injuries have been reported concerning this HABA recall. (1)(2)
Which HABA Products Are Included & How To Identify Them?
Only Discovery Cubes Animal Hide and Seek activity toys are affected by this HABA recall. (1)(2)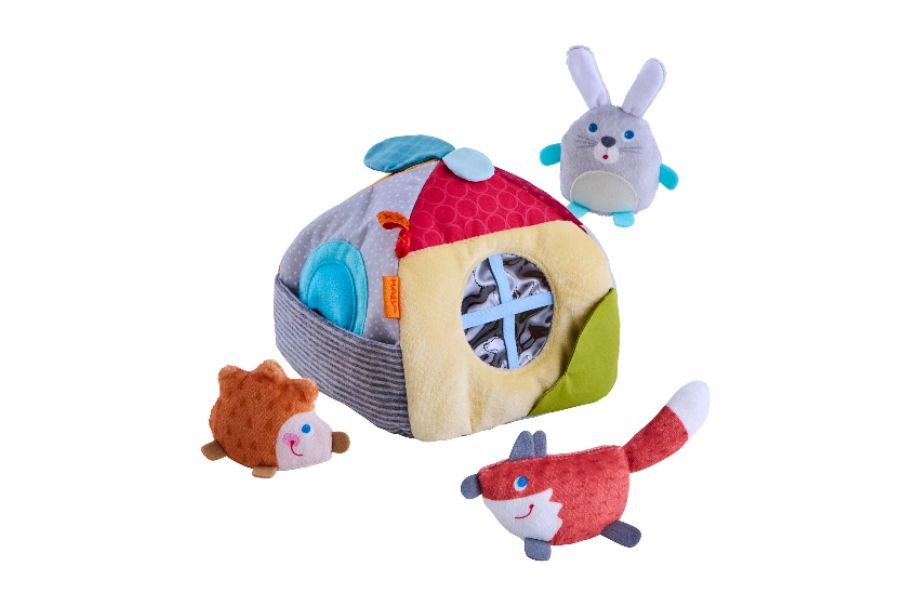 These HABA toys come in the shape of a house for the toy animals included in the set: a mouse, a fox, and a hedgehog.
The toy house is made of multicolored fabric, but the seams can rip, exposing the filling, which can pose ingestion and choking risks.
You can find the model number "306684" on the packaging and sewn in the label inside the toy house.
What To Do With The Toys & How To Get A Refund
If you have these toys at home, cut them in half using a pair of scissors, and take a photo of the cut house before discarding them in your trash bin (away from children's reach). (1)
Contact the following HABA customer service channels to send the photo and process your refund: (1)(2)
Phone: 888-430-0060 (toll-free) from 8 AM to 5 PM ET Monday through Friday
Email: [email protected]
Recall website: habausa.com/pages/discovery-cubes-animal-hide-seek-recall
HABA website: www.habausa.com, then click "Recall" (bottom of the page)
Affected customers are entitled to a $30 refund or gift card from HABA USA. (1)
Is It Still Safe To Use The Recalled HABA Toys?
Although intact HABA Discovery Cubes are safe for your child to play with, there's no telling when the seams can burst open.
It's best to follow the manufacturer's instructions to cut the toys and discard them for your child's safety and to get a refund.
Is HABA A Good Brand?
Yes. According to HABA USA's Quality & Product Safety page, all their toys meet American and European standards for materials and processing.
The brand also claims that they design toys with children in mind, using high-quality materials.
You can find many positive HABA reviews from customers on their official online shop (HABA USA) and Amazon.
HABA Toys Not Included In The Recall
Only the Discovery Cubes Animal Hide-And-Seek activity toys are included in this recall.
HABA sells a wide range of popular and educational toys that you can choose as the best gifts for your children or add to their wishlist for Santa.
Some examples include:
Chromatix 3D Arranging Game Wooden Building Blocks
Walker Wagon Push Toy
Town Maze Magnetic Puzzle Game
Hanging Doorway Puppet Theater
Freya 12" Soft Doll
Basic Building Blocks (102 pieces) Extra Large Wooden Starter Set
Popping Frog Silicone Teething Toy
Eat-it-up Dragon Glove Puppet
Marine World Soft Baby Discovery Cubes (machine washable)
Kullerbu Police Chase (16 pieces) Play Set
My First Advent Calendar – Farmyard Animals
Little Friends Dollhouse Town Villa with Furniture
Terra Kids Scout Bundle
My Very First Games – Here, Fishy, Fishy! Magnetic Game
Mouse Rod Clutching Toy Rattle
Bad Rodach 18 Piece Wooden Building Blocks
Summer Meadow Table Seat for Dolls (new product)
Many of these educational toys can help your child develop their cognitive and motor skills. You can pick toys based on their functionality, such as teaching special skills to preschoolers or older kids.
Some toys, such as the King of the Dice Board Game, are also good for playing with the whole family.
Where Are HABA Toys Made?
According to the CPSC's recall advisory, the affected HABA toys are made in China. (1)
According to the FAQ section on HABA USA's official website, most of their wooden toys and board games are made in Germany, while HABA plush toys and dolls, games, plastic toys, and other products are made in China.
Checking For Recalled Baby Products
Unsafe products (food, toys, clothes, etc.) can cause serious injuries or even death. It's important to monitor the latest local and world news for reports on recent recalls or safety warnings.
You can follow bookmark our articles to keep you updated:
Official Federal Websites
cpsc.gov – for children's and household products
fda.gov – for baby formula, food, medicine, and other baby product recall
recalls.gov
nhtsa.gov (NHTSA or National Highway Traffic Safety Administration) – for vehicle and car seat recalls
Other Toy Recalls
Here's a list of other recalled toys:
Our Recommendations For Toys
REFERENCES
(1) https://www.cpsc.gov/Recalls/2023/HABA-USA-Recalls-Discovery-Cubes-Animal-Hide-and-Seek-Activity-Toys-Due-to-Choking-and-Ingestion-Hazards-Recall-Alert
(2) https://www.habausa.com/pages/discovery-cubes-animal-hide-seek-recall