Kids Preferred Recalls 2023
Kids Preferred recalls around 16,410 "My First" Disney character figurines due to possible choking risks from detaching small parts, according to the advisory issued by the brand and the CPSC (US Consumer Product Safety Commission) on February 16, 2023. (1)(2)
Around 600 of these recalled toys were sold in Canada. (2)
The children's toys company, based in East Windsor, New Jersey, also announced that sales receipts aren't required for this recall. Anyone can get a full refund by returning the recalled Disney figurines to the company. (1)
Which Kids Preferred toys are being recalled, how can you identify them, and is it safe to continue using them if they look fine? Let's answer these questions below.
What Toys Are Being Recalled?
According to the recall advisory, the following soft vinyl figurines of Disney characters are included: (1)(2)
Mickey Mouse

Minnie Mouse (available in pink and red)

Buzz Lightyear

Stitch
These soft figurines measure around 4.25 to 5.25 inches tall; some have a bead rattle. (2)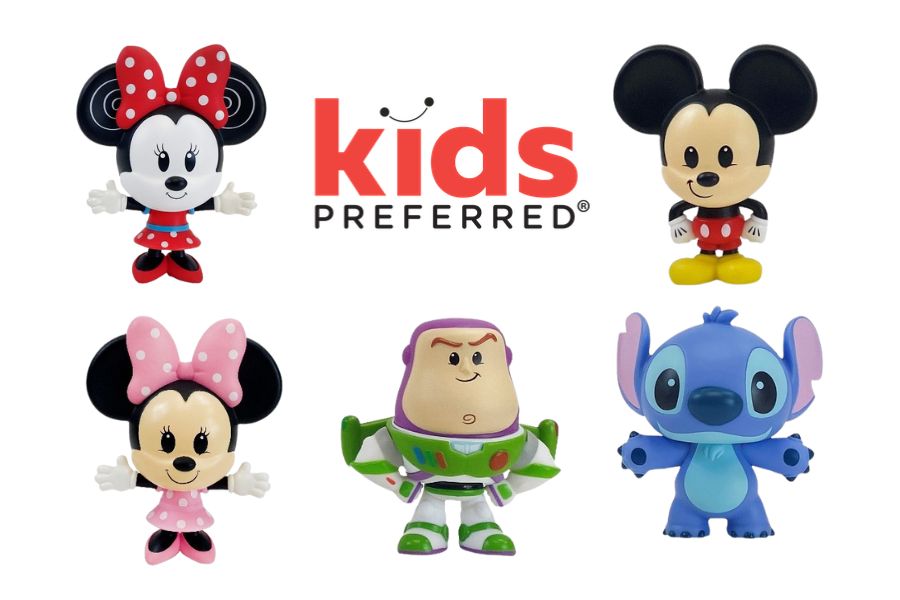 These toys were sold for around $15 and $19 from May 2022 through December 2022 at the following retail outlets: (2)
BuyBuy Baby stores

amazon.com

Other toy, bookstores, and gift shops nationwide
Why Are These "My First" Disney Toys Recalled?
The brand received 10 reports of small parts, particularly the legs or arms, getting detached from the figurines, posing a choking hazard to children. (1)(2)
No injuries have been reported. However, the brand explains that they issued the voluntary recall out of an "overabundance of caution." (1)(2)
What To Do With The Recalled Disney Character Figurines
If you have any recalled Kids Preferred toys and figurines, stop using them immediately. Double-check for any loose or detached parts, and return these toys to the company for a full refund or replacement toy. (1)(2)
You don't need a sales receipt to return the Kids Preferred recalled toys. (1)(2)
How To Get A Refund
Contact Kids Preferred through the following channels to process your refund or toy replacement: (1)(2)
Toll-free phone: +1-888-968-9268 from Mondays through Fridays, ET 8:30 a.m. to 5 p.m.

Email: [email protected]

Recall page: kidspreferred.com/pages/recall-safety-announcements

Homepage: kidspreferred.com, then click "Recall Information" located at the bottom of the page
Is It Still Alright To Use The Recalled Disney Character Figurines?
No. Immediately stop using these recalled Disney character figurines even if they look fine and intact. Despite looking good, the toys' small parts might detach anytime, posing a choking risk to small children. (2)
What To Do If Your Disney Baby Products Aren't On The List
Only the Disney Baby products listed above are included in this Kids Preferred recall. (1)(2)
If you have other products that aren't on the list, they can still be safe for use as long as you regularly check for cracked parts or other possible choking risks. (1)(2)
Kids Preferred Recall Statement
Here's the brand's statement regarding this recall: (1)
"At Kids Preferred, LLC. Product Safety is our Priority. We stand behind every product we make and take product safety very seriously.

…The safety of consumer products is our top priority. Out of an overabundance of caution, Kids Preferred has issued a voluntary recall of these products."
Disney Character Recall FAQs
What's A Disney Character?
Disney characters are fictional characters in any Disney film or TV show. These include the following:
Mickey Mouse

Oswald the Lucky Rabbit (the first Disney character)

Disney princesses

, such as Ariel and Cinderella

Disney fairies, such as Tinker Bell

Frozen's Elsa and Anna

Animal characters such as Simba, Bambi, Dumbo, and Winnie the Pooh
Where Are Kids Preferred Toys Manufactured?
Kids Preferred is based in East Windsor, New Jersey. According to the CPSC's recall advisory, the recalled toys are made in China. (2)
Kids Preferred Recalls 2017
On October 19, 2017, Kids Preferred recalled nearly 600,000 Musical Waggy wind-up toys over choking risks. The handle and/or metal post of the toys' wind-up mechanism can detach, potentially becoming a choking hazard to small children. (3)
No injuries have been reported, but the company received six reports of the wind-up handle's parts detaching from the toy. (3)
Our Recommendations For Toys
Other Toy Recalls
Here's a list of other recalled toys:
References
(1) https://kidspreferred.com/pages/recall-safety-announcements
(2) https://www.cpsc.gov/Recalls/2023/Kids-Preferred-Recalls-My-First-Disney-Character-Figurines-Due-to-Choking-Hazard
(3) https://www.cpsc.gov/es/Noticias/2018/Kids-Preferred-Recalls-Wind-Up-Musical-Toys