Are
Montessori Toys
Good For Babies?
Montessori toys can be good for babies, especially because they're designed for self-directed, exploratory play.
A 2018 Frontiers in Psychology study concluded that the efficiency of exploratory play during the infant years might help promote longer-term cognitive development. (1)
The researchers were able to measure this by providing different toys to babies and doing a follow-up cognitive development analysis at age three. (1)
What Is Considered A
Montessori Toy
?
Some characteristics of Montessori toys:
Made of

natural materials

, such as wood

Learning toys

that teach or develop one skill at a time

Simple but beautiful

Meant to last for years, and repetitive use

Useful and teaches

practical life

skills

Designed for open-ended, independent play and learning
These toys follow the Montessori method, a learning approach created by Italian pediatrician and educator Maria Montessori.
Did you know that Montessori education has been around for over a hundred years?
Today, Montessori classrooms don't just strictly follow the founder's teachings but might also incorporate Montessori-inspired educational toys. (2)
That's also something you can do for your baby's playroom. You can adapt the Montessori approach but also include other toys for your baby's development that might not be strictly Montessori.
Why Are
Montessori Toys
So Plain?
Montessori toys promote learning using things that are based on the real world. So, they don't make artificial sounds or movements. They don't have electronic parts nor use imaginary characters such as dragons, fairies, and Disney princesses.
These wooden toys are plain but designed for open-ended learning.
Kids can learn to improve different aspects of creativity by coming up with ideas to make the plain toy more interesting or entertaining. (2)
When Should I Start
Montessori Toys
?
Montessori learning can begin with newborn babies.
You can start with a play gym that has high contrast or black and white mobiles.
While your newborn might still be too young for spinning drums and shape sorters, you can slowly introduce them to sensory toys during tummy time or give them a wooden rattle to develop their grasping skills.
As they grow older, or at around four months old, you can get them a Montessori-inspired teether. At 6+ months old, they might be ready for the Montessori ball, simple musical instruments, stackers, and wooden puzzles with knobs.
What To Buy: Single Toys Vs. Subscription
It's no secret that Montessori toys can be pricey. So, it's really up to you to either buy single toys or get a subscription based on your budget.
What's good about a subscription is that your child gets a set of Montessori toys designed for different skills and learning options. The downside is that the brand usually picks what toys to include, so you might already have duplicates at home.
What other Montessori toys should you get your baby?
We've prepared this list of 11 best Montessori toys and other gift ideas for babies.
The 11
Best Montessori Toys For Babies
1.
LOVEVERY
The
Play Gym
(0+ months)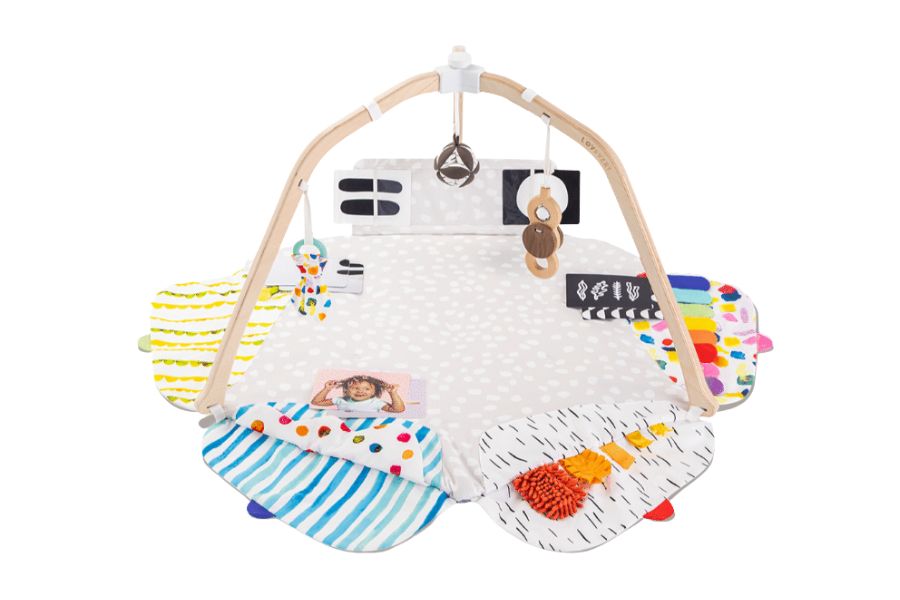 Pros & Best Features:

Organic cotton, non-toxic

baby play mat

with an activity center and hanging toys
Product Safety:

Free from fire retardants, PVC (polyvinyl chloride), and other toxic materials
Materials:

100% organic cotton, mouthable pieces made of

silicone

, and other non-toxic materials
Educational Value:

Five

Montessori-inspired

development zones to encourage learning and exploration
Extra Features:

Can convert into a play fort for toddlers using the play space cover
Certification:

OEKO-TEX-certified fabrics (tested for toxic and harmful substances) and FSC-certified (Forest Stewardship Council) sustainably sourced wood
Made In:

Network of suppliers in Asia
"My niece's baby loves this. He lays and kicks and stares at the cards concentrating on them." – reviewer on LOVEVERY

"I wish there was an option to buy pieces of this / other toys without the expensive subscription." – reviewer on LOVEVERY
2. KiwiCo Atom Bead Maze (0+ months)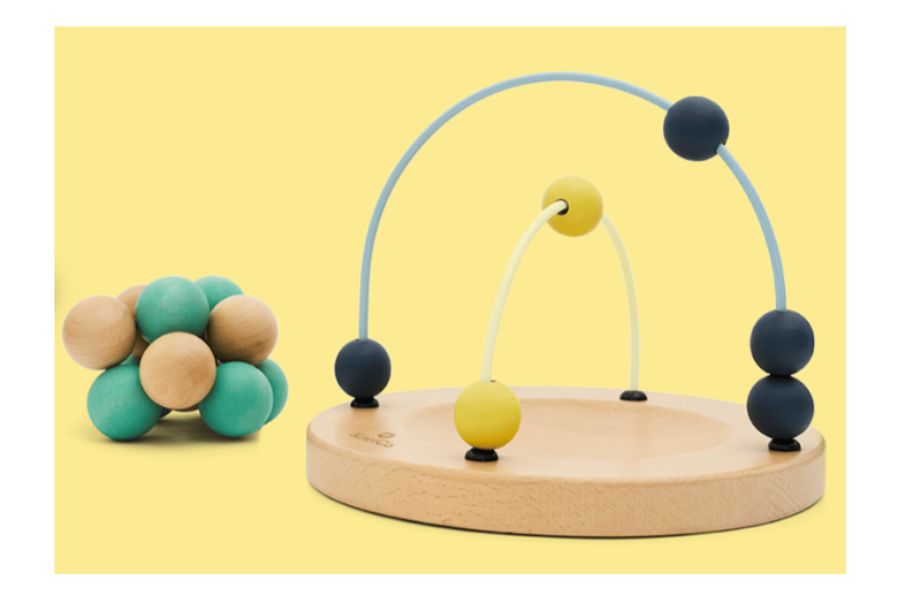 Pros & Best Features:

Atom-inspired bead maze
Product Safety:

Passes rigorous tests for all toy safety standards
Materials:

Solid wood, metal wire, cotton string, and plastic plugs
Educational Value:

Fine motor skills

, sensory stimulation, and early STEM learning (science, technology, engineering, and mathematics)
Extra Features:

Includes a chemistry-themed

baby book
Certification:

Certified by independent product safety testing labs
"I'd venture to say that this is my son's new favorite toy. He loves to play with the beads, and the book is really cute." – reviewer on KiwiCo

"Very nicely made, good quality and great for a 7 month-old little boy!" – reviewer on KiwiCo
3. Wee Gallery Organic Crinkle Toy – Butterfly (0+ months)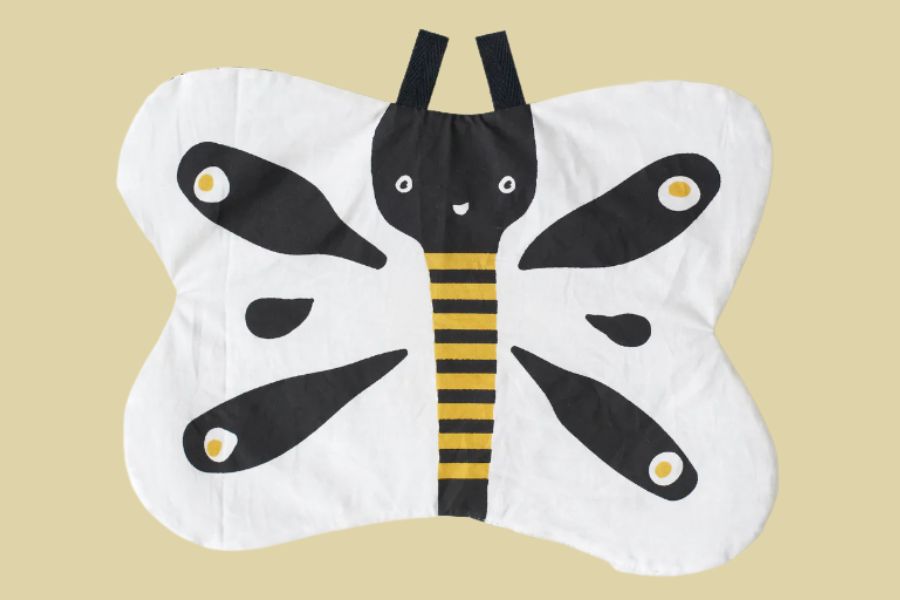 Pros & Best Features:

Butterfly-shaped crinkle toy
Product Safety:

Non-toxic, organic toy
Materials:

100% organic cotton shell, crinkle paper filling, and soy-based inks
Educational Value:

Visual development, sensory stimulation, and learning about cause and effect
Extra Features:

High-contrast

design
Certification:

GOTS-certified organic cotton (Global Organic Textile Standard) and FSC-certified paper
Customer Reviews:

None yet
4. Ece Toys Box of
Montessori Mobiles
& Toys (0+ months)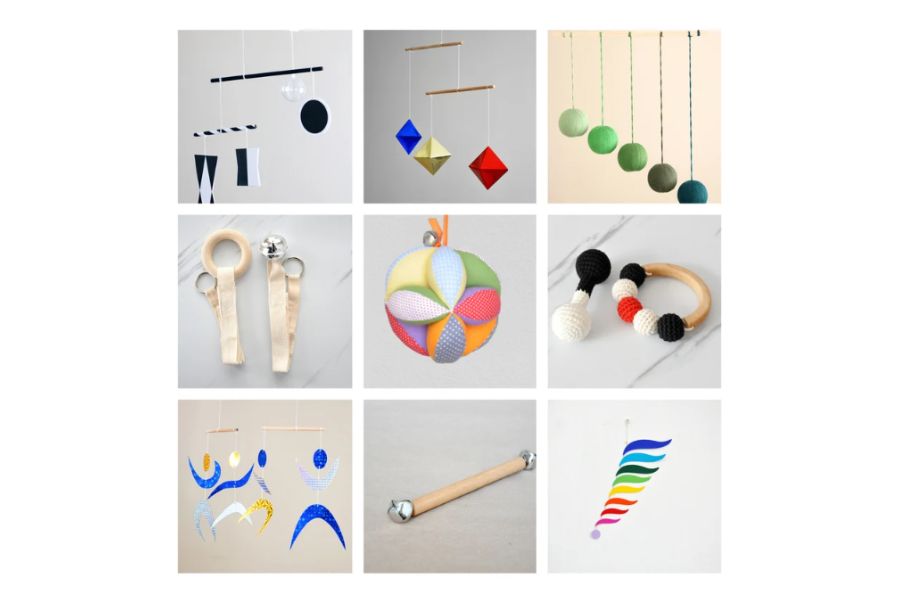 Pros & Best Features:

Box of different

Montessori toys
Product Safety:

Water-based paint
Materials:

Wood, metallic paper, cardboard, cotton thread, cotton fabric, and fiber
Educational Value:

Hand-eye coordination

, fine

motor development

, dynamic visual focus, concentration, and depth perception
Extra Features:

Option available to choose the colors for the toys included in the box
Certification:

Not indicated
Cons:

Some complaints about possible choking risks
"We purchased the box of Montessori mobiles for our newborn and are so very impressed with the craftsmanship!" – reviewer on ETSY

"With the rainbow mobile, there are small parts that if it ever came disassembled baby could choke on. The little metal rings that allow it to spin freely. And the wooden rattle with the bells on the end could present a choking hazard if the bills ever became detached, although I think that would be highly unlikely." – reviewer on ETSY
5.
LOVEVERY
The Looker
Play Kit
(0-12 weeks)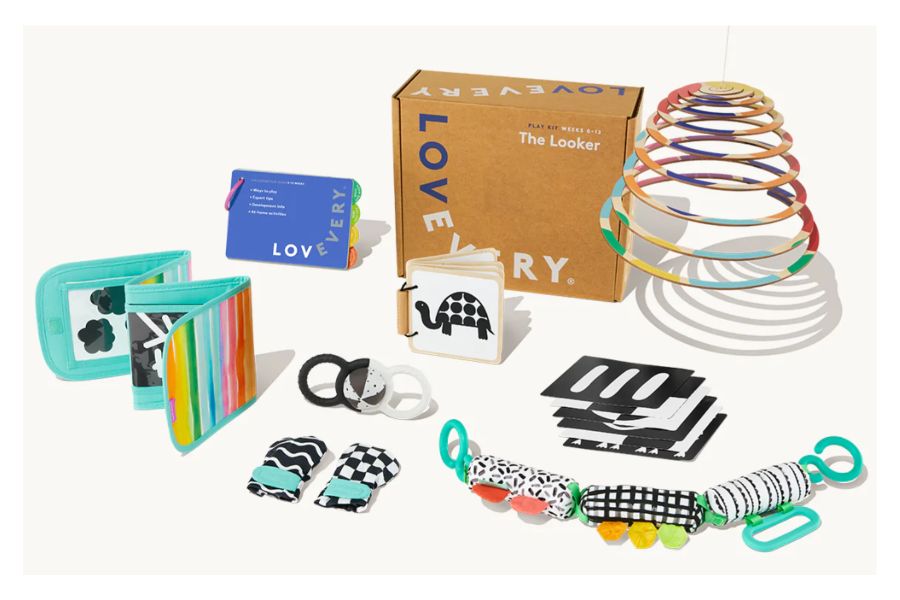 Pros & Best Features:

Montessori

play kit

with a wooden

baby book
Product Safety:

Free from heavy elements and phthalates
Materials:

Wood, fabric, cardboard, and

silicone
Educational Value:

Visual perception, memory development, hand discovery and awareness, grasping, and tracking moving objects or sound
Extra Features:

Includes a play guide
Certification:

Meets regulatory safety standards
Made In:

Curated in Idaho with products made by a supplier network in Asia (exact location not indicated) adhering to the "highest sustainability standards in the industry"
"We loved everything about the looker play kit. It was perfect for our 2 month old! She enjoyed all the different toys and we as her parents enjoyed playtime." – reviewer on LOVEVERY

"I feel like I could've saved myself the $80 and gone to Walmart, spent $15 and gotten the same experience." – reviewer on LOVEVERY
6. Manhattan Toys Artful Skwish (0-2 years)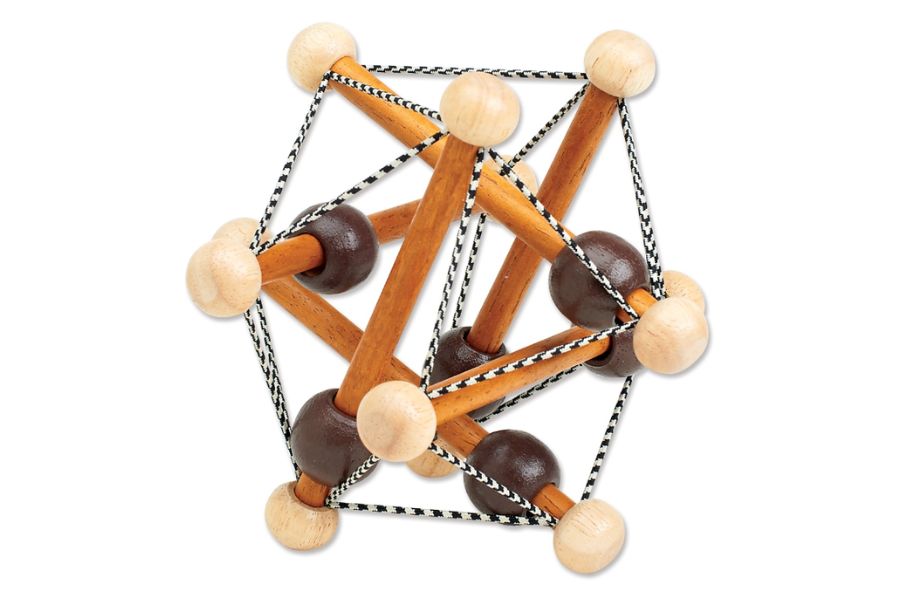 Pros & Best Features:

Wood rattle and

teether

toy
Product Safety:

Non-toxic, water-based finish
Materials:

Wood and elastic strings
Educational Value:

Grasping, manipulation, and

fine motor skills
Extra Features: Baby and toddler toy

with balls, beads, and rods
Certification:

CPSIA (U.S. Consumer Product Safety Improvement Act), ASTM F963 (American Society for Testing and Materials), EN71 (European Toy Safety Directive and Standard), and SOR (Canada Consumer Product Safety Act and Toy Regulations)
Cons:

Requires adult supervision to reduce choking risks if the strings accidentally break or if your child pushes the toy inside their mouth
"It's lovely. It's a rattle, a ball, a puzzle, a sculpture…. Your family needs one of these." – reviewer on Walmart

"The unique structure makes it so interesting to play with, and you could tell by his focus on it how it made him think and have his curiosity piqued." – reviewer on Target
7. Miniland
Sensory Balls
(3+ months)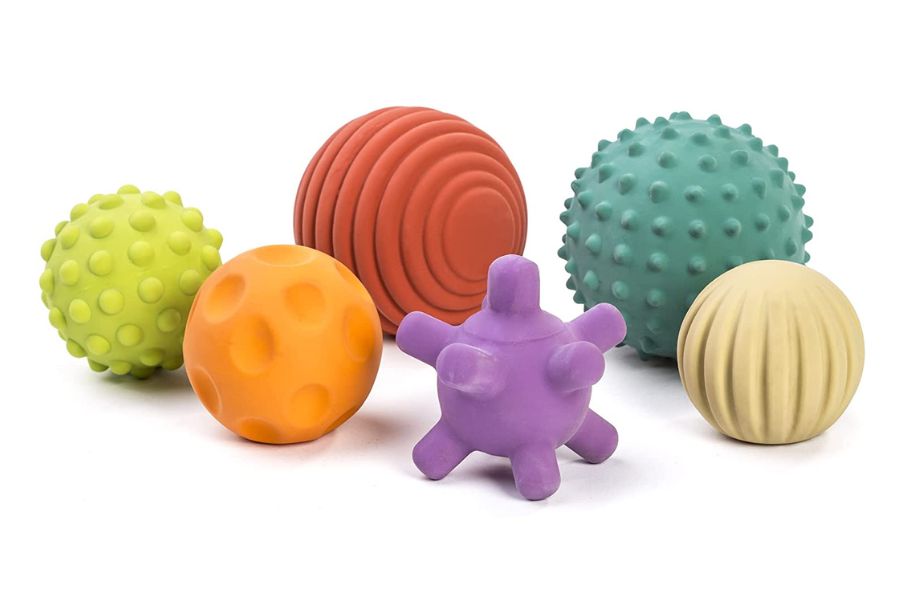 Pros & Best Features:

Set of

sensory balls
Product Safety:

Eco-friendly, washable toys that can be disinfected
Materials:

100% natural rubber
Educational Value:

Sensory learning and

fine motor skills
Extra Features:

Different texture per ball
Certification:

Not indicated
Cons:

The set can be pricey; some complaints about the strong scent
"These are completely sealed (so we even use them in the bath) and are pure rubber. It's pricey, but this set is fantastic quality and will be part of our play for years." – reviewer on Amazon

"…the balls smell so extreme, the smell is reminiscent of the smell of a balloon that I have to consider throwing the balls away. Even washing out multiple times didn't help." – reviewer on Amazon
8.
Loulou Lollipop Bubble
Silicone
& Wood
Teething
Rattle (for babies and toddlers)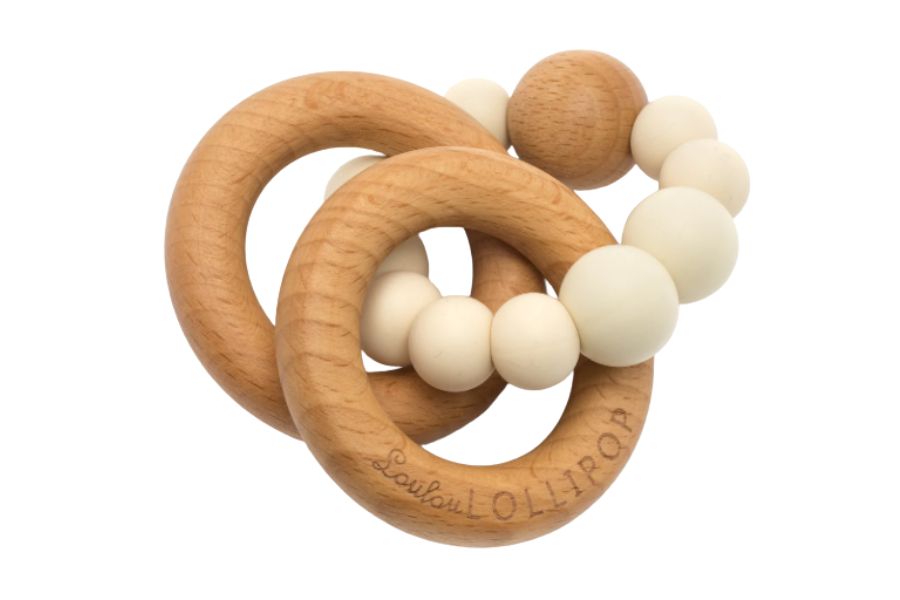 Pros & Best Features:

Montessori-inspired

teething

rattle
Product Safety:

Free from PVC, BPA (bisphenol-A), heavy metals lead and cadmium, and phthalates
Materials:

Wood and 100% food-grade

silicone
Age Range:

Babies and toddlers
Educational Value:

Soothing tender gums while developing

fine motor skills

and grasping
Extra Features:

Teether

and toy
Certification:

Exceed safety standards (safety-tested by a leading third-party laboratory)
Made In:

Vancouver, Canada
Cons:

Some complaints about quality
"I feel very comfortable knowing that my baby girl is playing with a product that is made safe and reliable." – reviewer on Crate and Barrel

"The wooden rings were rough to the touch and not finished. I wiped them clean and oiled them hoping it would help soften them but they are still rough so I'll need to lightly sand them and re oil them to see if they will be usable after that." – reviewer on Loulou Lollipop
9. 2Woods Montessori – Bell Roller (4+ months)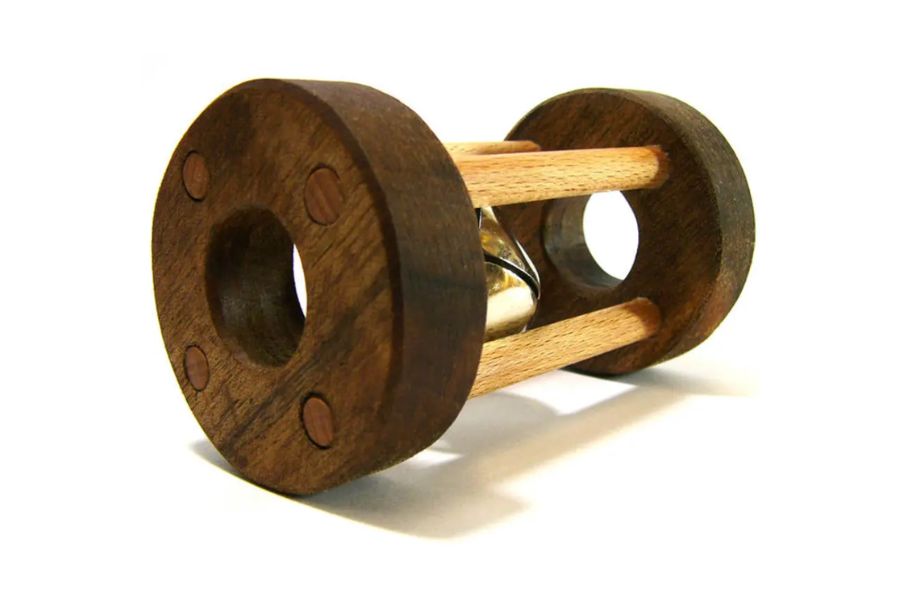 Pros & Best Features:

Wooden Montessori bell roller
Product Safety:

Lightly stained with non-toxic flax oil
Materials:

Solid wood and a metallic bell
Educational Value:

Motor development

or control and

hand-eye coordination
Extra Features:

Bell rattle that can also be used as a roller
Certification:

Not indicated
Cons:

Some complaints about quality
"Lovely quality toy, baby is enjoying chomping on it as much as chasing it! Thank you." – reviewer on ETSY

"Forwma correct, but not smoothed nor protected by protective finish, so it loses many splinters if the baby puts it in the mouth. Not suitable for young children, too bad that the age range of use should be that!" – reviewer on ETSY
10. Heirloom Kids US Montessori Level 2 Collection (4-8 months)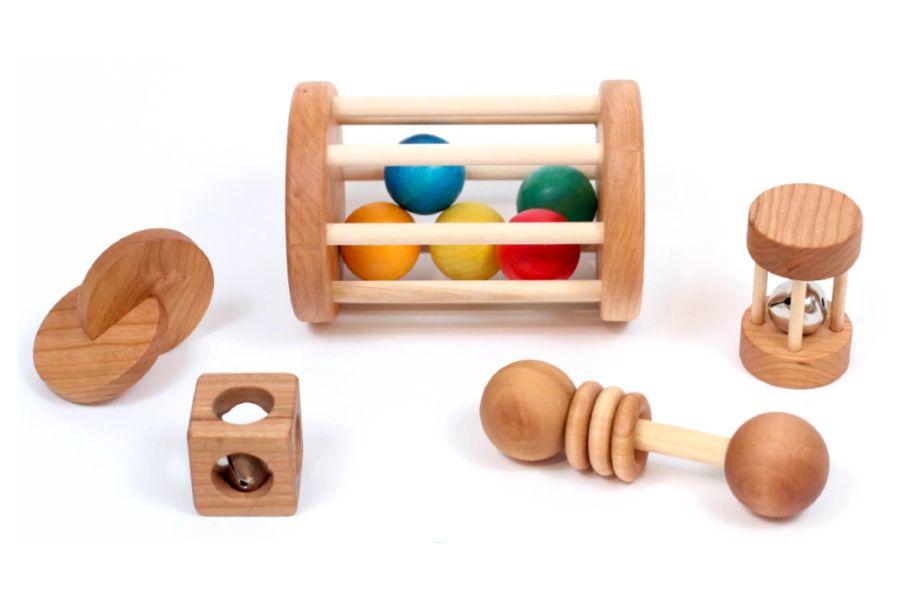 Pros & Best Features: Set of five Montessori baby toys
Product Safety:

Food-safe dye, water-based sealant to prevent color leakage, and beeswax and flaxseed oil
Educational Value:

Problem-solving

, grasping, and

fine motor skills
Extra Features:

Includes ring and cube rattles, interlocking

shape puzzle

, and ball and bell cylinders
Certification:

CPSC (Consumer Product Safety Commission)
Customer Reviews:

None yet
11. Adena Montessori Full Size
Object Permanence Box
(6+ months)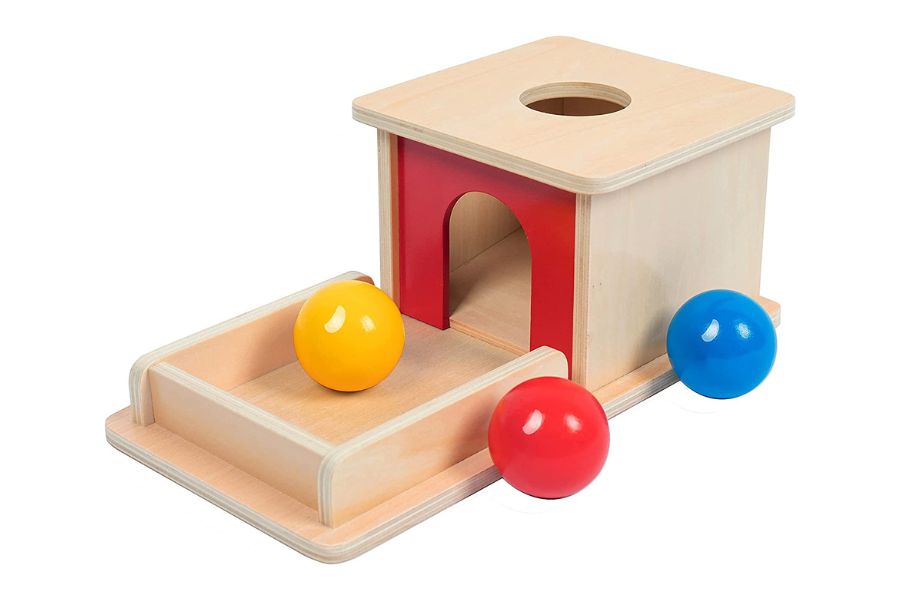 Pros & Best Features:

Object permanence box

with tray and colorful balls
Product Safety:

Non-toxic and water-based paint
Materials:

Solid hardwood (according to

Amazon

)
Educational Value:

Hand-eye coordination

, science concepts (object permanence), and logical thinking
Extra Features:

Large balls to reduce choking risks
Certification:

Not indicated
Cons:

Some complaints about quality
"My kid loves this toy. Such a great learning opportunity with it and keeps my baby occupied for long periods!" – reviewer on Amazon

"My 6 month old barely used this, we played for about 10 minutes and I noticed flecks of paint on the horizontal wooden surface." – reviewer on Amazon
Other
Montessori Toys
References
(1) https://www.ncbi.nlm.nih.gov/pmc/articles/PMC5991261/
(2) https://www.ncbi.nlm.nih.gov/pmc/articles/PMC6161506/