How Many Toy-Related Deaths Happen In A Year?
Based on the 2022 annual report on toy deaths and injuries released by the CPSC (Consumer Product Safety Commission) in November 2023, there were eleven toy-related fatalities among children 1-14 years old. (1)
The number is only applicable for the calendar year 2022, based on reports received by the CPSC. (1)
What's alarming about these deaths is that they involved toys commonly found in most homes, including bouncy balls, balloons, stuffed animals, a powered riding toy, and an unpowered scooter. (1)
Considering that infant deaths increased in 2022 (for many different reasons other than toy-related incidents) and that nursery products are also linked to around 160 deaths annually, it's important to understand home and toy safety to protect your kids. (2)(3)(4)
What Are The Statistics About Toy Safety?
Toy-Related Deaths
For this period (2022), there were 11 toy-related deaths (breakdown of causes listed below). (1)
Annual Trends In Toy-Related Deaths
Based on the CPSC report, there were 12 toy-related deaths in 2020. The number decreased to 6 in 2021 but increased to 11 in 2022. (1)
Notably, these deaths involved children who were 12 years old or younger (see table below). (1)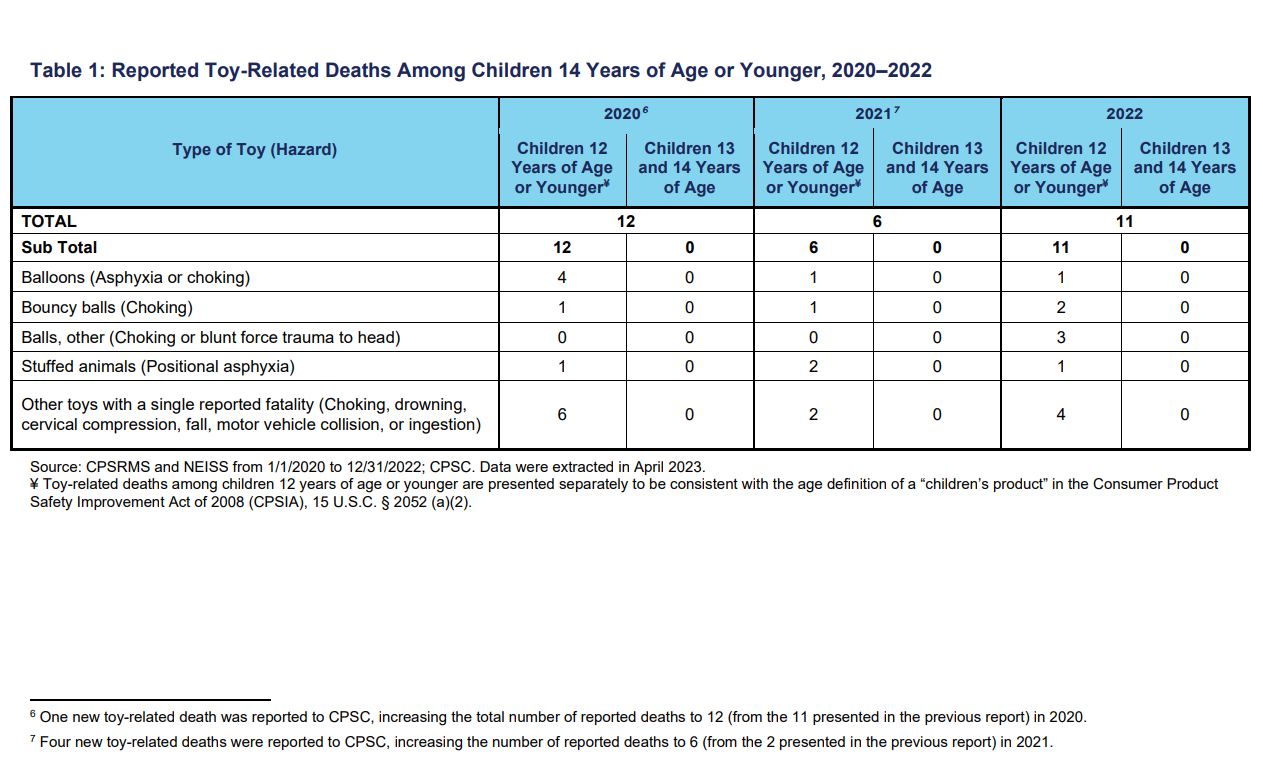 What's The Most Common Cause Of Toy-Related Deaths?
Data from the CPSC report showed that balls were the most common cause of toy-related deaths in 2022. All these deaths involved children who were 12 years old or younger. (1)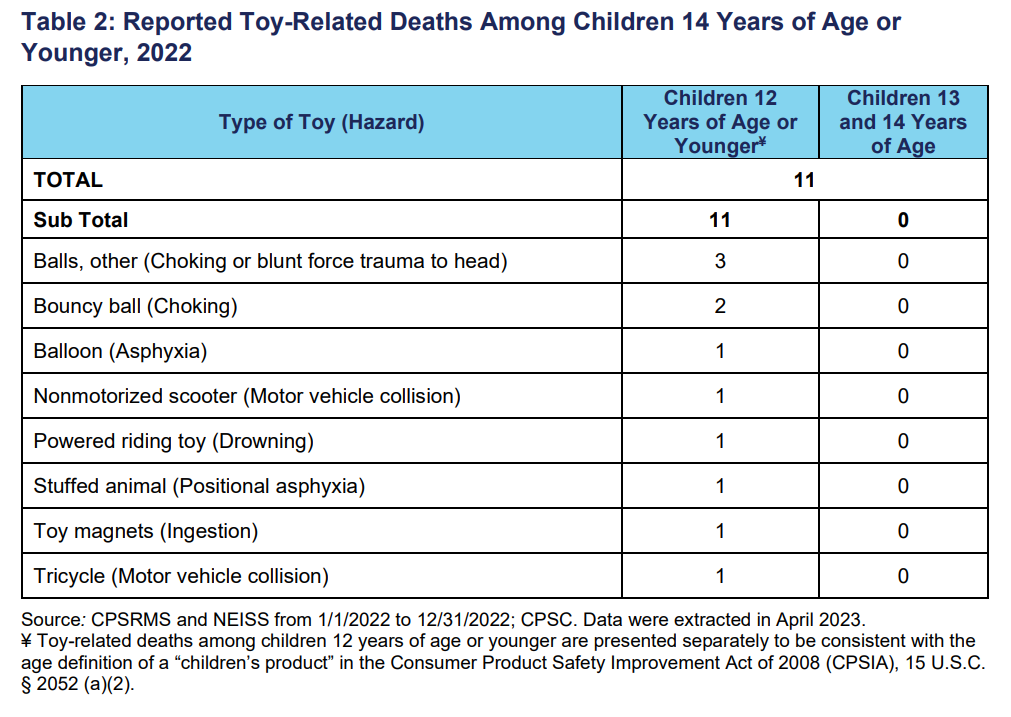 The CPSC report also detailed how these toy-related deaths happened: (1)
A 7-month-old boy suffocated from positional asphyxia (his position prevented him from breathing adequately). Although he was placed in the supine position (on his back), he was found unresponsive and in the prone position (face down) with a large stuffed animal on top of him.

A 2-year-old boy choked after placing a soft ball measuring (about one-quarter inch in diameter) in his mouth.

A 2-year-old boy was using a kick scooter in his neighbor's driveway but was accidentally run over by that person's SUV, leading to fatal injuries. The neighbor hadn't noticed the kid while backing out of the driveway.

A 2-year-old child riding a tricycle was hit by a pickup truck backing out of the garage.

A 3-year-old boy drowned after driving his powered riding toy into an in-ground swimming pool.

A 5-year-old boy choked while playing with a sensory ball at home.

A 6-year-old girl died due to complications of small intestine perforation after swallowing toy magnets.

An 8-year-old boy choked on a 1-inch bouncy ball after swallowing it at school. Although it was removed using the Heimlich maneuver, the child went into cardiac arrest and suffered multiple organ failure. He later died.

A 10-year-old girl suffered blunt force trauma after being struck by a batted ball in the head.

A 10-year-old boy swallowed a bouncy ball and choked. He died from anoxic brain injury (the brain is deprived of oxygen, causing loss of consciousness).

A 10-year-old boy died of asphyxia and cardiac arrest while playing with a balloon. He was found by his parents with his head in a balloon, already unresponsive.
Toy-Related Injuries
For the calendar year 2022 alone, around 209,500 toy-related injuries in the US were treated in hospital emergency departments. Some additional stats from these toy safety incidents: (1)
Stats Based On Age
76% (159,500) were of children 14 years of age or younger

69% (145,500) were of children 12 years of age or younger

38% (79,700) were of children 4 years of age or younger
The table below also shows the estimated number of toy-related injuries per 100,000 people for these age groups: (1)

Stats Based On Gender
54% (113,400) of the injuries involved boys

46% (96,100) of the injuries involved girls
The table below also shows the breakdown of these injuries by different age groups, but still based on the victims' gender: (1)

Stats Based On Affected Areas & Injury Classification
47% involved the head and face area (considered the most commonly affected body areas)

41% involved injuries classified as lacerations or contusions and abrasions
The figure below shows the distribution of toy-related injuries based on the affected body areas: (1)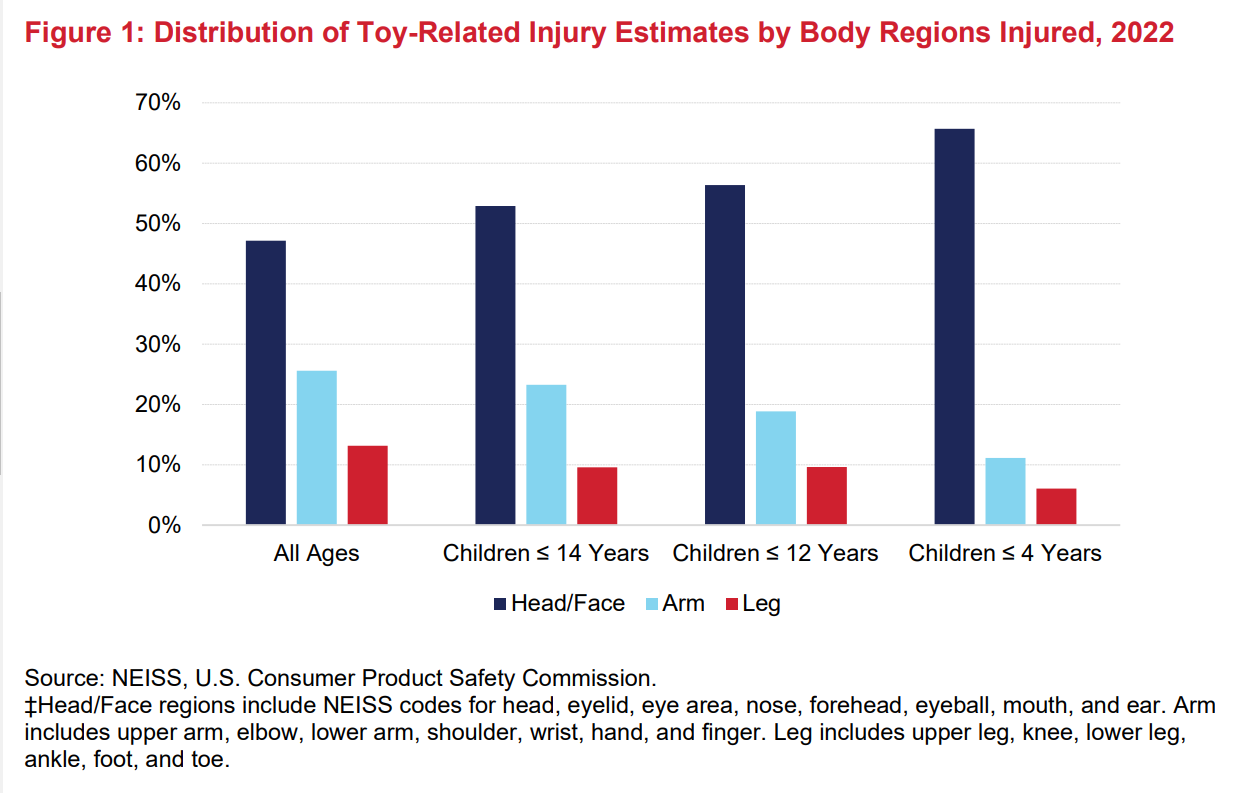 The figure below shows the distribution of toy-related injuries based on the type of injuries: (1)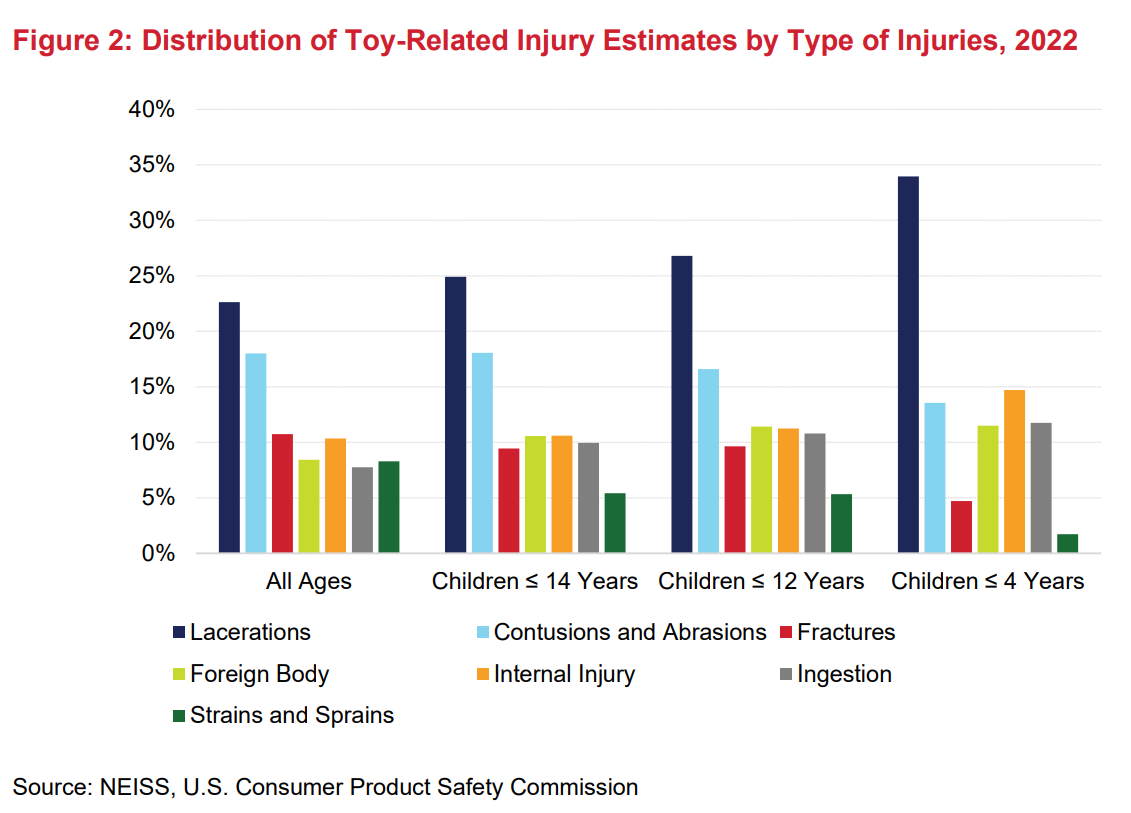 Stats Based On Treatment Or Hospital Admission
94% of the cases were treated in the ER and subsequently released (no hospital admission)

3% were admitted or transferred to another hospital

3% left without treatment, were held for observation, or died in the ER
What Are The Most Common Injuries Involving Toys?
Non-motorized scooters caused or were linked with the highest number of estimated toy-related injuries among specifically identified toys for all age ranges: (1)
17% (35,400) for children of all ages

20% (31,600) for children 14 years of age or younger

16% (23,100) for children 12 years of age or younger

8% (6,600) for children 4 years of age or younger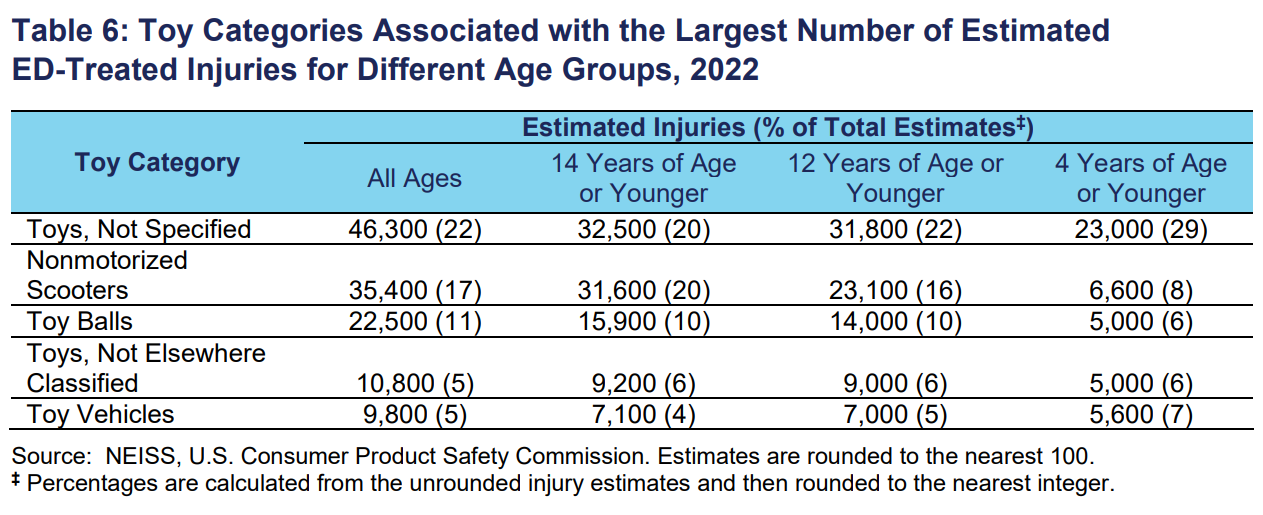 As you can see in Table 7 below, the stats on the number of injuries involving non-motorized scooters were also high in previous years: (1)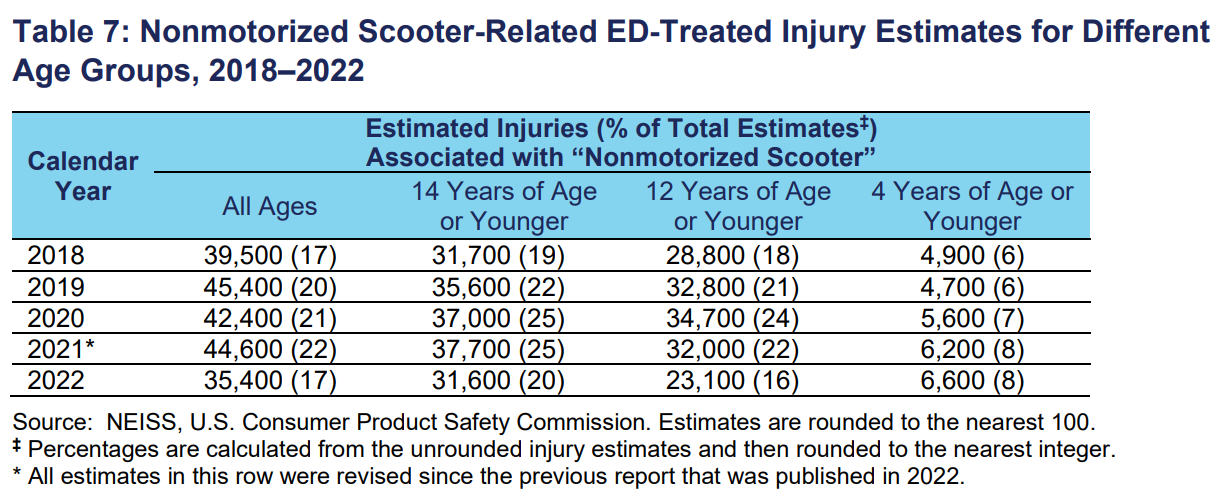 Annual Trends In Toy-Related Injuries
Based on the CPSC report, toy-related injuries have decreased since 2015. However, while this is good news, let's not forget that the numbers remain high (around 209,500 for all ages) in 2022. (1)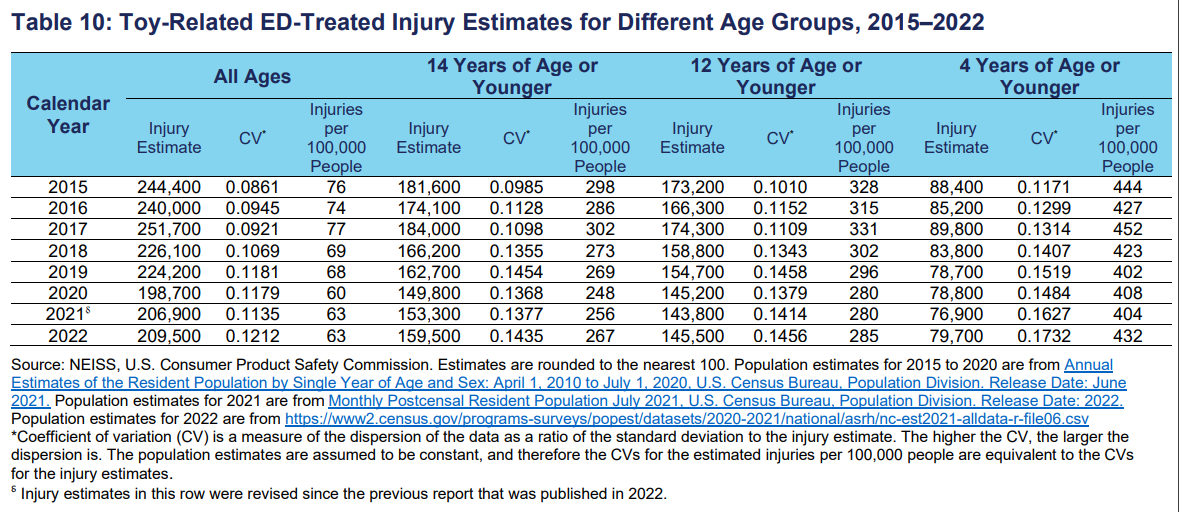 Toy Safety & Other Important Tips
Toys play an important role in child development, helping children develop their motor (fine and gross), cognitive, emotional, psychosocial, and linguistic skills. Studies show that they're essential in helping develop well-rounded, creative, happy, and self-confident kids. (5)
However, toys can sometimes be dangerous, especially when children are:
left unattended

allowed to play with toys that aren't appropriate or safe for their age (e.g., potential choking risks for younger children)

left to play with broken and already unsafe items
Below are some important tips to help keep your kids safe while playing.
1. Choose Safe Toys
Watch Out For Choking & Other Injury Risks
Choking is among the primary causes of toy-related deaths and injuries. This usually happens when a small child swallows a small toy, a fragment of a broken toy, or any tiny piece that can get stuck in their throat, blocking their windpipe and making breathing difficult.
Here are some ways to reduce choking risks: (6)
Avoid balls, marbles, coins, and any game with balls measuring <1.75 inches (4.4 cm) in diameter.

Toys must be at least 2¼ inches (6 cm) long and 1¼ inches (3 cm) in diameter.

Battery-operated toys must have a battery case that can be secured with screws so kids can't pry them open. Batteries aren't just choking risks. They can also cause chemical burns, internal bleeding, and other injuries.

Check for small parts that might come loose or break apart from the toy, including attached buttons, wheels, eyes, or other tiny sections.
Older children are less likely to put things in their mouths than younger kids (<5 years old), babies, or toddlers.
However, it's still important to check for other aspects of toys that can harm them. These include the hazards or risks of laceration, poisoning, burning, or accidental strangulation.
It's also ideal to check for potential injury risks: (6)
Parts that might pinch small fingers or other body parts

Sharp tips or sides that can cause punctures or lacerations

Strings, ribbons, or other long parts (>7 inches or 18 cm) that can pose strangulation risks

Riding toys without safety belts or harnesses

Stuffed toys or animals in vending machines, carnivals, or fairs might contain loose parts and sharp edges. These products might not meet safety standards.
Some dangerous non-toy items can be tempting for kids to play with, but be sure to keep the following out of their reach: (6)
Balloons (whether uninflated, inflated, or broken)

Sharp scissors

Fireworks

Matches
Be Mindful Of Toxic Chemicals
Toxins and other harmful chemicals can be found everywhere, even in toys and baby food. It's essential to keep children safe by reducing their exposure to toxic substances.
We encourage you to read "Our Family Health & Safety Philosophy" for guidance on reducing your children's safety risks with toys and other common products they might regularly use in your home.
Toxic Chemicals Or Substances To Avoid
Studies show that certain chemicals can cause certain cancers, behavioral problems (e.g., aggressiveness and hyperactivity), premature puberty or fertility problems, liver issues, kidney dysfunction, and/or other health concerns. (7)(8)
Some of these chemicals include: (7)(8)
Asbestos

AZO dyes

BPA (bisphenol-A) and BPS (bisphenol-S)

Brominated flame retardant chemicals

Heavy metals (e.g., mercury, lead, arsenic, and cadmium)

Formaldehyde

Phthalates

Polycarbonate

Polystyrene (e.g., Styrofoam)

PVC (polyvinyl chloride)

Radon
As much as possible, avoid plastic and glass toys. Many plastic materials can contain harmful chemicals and various toxins, while glass can break, potentially posing laceration or other injury risks.
A 2021 Environment International study showed that plastic toys can contain as many as 126 CoCs (chemicals of concern), including 31 that can put children at a higher risk of cancer. (9)
The following are the CoCs that can be found in plastic toys, with corresponding data on CCR (child cancer risk) and HI (hazard index) based on the study results: (9)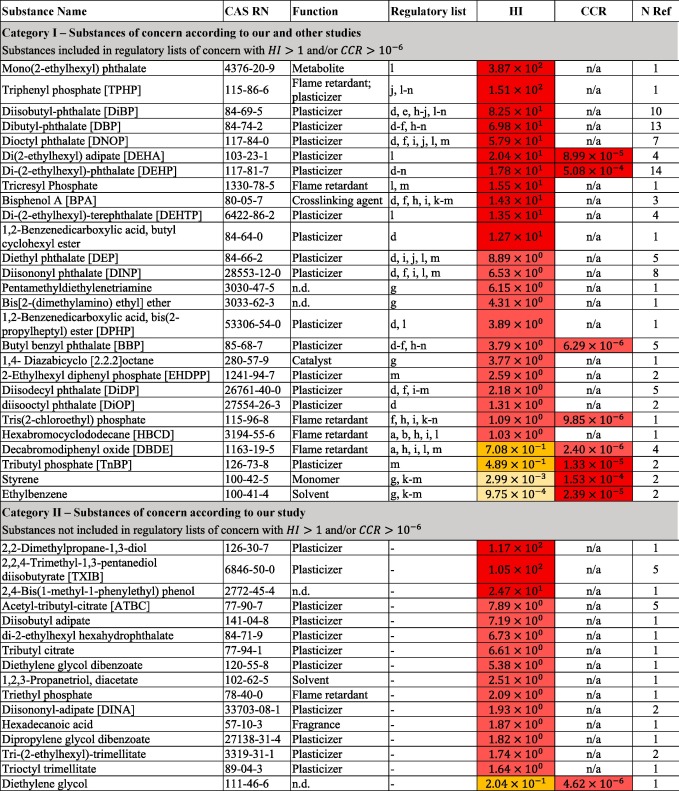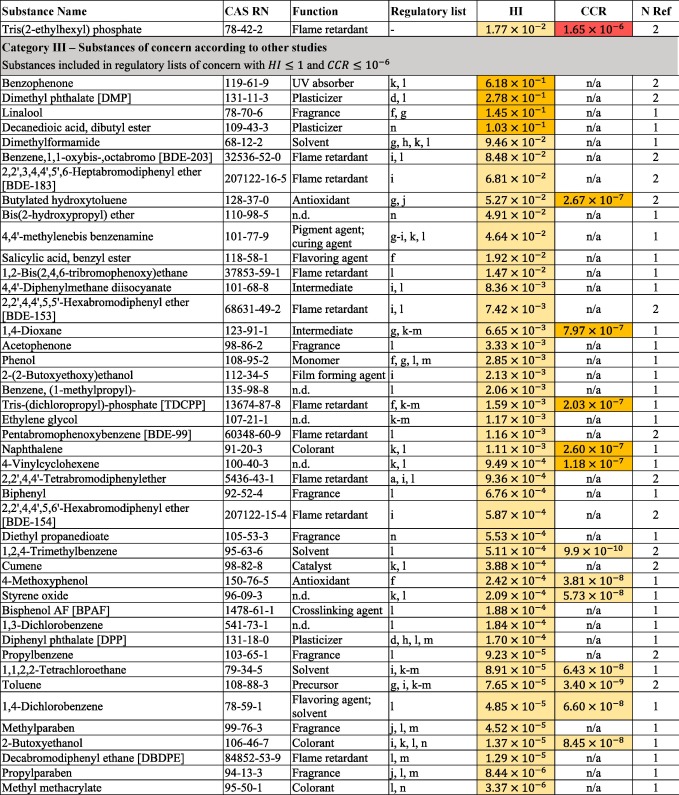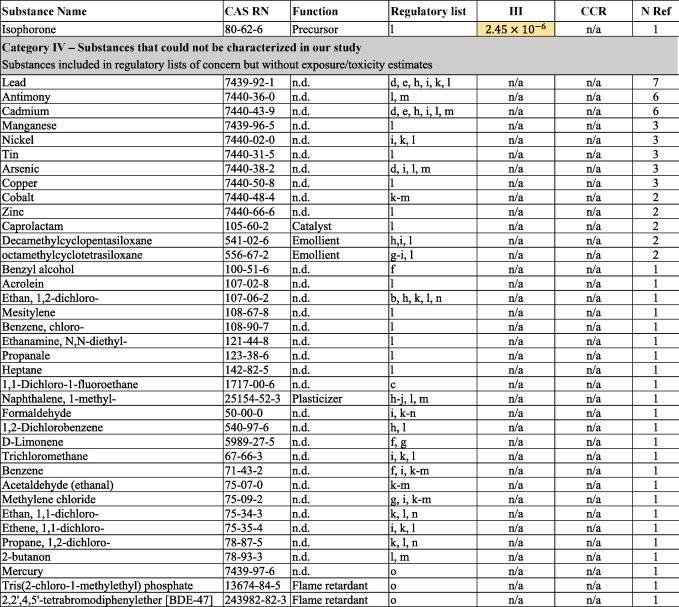 Safer Toy Materials & Alternatives
Whenever possible, choose natural, organic, sustainably sourced, ethical, and wooden toys. These materials can be safer, but remember to still check the toys for other potential risks (listed above):
Unfinished wood

Finished wood (using natural oils and waxes such as beeswax or walnut oil)

Food-grade silicone

Cotton

Natural rubber (however, check for rubber or latex allergy reactions such as itching, nausea, hives, runny nose, and trouble breathing) (10)

Polypropylene (a plastic type with a "green circle" rating given to non-toxic or less toxic chemicals verified to be of "low concern" as rated by the EPA or Environmental Protection Agency) (11)

Stainless steel

Wool

Washable fabrics
2. Regularly Check For Toy Safety
Even the safest toys can eventually break down or become a potential hazard with regular use. So, it's important to check for signs of possible hazards, such as:
Splinters in wooden toys

Cracked parts

Loose parts

Stuffed toys with exposed removable parts or broken seams

Rust in toys with metal parts

Broken battery compartments

Loose screws, bolts, nuts, nails, etc.
Newly created homemade toys and hand-me-downs or second-hand products must be checked carefully.
Even heirloom toys and collections can be dangerous, especially painted toys manufactured before 1978. They can contain lead from paint. (6)
Throw away broken or potentially dangerous toys.
Some toy-related injuries can be due to falls or slips from items left on the floor. Teaching kids to put their toys away after playing is a good idea.
3. Keep Toys Clean & Dry
Molds can grow in dark, damp areas such as the nooks and crannies of toys, books, bedding, and other items in your child's nursery. (12)
Check and immediately clean toys for moldy spots so they don't spread. You can use warm, soapy water with antibacterial soap, mild dishwashing detergent, or vinegar solution.
However, if the toy is covered in mold and smells bad, Cleveland Clinic pediatrician Kimberly Giuliano, MD, recommends throwing it away. (12)
Be sure to keep outdoor and bath toys dry when not in use.
We also recommend regularly cleaning their play area (here's a guide to cleaning a Pack and Play).
4. Regularly Monitor Toy Recalls & Report Unsafe Products
Millions of toys have been recalled due to various hazards, especially choking risks and the presence of harmful chemicals such as lead. Some of these toys have also been linked to children's serious injuries, including deaths.
The following are some of the important toy recalls in 2023 (details of toy recalls from previous years can also be found here):
Aside from monitoring recalls, ensure that you report to the toy manufacturer or the CPSC if you encounter potentially unsafe toys, especially if your kids got injured by these products:
Phone number: (800) 638-2772 from Monday to Friday at 8 AM to 5:30 PM

TTY or teletypewriter number: (800) 638-8270

Fax numbers: (301) 504-0124 or (301) 504-0025

Contact form: cpsc.gov/About-CPSC/Contact-Information/Contact-Specific-Offices-and-Public-Information/Information-Center
You can also report these unsafe toy products via saferproducts.gov (click the "Report Now" button).
Reduce the risks of falls, bumps, or other accidents, especially when your kids are playing with motorized toys or those with wheels, by babyproofing your home.
Installing safety gates to protect young children from potentially dangerous areas, such as your kitchen or bathroom, is ideal. However, regularly check for the possibility of kids using their toys to climb over these gates.
Our Recommendations For Toys
References
(1) https://www.cpsc.gov/s3fs-public/Toy-Related-Deaths-and-Injuries-2022-Annual-Report.pdf
(2) https://www.cdc.gov/nchs/data/vsrr/vsrr033.pdf
(3) https://www.cdc.gov/nchs/nvss/vsrr/infant-mortality-dashboard.htm
(4) https://www.cpsc.gov/s3fs-public/Nursery-Products-Annual-Report-2023.pdf?VersionId=1hFBN.iciNSIXQ4BOcnpk7NtWoFWgJ8g
(5) https://www.ncbi.nlm.nih.gov/pmc/articles/PMC8430366/
(6) https://kidshealth.org/en/parents/safetoys-young.html
(7) https://www.ncbi.nlm.nih.gov/pmc/articles/PMC6546253/
(8) https://www.sciencedirect.com/science/article/pii/S1054139X13000888
(9) https://www.sciencedirect.com/science/article/pii/S0160412020321498?via%3Dihub
(10) https://acaai.org/allergies/allergic-conditions/latex-allergy/
(11) https://pubchem.ncbi.nlm.nih.gov/compound/168413#section=General-Manufacturing-Information
(12) https://health.clevelandclinic.org/how-to-clean-baby-toys/