Overview
Choking can be deadly. Based on data from the CDC (Centers for Disease Control & Prevention), as many as 2,300+ children choked to death (due to different reasons) from 2001 to 2016 in the US. About 75% of these choking deaths were children under five years old. (1)
Around 305,800 kids also suffered from non-fatal choking injuries. (1)
That's why it's important to check your children's playthings and monitor reports of recalled toys, such as the Janod toy recall issued last May 25, 2023, over potential choking risks. (2)(3)
Which Janod toys are affected by this recall, and what to do next? Have there been other Janod toy recalls in the past?
Read on to learn more.
Janod Activity Table Recall 2023
Recall Details
On May 25, 2023, Juratoys US Corp. announced the recall of about 5,080 units of Janod Sweet Cocoon Activity Tables in the US, plus around 1,030 sold in Canada, over possible choking risks from a silver metal ball that can detach from the toy. (2)(3)
According to the recall advisory, there weren't any consumer reports of injuries or incidents relating to this Janod toy recall. (2)(3)
However, customers are advised to use the affected toys only after receiving their free repair kit. (2)(3)
No other Janod toys are affected by this activity table recall. (2)(3)
What Janod Activity Tables Are Being Recalled?
Two Janod Sweet Cocoon Activity Table models designed for children 12+ months old are included in this recall: (2)(3)
Round Table
Model code: J04402

Approximately 22 inches in diameter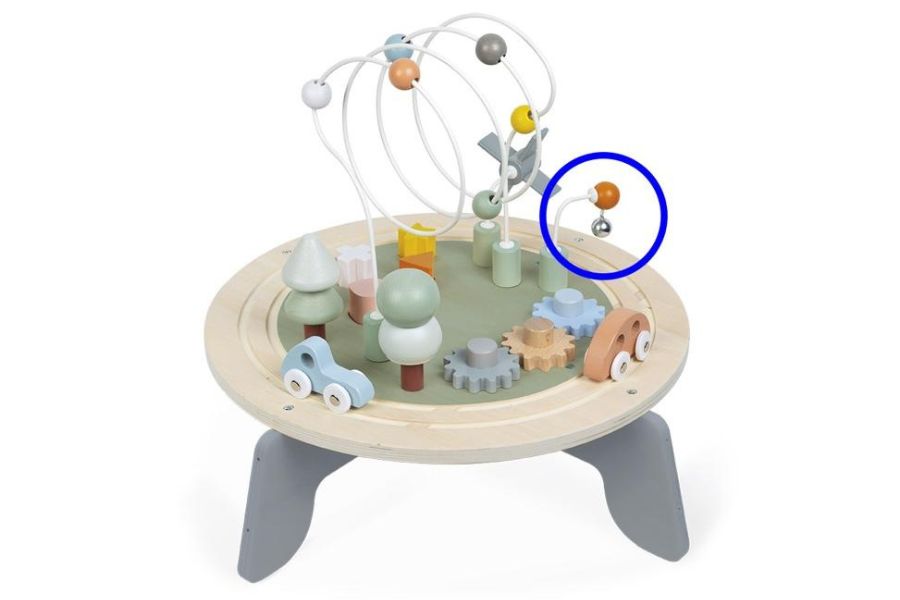 Rounded Triangle Wooden Table
Model code: J04411

Approximately 21 inches (wide) x 18 inches (high)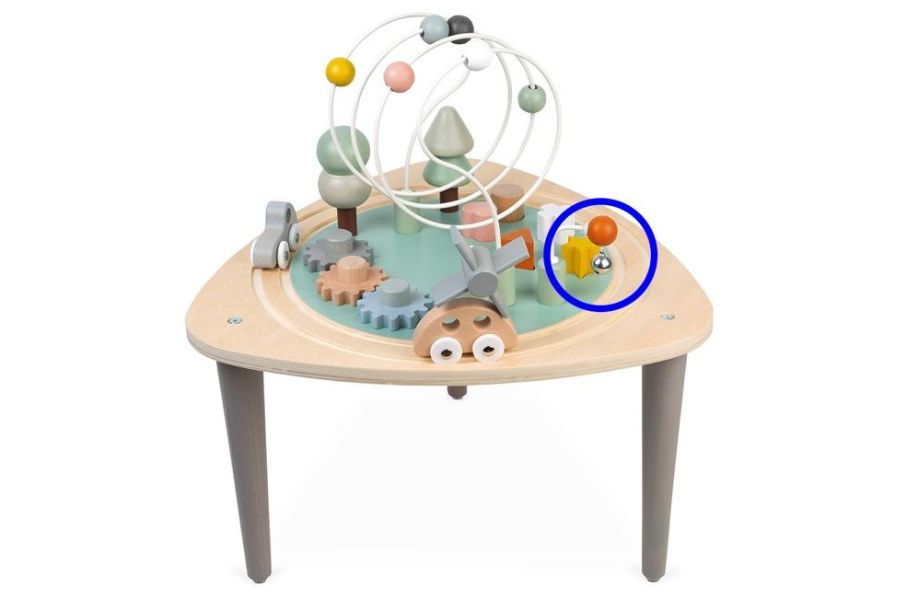 The toys on both activity tables are made of wood and metal, with different colors. (2)(3)
They were sold from February 2020 through December 2022 at the following outlets:
Nordstrom stores

Crate and Barrel stores

Amazon.com

CrateandBarrel.com

Maisonnette.com

Nordstrom.com

Other specialty toy or gift stores nationwide
How Do I Check If My Janod Activity Table Is Included In The Recall?
Find the label on the activity table's underside. Your item is included in the recall if it has the affected model numbers "J04402" or "J04411." (2)(3)
What To Do With My Recalled Janod Activity Table?
Stop using these Janod toys immediately. Contact Juratoys US Corp. to get your free repair kit through the following channels: (2)(3)
US toll-free phone: 833-705-8728 from 8:30 a.m. to 5 p.m. (ET) from Monday through Friday

Email: [email protected]

Recall site: janod.us/content/46-recall-information

Primary site: janod.us (click on "Recall Information" found at the bottom of the page)
Are These Janod Activity Tables Still Safe To Use?
No. The metal ball can detach without warning, posing a choking risk to your child. It's best to wait until you receive the repair kit before letting your children use this toy again. (2)(3)
Where Are These Janod Activity Tables Made?
Other Janod Toy Recalls In Previous Years
Find more information about the following Janod toy recalls from our article on recalled toys:
Janod Children's Shaving Toys Kit (2021)

Janod Toy Confetti Trumpets (2021)
FAQs
What Does It Mean To Recall A Toy?
A toy recall is a request from the manufacturer or the CPSC (Consumer Product Safety Commission) to return a product (refund or replacement) or receive a repair kit to fix a potential safety issue.
What Are The Reasons For Toy Recalls?
Possible reasons include:
Choking risks (e.g., detaching parts or tiny toy designs)

Injury risks (e.g., laceration, strangulation, flammable or explosive parts, etc.)

Fall risks

Possible presence of toxic chemicals

Other dangerous defects
How To Tell If A Toy Is Recalled?
Stay informed with the latest news (or safety issues) by signing up for regular Motherhood Community recall alerts, so never miss any important recall.
Here's a list of other recalled toys:
References
(1) https://pubmed.ncbi.nlm.nih.gov/33819896/
(2) https://www.cpsc.gov/Recalls/2023/Juratoys-Recalls-Childrens-Activity-Tables-Due-to-Choking-Hazard?utm_medium=email&utm_source=govdelivery
(3) https://www.janod.us/content/46-recall-information#