Simplay3 Toddler Towers Recall 2023
Why Were These Toddler Towers Recalled?
On August 17, 2023, about 108,450 units of Simplay3 Toddler Towers were recalled because they can tip over during use, posing fall and injury risks to children. (1)(2)
According to the recall advisory from Simplay3 and the CPSC (Consumer Product Safety Commission), around 5,512 of these toddler towers have also been sold in Canada. (1)(2)
These toddler towers were recalled after the Simplay3 Company received 16 reports of these products tipping over while they were in use. (1)(2)
What's alarming is that these reports included 10 injuries, with six incidents leading to head contusions. (1)(2)
What Simplay3 Toddler Towers Are Recalled?
This recall only involves Simplay3 Toddler Towers with model number 41807, available in three colors: (1)(2)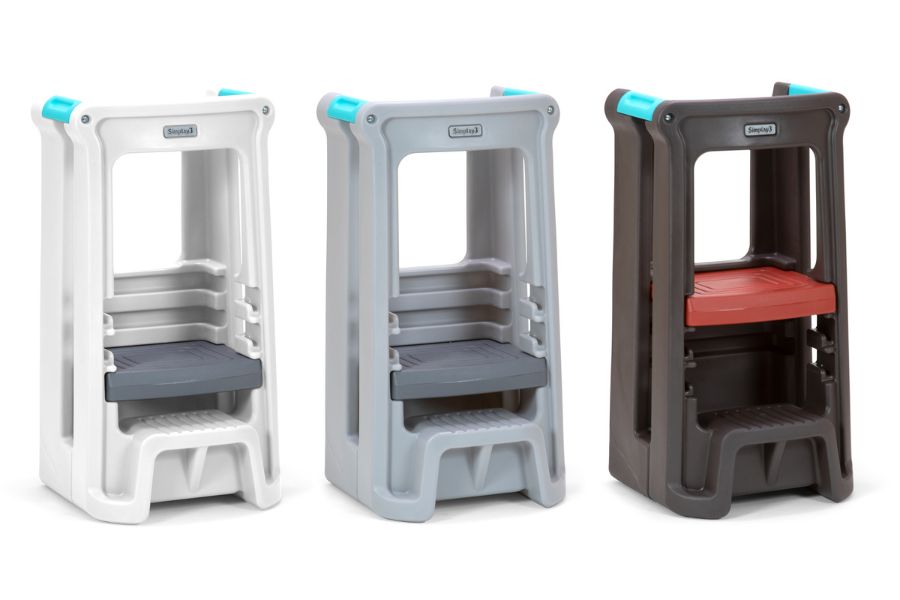 (source: simplay3.com)
You can find the "Simplay3" logo printed on the tower's base and along its upper railing. (1)(2)
All the towers have the dimensions of 34" x 17.5" x 16". (1)(2)
These products were sold from November 2018 through June 2023 at the following outlets: (1)(2)
TheSimplay3company.com

Amazon.com

Buttercup Baby Store

Fun Stuff

Midstates

Target.com

Walmart.com

Other online sites and toy stores nationwide
How Do I Know If My Toddler Towers Have Been Recalled?
Find the model number printed on the base of your toddler tower. Your product is affected if it has the following model codes: (1)(2)
41807-01 (espresso) – date codes Nov 2018 – June 2023

41807-02 (gray) – date codes Nov 2018 – June 2023

41807-03 (white) – date codes Nov 2018- June 2023
What To Do With My Recalled
Simplay3 Toddler Towers
?
Stop using these recalled Simplay3 Toddler Towers immediately. (1)(2)
Contact The Simplay3 Company for the free repair kit. Be sure to attach the stabilizing base to your toddler tower before letting your child use it again. (1)(2)
You can reach The Simplay3 Company through the following channels: (1)(2)
Toll-free phone number: 866-855-0100 starting from 8 AM to 7 PM ET, on Mondays through Fridays

Recall site: simplay3.com/safety-and-recall-information (this page also includes a form you can fill out if you have any of the recalled products at home)

Main site: simplay3.com/ (click on the "Recall Information" link on the home page)
Are These
Simplay3 Toddler Towers
Still Safe To Use?
No. Even if your toddler tower looks fine, it can tip over and cause an accident at any time. (1)(2)
Don't let your children use these recalled toddler towers unless you've already received the repair kit and attached the stabilizing base. (1)(2)
Where Were These
Simplay3 Toddler Towers
Manufactured?
Our Recommendations For Toddler Towers
Avenlur 4-in-1 Learning Kitchen Tower, Montessori & Waldorf Style Indoor Counter, Step Stool Helper, and Chalkboard That Converts Into Desk Table
StepUp Baby Montessori Toddler Tower & Kitchen Wooden Helper
WOOD CITY Kitchen Step Stool for Kids & Toddlers with Safety Rail
Costway Kids Kitchen Step Stool & Toddler Learning Stool with Double Safety Rails
RocketBaby Learning Tower & Montessori Step Stool – Blue Universe Stool
CORE PACIFIC Kitchen Buddy 2-in-1 Stool (up to 100 lbs)
Other Children's Essentials Recalls
Stay informed with the latest news on recalls and safety alerts by signing up for our regular Motherhood Community recall alerts so you never miss any important recall.
Check these comprehensive lists of product recalls by category:
References
(1) https://simplay3.com/safety-and-recall-information/
(2) https://www.cpsc.gov/Recalls/2023/The-Simplay3-Company-Recalls-Toddler-Towers-Due-to-Fall-and-Injury-Hazards