Are Water Bead Toys Safe?
Water bead toys are dangerous.
On September 14, 2023, about 52,000 units of Chuckle & Roar Ultimate Water Beads Activity Kits were recalled over serious health risks (such as choking and intestinal obstruction hazards) and the death of one child. (1)(2)
Two moms had also previously shared heartbreaking warnings against water beads after their children suffered serious injuries after playing with these seemingly harmless toys.
Chuckle & Roar Water Beads Activity Kit
Recall 2023
Why Were These Activity Kits Recalled?
According to the recall notice from Chuckle & Roar and the CPSC (Consumer Product Safety Commission), a 10-month-old baby from Wisconsin reportedly died in July 2023 after swallowing the recalled water beads. (1)(2)
Previously, in November 2022, a 9-month-old in Maine reportedly suffered serious injuries that required surgery to remove the intestinal obstruction. (1)(2)
The CPSC explains that when your child ingests a water bead, it expands in their tummy, posing choking and intestinal obstruction risks. These can lead to vomiting, dehydration, severe discomfort, and an increased risk of death. (1)(2)
What
Chuckle & Roar Water Beads Activity Kits
Are Recalled?
Only the Chuckle & Roar Ultimate Water Beads Activity Kits are affected by this recall. (1)(2)
These activity kits have a purple container with a front label stating "Ultimate Water Beads Activity Kit" (see photo below). (1)(2)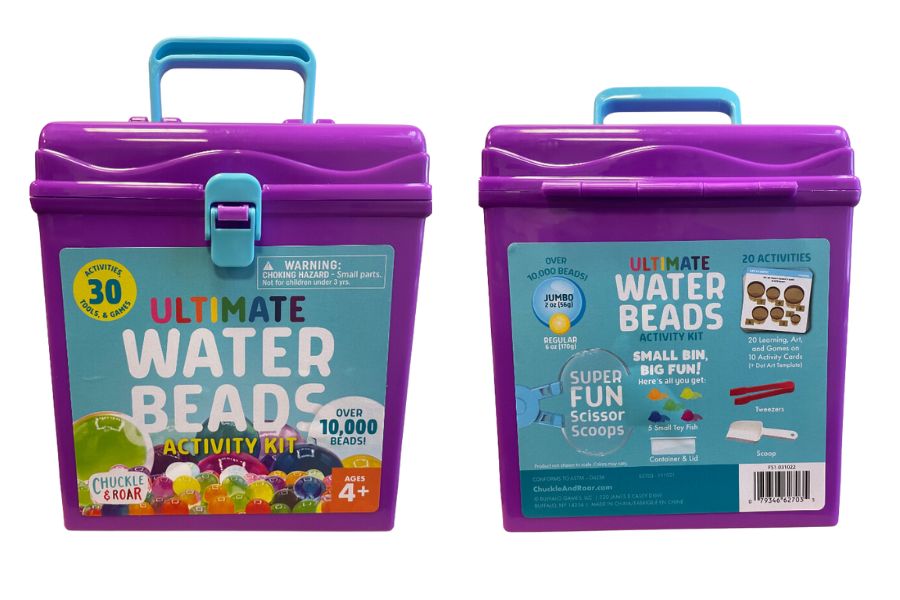 The activity kit includes the following: (1)(2)
Over 10,000 beads (6 oz of "regular" water beads + 2 oz of "jumbo" water beads)

Clear container and lid

Scoop with a handle

Scissor scoop

Tweezers

Five small fish toys

10 activity cards and instructions
The affected water beads activity kits were sold from March 2022 through November 2022 exclusively at: (1)(2)
Target.com (online)

Target stores nationwide
How Do I Know If My
Chuckle & Roar Water Beads Activity Kits Have
Been Recalled?
All lots of the Chuckle & Roar Ultimate Water Beads Activity Kits described above are included in this recall. (1)(2)
Check for the following UPC (Universal Product Code) Number 079346627035 on the back of the purple box. (1)(2)
What To Do With My Recalled
Chuckle & Roar Water Beads Activity Kit
?
Immediately stop using these activity kits and keep them away from your children.
You can return your affected activity kits to any Target store or message Buffalo Games to receive a prepaid mailing package and refund. (1)(2)
Contact Buffalo Games via these channels: (1)(2)
Toll-free number: 800-637-0732 from 9 AM to 4:30 PM ET (Mondays through Fridays)

Email: [email protected]

Recall website: chuckleandroar.com/recall

Official website: chuckleandroar.com (click on "Recall Information" located at the top of the homepage)
Where Were These
Chuckle & Roar Water Beads Activity Kits
Manufactured?
China; imported by Target Corporation (2)
FAQs
What Are The Warnings About Sensory Water Beads?
The water kids can be extremely dangerous to children, leading to choking risks or intestinal obstruction if swallowed.
Even though these toys are meant for older children, and you're extra careful where they play, younger ones might still get access to a bead without your knowledge.
The moms of the children in previous water bead cases had set designated play areas for their older kids. However, their toddlers still managed to find some beads and swallow them. (3)(4)
Is Water Beads Sensory Play Safe?
No. While water beads are marketed as "safe and non-toxic" for sensory play, the CPSC warns that they can be toxic to humans, especially due to acrylamide, which can cause poisoning. (3)(5)
Acrylamide is dangerous because it can paralyze your child's brain or central nervous system. (3)(4)(5)
Although not all water beads are directly made from acrylamide, they're usually made from polyacrylate or other acrylics, which can undergo chemical reactions or changes that can make them dangerous and toxic to your children. (4)(5)
According to mom Ashley Haugen, acrylamide was identified as the cause of her toddler's poisoning. (4)
Did Orbeez Get Recalled?
No. There haven't been any recalls of Orbeez water bead products.
Other Toy Recalls
Here's a list of other recalled toys:
Other Recent Baby
Product Recalls
& Safety Warnings
Stay informed with the latest news by signing up for our regular Motherhood Community recall alerts so you never miss an important recall.
Check these comprehensive lists of product recalls by category:
Our Toy Articles
References
(1) https://chuckleandroar.com/recall
(2) https://www.cpsc.gov/Recalls/2023/Buffalo-Games-Recalls-Chuckle-Roar-Ultimate-Water-Beads-Activity-Kits-Due-to-Serious-Ingestion-Choking-and-Obstruction-Hazards-One-Infant-Death-Reported-Sold-Exclusively-at-Target
(3) https://www.foxnews.com/lifestyle/maine-mom-alarm-baby-daughter-nearly-dies-swallowing-water-bead
(4) https://thatwaterbeadlady.org/kipleys-story
(5) https://www.poison.org/articles/are-water-beads-toxic