What Are Considered
Montessori Toys
?
Common characteristics of Montessori toys:
Educational toys

for

child development

Made of

natural materials

, such as

wooden toys

Usually plain and

simple toys

but beautifully made

Teaches one skill at a time

Based on the

real world

Useful and practical

Designed for a certain age group

Independent,

open-ended play
Why Are There No Plastic Toys In Montessori?
Founder Maria Montessori created the Montessori philosophy using materials from the real and natural world, such as wood. Plastics are synthetic materials that aren't used in the traditional, purist Montessori method.
Montessori Classrooms
& Home
Playrooms
Montessori classrooms are designed for your child to learn through open-ended, independent play. You can do the same thing at home by creating intentional play spaces with different Montessori materials. Another option is to have a Montessori shelf with different toys that you change regularly.
Still, you don't have to use 100% Montessori materials in your child's playroom because many Montessori-inspired toys, such as those made of silicone, can still promote open-ended learning.
What
Montessori Toys
Are Good?
High-contrast

mobiles or flash cards

Peek-a-boo

toys

Crinkle toys

Wooden rattles

Sensory toys (such as textured balls)

Egg with cup

Play gym

Baby-safe mirror

Pop-up toys

Push toys and walkers

Board books

(some are made of wood)
Object permanence

box

Stackers (such as rings or cubes)

Lacing or bead-stringing toys

Shapes on pegs

Busy board

Cylinder blocks

Pikler triangle

or other

Montessori climbing toys

Wooden puzzles

Ball drops or race tracks

Nesting dolls

Realistic doll

Building block

sets

Pull toys
Examples of
Montessori Toys
for
2-Year-Olds
Wooden

rainbow stackers

Balance board

Realistic animal

figurines

Tent

Toys for practical

life skills

, such as gardening tools or cleaning materials

Musical instruments
Counting boards

Learning tower

Other toys for practical

life skills
When Should I Start
Montessori Toys
?
You can introduce Montessori toys to newborn babies.
Here's a gift guide to some of the best Montessori toys you can pick for your little one.
The 18
Best Montessori Toys
(By Age Group)
The
Best Montessori Toys For Babies
Manhattan Toy Natural Classic Baby Beads (3+ months)
Pros & Best Features:

Wood beads that can be manipulated into different configurations
Product Safety:

Non-toxic, water-based finishes
Educational Value:

Sensory stimulation and

fine motor skills
Extra Features:

Elastic cord holds the wooden beads together
Certification:

EN71 (European toy standard) and CPSIA (Consumer Product Safety Improvement Act) safety regulations
Made In:

China, Vietnam, or Thailand
Cons:

Requires adult supervision to avoid getting your baby's fingers stuck or tangled with the strings
"This is a great toy, for babies, kids, or adults. Really fascinating and intriguing." – reviewer on Manhattan Toys


"After reading such positive reviews, I bought this for my baby for Christmas, now 8 months old and with teeth currently coming through, he still isn't interested in this toy and neither is my 2-year-old." – reviewer on Target
Plan Toys Roller (6+ months)
Pros & Best Features:

Wooden roller toy
Product Safety:

Organic pigments, formaldehyde-free glue, and water-based dyes
Materials:

Chemical-free rubberwood
Educational Value:

Auditory and sight stimulation, tactile, and

fine motor skills
Extra Features:

Can also be used as a rattle
Certification:

ASTM (American Society for Testing and Materials) and EN71
Cons:

Some complaints about the size
"Easy take-along take along toy for tummy time." – reviewer on Amazon


"This thing is tiiiiiny." – reviewer on Amazon
Heirloom Kids US Montessori Collections (0-4 months)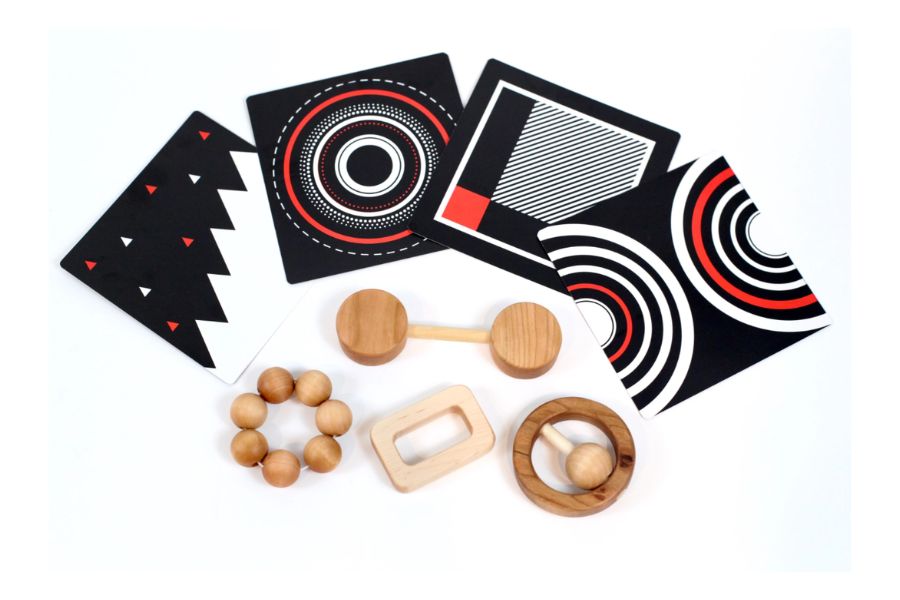 Pros & Best Features:

Montessori play set for babies
Product Safety:

Non-toxic flaxseed oil or beeswax for staining
Materials:

Wood and fabric
Educational Value:

Reflexive grasp, focus, and early cognitive development
Extra Features:

Includes

teether
Certification:

CPSC (U.S. Consumer Product Safety Commission)
"These items are even nicer in person than in the pictures. My 2 month old loves the black and white cards." – reviewer on ETSY


"Cute gift set, overpriced." – reviewer on ETSY
Essential Montessori Egg With Cup (8-9 months)
Pros & Best Features:

Egg and peg with cup set
Product Safety:

Child-safe finish
Materials:

Wood, olive oil, and beeswax
Educational Value:

Logical thinking
Extra Features:

Comes in a set
Certification:

Not indicated
Cons:

Some complaints about the design
"Just as pictured! The egg and cup are perfect for my 8 month old to explore." – reviewer on ETSY


"I wish the egg fit into the cup a bit better, it just rests on top, not really in." – reviewer on ETSY
The
Best Montessori Toys For 1-Year-Olds
Montessori & Me Ball Tracker (1-2 years old)
Pros & Best Features:

Open-rail, large ball tracker
Product Safety:

100% non-toxic and safe
Materials:

Natural, sustainably sourced wood
Educational Value:

Coordination, fine and gross motor planning,

problem-solving

, logical thinking, and concentration
Extra Features:

Large, colorful balls
Certification:

Not indicated
Customer Reviews:

None yet
HABA Rainbow Ring Wooden Baby Fidget Toy (6-18 months)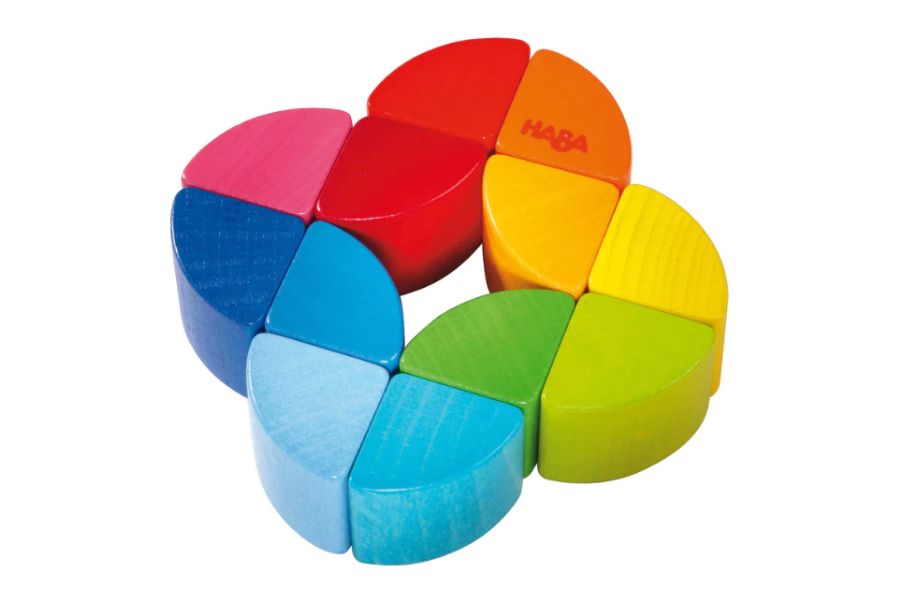 Pros & Best Features:

Montessori-inspired rainbow ring clutching toy
Product Safety:

Non-toxic water-based stain
Materials:

Solid wood and elastic band
Educational Value:

Fine motor skills
Extra Features:

Changes to different configurations
Certification:

PEFC (Programme for the Endorsement of Forest Certification)
Cons:

Some complaints about quality
"Colorful, well made, attractive to the infant, will last through year 5 I think." – reviewer on HABA USA

"Pink Color loss after putting in mouth by a 6-month old baby." – reviewer on HABA USA
Plan Toys Oval Xylophone
(12+ months)
Pros & Best Features:

Colorful xylophone with musical, oval-shaped wooden blocks
Product Safety:

Free from formaldehyde and harmful chemicals
Materials:

Rubberwood, formaldehyde-free glue, organic pigments, and water-based dyes
Educational Value:

Musical skills, hand-eye coordination, fine motor skills, and auditory perception
Extra Features:

Includes a handle on the end of easy holding or grasping
Certification:

ASTM and EN71
"Solid and lovely little toy. Child loves it. Has been hit so many times and no issues at all." – reviewer on Amazon


"Build quality and looks are great. But sound is awful. The notes are really our of tune. Baby doesn't care but I do! I'll probably buy another one." – reviewer on Amazon
U+ME Kids Gardening Set (toddlers and older)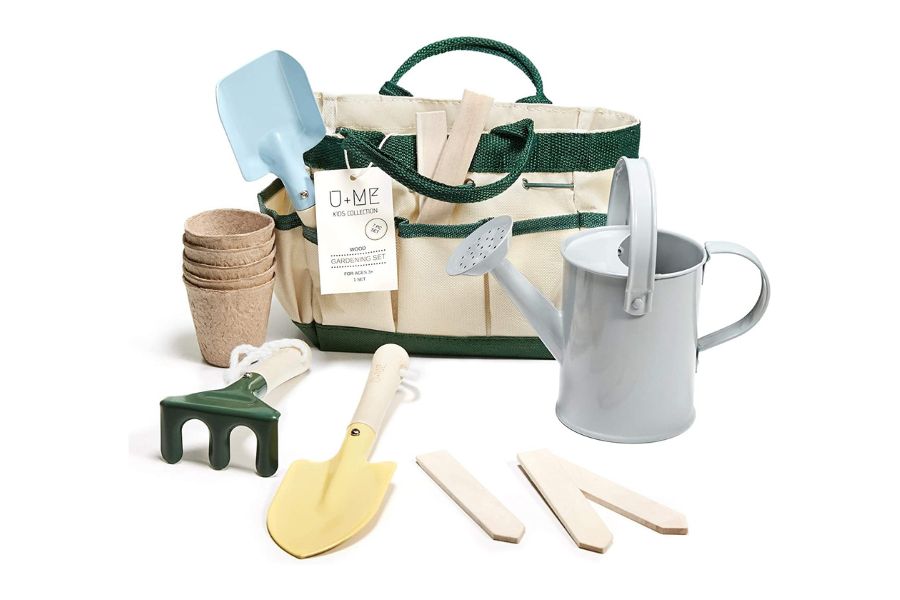 Pros & Best Features:

Kid-sized gardening tools
Product Safety:

Smooth, sturdy handles with safety edges on the metal parts
Materials:

Wood and metal
Age Range:

Toddlers and older
Educational Value:

Practical

life skills

and motor

skill development
Extra Features:

Includes a fabric tote bag organizer
Certification:

Rigorous third-party lab testing
Cons:

Some complaints about the gardening tools being too small
"Seriously amazing little STEM/Montessori set of gardening tools. It's like LL Bean gardening tools for a toddler. My almost 2 year old used them to help plant our veggie garden and waters the plants wither the pitcher. The canvas bag is so sturdy and cute." – reviewer on Amazon


"Purchased for my 4 year old grand child. I appreciated the green aspect of this purchase, and the set is very cute. But it was smaller than I hoped for, it needed something extra, I added a kids book about gardening." – reviewer on Amazon
The
Best Montessori Toys
For
2-Year-Olds
Guidecraft Screw Block (2+ years old)
Pros & Best Features:

Wooden screw block set
Product Safety:

Lead-free and non-toxic
Educational Value:

Color matching and

fine motor skills
Extra Features:

Includes nylon interior rings to keep the screws in place
Certification:

Passes rigorous tests
Cons:

Some complaints about the screws being too difficult to remove and the included screwdriver being awkward to use
"My 2 year old loves playing with this and enjoys trying to turn the screws. She loves using the screwdriver (it came attached to the block already and pulls out with ease) it's fun and gets her brain working. Sturdy and Montessori approved!" – reviewer on Amazon


"Not very impressed. I bought this for my 1.5 year old but it was too difficult for him to screw in. He's very mechanically oriented but catched the threads proved difficult and he did not enjoy this." – reviewer on Amazon
LOVEVERY
The Enthusiast
Play Kit
(28-30 months)
Pros & Best Features:

Montessori

play kit

for pattern recognition and spatial understanding
Product Safety:

Free from heavy metals (lead) and phthalates
Materials:

Wood, stainless steel, cardboard, and other child-safe materials
Educational Value:

Early STEM learning,

fine motor skills

, learning basic shapes, peg-style shape sorter, and practical

life skills
Extra Features:

Includes a

baby book

and learning guide
Certification:

Meets global regulatory safety standards
"I had been skeptical about spending the money on toys but it is completely worth it! Our little man loves it and is learning so much. We plan to homeschool and many of the items will be able to be used for that as well." – reviewer on LOVEVERY

"I am extremely disappointed with the offering of the last kit that came our way. At 120usd for the kit plus courier it was almost 200$ yet what were inside the kit were neither creative nor different from what can easily be bought outside!! And if I were to buy each item individually it wld be way below the Kit's price. In the past we got more wooden toys so I was okay becos wooden toys are expensive. But now we get MORE PLASTIC, even cardboard craft kits (less than 10$ for 1!) The quality of the last 2 kits are so disappointing and overcharged. I hope Lovevery will return to truly designing their toys and not be a copycats anymore." – reviewer on LOVEVERY
Wonder & Wise Etched Blocks (18+ months)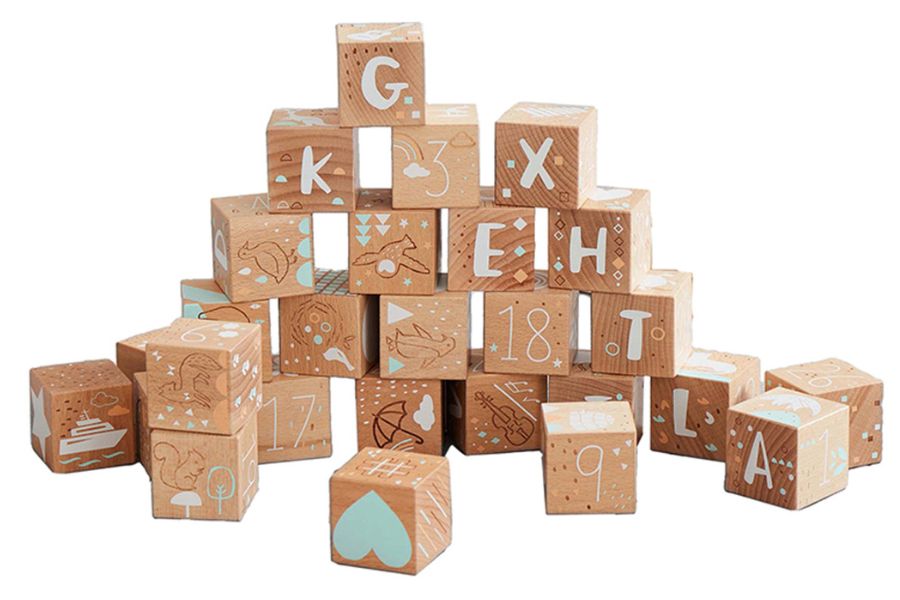 Pros & Best Features:

Montessori-inspired

building blocks
Product Safety:

Non-toxic; free from lead and other heavy metals, phthalates, PVC (polyvinyl chloride), BPA (bisphenol-A), BPS (bisphenol-S), and formaldehyde
Materials:

Beechwood and non-toxic, water-based paint
Educational Value:

STEM (science, technology, engineering, and mathematics),

fine motor skills

, and

hand-eye coordination
Extra Features:

Blocks include etchings of objects or animals from the

real world
Certification:

FSC certified (Forest Stewardship Council)
Cons:

No reviews yet for potential customers to check others people's experience with the product
The Best Montessori Preschool Toys
Q TOYS Natural Counting Board (3+ years old)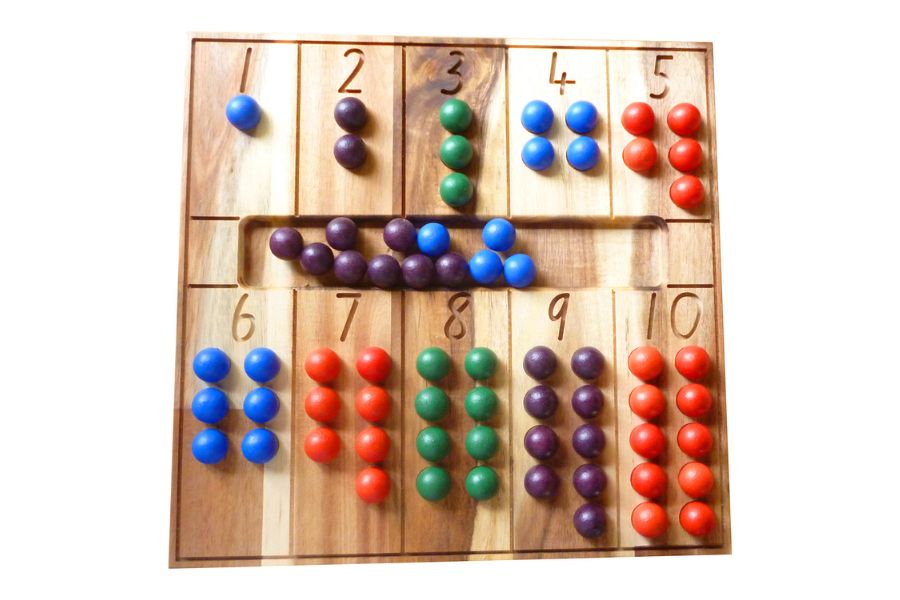 Pros & Best Features:

Natural counting board for learning numbers
Product Safety:

Non-toxic dyes and inks, no added formaldehyde, no known harmful phthalates, and lead-safe
Materials:

Sustainably-sourced plantation timber
Educational Value:

Counting and math skills
Extra Features:

Tray in the middle of the board for storing the counting balls
Certification:

Strictest global safety standards
Made In:

Not indicated; Australian-based company (ships to the US and is available on

Amazon

)
Cons:

Doesn't include the wooden balls (but it can still be used without them)
Customer Reviews:

None yet
Lewo Wooden
Rainbow Stacker
(3+ years old)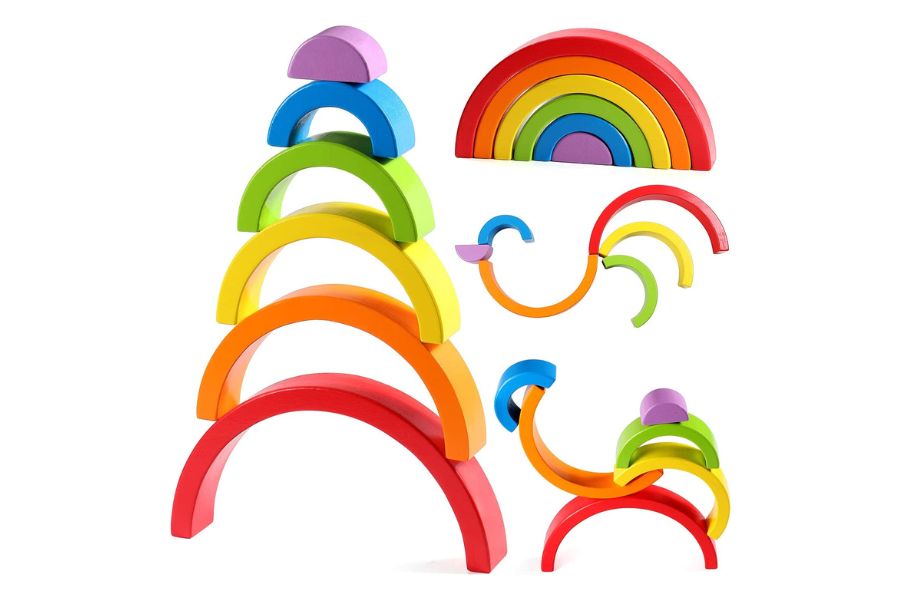 Pros & Best Features:

Giant-sized

rainbow stacker

for

little hands
Product Safety:

Non-toxic wood with child-safe, water-based paint
Educational Value:

Early engineering,

problem-solving

,

gross motor skills

,

pretend play

, creativity, size and shape recognition, and logical thinking
Extra Features:

Includes six different stacking pieces
Certification:

ASTM and CPSIA
Cons:

Some complaints about quality
"This quickly became a favorite toy for my toddler. The pieces are thicker and sturdier than I would have imagined and it has been fun watching my toddler find different ways to play with the pieces. Would definitely recommend." – reviewer on Amazon

"Waste of money. I ordered this rainbow stacker in the hopes that it would be similar to the Grimm's rainbow stacker. It sucked. The pieces of wood are not carved properly for stacking and the wood is painted not stained so they are slick and slide when you try to stack them. The pieces are too heavy. Spend the extra money on the Grimm's rainbow. It's well worth it. And yes this brand is made in China from who knows what. It looks cute but not fun to play with. You have been warned." – reviewer on Amazon
Plan Toys 100 Counting Cubes – Unit Plus (3+ years)
Pros & Best Features:

Counting cube and mosaic set
Product Safety:

Free from formaldehyde and toxic chemicals
Materials:

Chemical-free rubberwood and water-based dyes
Educational Value:

STEAM learning (science, technology, engineering, arts, and mathematics), hand-and-eye coordination,

fine motor skills

, and creativity
Extra Features:

Includes colored play cards
Certification:

ASTM and EN71
Cons:

Can be pricey; small pieces can be a choking risk to younger children
Customer Reviews:

None yet
The
Best Montessori Toys
& Practical Equipment For Big Kids
Melissa & Doug Self-Correcting Alphabet Letter Puzzles (4+ years old)
Pros & Best Features:

Self-correcting wood puzzles with realistic prints (animals and objects)
Product Safety:

Child-safe, non-toxic paint; free from heavy metals (lead) and phthalates
Educational Value:

Hands-on

learning with realistic images
Extra Features:

Includes wooden storage box
Certification:

US (CPSIA), EU, and other safety standards
Made In:

China (according to

Amazon

)
Cons:

Can be bulky; some complaints about design issues (i.e., puzzles still fit with incorrectly matched pieces)
"My 3 year is now able to identify all his letter and know what the beginning on each item/word begins with! So happy with this product." – reviewer on Amazon

"Simple design but I was hoping they wouldn't fit together for the wrong letters but a lot of them do." – reviewer on Amazon
Piccalio Surfer Wooden Montessori
Balance Board
(12 months to 8 years)
Pros & Best Features:

Versatile

balance board

and rocker
Product Safety:

Free from toxic chemicals such as formaldehyde, lead, and VOCs (volatile organic compounds)
Age Range:

6 months to 6 years; up to 132 lbs
Educational Value:

Gross motor skills

, grip strength,

imaginative play

, independent play, and self-confidence
Extra Features:

Folds up for easy storage
Certification:

FSC certified, Prop65 (California Proposition 65 for cancer-causing chemicals), ASTM, and the FDA (Food and Drug Administration)
Made In:

Designed in Venice Beach, California; built in small factories in Asia and Europe
"Such a fun toy, children love it! The board is very sturdy and adults can use it too which is great. Wood is beautiful and very high quality." – reviewer on Piccalio


"This is well made, but is hardly protected during shipping and came damaged bc of it." – reviewer on Piccalio
MerryHeartWoodenToy Wooden Rainbow Multiplication Board (older kids)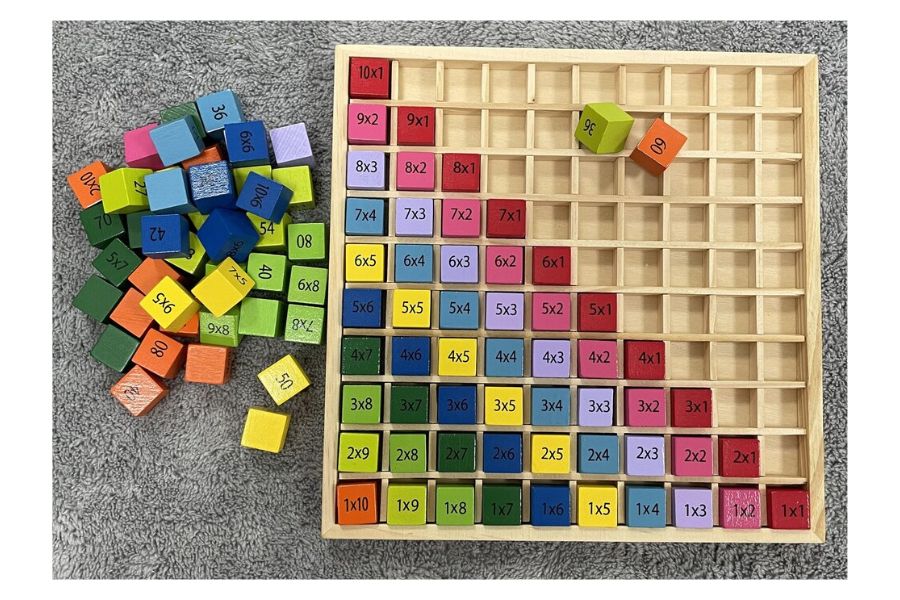 Pros & Best Features:

Wooden multiplication board and block set
Product Safety:

Water-based paint
Age Range:

Older kids (grade school) learning multiplication
Educational Value:

Math skills
Extra Features:

Colorful and coordinated blocks
Certification:

Not indicated
Cons:

Some complaints about the size
"Super clever and beautiful. Our 6 year old has been wanting a multiplication table and of course loves it!" – reviewer on ETSY


"The color are really nice but the size of the board is too small." – reviewer on ETSY
CLiCQUES Rainbow Boys Wooden
Figurines
(5+ years)
Pros & Best Features:

Handcrafted, Montessori-inspired wooden

figurines

for

young children
Product Safety:

Non-toxic; free from lead or other heavy metals, PVC, BPA, BPS, phthalates, and formaldehyde
Materials:

European Hornbeam wood and non-toxic, water-based paint
Educational Value:

Practical

life skills

(learning about cleaning),

motor development

, social learning skills, and imaginative role-play
Extra Features:

Includes magnets to let your child switch up the outfits on the wooden dolls
Certification:

EN71 and FSC
Cons:

Can be pricey; contains small parts that can be choking risks to younger kids
Customer Reviews:

None yet
Where To Buy The
Best Montessori Toys
Some places to buy Montessori materials and toys:
Other
Learning Toys
For Different Age Groups