Was The MamaRoo Recalled?
Yes. 4moms recalled several models of the MamaRoo baby swings and one RockaRoo model in August 2022. (1)(2)
According to the recall advisory issued by the CPSC (U.S. Consumer Product Safety Commission), these recalled swings and rockers posed a strangulation risk that led to an infant's death. (1)(2)
As many as two million 4moms MamaRoo swings and 220,000 4moms RockaRoo rockers sold in the U.S. were included in this recall, plus 60,000 MamaRoo and 10,000 RockaRoo sold in Canada. (1)
Which models are included in this 4moms recall, and what can you do if you have the recalled products? Continue reading to find out below.
4moms RockaRoo Recall 2022
Recall Information
On August 15, 2022, Thorley Industries, LLC, d.b.a. 4moms, based in Pittsburgh, Pennsylvania, and the CPSC announced the voluntary recall of 4moms RockaRoo Baby Rockers and MamaRoo Baby Swings (versions 1.0 through 4.0). (1)(2)
According to the safety recall alert, the restraint straps of these products could dangle below the seat when the baby swing or rocker isn't in use. (1)
The dangling strap might become a strangulation hazard and possibly entangle or causeasphyxiation to crawling infants. (1)
Incidents Or Accidents With The Recalled 4moms Products
The company received two reports of babies who got entangled by the straps under the seat of unoccupied MamaRoo swings: (1)
A 10-month-old infant suffered bruising to his neck but survived after his caregiver rescued him.
A 10-month-old infant died from asphyxiation.
No RockaRoo-related incidents have been reported, but the company decided to include the product in their recall to update and meet the applicable safety standards. (1)
How To Identify The Recalled 4moms Baby Products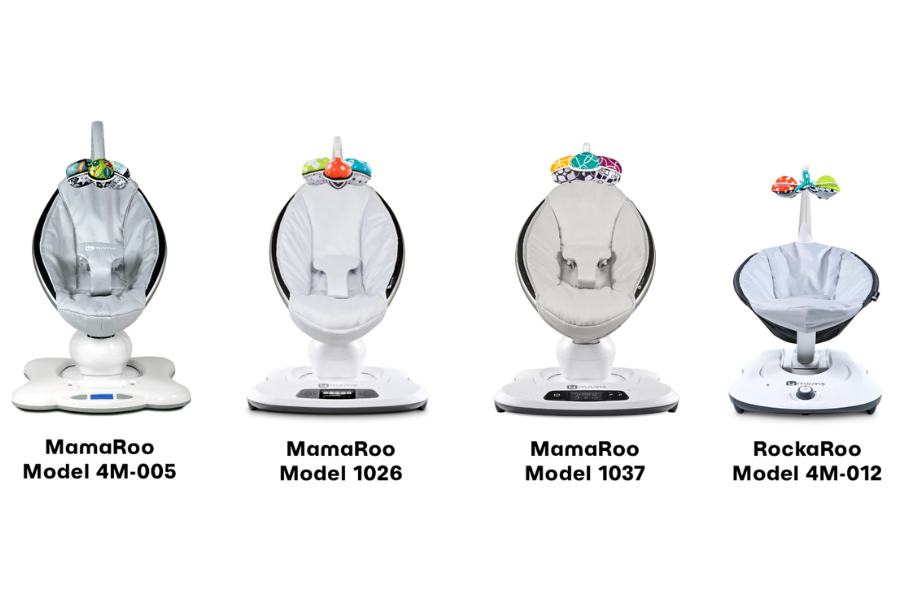 The recalled swings and rockers were sold from January 2010 through August 2022 for around $160 and $250 at: (1)
BuyBuy Baby
Target
4moms.com
Amazon
Recalled MamaRoo Baby Swings
This baby swing offers multiple motions and speeds, with buttons on the base that controls the swing's motion, speed, and sound.
This safety recall includes only MamaRoo models that use a three-point harness: (1)
Versions 1.0 and 2.0 (model number 4M-005)
Version 3.0 (model number 1026)
Version 4.0 (model number 1037)
You can find the model number at the bottom of the unit.
The MamaRoo swings with a 5-point harness aren't included in this recall. (1)
Recalled RockaRoo Baby Rockers
This rocker features a front-to-back gliding motion, with an analog knob and power button at the base to control the motion range.
The recall includes model number 4M-012. You can also find this code located at the bottom of the unit. (1)
What To Do If You Have Recalled 4moms RockaRoo & MamaRoo
Immediately stop using these recalled baby products, especially if you have infants who can crawl. Keep these products in an area that crawling infants can't access while waiting for the free strap fastener kit from 4moms. (1)(2)
According to 4moms CEO Gary Waters, the company designed the free strap fasteners as an easy-to-install solution, which they believe will prevent further incidents involving their baby products. (1)(2)
The fasteners can prevent the straps from dangling under the unoccupied swing or rocker.
He assures parents that 4moms takes extra effort and precautions to ensure that their products exceed all applicable safety standards. (2)
How To Request A Strap Fastener
Contact 4moms immediately to register for the free strap fastener kit through the following channels: (1)
Toll-free phone: 877-870-7390 from Monday through Friday, 8 a.m. to 5 p.m. ET
Email: [email protected]
Online: 4momsrecall.expertinquiry.com or 4moms.com (click on SAFETY & RECALL at the top of this page for more information
4moms is also contacting all their known purchasers directly.
Can Your Babies Still Use The Recalled 4moms Infant Swings & Rockers?
Yes, as long as you have already installed the strap fastener following the manufacturer's instructions.
Before then, be sure to keep the product, especially the dangling straps, away from children's reach.
Safety With Baby Swings & Rockers
Safety Warning Against Rockers, Baby Swings, & Similar Products
The CPSC and AAP (American Academy of Pediatrics) warn against letting your baby sleep in infant rockers, baby swings, inclined sleepers, and similar products. (3)(4)
These products usually have an incline of over 10 degrees and might have parts or a design that could increase suffocation risks. (3)(4)
It's also important to regularly check for safety warnings, and product recalls of baby products.
What Baby Swings Are On Recall?
Aside from the recalled 4moms MamaRoo baby swing above, there had also been a recall on Fisher-Price Infant Cradle 'n Swings in 2016 due to possible fall risks if the seat peg is not fully engaged. (5)
What Baby Rockers Have Been Recalled?
Aside from the 4moms RockaRoo recalled above, two Fisher-Price Rock 'n Play baby rockers have been recalled: (6)(7)
Rock 'n Play Sleepers (2019) – infant deaths while using the product
Newborn Rock 'n Play Sleepers (2013) – mold that can accumulate between the washable fabric and the rocker's frame
In June 2022, the CPCS also issued a safety warning against letting your baby sleep in the following: (3)
Unsafe Fisher-Price rockers (Fisher-Price Infant-to-Toddler and Fisher-Price Newborn-to-Toddler rockers)
Kids2 rockers (Bright Starts and Baby Einstein Rockers)
However, despite the safety warnings, these products weren't recalled.
FAQs
Why Does My 4moms RockaRoo Keep Stopping?
According to 4moms' customer support, obstructions might block seat motion on your RockaRoo.
If you cleared the obstruction, but the issue persists, your baby may have been placed too low or too high in the seat.
The manufacturer also recommends trying to plug the rocker into a different outlet.
How Long Can You Use The RockaRoo?
This product is designed for use from birth up to a maximum weight limit of 20 lbs or if your baby attempts to climb out or can sit up unassisted, whichever comes first.
Which Is Better: MamaRoo Or RockaRoo?
It depends on your baby's preference and your budget.
The MamaRoo is a multi-motion baby swing (bounces up and down or sways from side to side) that costs $299.99.
The RockaRoo rocker (front-to-back gliding motion) costs $159.99.
Do Babies Prefer MamaRoo Or RockaRoo?
Babies who love bouncing or side-to-side swaying might prefer the MamaRoo, while those who love front-to-back rocking could prefer the RockaRoo.
Other 4moms Recalled Products
4moms Self-installing Car Seat Recall 2017
In 2017, 4moms Self Installing Rear-facing Infant Car Seats with model number 1032 were recalled due to a design error that might prevent the removable infant carrier from securely attaching to the seat base. (8)
REFERENCES
(1) https://www.cpsc.gov/Recalls/2022/4moms-Recalls-More-than-2-Million-MamaRoo-and-RockaRoo-Infant-Swings-and-Rockers-Due-to-Entanglement-and-Strangulation-Hazards-One-Death-Reported
(2) https://www.kktv.com/2022/08/15/more-than-2-million-mamaroos-rockaroos-recalled-after-reported-death/
(3) https://consumerfed.org/press_release/cpsc-warns-against-using-infant-rockers-for-sleep-after-at-least-14-reported-deaths/
(4) https://www.aap.org/en/news-room/news-releases/aap/2022/american-academy-of-pediatrics-updates-safe-sleep-recommendations-back-is-best/
(5) https://www.cpsc.gov/Recalls/2016/Fisher-Price-Recalls-Infant-Cradle-Swings
(6) https://www.cpsc.gov/Recalls/2019/Fisher-Price-Recalls-Rock-n-Play-Sleepers-Due-to-Reports-of-Deaths
(7) https://www.cpsc.gov/Recalls/2013/fisher-price-recalls-to-inspect-rock-n-play-infant-sleepers-due-to-risk-of-exposure-to
(8) https://www.nhtsa.gov/car-seat/4MOMS/SELF%252520INSTALLING%252520CAR%252520SEAT/a__2290717#recalls