Overview
From 2009 to 2021, at least 13 babies have died in Fisher-Price Infant-to-Toddler Rockers and Fisher-Price Newborn-to-Toddler Rockers, the brand and the CPSC (Consumer Product Safety Commission) announced in a safety alert issued on June 14, 2022. (1)
Despite this, neither the CPSC nor Fisher-Price issued a recall on the rockers.
Instead, they issued a safety warning to remind parents against using these rockers for unsupervised babies. Parents are also warned against letting their babies sleep in the rockers.
But is that safety warning really enough? What is the government doing to reduce the risks of infant deaths in inclined sleepers, rockers, swings, soothers, loungers, and similar baby products? Can newborns use these rockers when supervised?
Find answers to these questions below.
Safety Warning For Fisher-Price Rockers
On June 14, 2022, Fisher-Price and the CPSC alerted consumers to the reports of at least 13 infant deaths linked to the following rockers from 2009 to 2021: (1)
Fisher-Price Infant-to-Toddler Rockers

Fisher-Price Newborn-to-Toddler Rockers
The jointly issued safety alert states that these rockers should never be used for sleep and that babies should never be left unsupervised or unrestrained in these products.
According to the safety alert, the brand has sold over 14 million rockers worldwide since the 1990s. These rockers are made by Fisher-Price, a subsidiary of Mattel. The products are also sold on Mattel's online store.
These vibrating rockers are designed to soothe babies and also include a removable toy bar for playing. Then, these rockers convert into toddler rocking chairs for older babies.
This convertible product can also be used for stationary seating using the fold-out kickstand.
Unlike the equally dangerous Fisher-Price Rock 'n Play inclined sleeper recalled in 2019 for links in at least 30 infant deaths, the convertible rockers mentioned above aren't marketed for sleeping. (2)
However, the online listing for these rockers on Mattel's shop doesn't show any safety warning against putting your baby to sleep in these baby gear as of press time.
Instead, in the safety alert, Fisher-Price encourages parents to visit their Safe Start website for safety information, tips, and safety videos. The page includes a link to the CPSC safety alert.
This Safe Start website also contains information about the latest ASTM-approved* safety warnings for the rockers, including a suffocation hazard warning against unsupervised use or sleeping. (3)
According to the safety warning, babies should be removed immediately from the product and transferred to a firm, flat surface if they fall asleep. (3)
*ASTM means American Society for Testing and Materials
CPSC Safety Ruling
In light of the infant deaths relating to inclined sleepers, rockers, and similar baby products, the CPSC finalized a rule requiring all infant sleep products to only have 10 degrees or less sleep surface angles. (1)(4)
This ruling will take effect on June 23, 2022.
This new rule doesn't apply to products not marketed for sleeping, such as car seats and swings. (4)
However, the CPSC reminds parents against letting their babies sleep in any of these products, saying that a flat, bare surface dedicated to the baby is the safest place for them to sleep. (4)
In this ruling, the CPSC pointed out that at least 254 incidents, including 21 fatalities, have been reported between January 2019 and December 2020, relating to infant sleep products. (4)
CPCS Commissioner Calls For Gag Rule Repeal
CPCS Commissioner Richard Trumka calls on Congress to immediately repeal the Gag Rule that blocks them from quickly issuing warnings against unsafe products to prevent further loss of life. (5)
In a statement, the commissioner revealed that the Gag Rule delayed their Fisher-Price safety warning to the public by two months because they still need to first seek permission from the product's maker before issuing any safety warning. (5)
Trumka hopes the Gag Rule will be repealed soon so that the CPSC can immediately issue timely warnings to remove hidden dangers from people's homes.
He expressed gratitude that the Safe Sleep for Babies Act was passed by Congress and signed by President Joe Biden. It bans inclined products regardless of whether they are intended and marketed for sleep.
However, Trumka explained that the CPSC still needs to determine whether the Fisher-Price convertible rockers will fall under this ban. (5)
The commissioner also revealed that aside from the 13 infant deaths in the Fisher-Price rockers, they're also alerting the public about one fatality associated with Kids II Bright Starts Disney Baby Minnie Mouse Stars & Smiles Infant to Toddler Rocker. (5)
The CPSC Advances Infant Rocker Safety Requirements
Update: November 14, 2023
The CPSC unanimously voted to advance the following infant rocker safety requirements: (6)
Rockers must be firmer. flatter, and pass stability and other safety tests to prevent suffocation, product collapse or tipping over, and other hazards.

Rockers must have prominent warning labels that urge caregivers 1) not to allow babies to sleep in the products, and 2) not to put soft bedding around infants using these products.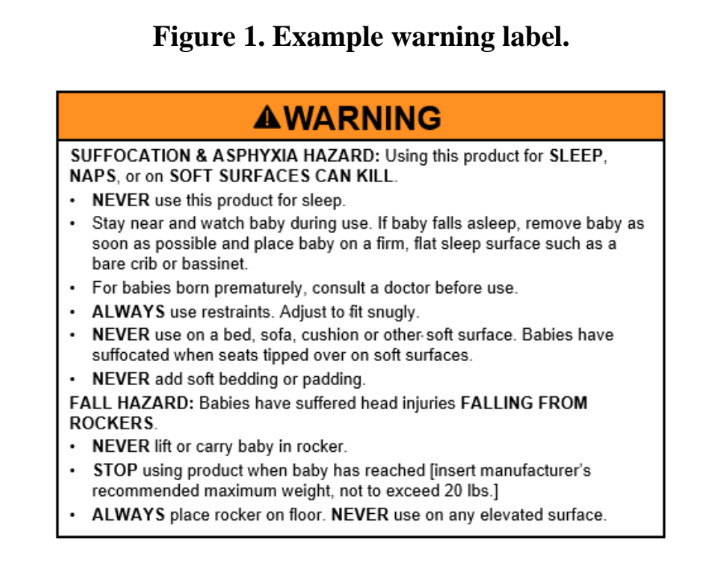 Rockers and similar products must also have a concavity (or curvature of the seat back) of at least 22 cm (8.66 inches) to reduce the risks of suffocation during normal head rotation. (see the photos below)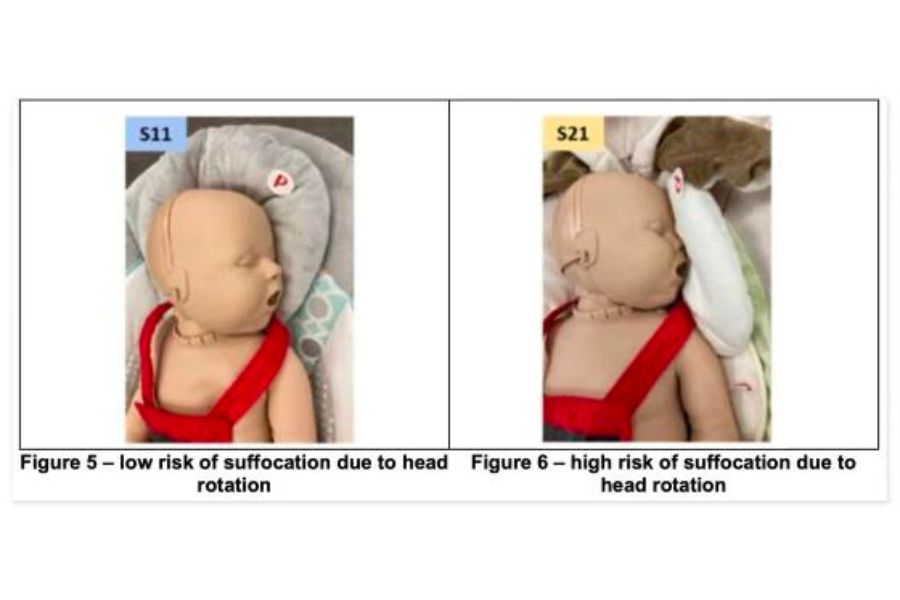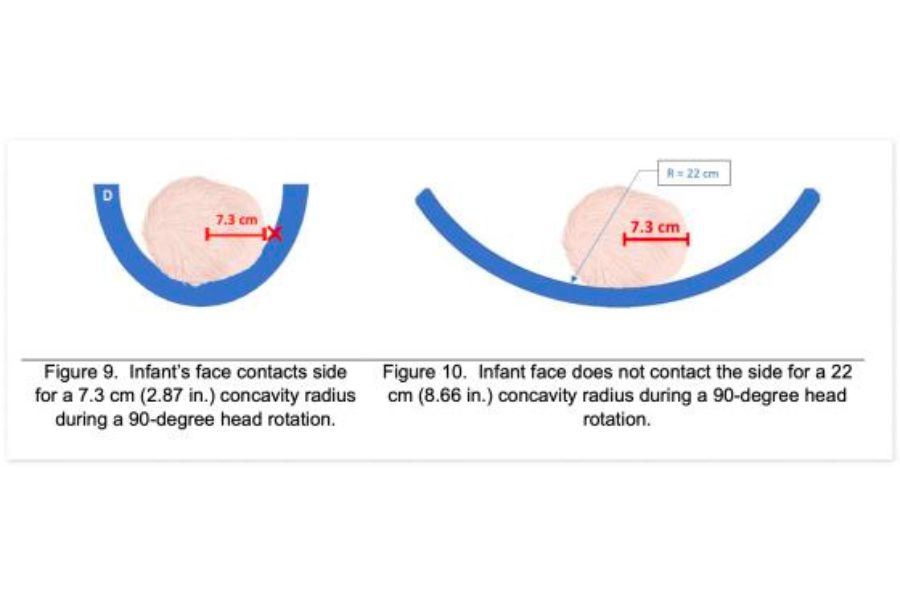 Because 36 of the 1,088 reported cases involved leaking batteries, the CPSC also extends the bouncer rule (CPSC 16 CFR part 1229) to rockers, which includes instructions on containing battery leaks, marking battery compartments to show correct battery details, design protection, and other relevant safety warnings.
These newly proposed rules aim to reduce the risks of the following: (6)
Suffocation

Strangulation

Rocker tip-over
These changes are essential because based on investigations of reported rocker deaths, most of the infants were left sleeping and unattended in these products, with some babies not secured by the harnesses. (6)
Aside from 11 deaths recorded from 2011 to 2022, the CPSC also points out that a total of 1,088 incidents have been reported within this period, including 88 nonfatal injuries. (see table below) (6)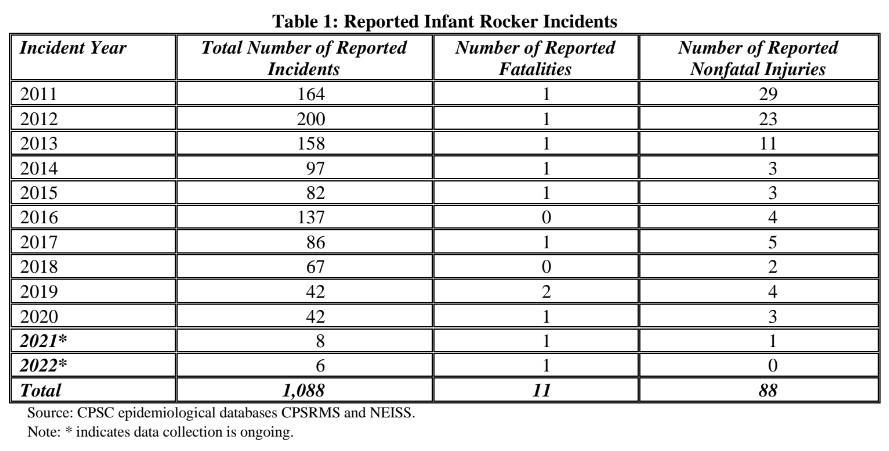 Safe Sleep Environment
To ensure babies' safety while sleeping, the joint safety alert from the CPSC and Fisher-Price recommends the following in your nursery: (1)
A firm, flat surface (

crib

, bassinet, or play yard) is the best place for a baby to sleep.

Only use a fitted sheet. Never add padded crib bumpers, blankets, pillows, or other items to your baby's sleeping environment.

Babies should always be placed to sleep on their backs. Those who fall asleep in an inclined or upright position (such as inclined sleepers or rockers) should be moved to a safe sleep environment (firm, flat surface).
FAQs
Can Newborns Use Fisher-Price Rockers?
Yes. The Fisher-Price rockers are designed for use from birth until your baby weighs 40 lbs.
At What Month Can A Baby Start Using A Baby Rocker?
They're designed for use from birth. So, you can start using a baby rocker anytime.
However, take note of the safety warnings above. Don't leave your baby unsupervised or let them sleep in the rocker.
Does Fisher-Price Rocker Vibrate?
Yes. It's designed to produce soothing vibrations.
Why Was The Fisher-Price Rocker Recalled?
The Fisher-Price Infant-to-Toddler Rockers and Fisher-Price Newborn-to-Toddler Rockers haven't been recalled.
It's the Fisher-Price Rock 'n Play inclined sleeper that was recalled in 2019 for links to over 30 infant deaths after babies rolled over while they were unrestrained in the product or under other circumstances. (2)
What Kind Of Batteries Does The Fisher-Price Infant To Toddler Rocker Take?
You need one "D" (LR20) alkaline battery to operate the vibration mode for the rockers.
How Do I Convert My Fisher-Price Rocker To Toddler Chair?
First, remove the toy bar from the rocker.
Then, flip out the kickstands to create a stationary toddler chair. Make sure the kickstands lock in place to avoid accidents.
References
(1) https://www.cpsc.gov/Newsroom/News-Releases/2022/CPSC-and-Fisher-Price-Warn-Consumers-About-13-Deaths-in-Fisher-Price-Infant-to-Toddler-and-Newborn-to-Toddler-Rockers-Advise-Rockers-Should-Never-Be-Used-for-Sleep
(2) https://www.cpsc.gov/Recalls/2019/Fisher-Price-Recalls-Rock-n-Play-Sleepers-Due-to-Reports-of-Deaths
(3) https://assets.contentstack.io/v3/assets/blt485dfa12bf05dba5/blt7a33218b46dd31a0/62a89ece2680af5922334ba8/Warning.pdf
(4) https://www.cpsc.gov/Newsroom/News-Releases/2021/CPSC-Approves-Major-New-Federal-Safety-Standard-for-Infant-Sleep-Products
(5) https://www.cpsc.gov/about-cpsc/Commissioner/Richard-Trumka/Statement/13-Infant-Deaths-Tied-to-Fisher-Price-Infant-Rockers
(6) https://www.documentcloud.org/documents/23975614-cpsc-recs-safety-standard-for-infant-rockers-and-infant-and-toddler-rockers