Overview
On March 2, 2023, the CPSC (U.S. Consumer Product Safety Commission) announced a Patagonia recall involving around 8,000 Infant Capilene* Midweight Base Layer Sets because of possible choking risks. (1)(2)
*Capilene is a synthetic polyester, quick-dry fabric that can keep the wearer warm; it's considered a user-friendly synthetic fleece
The snaps of the bodysuit included in the set can detach, posing a choking hazard to small children. (1)(2)
What should you do if you have these Patagonia products? Were there other recalls and safety concerns regarding the brand? Read on to find out.
Patagonia
Recall 2023
Recall Details: Infant Capilene Midweight Set
Patagonia recalled their Infant Capilene Midweight Base Layer Sets on March 2, 2023, after receiving a report of a snap detaching from the bodysuit's shoulder part. (1)(2)
The baby's caregiver, who first reported this defect, discovered the child mouthing the snap and was able to take it away. (1)(2)
Did
Patagonia
Issue Their Recall Over One Incident?
Yes. The brand issued the recall over that one incident because a detached snap can pose a choking hazard. They believe that it's important for products intended for children younger than three years old to have no small parts that can detach, be mouthed on, or pose a choking risk. (1)(2)
What
Patagonia
Products Are Being Recalled?
The Patagonia Infant Capilene Midweight Base Layer Sets include: (1)(2)
Knitted polyester

long-sleeved bodysuit

that has snaps at the crotch and at the

left shoulder

Matching knitted polyester pants that have an

elastic waistband

but without snaps
These products were sold in five designs: (1)(2)
Pink and white set with "My Planet" pink hearts and trim

Blue set with "

Fun Hogs

" and "

Patagonia

" prints

Pink set with

small graphics

Pink set with "

Patagonia Mountain Kids

" print

Gray and black set with "

Patagonia Mountain Kids

" print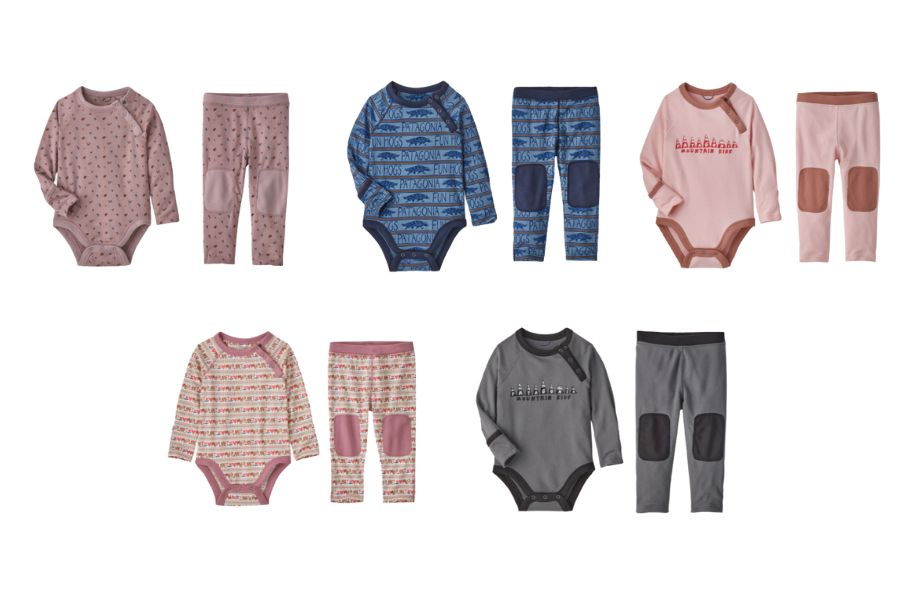 How Do I Know If My
Patagonia
Has Been Recalled?
The voluntary recall includes all sets with style number 60910 from sizes 0 months through 24 months. (1)(2)
You can find the style number on a sewn-in label in the garment: (1)(2)
Fall 2021 style:

STY60910FA21

Fall 2022 style:

STY60910FA22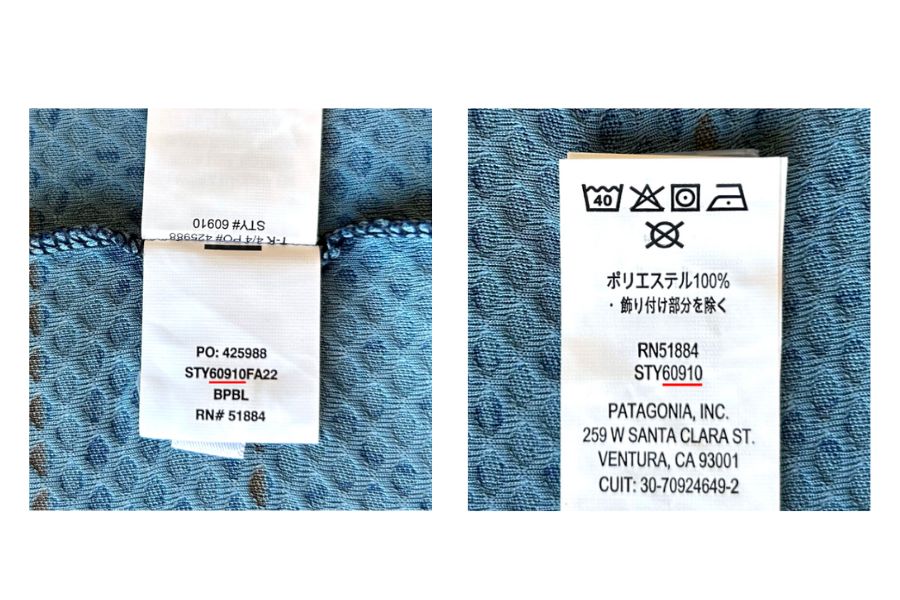 These clothes were sold from August 2021 through January 2023 through the following outlets:
Patagonia

(

patagonia

.com)

REI (rei.com)

Backcountry

(

backcountry

.com)

Other stores nationwide and online stores
What Do I Do With The Recalled
Patagonia Items
?
Stop using these recalled products immediately. Return the bodysuit to Patagonia to receive a refund. (1)(2)
Can I Keep The Pants?
Yes. The pants don't have snaps. According to the recall notice, you can keep the pants or return them with the bodysuit. You'll get the full refund either way. (2)
Are These Recalled
Patagonia
Products Still Safe To Use?
No. While there has only been one incident of a snap detaching from the bodysuit, there's no telling whether another might come out from any of the recalled garments. It's best to return them for a refund.
How To Get A Refund Or Replacement
Affected customers are entitled to a full refund. Contact Patagonia to receive free prepaid labels for shipping the recalled products. (1)(2)
The brand will send you the refund upon receipt of the products you sent them. (1)(2)
Contact Patagonia Inc., of Ventura, California via: (1)(2)
Phone: 800-638-6464 during

weekdays

from 6 AM to 6 PM PT or during weekends from 7 AM through 3 PM PT

Email:

[email protected]

Recall website:

patagonia

.com/infantsetrecall

Official website:

patagonia

.com, then click "

Product Safety

Recall" (bottom of the page)
Can I Still Return My
Patagonia
Without A Receipt?
Yes. You don't need a receipt to return these Patagonia products. So, you can still get a refund even if you received the clothes as a gift or lost your receipt. (2)
What's
Patagonia
Doing So This Safety Issue Doesn't Happen Again?
The brand assures consumers that their quality team: (2)
Is investigating why the snap detached from the affected product

Researching ways to attach snaps more securely

Will make sure the snaps will be more secure in future kids' garments
Is The Baby Capilene Midweight Henley Also Recalled?
No. This product isn't included in this recall. (2)
Patagonia
Recall 2021: UPF Apparels
Who Issued The Recall & Why?
In July 2021, Patagonia issued the voluntary recall of Capilene Cool Daily and Tropic Comfort sun protection lines (clothes for adults) over failure to meet the UPF (ultraviolet protection factor) rating that they advertised. (3)
This recall included hoodies, t-shirts, backpacker or hiking clothes, and long-sleeved shirts. (3)
What's The Standard
UPF Rating
?
Fabric or clothing must have UPF 30 to get The Skin Cancer Foundation's Seal of Recommendation. (4)
UPF 50+ rates are considered excellent and ideal, but products with UPF 30 to 49 also offer some protection. (4)
Does
Patagonia
Capilene Have UPF Protection?
Yes. Patagonia Capilene products offer UPF protection. (3)
Is
Patagonia
Capilene UPF 50?
No. While previously advertised as UPF 50, these products contain less than this rating. (3)
What SPF Is
Patagonia
Capilene?
Patagonia tests confirm that their products have an average of UPF 34 and range from UPF 17 to UPF 45. (3)
They claim that UPF 17 is still good because that can block 92% of the sun's ultraviolet rays (UV). However, they issued the recall for failing to reach their goal of providing customers with the highest level of sun protection. (3)
Patagonia
Recall FAQs
Where Are
Patagonia
Products Manufactured?
Can I Still Return
Patagonia
Products Without The
Style Number
?
Yes. The brand still honors returns of clothes that don't have a style number (whether lost or removed). (3)
How Long Do I Wait For My Refund?
It depends on where you purchased the product and how you returned them: (3)
Up to three weeks for direct purchase from

Patagonia

.com

Up to 12 weeks for returns that don't have an order number or were purchased somewhere else
Can I Get A Refund If I Live Outside The US?
Contact Patagonia: help.patagonia.com/s/
What Will
Patagonia
Do With The Unsold Or Returned Products?
Products from the snap-related recall: (2)
Recycled

responsibly

, but won't be resold or donated anywhere in the world
Products from the UPF recall: (3)
Returned items were repurposed or recycled through

Patagonia

's

Worn Wear

program

Unsold items from retail outlets and dealers were relabeled and sold without the UPF 50 claim
Recommendations For Children's Clothing
Some of our favorite toddler sleep sacks and wearable blankets:
Luyusbaby Early Walker Baby Sleeping Bag

Burt's Bees Beekeeper Organic Baby Wearable Blanket

ErgoPouch Sleep Suit Bag 3.5 TOG
Other Recent Baby Product Recalls & Safety Warnings
Check these comprehensive lists of product recalls by category:
Other individual product recalls:
References
(1) https://www.cpsc.gov/Recalls/2023/Patagonia-Recalls-Patagonia-Infant-Capilene-Midweight-Base-Layer-Sets-Due-to-Choking-Hazard (USCPSC)
(2) https://www.patagonia.com/product-safety-recall-of-infant-capilene-midweight-set/
(3) https://www.patagonia.com/voluntary-recall-of-capilene-cool-daily-and-tropic-comfort-upf-products/
(4) https://www.skincancer.org/skin-cancer-prevention/sun-protection/sun-protective-clothing/