Children's Place Baby & Toddler Jeans Recall 2023
Why Were These Jeans Recalled?
On August 10, 2023, The Children's Place recalled about 97,400 pairs of baby and toddler jeans (two styles) in the US, plus around 1,800 (one style) in Canada, because the metal snaps can detach, posing choking risks to your children. (1)(2)
The voluntary recall was done after the company received one report of the snaps detaching from the pair of jeans. Thankfully, no injuries have been reported relating to this jeans recall. (1)(2)
What Children's Place Baby & Toddler Jeans Are Recalled?
This voluntary recall involves Baby and Toddler Boy Basic Stretch Straight Leg Jeans, which are sold in varying sizes (from 6-9M to 5T). (1)(2)
These jeans were sold exclusively at The Children's Place stores across the US: (1)(2)
Dustbowl Wash (style number 3022341) from September 2022 through March 2023

Telford Wash (style number 3022342) from January 2023 through June 2023
How Do I Know If My Children's Place Clothes Have Been Recalled?
Find the sewn-in, side-seam label (white) near the left pocket inside your children's jeans. (1)(2)
They're included in this recall if they have the following style and vendor numbers: (1)(2)
Dustbowl Wash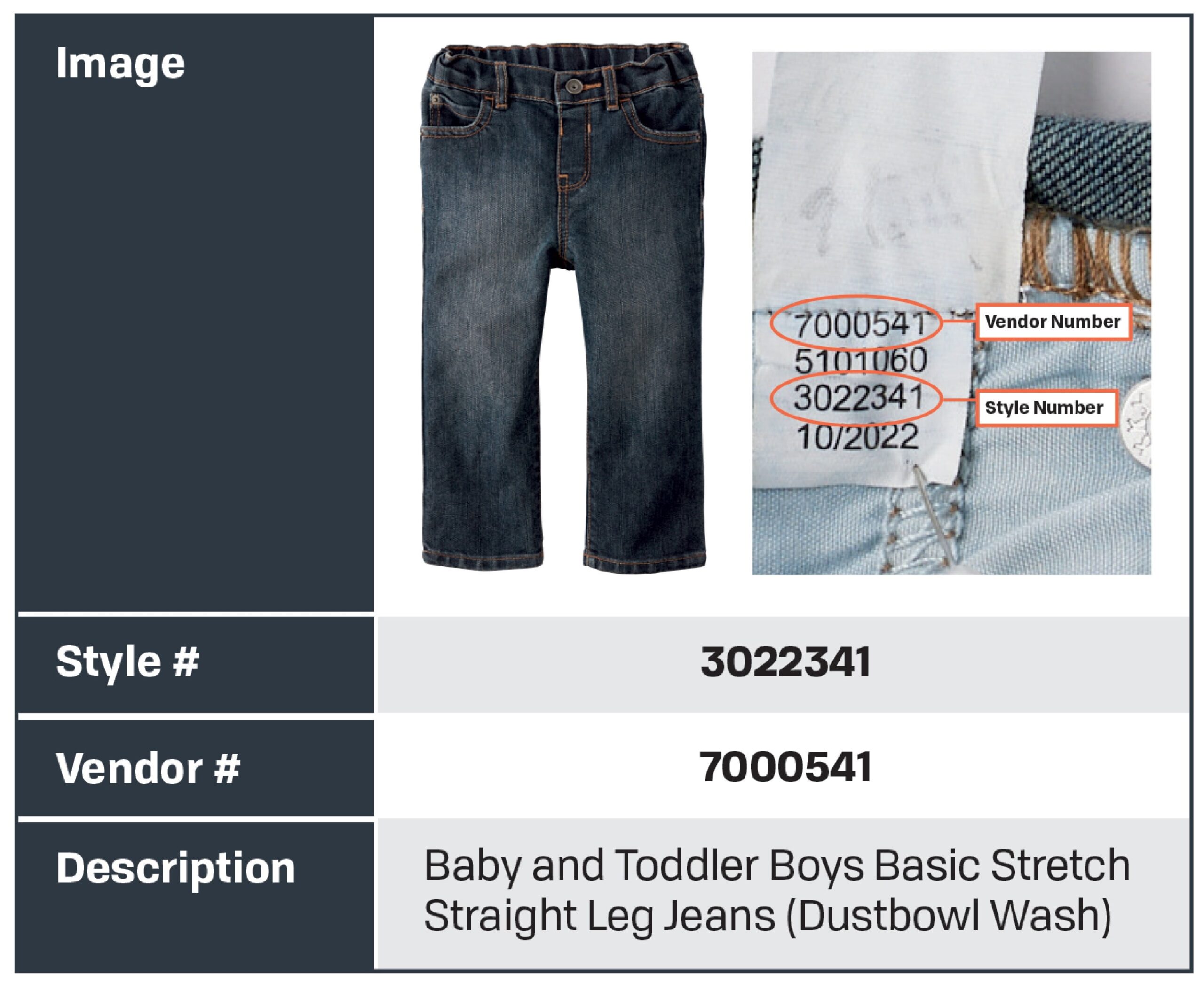 Telford Wash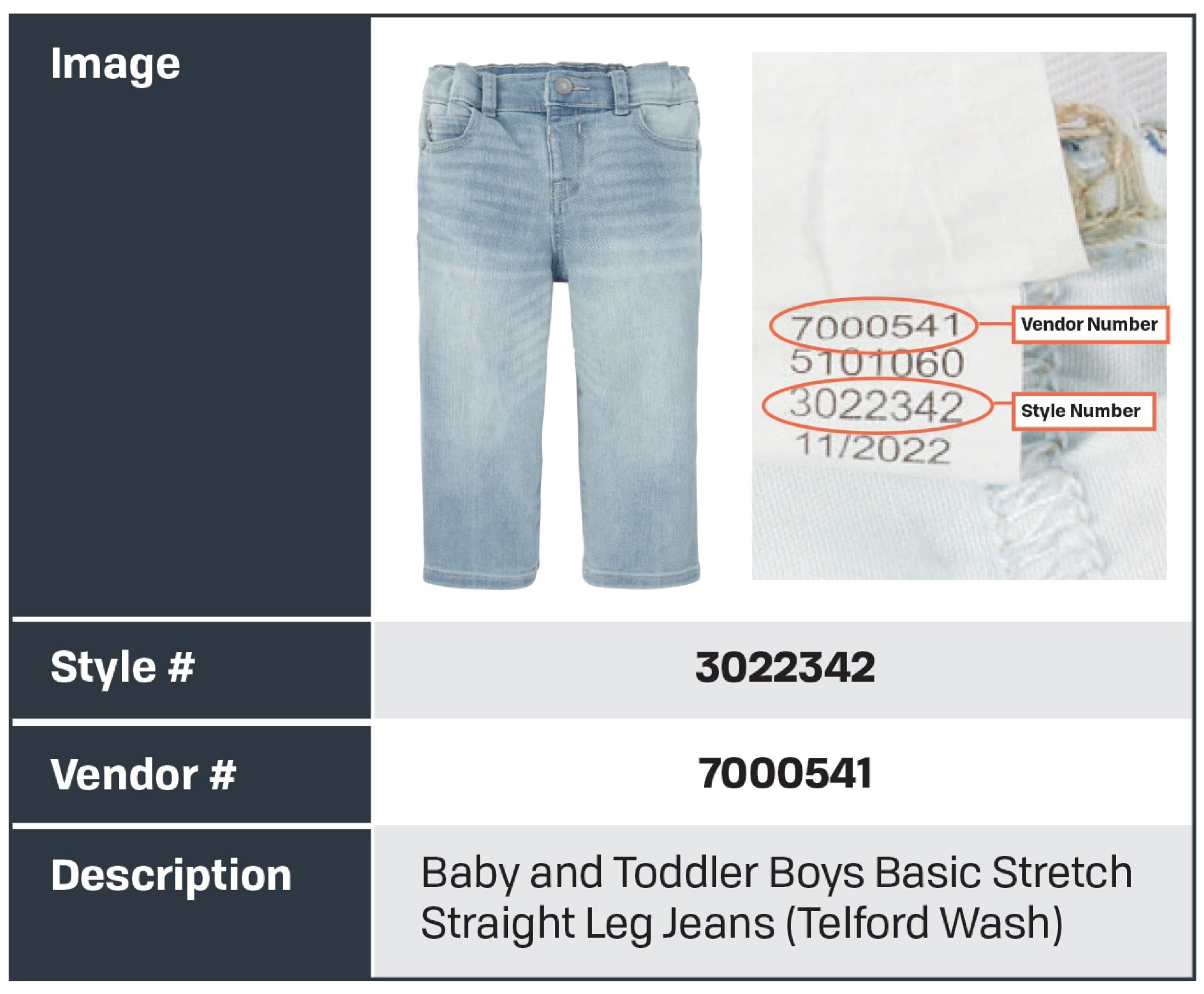 Note that this recall only involves these two style codes with the same vendor number (7000541).
What To Do With My Recalled
Children's Place Baby & Toddler Jeans
?
Stop using these jeans immediately. Return the affected jeans to any The Children's Place store for a full refund. (1)(2)
Contact The Children's Place through the following channels for more information or for help in processing your refund: (1)(2)
Toll-free phone number: 877-752-2387 from 9 AM to 5 PM ET (Mondays through Fridays)

Main shop website: childrensplace.com (click on the "Help Center" link at the bottom of the page, then find "Product Info, Care & Recalls")

Recall website: childrensplace.com/us/content/recall-information
According to the recall advisory, the company will also contact all known buyers of these recalled jeans. (1)(2)
Are These
Children's Place Baby & Toddler Jeans
Still Safe To Use?
No. Never use recalled products, even if they look safe. The metal snap can detach anytime, posing a choking risk to your young children. (1)(2)
To prevent accidents, immediately remove these products from your children's reach until you can return them to the store for your refund. (1)(2)
Where Were These
Children's Place Baby & Toddler Jeans
Manufactured?
Our Recommendations For Children's Clothes
Jeans
THE SIMPLE FOLK – The Perfect Jean (in Light Denim)

JACADI – Straight Jeans (in Denim And Shore Blue)

SPACE VENTURE Kids (3-12Y) Soft Brushed Fleece Sweatpants & Casual Joggers

MON COEUR – Flower Pocket Kid Jeans (with Denim Embroidery)

ROCKETS OF AWESOME – Stretchy Slim Jeans Rinse

Andrew Scott Toddler Active Jogger Cotton Sweatpants (5 Pack – Boys)

Marvel Avengers Spider-Man Toddler Boys Pants (2 Pack – Blue / Grey)

LOLA + THE BOYS – Scribble Rainbow Jeans (in Blue)

FLORA AND HENRI – Madrid Jean
Tops & Sets
MAISON ME – Mary Ruffle Top (in Buttercup)

Disney Minnie Mouse Tank Top and Shorts (from Infant to Big Kid)

DEUX PAR DEUX – Color-Block Jersey Polo Top (in Grey & Sage Green)

CLOVER BABY & KIDS – Shorts Pajama Set (in Multicolor Suns)

Simple Joys by Carter's Tank Tops (Toddlers and Baby Boys)

HEY KID – Striped Terry Set
Dresses
MAISON ME – Ashlynn Dress (in Fruit Multi)

Hudson Baby Infant and Toddler Long-Sleeve Cotton Dresses

TEA COLLECTION – City Of Lights Skirted Dress (in Creole Pink)
Other Clothes Recalls
Other Recent Baby
Product Recalls
& Safety Warnings
Stay informed with the latest news by signing up for our regular Motherhood Community recall alerts so you never miss an important recall.
Check these comprehensive lists of product recalls by category:
References
(1) https://www.cpsc.gov/Recalls/2023/The-Childrens-Place-Recalls-Two-Styles-of-Baby-and-Toddler-Boy-Basic-Stretch-Straight-Leg-Jeans-Due-to-Choking-Hazard
(2) https://www.childrensplace.com/us/content/recall-information