Overview
North States Industries recalled Toddleroo child-proofing cabinet latches on September 29, 2022, after receiving 19 reports of the latching buttons getting dislodged or detached, leading to one child gagging on a dislodged button. (1)(2)
Childproofing your home is extremely important because unintentional injuries remain the leading cause of death in children up to 19 years old, with around 12,000 estimated infant deaths yearly. (3)
Airway obstruction injuries, such as choking or suffocation, are the leading reasons for unintentional, injury-related baby deaths (younger than one year old). (3)
That's why it's also important to babyproof your cabinets and doors to prevent babies from reaching items that can pose choking and other injury risks.
But what if the item you're using to babyproof a cabinet can also pose choking risks?
Read more about the Toddleroo childproofing cabinet latch recall below and find information on what you should do if you have these recalled products.
Toddleroo Child-Proofing Cabinet Latch Recall 2022
On September 29, 2022, North States Industries recalled Toddleroo rotating cabinet latches because the circular latching buttons can get dislodged or detached, leading to choking or suffocation risks, especially for young children. (1)(2)
In their recall announcement, Toddleroo by North States assures parents that safety is the company's highest priority and that they recall these products for children's safety: (1)
"At Toddleroo by North States, safety is our highest priority, and we work diligently to earn the trust of parents and caregivers every day.

We are pursuing this voluntary recall out of an abundance of caution to prevent any possible incidents."
Are All Toddleroo Cabinet Latches Recalled?
No. Only the Toddleroo by North States Rotating Cabinet Latches, with model number 6178, and the following UPCs (Universal Product Codes) are included in the recall: (1)
0-26107-06178-2
0-26107-06177-5
About 103,000 units (four pieces per pack) of these cabinet latches are included in this recall.
How To Identify Recalled Toddleroo Cabinet Latches
These cabinet latches have round bases attached by adhesives to the cabinet doors. A childproof safety mechanism on this latch can prevent your baby from opening locked cabinets.
Here are photos released by North States to help you identify the recalled cabinet latches: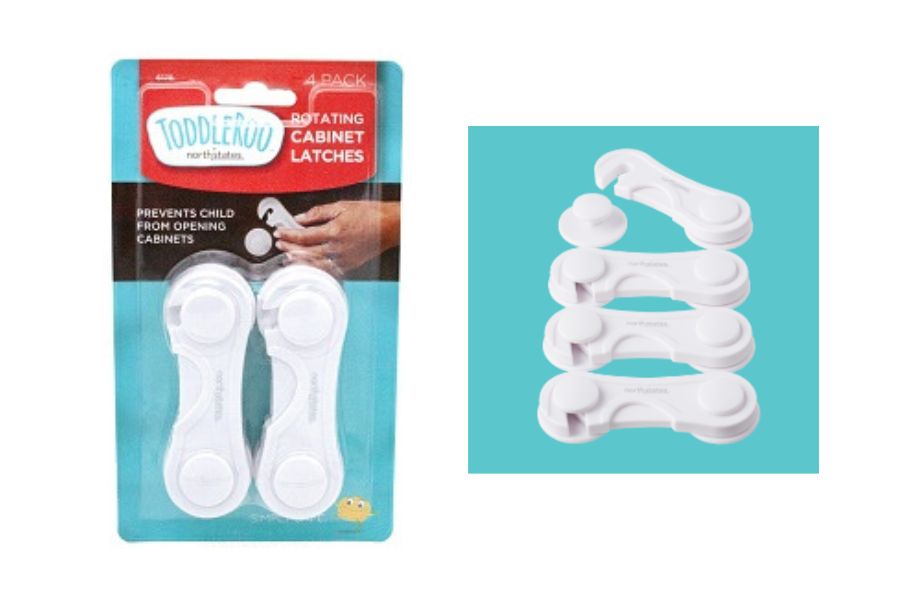 These recalled Toddleroo rotating cabinet latches were sold from November 2019 through August 2022 through the following stores, outlets, and retailers for around $5 to $10:
North States Industries (northstatesind.com)
Walmart
BuyBuyBaby
Other stores nationwide
Other websites
Incidents Or Accidents With The Recalled Toddleroo Cabinet Latches
According to the recall advisory from the CPSC (U.S. Consumer Product Safety Commission), the company received 19 reports of the latching button getting detached or dislodged. One child reportedly gagged on a dislodged button. (2)
What To Do With The Recalled Toddleroo Cabinet Latches
Discontinue use immediately and remove the latches from your cabinet. Note that these latches need to be removed first before you can process your refund.
How To Remove The Safety Latches
Using a hair dryer (medium heat), warm the adhesives used to attach the safety latch to your cabinet doors for about 1 minute.
Gently remove the latch from the cabinet door. You might need to apply more heat to the adhesive until it comes off.
Repeat the process on the adhesive on the other side.
Be careful not to damage the cabinet doors. According to the recall notice, North States Industries will not be responsible for any damage caused on the cabinet surface by the removal of their recalled latches. (1)
How To Process Your Refund
Once you have removed the latches, take photos of all the latches together. Two photos are required: (1)
The front side of all the removed latches
The back side of all the removed latches
The company clarified that all the latches should be together in each of these photos for the company to determine the correct refund amount. (1)
Affected consumers can get a refund of $5.50 (per pack of four latches) or the actual purchase price (if the receipt is available). (1)
You can directly process the refund using the form on this link if you're using a device with a camera:
rqa-inc.com/client/safety-northstatesind/
Contact North States Industries through the following channels for more information:
888-243-8350 (toll-free) from Monday through Friday, from 8 a.m. to 5 p.m. CT
northstatesind.com/recall
northstatesind.com (click on "Recall Information")
Is It Okay To Continue Using The Recalled Toddleroo Cabinet Latches?
No. Choking and suffocation risks are very serious. Never use any products that have been recalled, especially if they pose these injury risks.
Even if the childproofing latches attached to your cabinet look alright, the latching buttons might dislodge without warning. Remove them immediately and contact North States Industries to get your refund.
REFERENCES
(1) https://northstatesind.com/recall/
(2) https://www.cpsc.gov/Recalls/2022/North-States-Industries-Recalls-Toddleroo-Rotating-Cabinet-Latches-Due-to-Choking-Hazard
(3) https://www.stanfordchildrens.org/en/topic/default?id=accident-statistics-90-P02853