Overview
Did you know that indoor air can be more polluted than outdoor air? (1)
Toxins can be absorbed via your little one's delicate nose, mouth, and skin, so it's important to choose products made with clean materials. (2)
That's why it's important to prioritize products that promote safe breathing and sleeping, like Babyletto. Also, prioritize products that promote safe feeding, chewing, bathing, wearing, and playing.
In this article, we'll show you how to create a minimalist, non-toxic, all-white nursery for your new baby.
We'll show you how our editor-in-chief, Osmara Aryal, set up her nursery using mostly Babyletto products.
Babyletto products are GREENGUARD Gold Certified, which means they've been tested thoroughly for toxic emissions.
How To Create A Non-Toxic Nursery
We've listed the things to avoid and prioritize when creating a non-toxic baby nursery.
What To Consider For The Furniture & Wood Toys
Solid Wood Construction
Choose nursery room furniture made with natural wood. Not engineered wood, like a composite board, particleboard, or MDF (Medium Density Fiberboard.)
Make sure there are no glues, chemicals, formaldehyde, or veneers.
Baby room furniture should have a food-grade finish, like linseed oil. Preferably no glue is used. (Soy-based or water-based glue should be fine.)
Choose nursery room decor, wall decor, and toys made of solid wood as much as possible.
GREENGUARD Gold Certification
Before picking any themed nursery design, look for brands with the GREENGUARD Gold Certification. Check their list of products to give you some beautiful nursery decor ideas.
The GREENGUARD Gold Certification means that a product has passed the low-chemical emissions test. This means that this product will help your family enjoy cleaner indoor air and you can rest easy knowing that your babies sleep in safe furniture.
Avoid Lead Exposure
Choose wood toys and products preferably manufactured and thoroughly tested to avoid lead contamination. (3)
Avoid Vintage & Antiques
Vintage interior design ideas may be a good nursery theme but beware of old furniture. Lead-based paint was banned in the US in 1978, so homes and furniture built before that may still contain lead. (4)
CPSC-Approved
Before picking out furniture for the kid's room or your little one's playroom, check with CPSC (Consumer Product Safety Commission) first for product recalls.
What To Consider For The Walls
Low-VOC Paints
VOCs (Volatile Organic Compounds), sometimes called oil-based or petroleum-based solvents, can be harmful to health. VOCs off-gas or evaporate and pollute the indoor air, so choosing low-VOC paints is healthier. (5)
What To Consider For The Floor
Polyurethane-Free Varnish
If the nursery has a hardwood floor, ensure it's treated with polyurethane-free varnish. Polyurethane can irritate the eyes, nose, and throat and cause allergic reactions to the skin and lungs. (6)
What To Consider For Fabric Baby Essentials
For crib mattresses, beddings, blankets, clothes, and other baby essentials made of fabric, consider checking for these seals and labels:
USDA Organic Seal
Certified organic products produced in full compliance with the USDA (U.S. Department of Agriculture) organic regulations will be labeled with the USDA organic seal. (7)
GOTS (Global Organic Textile Standard)
The GOTS label is recognized worldwide for certified organic textiles. From harvesting raw materials to manufacturing to labeling, the GOTS standard is a credible assurance for certified organic fabrics. (8)
Textiles with a GOTS label may be sold as organic in the U.S. (7)
GOLS (Global Organic Latex Standard)
The GOLS label is recognized worldwide for certified organic latex. Products with a GOLS label contain only organic natural rubber latex and other approved materials and accessories. (9)
These products are produced in organic plantations certified by the USDA NOP (U.S. Department of Agriculture National Organic Program) or EU (European Union.) (9)
GOLS certified products contain regulated amounts of harmful substances and permissible limits on emission, polymer, and filler percentages. (9)
OEKO-TEX® Standard
OEKO-TEX® certified textile and leather products had been tested and approved for their health and eco-friendly materials and production process.
What To Consider For The Lighting
Soft White Light Bulbs
The harmful effects of visible blue light are more severe in children than in adults. Young children's eyes are still developing and allow more blue light to reach their retina. (10)
Blue light exposure can also disrupt the circadian rhythm or the sleep-wake cycle, so it's best to install soft white lighting in your baby's nursery or kid's room. (10)
What To Consider For Ventilation
Mechanical Ventilation
Consider mechanical ventilation systems in your home. This will allow and filter incoming outside air and improve your home's indoor air quality. (11)
Air Purifier
Air purifiers trap airborne contaminants, pollutants, allergens, and odor for better indoor air quality.
Ceiling Fan
Ceiling fans keep air flowing throughout the room and provide a quieter operation than air conditioners.
How To Create An All-White Nursery
If you're planning for a gender-neutral nursery with an all-white color scheme, check out our editor-in-chief's nursery below and see our recommendations: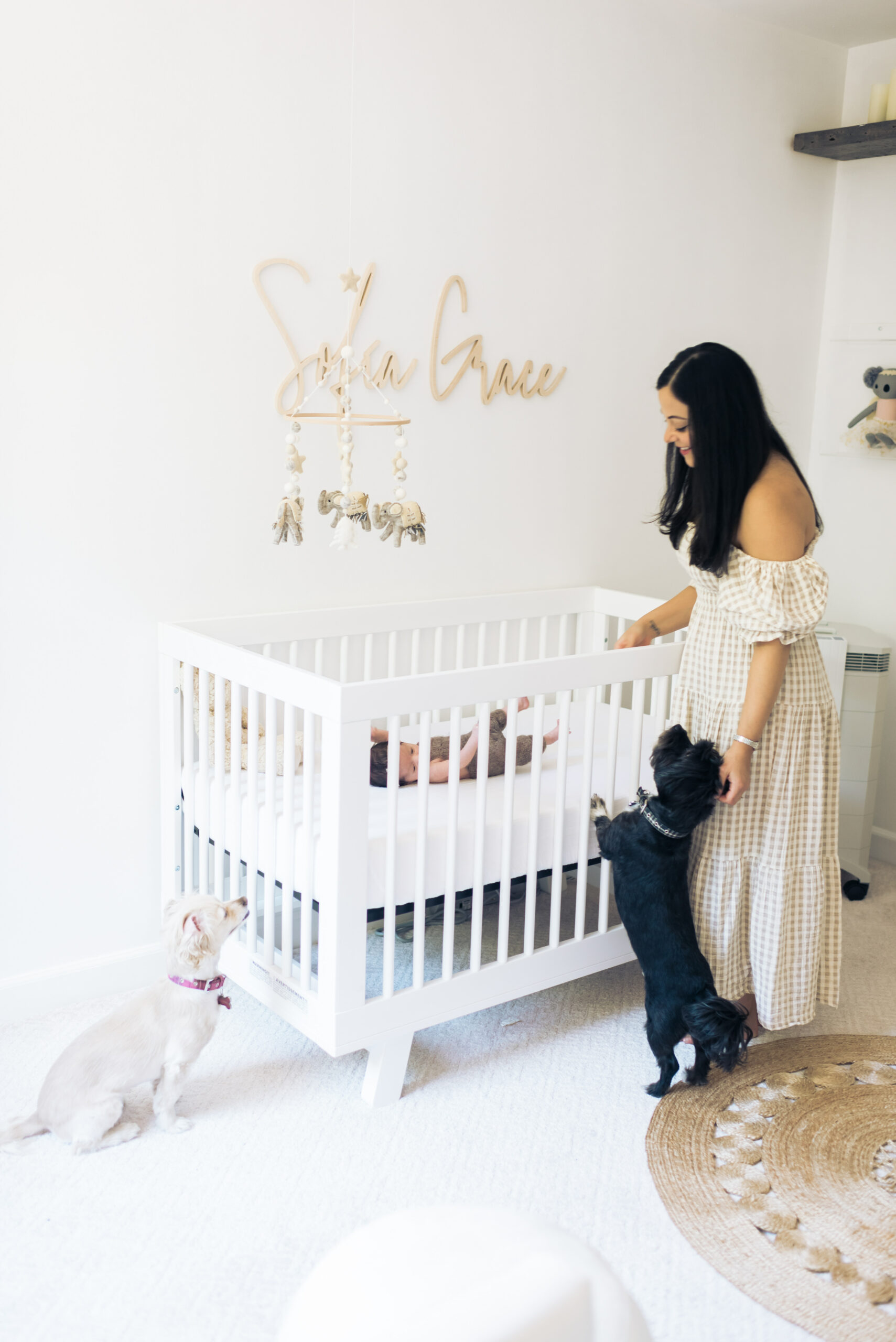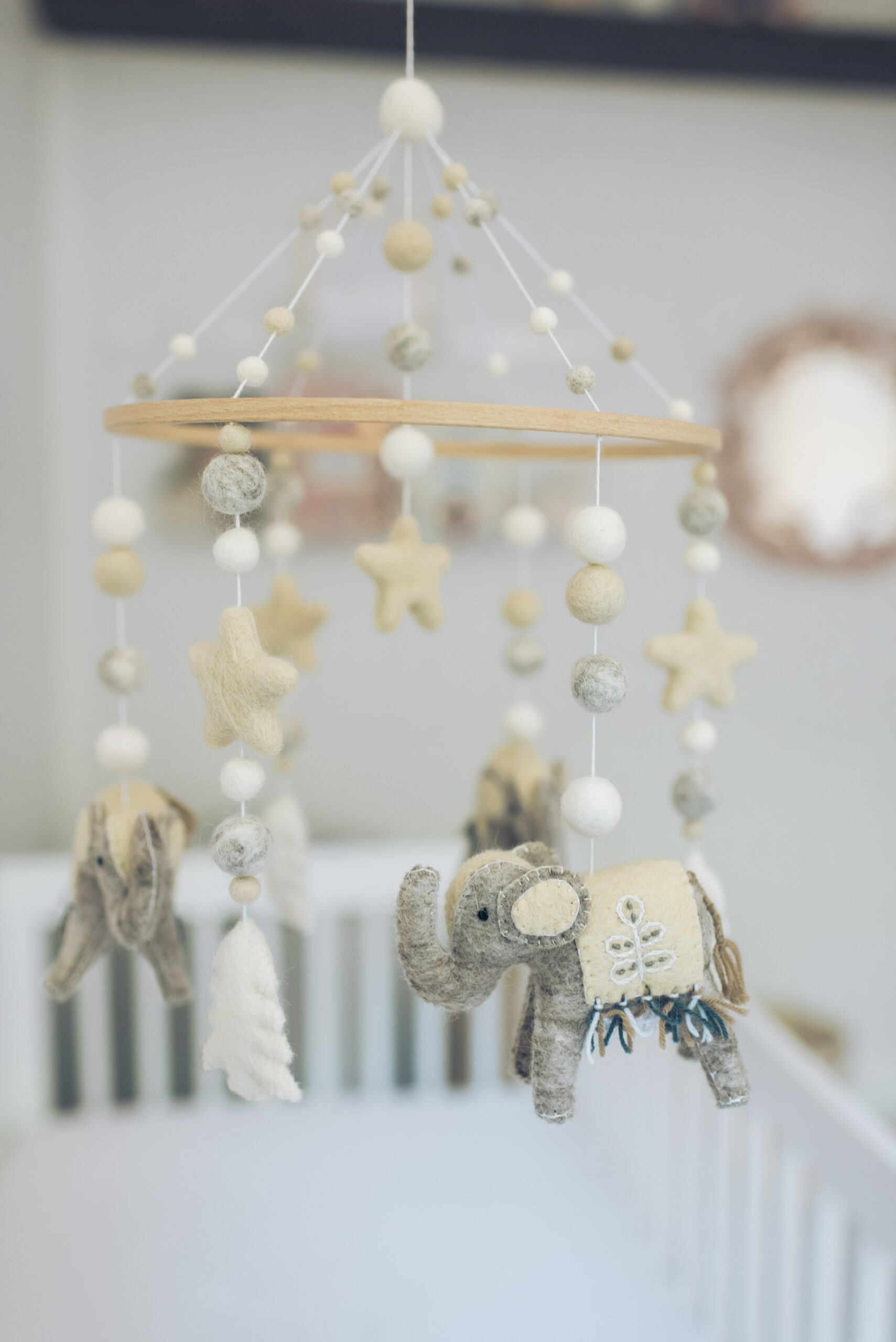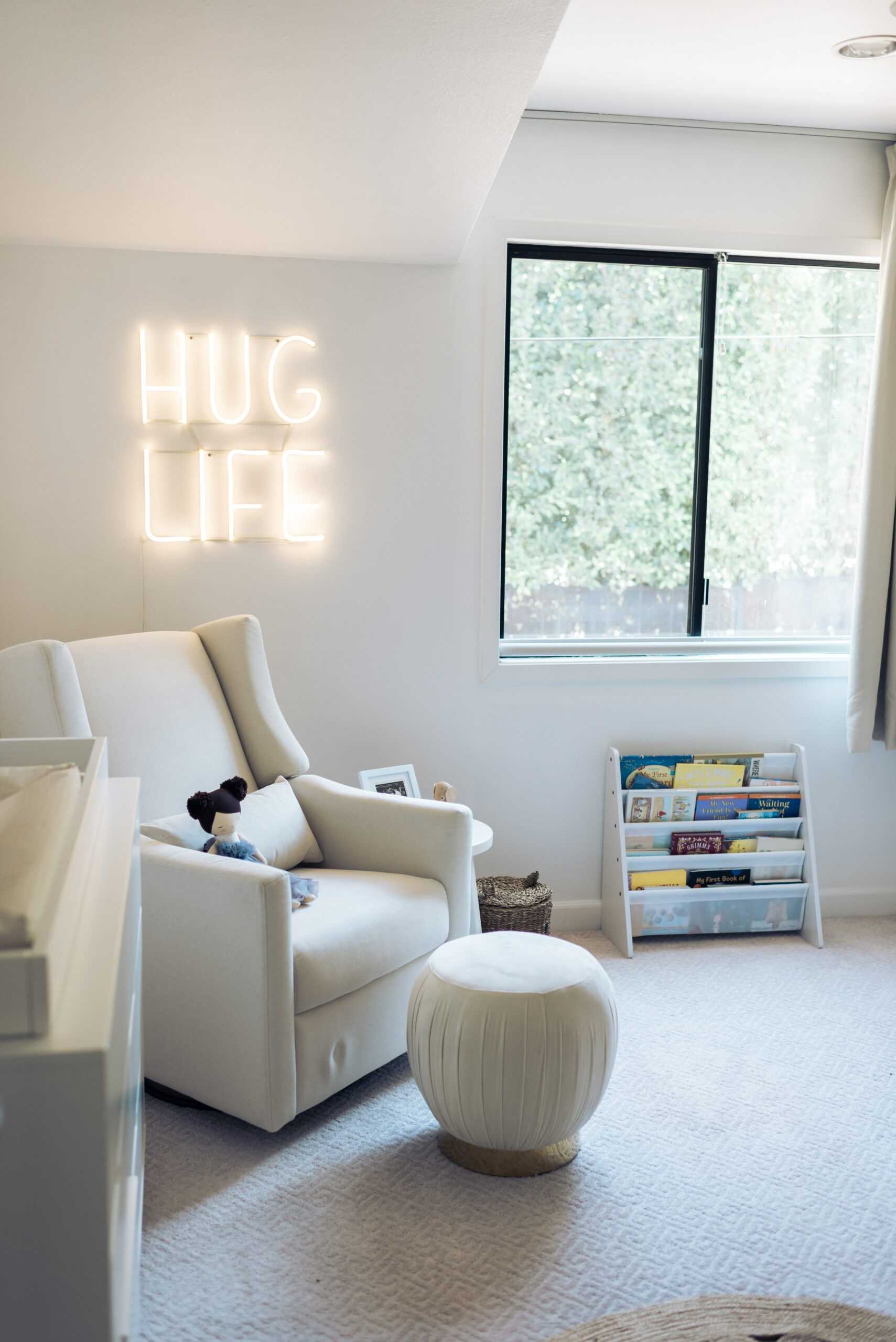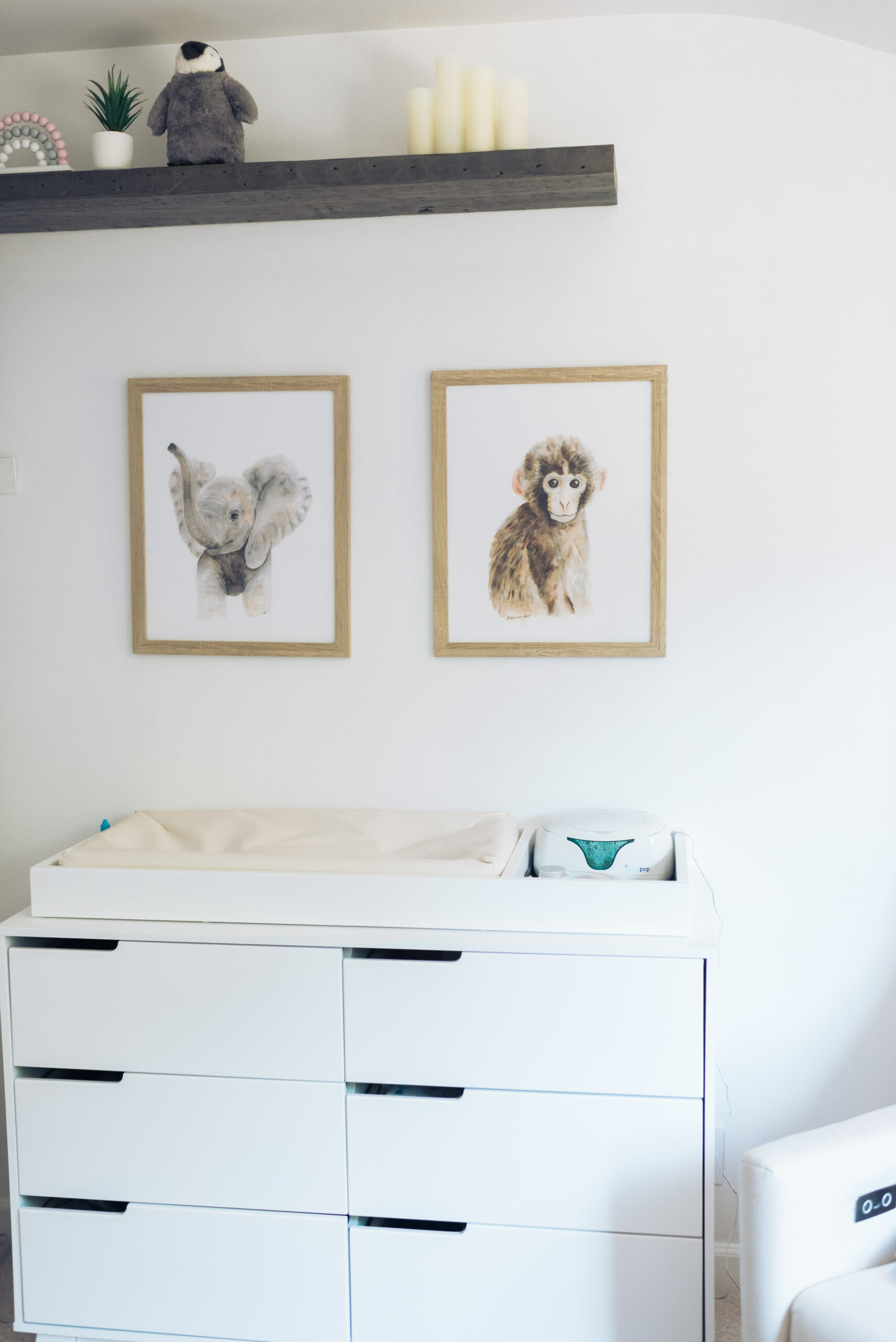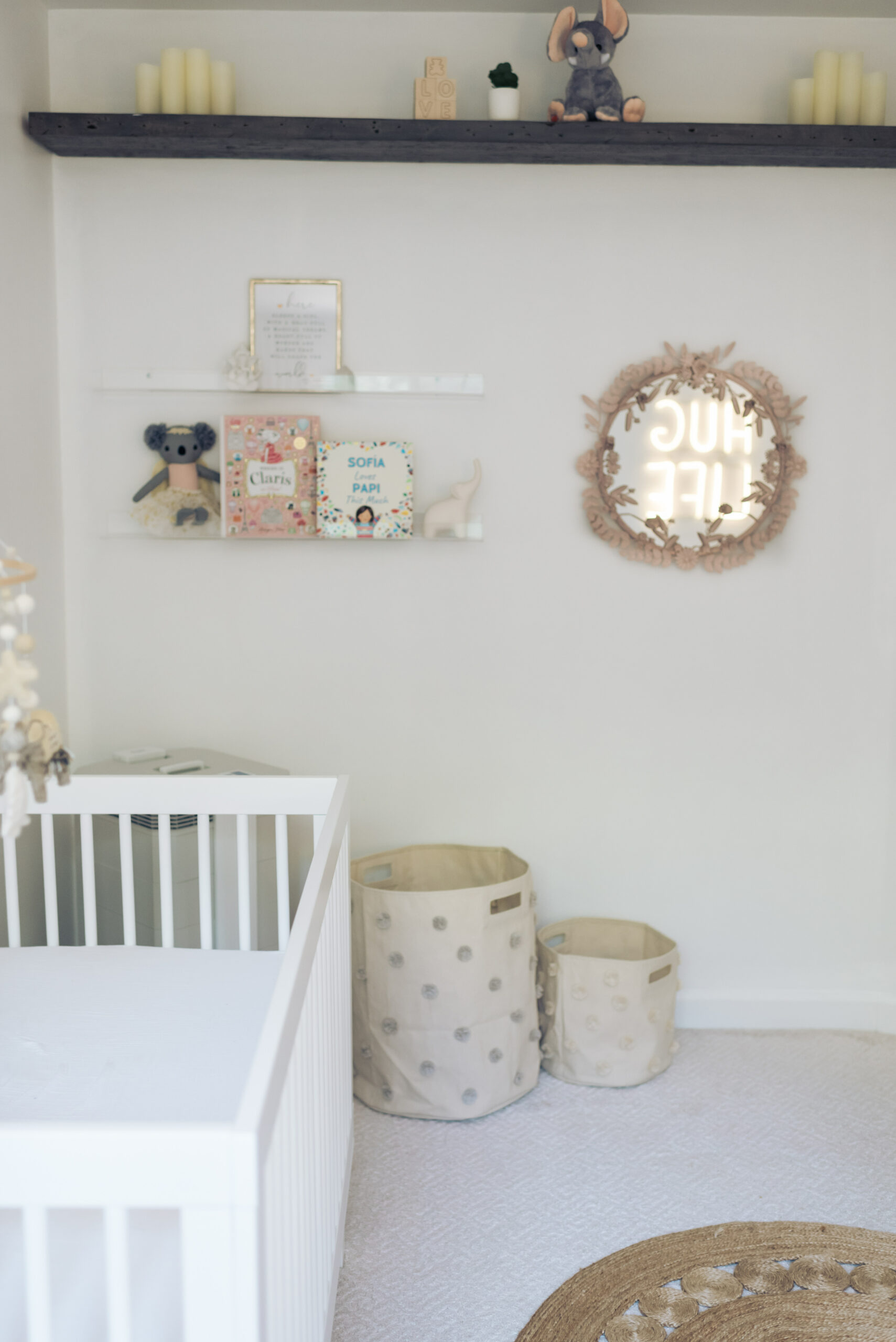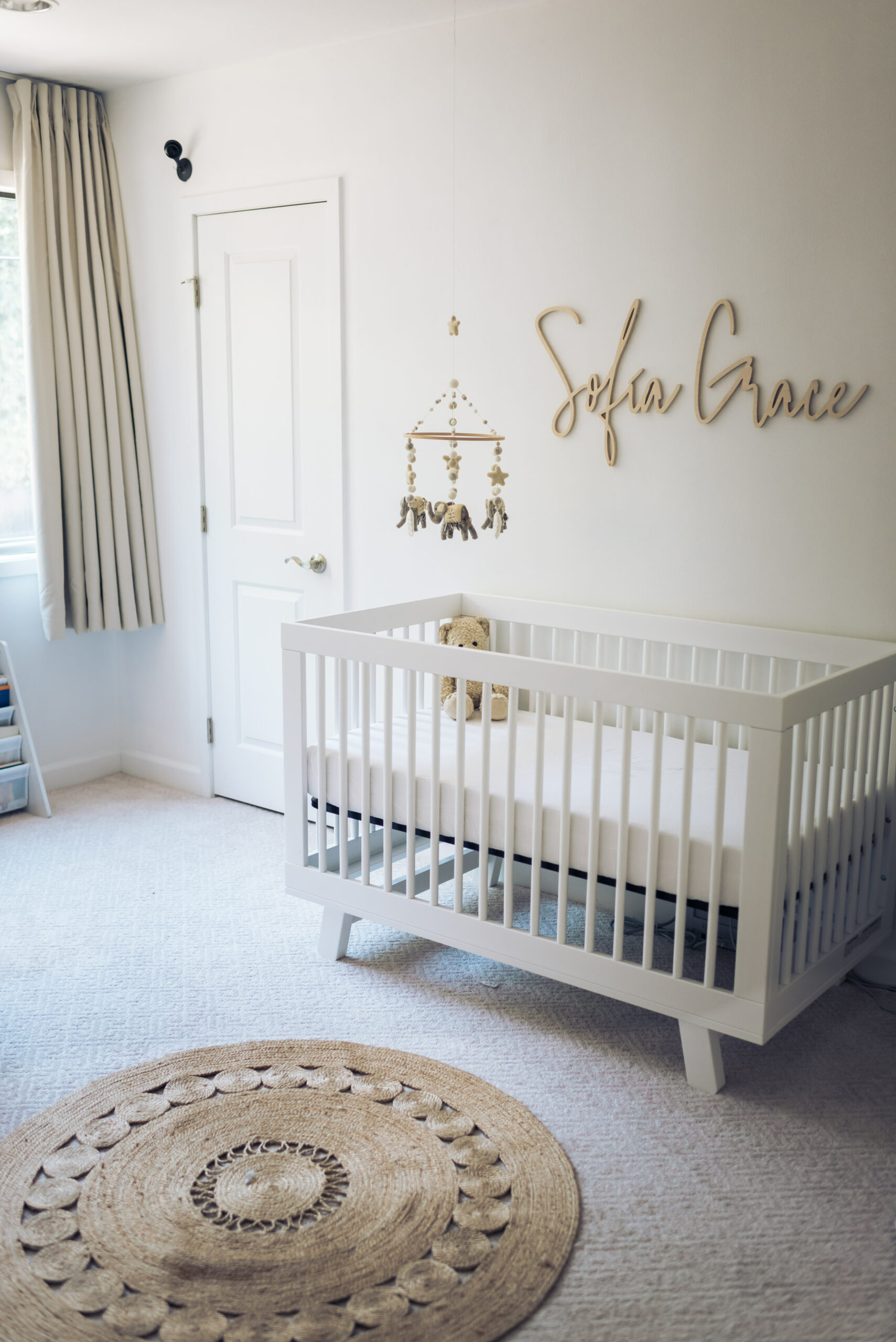 Non-Toxic Nursery Furniture
Babyletto 3-In-1 Convertible Crib & Toddler Bed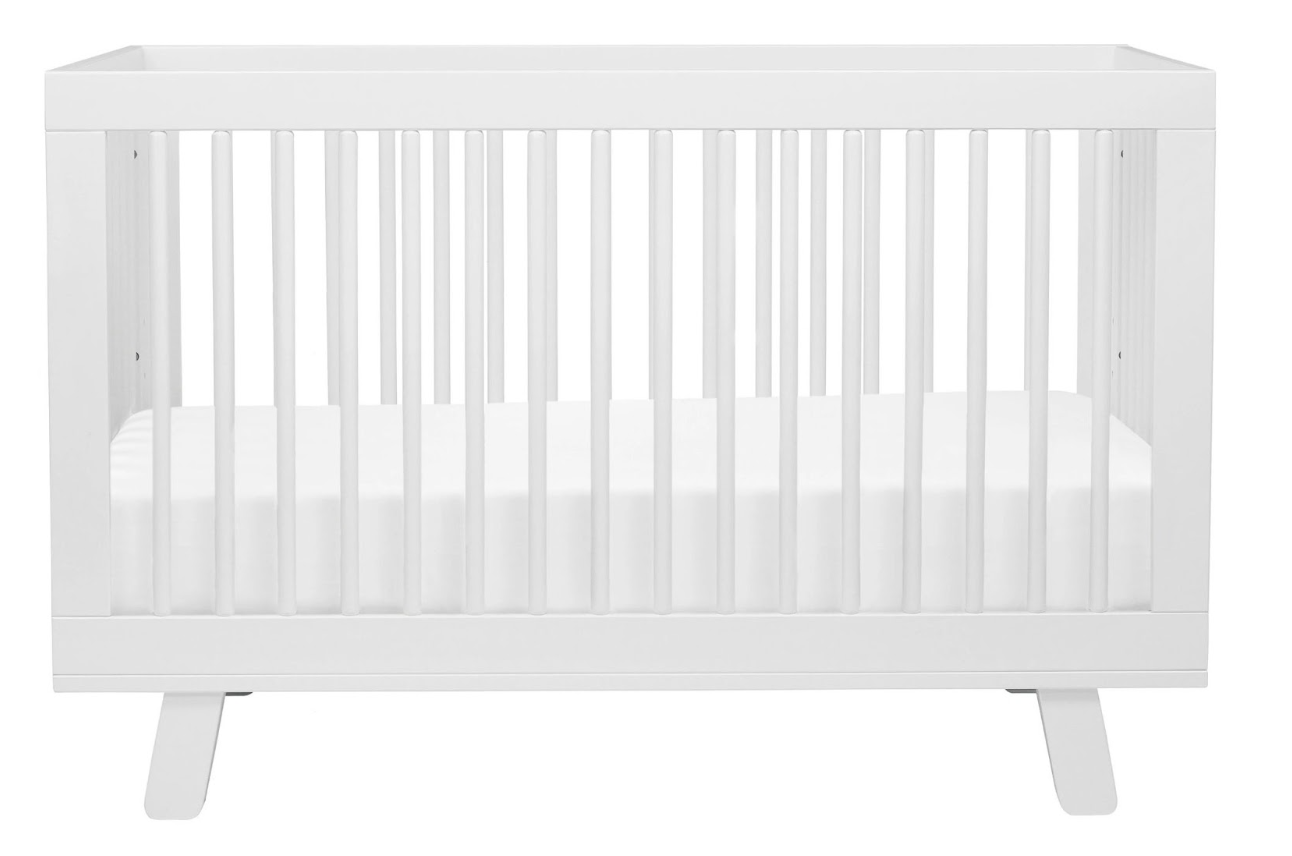 The Babyletto 3-in-1 convertible crib is available in all-white color and features a versatile modern design. This solid wood crib is a GREENGUARD Gold certified baby crib that features turned-out feet and rounded spindles for your little one's safety.
In addition, this crib is designed to grow with your child. It comes with a toddler bed conversion kit to easily transform from a baby crib to a toddler bed.
Product Specifications:
Dimensions: 53.75″ L x 29.75″ W x 35″ H
Weight: 53 pounds
Interior Crib Dimensions: 52″ L x 28″ W
Slat Strength: 135 pounds
Front Rail to Floor Height: 35″
Maximum Height Capacity: Stop using when your baby reaches 35 inches tall or starts to climb out of the crib
Maximum Weight Capacity: 50 pounds
Babyletto Pure Core Crib Mattress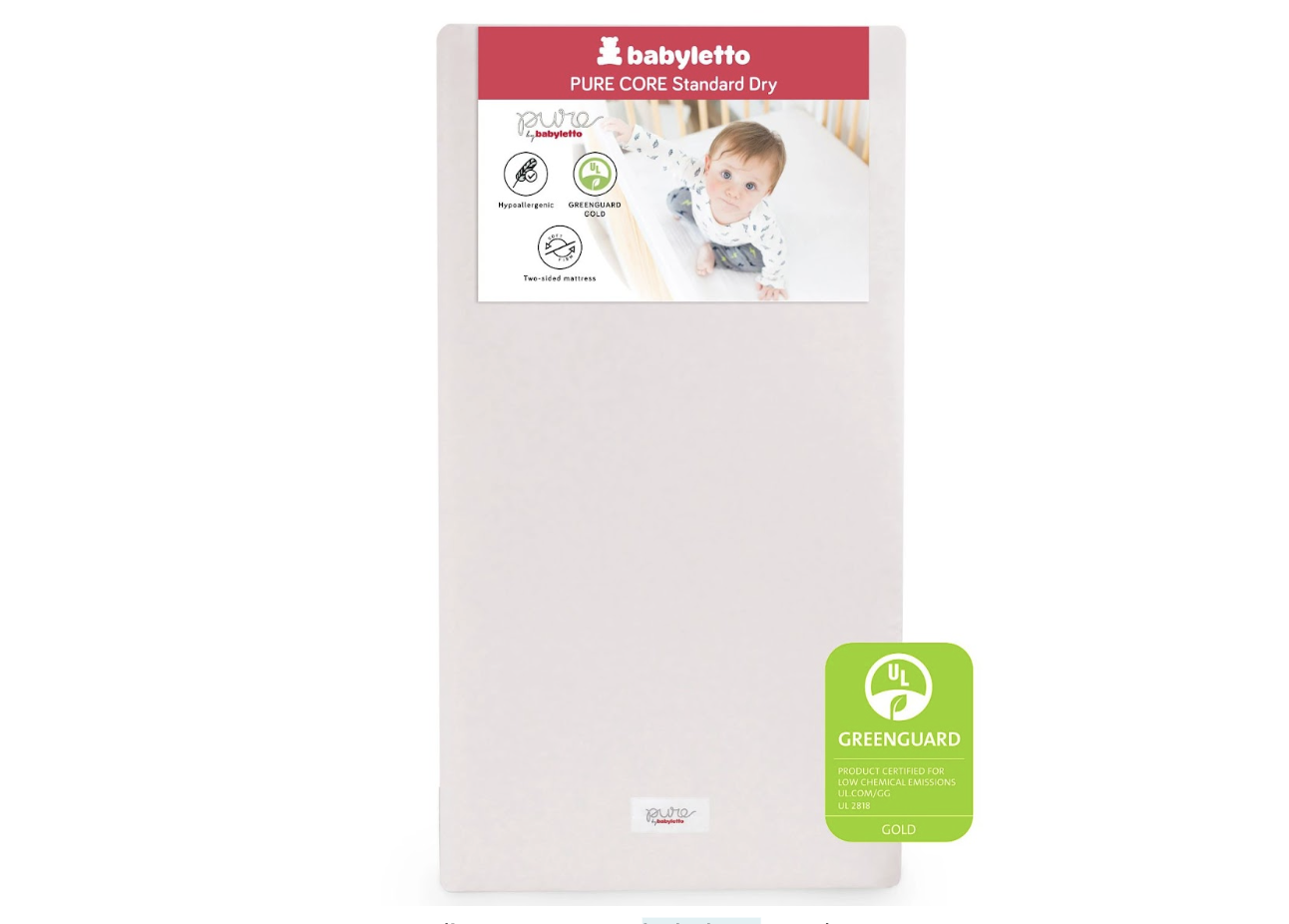 This GREENGUARD Gold certified baby crib mattress features a 2-stage design that'll grow with your little one. The firm side is perfect for your infant, while the soft side is designed for toddlerhood.
The Pure Core crib mattress is made with a dry non-vinyl waterproof cover and soft cotton removable outer layer for your baby's comfort.
What's more, all Babyletto mattresses are made with hypoallergenic materials that are free from chemical flame retardants.
Product Specifications:
Dimensions: 52″ L x 27.75″ W x 5″ H
Weight: 11 pounds
Babyletto 6-Drawer Double Dresser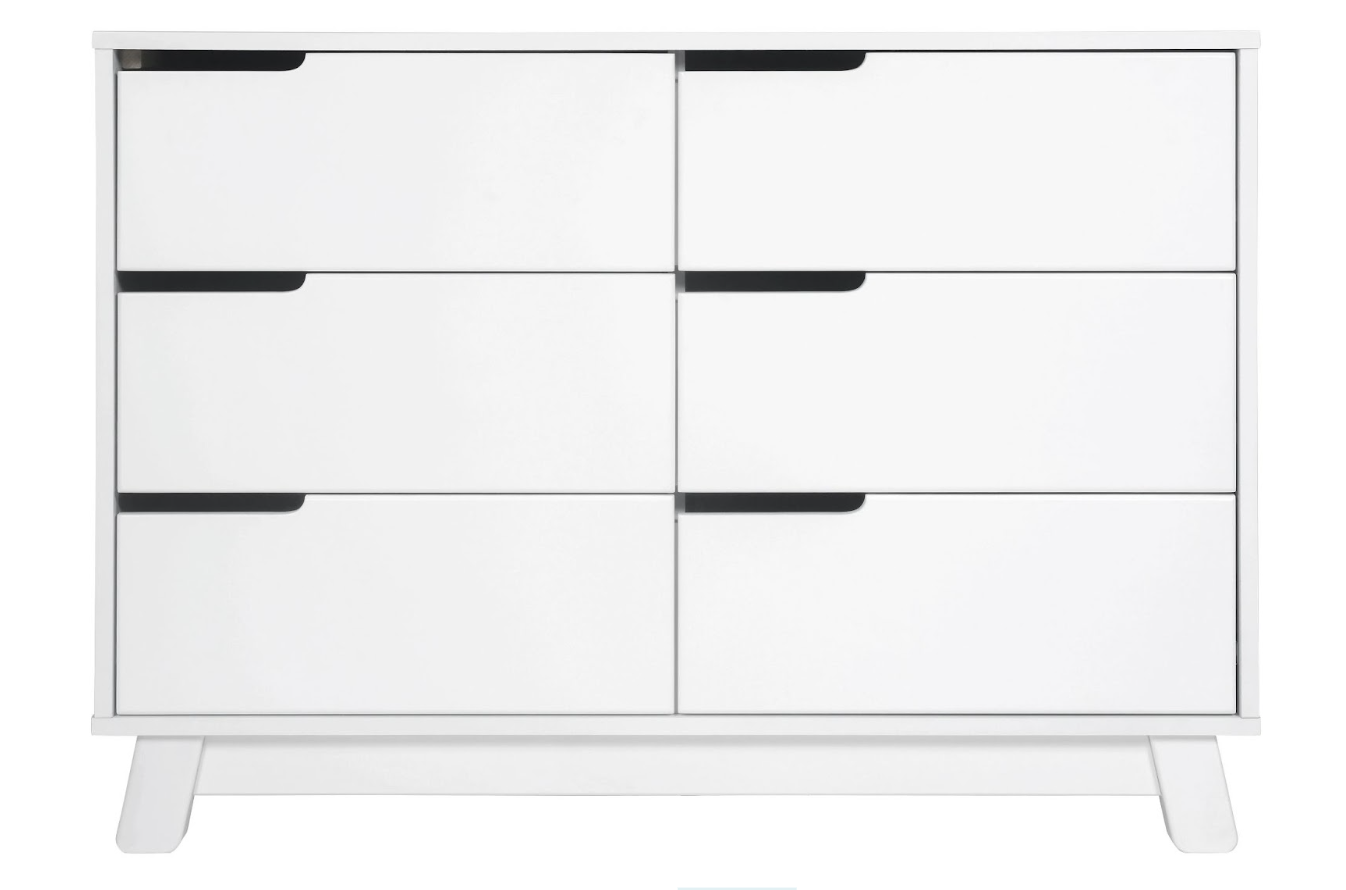 This 6-drawer double dresser from Babyletto pairs perfectly with the 3-in-1 convertible crib. Built with the same high-quality solid wood materials and no VOC white paint, this double dresser features spacious, smooth-glide drawers.
What's more, this GREENGUARD Gold certified modern nursery furniturecomes fully assembled and packed with hidden hardware and an anti-tip kit.
This double dresser measures 48″ L x 19″ W x 34″ H, which fits most changing pads, making it a good alternative to changing tables.
Product Specifications:
Dimensions: 48″ L x 19″ W x 34″ H
Weight: 137 pounds
Interior Drawer Dimensions: 14.75″ D x 21.25″ W x 4.5″ H
Maximum Weight Capacity: 30 pounds
Do You Need A Changing Table For A Baby?
Changing tables make diaper changes easier, but it can be an added cost and could take up more space than necessary. A good alternative is a quality dresser wide enough to fit a diaper changing pad.
Are Changing Tables Safe?
Changing tables are generally safe as long as you keep one hand on your baby at all times. Also, ensure that everything you need for a diaper change is within arm's length, like diapers, wipes, diaper creams, etc.
Can All Dressers Be Used As A Changing Table?
Dressers can be used as changing tables as long as they are wide and long enough to fit changing pads and diaper changing necessities.
How Wide Does A Dresser Need To Be For A Changing Pad?
Standard changing pads measure 33″ L x 17″ W, so choose a dresser that's slightly longer to allow space for diapers, wipes, diaper creams, etc.
How Tall Should A Dresser Be For A Changing Table?
This depends on the parents' height, but most changing tables are 36 inches tall.
Organic Cotton Changing Pad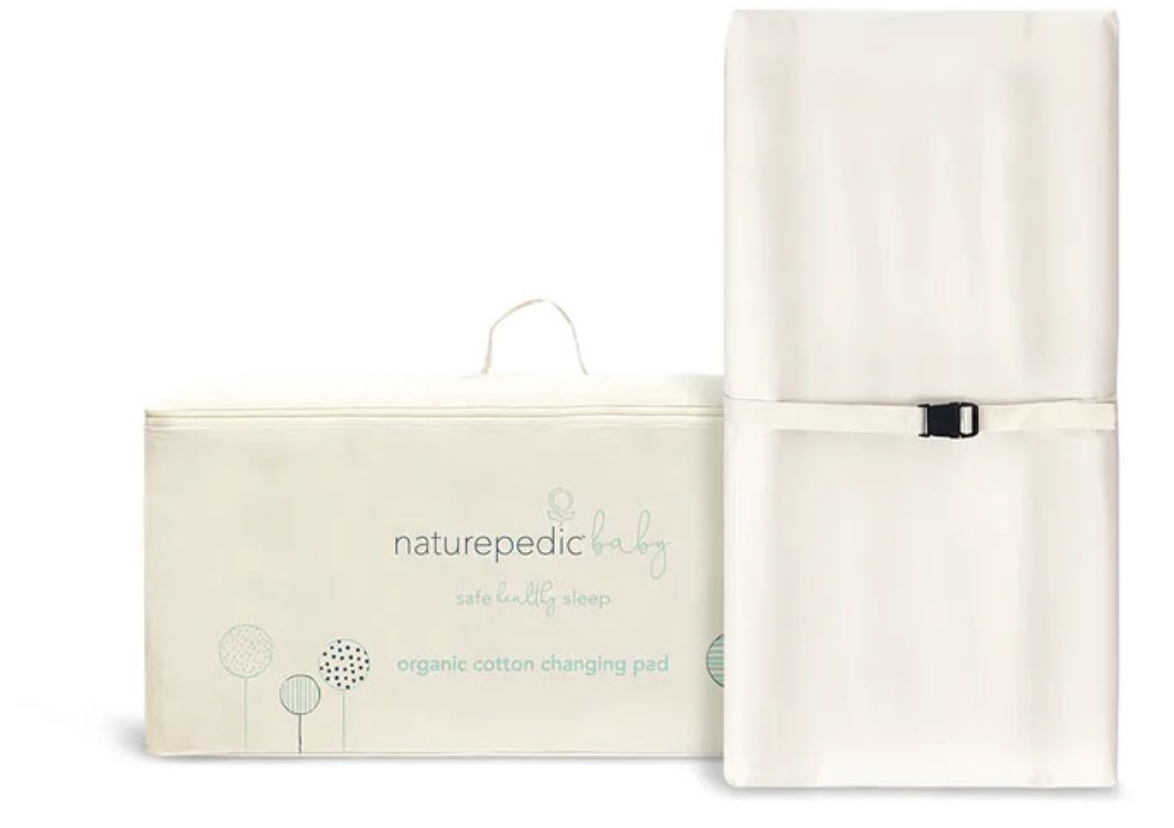 For your little one's sensitive skin, an organic cotton changing pad is best. This one from Naturepedic also comes with a safety strap for your baby's safety and your peace of mind.
This GREENGUARD Gold and GOTS certified changing pad also features a clear food-grade waterproof coating from non-GMO sugarcane. Here's a non-allergenic and easy-to-clean changing pad made with your baby's safety in mind.
Product Specifications:
Dimensions: 16.5″ L x 31.5″ W x 4″ H
Babyletto Electronic Rocking Chair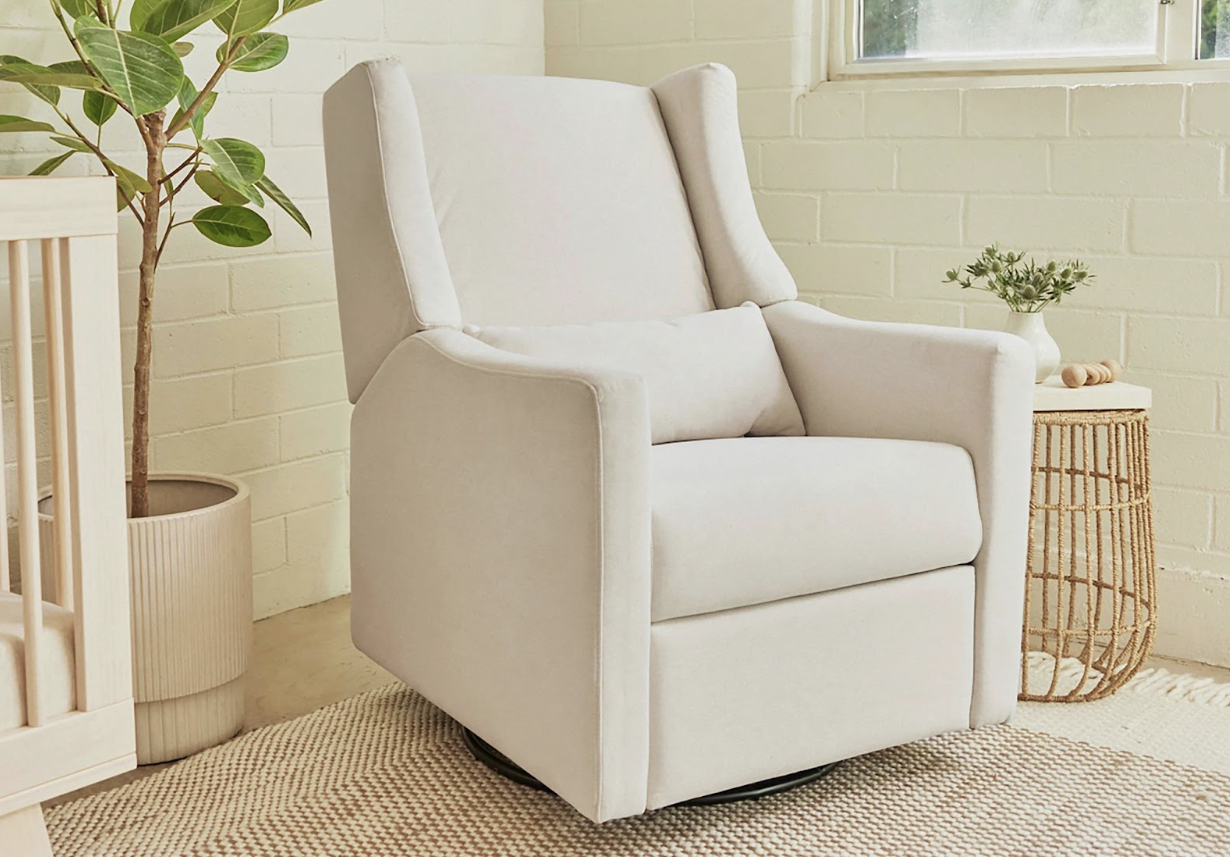 The Kiwi Glider Recliner from Babyletto is an electronic rocker chair that features smooth swiveling, gliding and reclining motions with a push of a button.
Designed with a built-in USB port, the quiet electronic function lets you and your baby enjoy a calming and relaxing experience.
As with all Babyletto products, this rocking chair is stylish, modern, and highly functional furniture made using sustainable materials.
What's more, the upholstery was proudly handmade using water and stain-resistant fabric with 30% recycled yarn.
Product Specifications:
Dimensions: 36″ L x 29″ W x 41″ H
Weight: 123.2 pounds
Seat Dimensions: 22″ D x 21.75″ W
Seat Height: 20.25″ H
Arm Rest to Seat Height: 8″
Seat Back Height: 25.5″
Fully Reclined Length: 64″
Maximum Weight Capacity: 300 pounds
Threshold™ Chase End Table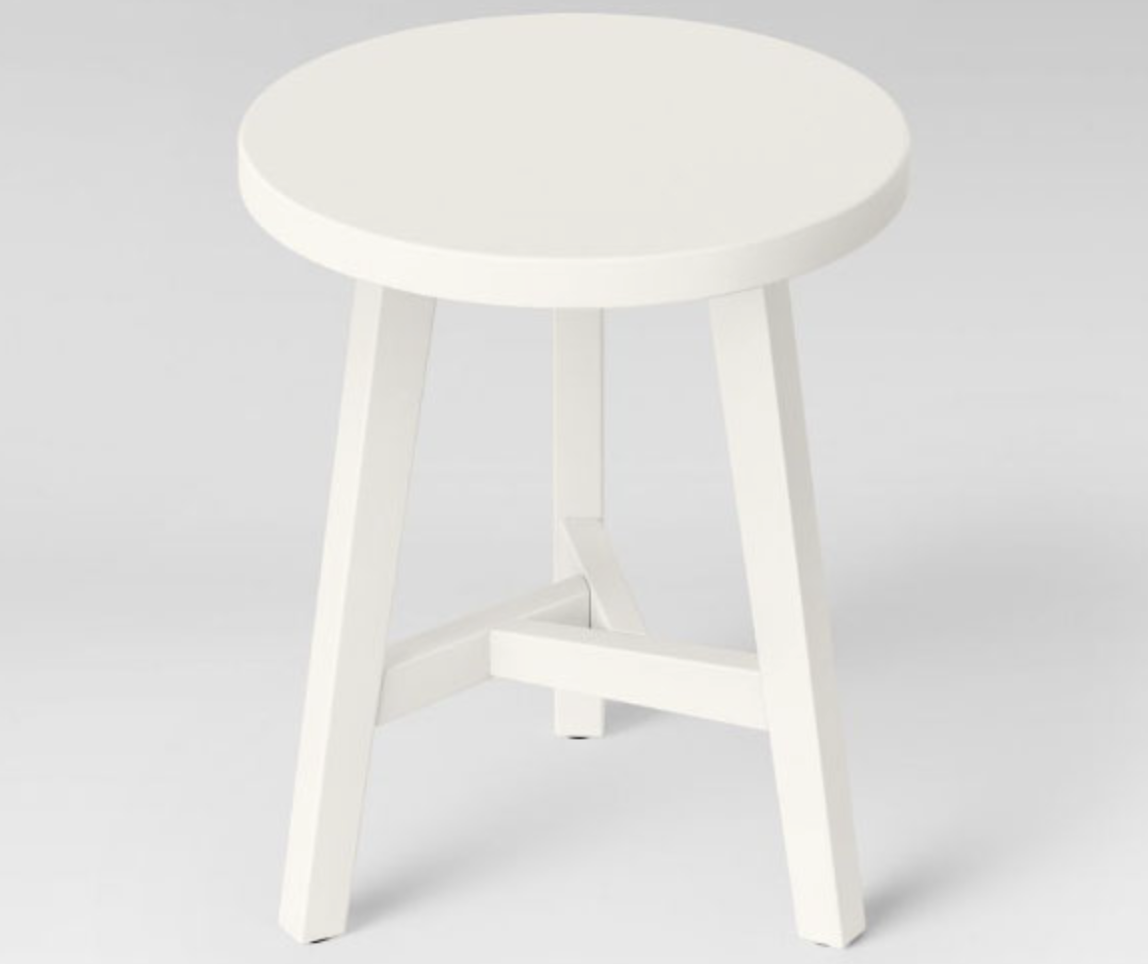 This simple yet stylish end table from Threshold™ is a good addition to your baby's all-white nursery. Featuring a solid wood construction, this end table pairs well with the rocking chair.
It can hold a soft-white bulb lamp, a house plant, or simply a place to put your phone, book, or a hot cup of tea. This end table's versatile contemporary design can also add a pop of color white against an accent wall.
Product Specifications:
Dimensions: 15" D x 18" H
Weight: 4.98 pounds
Tabletop Thickness: 1.25" H
H&M Round Floor Rug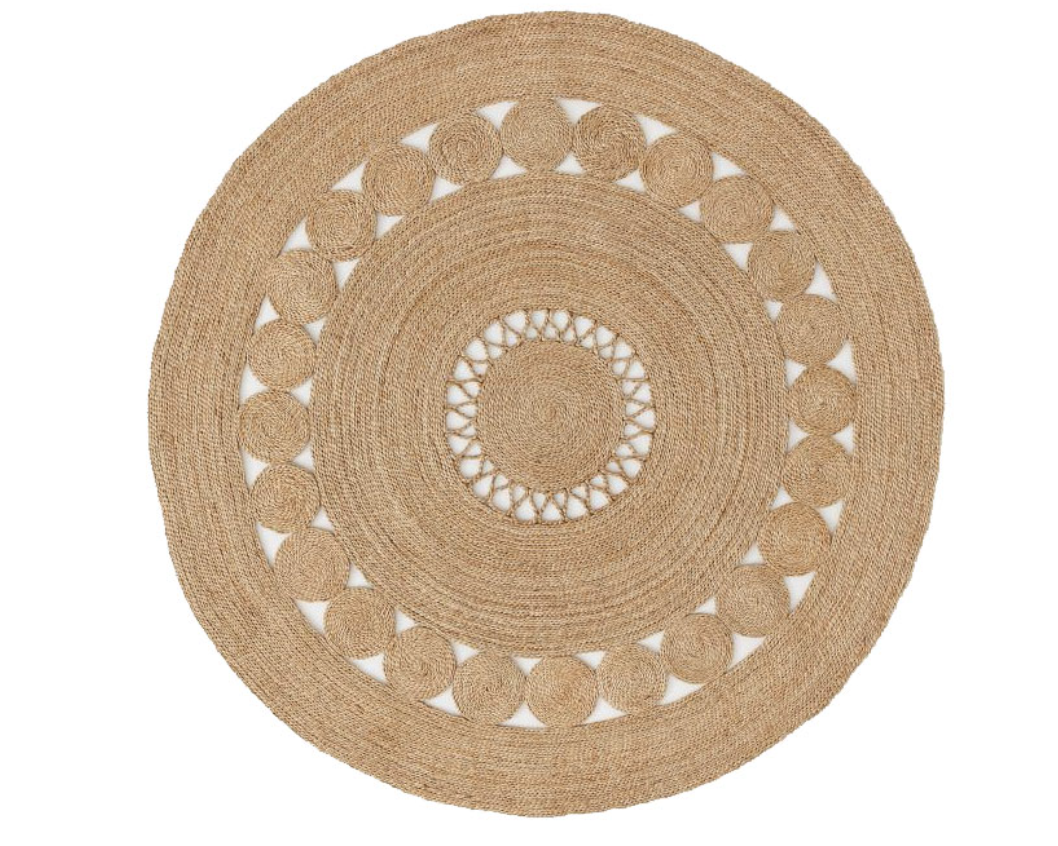 Here's another accent piece from H&M. This round floor rug is made with 100% braided jute–a great addition to your non-toxic baby girl or boy nursery. Enjoy the expert handicraft and sustainable natural fiber of this circular floor rug.
Product Specifications:
Weight: 5.5 pounds
Wooden Name Sign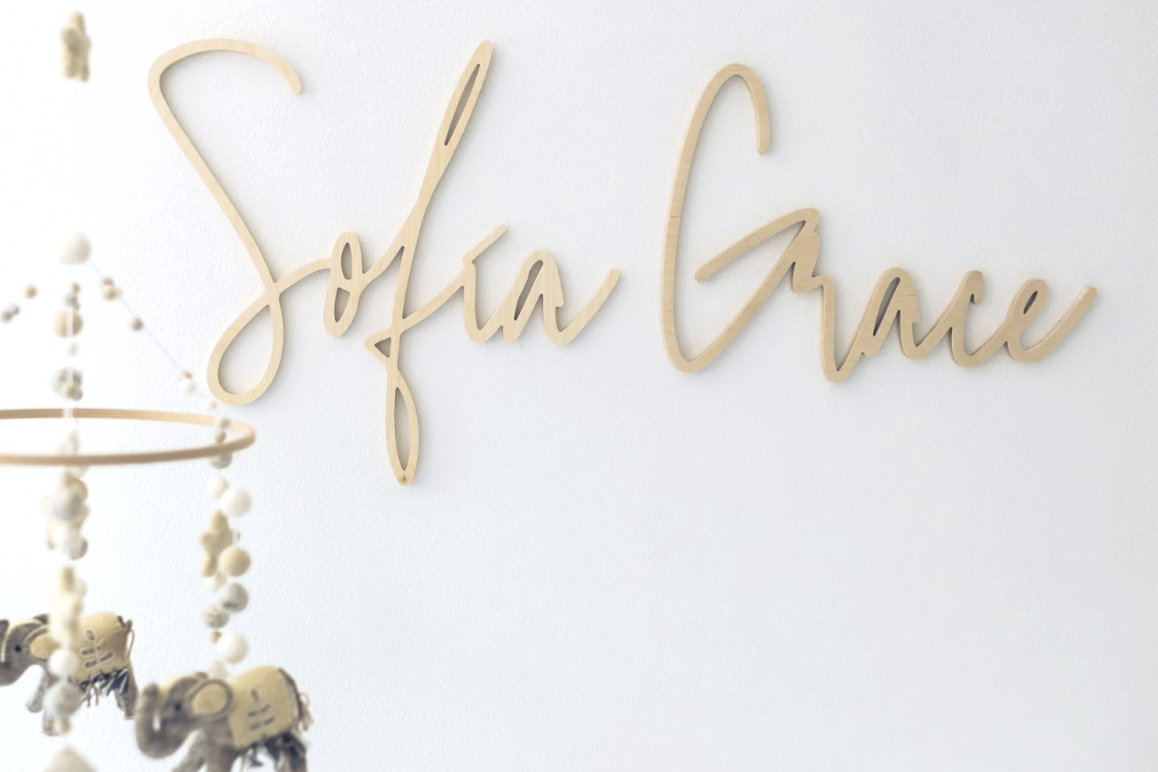 Personalize your baby's space by placing a custom-made wooden name sign on the wall. This wooden name sign from Adoren Studio is made using baltic birch plywood and laser-cut for precise craftsmanship.
Product Specifications:
Thickness: 1.5"
Width: 12" – 54" (depending on preferences)
Height: Depending on the number of letters in the name
Crib Mobile

This elephant crib mobile, from TikTak Design Co., is handmade with 100% wool felt, cotton, wood, and hypoallergenic poly fiber filling.
Perfect for an all-white theme nursery or gender-neutral bedroom idea, this elephant nursery mobile can be customized. Choose between 70 color choices to create any nursery design from boho, retro, pastel colors, or contemporary.
This mobile is intended for decorative purposes only and not as toys.
Product Specifications:
Dimensions: 19" L x 9.8" D
Pink Flower Crown Wall Mirror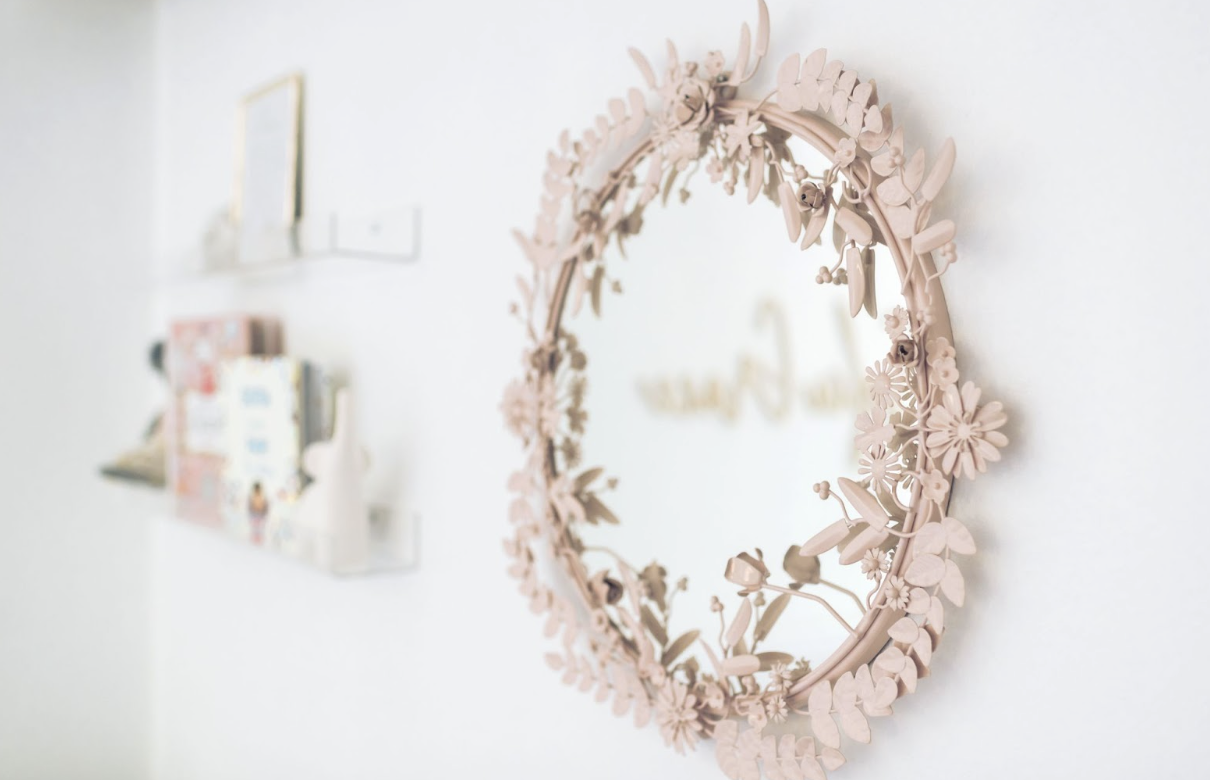 Add feminine elegance to your baby girl's room with this handmade flower crown wall mirror from Crate & Kids.
This round mirror features a hand-sculpted and hand-welded iron floral frame with a hand-finished matte pink powder coat finish.
Product Specifications:
Dimensions: 30" D x 2.25" W
Backing: Engineered wood
Includes: Mounting hardware and instructions
HUG LIFE LED Sign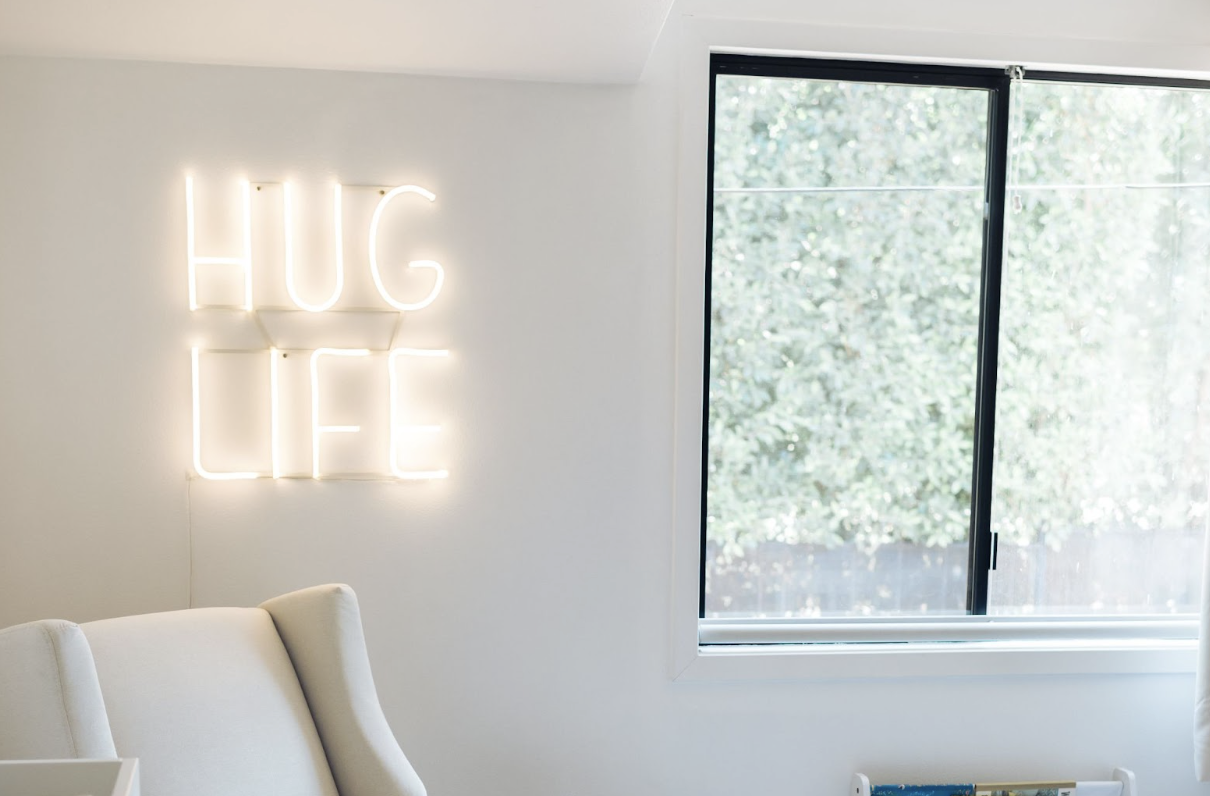 Here's a fun and playful wall decor option perfect for the kid's bedroom filled with hugs and cuddles. This wall-mounted, handmade LED light sign is the perfect finishing touch for any nursery or playroom. Find it at Crate & Kids.
Product Specifications:
Overall Dimensions: 0.5" L x 21.5" W x 22.75" H
Weight: 2.25 pounds
Lettering: 8″ H
Cord: 8' L
Pehr Pom Pom Storage Bins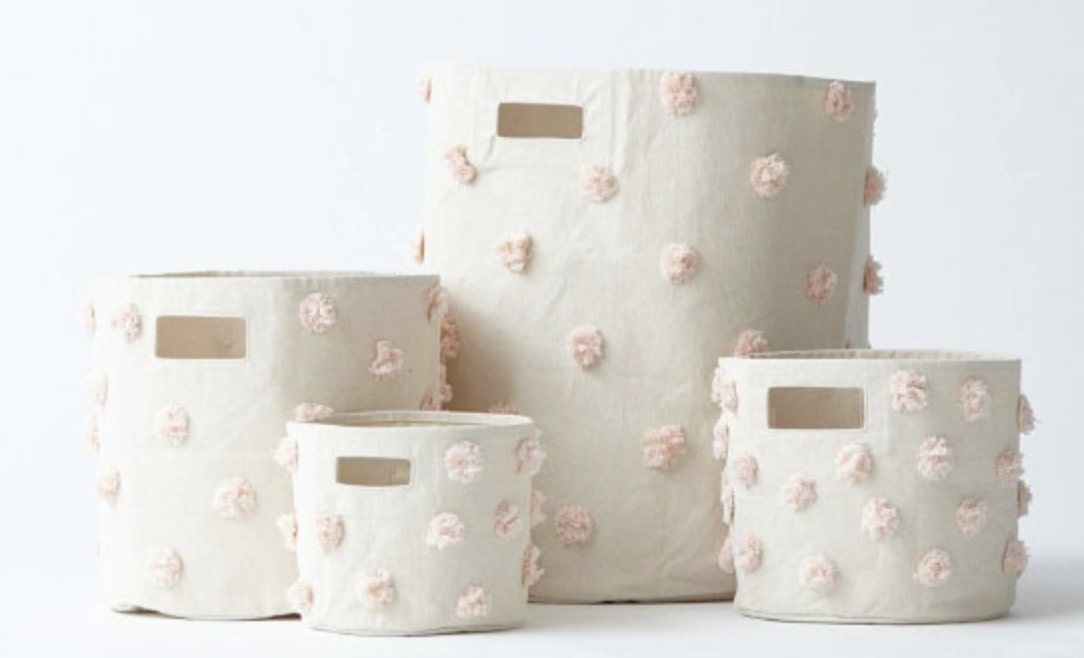 Tidy up in style with these pom pom storage bins from Pehr. These storage bins are perfect for keeping your little one's toys or as the grown-ups' catch-all basket.
Ethically made with 100% cotton canvas, these durable storage bins are a great addition to your non-toxic nursery.
Product Specifications:
Dimensions: 13" D x 12" H
H&M Bear Storage Basket With Lid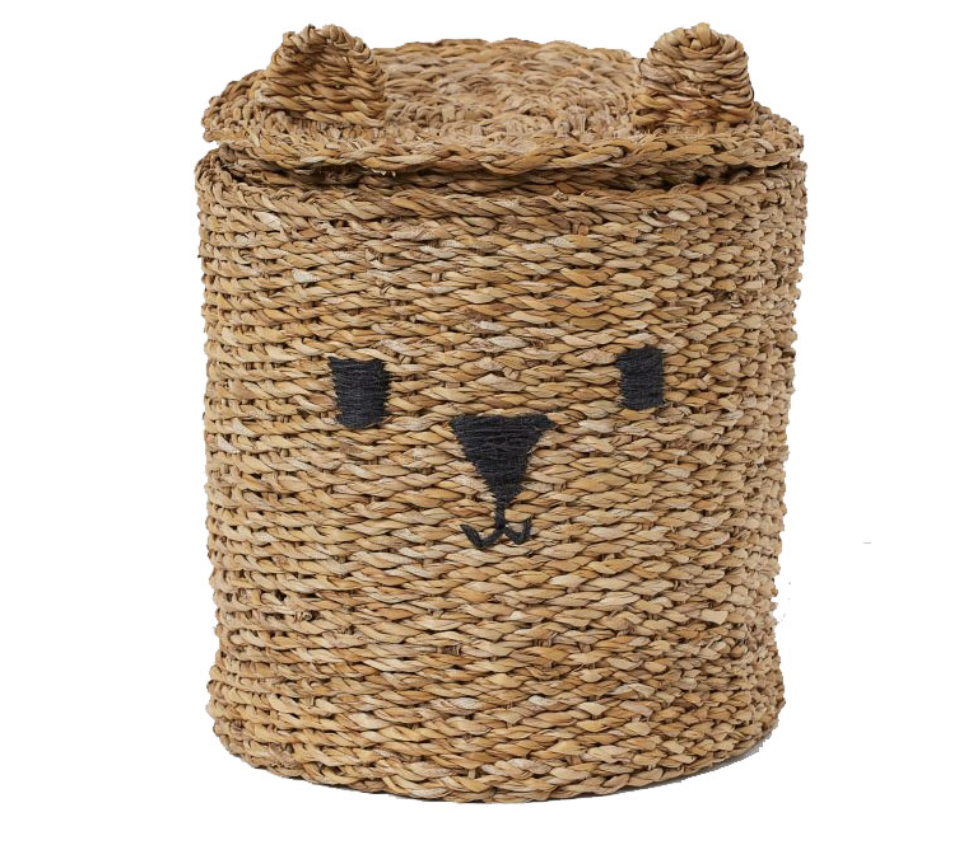 This cute bear storage basket from H&M is made with 100% braided seagrass with bear ears handles and an embroidered bear face design. This natural dried grass color can be a good statement piece against a white wall.
Product Specifications:
Dimensions: 9.25" D x 9.5" H
Organic Crib Sheets & Baby Blankets
Babyletto
Coyuchi
Burt's Bees
Serena & Lily
Pottery Barn Kids
Pickle and Pumpkin
Organic Changing Pads
Babyletto
Naturepedic
Oeuf
Non-Toxic Bouncer Seat Brands
Non-Toxic Bookcase Brands
Non-Toxic Toy Storage
Non-Toxic Nursery Decor
The Tot
Fiona Walker England
Teamson
Nontoxic Crib Mobiles
Non-Toxic Paints
Here are some VOC-free paint brands:
ECOS Paints Lullaby Nursery Collection
AFM Safecoat Paint
Clare Paint
Benjamin Moore Natura
Non-Toxic Co-Sleeper & Bedside Sleeper
Some bedside sleepers to consider:
Non-Toxic Gym & Playmats
Baby playmats to consider:
Organic Baby Wraps & Carrier
Organic Baby Clothes
PACT Organics
Finn & Emma
Giggle
Carter's
Colored Organics
Non-toxic Laundry Detergent
Attitude
Babyganics
ECOS
Forever New
Healthybaby
Mrs. Meyers
Noodle and Boo
Puracy
Seventh Generation
The Laundress
Vitacost
Third Trimester Checklist: Other Baby Essentials
Here are more baby-friendly products and brands to tick off your trimester checklist:
Swaddles & Sleep Sacks
Aden & Anais
The Woombie
Miracle Blanket
Halo
Shampoo & Body Wash
Earth Mama
BabyTime!
Babo Botanicals
Elave
Honest
Nursing Pillow
Breastfeeding mamas will greatly benefit from a good quality nursing pillow.
Nook Niche
Blessed Nest
Boppy
Twin Z
Infantino
My Brest Friend
Leachco
NuAngel
Luna Lullaby
Bbhugme
Nipple Cream
Nipple cream is another must-have for breastfeeding mamas.
Earth Mama
Honest
Bamboobies
Mommyz Love
Era Organics
Medela
Lansinoh
Diaper
Disposable or washable, babies will need lots of diapers.
Disposable Diapers & Wipes
Water wipes
Honest
Seventh Generation
Washable Diapers
Esemblybaby
Green Mountain Diapers
Babee Greens
GroVia
Little Spruce Organics
Diaper Cream
Soothe diaper rash discomfort with organic diaper rash creams from these brands:
Green Goo
Earth Mama
Boudreaux
Badger
Other Baby Gifts
For big-ticket gifts like car seats, strollers, and other baby essentials, it's best to set up a baby registry to let people know about your preferences.
Why Choose Non-Toxic Nursery Furniture
Toxins are harmful to both children and adults. However, infants and younger children are more sensitive to harmful chemicals. This is because their bodies are still developing and still unable to detoxify. (12)
Specifically, babies' blood-brain barrier is still underdeveloped. This central nervous system structure blocks chemicals from the bloodstream to the neural tissue. (12)
These toxic chemicals are all around us–in the clothing, furniture, devices, and more. This is why it's important to choose the most natural materials, especially in the nursery. (12)
Toxic Red Flags To Avoid
Formaldehyde
Formaldehyde is a strong-smelling yet colorless chemical. It's used in engineered wood products, like particleboard, fiberboard, and plywood. It's also used in glues and adhesives, paper coatings, permanent-press fabrics, and insulation materials. (13)
Flame Retardants
Flame retardants are chemicals to prevent or slow fire. It is commonly applied in household and industrial products like upholstery, foam, mattresses, curtains, and carpets. It's also found in electronic and electrical devices and wires. (14)
BPA & Phthalates
BPA or Bisphenol A can be found in hard, clear plastic products like baby bottles. Phthalates are used to create soft plastic products, like PVC (vinyl) and food packaging. It's commonly found in fragrances for beauty and skincare products. (15)
Parabens
Parabens are synthetic preservatives used in cosmetic products. (16)
Sulfates
Sulfates are salts with sulfur commonly used in batteries, detergents, and personal care products. (17)
VOCs & SVOCs
VOCs or Volatile Organic Compounds and SVOCs or Semi-Volatile Organic Compounds are chemicals that release an off-gas smell into the indoor air. (18)
These chemicals are found in paints, varnishes, adhesives, carpets, vinyl flooring, composite wood, upholstery, and foam. They are also found in air fresheners, cleaning solutions, cosmetics, and gasoline. (18)
PFAS Chemicals
PFAS or per- and polyfluoroalkyl substances are toxic chemicals found in waterproof jackets, nonstick pans, carpets, and firefighting foam. These chemicals are also used in waterproof mascaras, eyeliners, shampoo, sunscreen, and shaving cream. (19)
Lead
Lead can be found in paint, soil, drinking water, toys, jewelry, cosmetics, and certain types of food. (20)
Petrolatum
The EU (European Union) classifies petrolatum as a carcinogen. It's a mineral oil jelly (petroleum jelly) that locks moisture in the skin, which can contain PAHs or polycyclic aromatic hydrocarbons. PAHs have been associated with cancer. (21)
EMFs
EMFs or Electric and Magnetic Fields are commonly referred to as radiation. EMFs can be found in radio frequencies, microwave ovens, visual light, computers, wifi, cell phones, Bluetooth devices, and power lines. (22)
Others
Chlorine or bleach, dyes, and fragrances.
What Should You Not Buy For A Baby?
According to U.S. News, here are baby products you shouldn't buy for your new baby: (23)
Inclined Sleepers
Inclined sleepers have been recalled due to recorded infant deaths. (24)
Loose Crib Bedding & Bumpers
Cribs with blankets, pillows, bumpers, and loose beddings are unsafe for infants. (24)
Baby Loungers
Baby loungers and sleep positioners can be a suffocation risk for infants. Nursing pillows are also dangerous when used other than for breastfeeding. (23)
Baby Shoes
Cute but unnecessary.
Wipe Warmers
Wipe warmers can promote fungi and bacteria growth due to the wet and warm environment it creates. (23)
Crib Tents & Low-Hanging Crib Mobile
If not attached properly, these could fall on your baby and can be choking, strangulation, and suffocation hazards. (23)
Infant Walkers
The AAP (American Academy of Pediatrics) has reported infant injuries associated with this product. (25)
Changing Table
A practical alternative to pricey changing tables is dressers with a flat surface. These dressers should be big enough to securely hold a changing pad on top.
Used Car Seats
Used car seats may not adhere to the latest safety standards. Consider buying a new car seat instead for your baby's safety and your peace of mind.
Drop-Side Crib
Drop-side cribs have been banned by the CPSC (U.S. Consumer Product Safety Commission) due to reported infant deaths. (26)
Regulating Bodies For Safe Baby Products
CPSC (U.S. Consumer Product Safety Commission)
CPSC aims to monitor and restrict consumer products that pose an unreasonable risk of injuries and deaths. They enforce standards and ban dangerous consumer products to keep families safe. (27)
JPMA (Juvenile Products Manufacturer's Association)
JPMA advocates high-quality and safe baby and children's products. It's a comprehensive source of safety information and education for parents when buying baby products. (28)
USDA (U.S. Department of Agriculture)
USDA is recognized for its leadership in consumer safety. Its regulations are vast and cover food, agriculture, nutrition, natural resources, and safe production process. (29)
FDA (U.S. Food and Drug Administration)
FDA regulates food, medicines and medical devices, cosmetics, and radiation-emitting products, to name a few. (30)
Non-Toxic Baby Product Safety Sites To Visit
Children's Environmental Health Network
Healthy Babies, Bright Future
Madesafe
Safer Chemicals, Healthy Families
The Environmental Working Group
Women's Voices For The Earth
REFERENCES
(1) https://www.ul.com/insights/what-does-greenguard-certified-mean
(2) https://www.buffalo.edu/administrative-services/managing-facilities/environment-and-safety/right-to-know-training/how-chemicals-enter-the-body.html
(3) https://www.wilsoncenter.org/publication/growing-leaded-environment-lead-pollution-and-children-china
(4) https://www.cdc.gov/nceh/lead/prevention/sources.htm
(5) https://greenseal.org/guide-to-vocs-in-paint-and-cleaning-products/?gclid=
(6) https://www.americanchemistry.com/industry-groups/center-for-the-polyurethanes-industry-cpi/workplace-health-and-safety
(7) https://www.ams.usda.gov/grades-standards/organic-textiles
(8) https://global-standard.org/?gclid=
(9) https://certifications.controlunion.com/en/certification-programs/certification-programs/gols-global-organic-latex-standard
(10) https://infantsee.aoa.org/Affiliates/InfantSEE/Documents/Blue-Light-Impact-in-Children.pdf
(11) https://www.energystar.gov/ia/new_homes/features/MechVent_062906.pdf
(12)https://www.uniteforsight.org/environmental-health/module2
(13) https://www.cancer.org/cancer/cancer-causes/chemicals/formaldehyde.html
(14) https://www.niehs.nih.gov/health/topics/agents/flame_retardants/index.cfm
(15) https://doh.wa.gov/sites/default/files/legacy/Documents/Pubs//210-090E_BPAandPhthalates.pdf
(16) https://www.fda.gov/cosmetics/cosmetic-ingredients/parabens-cosmetics#what_are_parabens
(17) https://oehha.ca.gov/air/chemicals/sulfates
(18) https://www.health.state.mn.us/communities/environment/air/toxins/voc.htm
(19) https://earthjustice.org/features/breaking-down-toxic-pfas?gclid=CjwKCAjwjZmTBhB4EiwAynRmD20oi-CV3HvBZuw18jG4h6bIYwNd1QMsfHgn-Z6y3CauWr8IyA_qyBoCW98QAvD_BwE
(20) https://www.cdc.gov/nceh/lead/prevention/children.htm
(21) https://davidsuzuki.org/living-green/dirty-dozen-petrolatum/
(22) https://www.niehs.nih.gov/health/topics/agents/emf/index.cfm
(23) https://money.usnews.com/money/personal-finance/family-finance/slideshows/baby-products-you-should-never-buy
(24) https://www.cpsc.gov/SafeSleep
(25) https://publications.aap.org/pediatrics/article/142/4/e20174332/37420/Infant-Walker-Related-Injuries-in-the-United
(26) https://www.cpsc.gov/Newsroom/News-Releases/2010/CPSC-Issues-Warning-on-Drop-Side-Cribs32-Fatalities-in-Drop-Side-Cribs-in-Last-9-Years
(27) https://www.cpsc.gov/About-CPSC
(28) https://www.jpma.org/page/about
(29) https://www.usda.gov/our-agency/about-usda
(30) https://www.fda.gov/