Overview
Indoor air can be two to five times (sometimes 100x) more polluted than outdoor air, according to studies made by the EPA (U.S. Environmental Protection Agency). (1)
These high levels are alarming, considering that most people spend 90% of their time indoors. Also, children and babies breathe more air in proportion to their body weight (compared with adults). (1)
EPA recommends the following to reduce chemical exposure: (1)
Reducing the source of indoor airborne pollutants
Maintaining acceptable temperature and relative humidity levels
Introducing and maintaining adequate outdoor air (or better ventilation)
Because babies are more susceptible to the harmful effects of pollutants and indoor air quality issues, it's important to determine and eliminate the possible pollutant sources in your baby's nursery.
One way to improve indoor environments is to use GREENGUARD Certified products and building materials tested and verified to have low chemical emissions, especially VOCs (volatile organic compounds).
What Does GREENGUARD Gold Certified Mean?
GREENGUARD Certified products have been tested to have low chemical emissions, especially VOCs such as formaldehyde.
These chemicals are responsible for the scent you might notice on mattresses, your baby's new crib, or new flooring.
Is GREENGUARD Gold Legit?
Yes. It's a standard recognized worldwide. GREENGUARD certification is granted by a third-party, industry-independent non-profit organization recognized globally.
UL Environment acquired the GEI (GREENGUARD Environmental Institute) in 2011, so "GREENGUARD Certification" also means the same as "UL GREENGUARD Certification." (2)
Products can display the GREENGUARD logo but are also tested yearly to maintain their certification.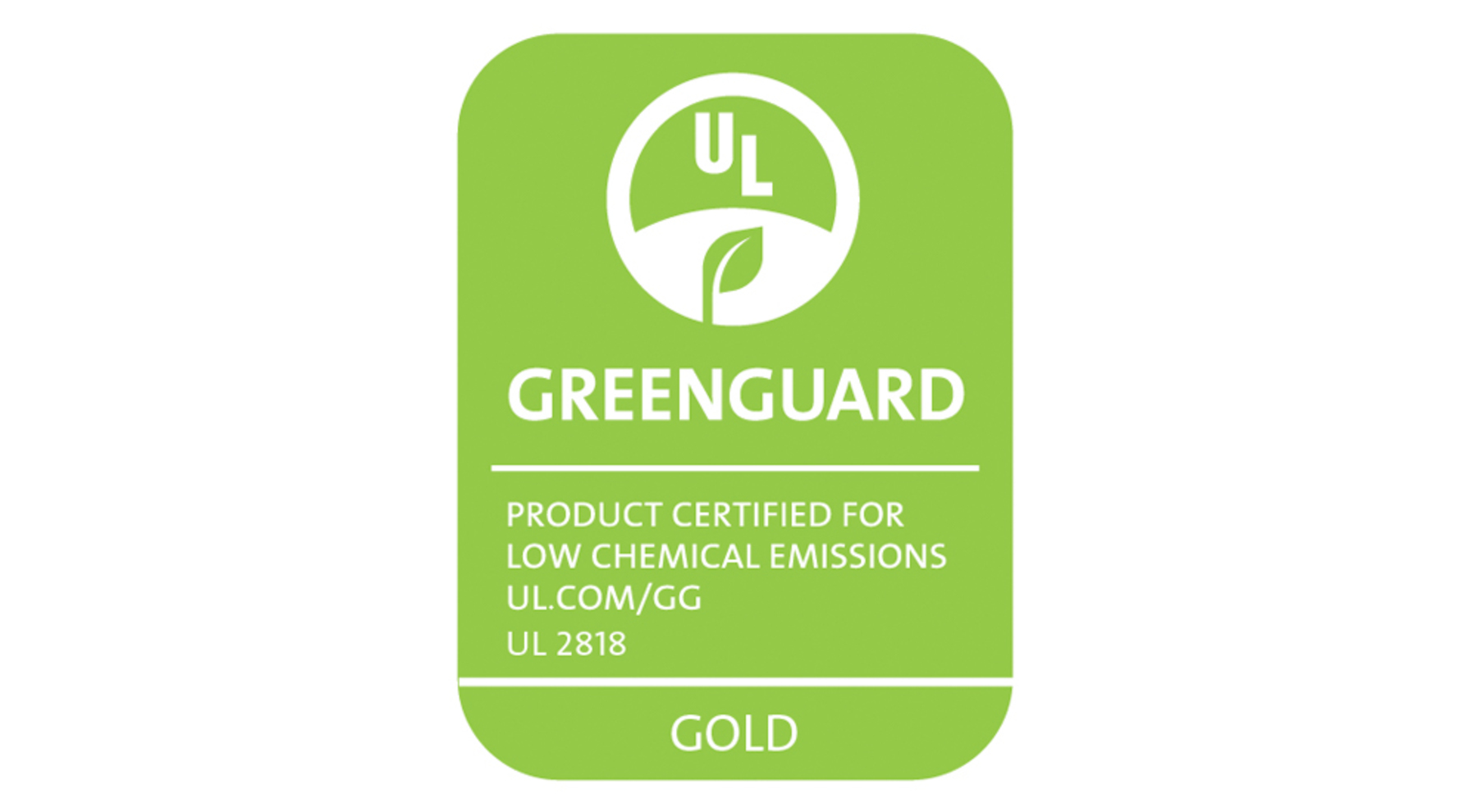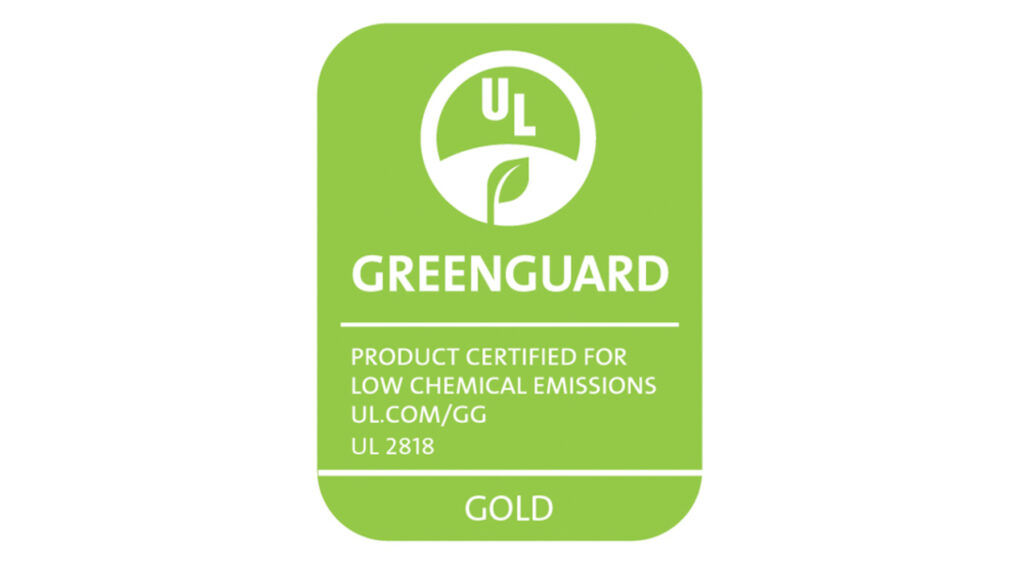 Product Safety Testing: GREENGUARD Vs. GREENGUARD Gold Standards
Under the GREENGUARD certification program, products are placed inside polished stainless steel compartments called "dynamic environmental chambers." Using these special testing chambers is the same as the standard testing methods by California's Department of Public Health. (3)
The chemical emissions from these products are tested against the 10,000+ emission standards until they reach a steady emission rate. The total VOC concentrations or levels determine the certification type the product receives.
GREENGUARD Certification
Any product with GREENGUARD certification meets the industry standards for low emissions, making them ideal for use in indoor spaces.
However, for the products you use at home and especially for the nursery and your children's activity area, GREENGUARD Gold-certified items might be a better choice.
GREENGUARD Gold Certification
It started as the "GREENGUARD Children and Schools Certification Program," created to grant indoor air quality certification to schools, daycares and preschools, hospitals, and other healthcare facilities.
It was renamed "GREENGUARD Gold" to include a broader product range.
This stricter standard is granted to sustainable products with even lower VOC levels than those met by GREENGUARD-certified products.
Formaldehyde Tests
GREENGUARD-certified products are tested for formaldehyde, a chemical that can trigger asthma or cause nasopharyngeal cancer. (4)
Products with low VOC emissions (less than the 50 ppb* emission limit) are granted GREENGUARD certification, while those within 7.3 ppb are given the higher rating: GREENGUARD gold.
*ppb means parts per billion
Does GREENGUARD Gold Test For Lead?
No. GREENGUARD certification doesn't test for chemicals such as lead and other heavy metals that don't significantly cause indoor air pollution or those that significantly impact air quality. (5)
However, these chemicals are still harmful when ingested or absorbed through the skin. So it's important to choose lead-free nursery furniture, toys, and other baby gear.
Possible harmful effects of lead exposure: (6)
Anemia (the lack of enough healthy red blood cells to bring enough oxygen to the body's tissues)
Behavior and learning problems
Lower IQ
Hyperactivity
Slowed growth and development
Does GREENGUARD Test For Phthalates?
The standard GREENGUARD certification doesn't test for phthalates, a chemical that can affect your baby's reproductive health. (5)(7)
If you're concerned about phthalates, opt for GREENGUARD Gold certification, which tests for this specific chemical.
Products Tested For GREENGUARD Certification
The UL GREENGUARD Certification Program tests these product types:
Furniture, building materials, and furnishings (different products, not just those for your baby's nursery)
Cleaning and maintenance products
Medical devices for breathing gas
Electronic equipment
Do Products Need Certifications?
The Science Of Chemical Emissions
Regular household items can have chemical emissions from VOCs in the materials used for manufacturing. These chemicals present in these materials slowly break down at room temperature, emitting these gasses in a process called "off-gassing."
Although many VOCs have a specific scent you can recognize (such as the smell of a new mattress or wooden crib), others are also odorless.
Can VOCs Make Us Sick?
Poor indoor air quality can lead to short- and long-term effects, especially for babies and adults with sensitivities to certain chemicals: (1)
Eye irritation
Coughing
Sneezing and sinus congestion
Eye irritation
Nose irritation
Shortness of breath
Aggravation of asthma and/or other respiratory illnesses
In rare cases, highly polluted indoor air can contribute to life-threatening conditions, including carbon monoxide poisoning and Legionnaires disease (a severe form of lung inflammation or pneumonia). (1)
What Should Chemically Sensitive People Look For?
Some people are more susceptible to the bad effects of poor indoor air quality: (1)
Babies
Those with allergies, asthma, chemical sensitivities, or respiratory diseases
Those with suppressed immune systems (from chemotherapy, radiation, etc.)
Wearing contact lenses
In rooms and products designed for babies and chemically sensitive people, it's important to check for the following chemicals:
Flame Retardants
Government regulations require manufacturers to meet certain standards to ensure that their products have a decreased ability to ignite.
However, the flame retardants used in the past had toxic chemicals that can remain persistent in the environment for many years and cause harm to people: (8)
Avoid products with the following flame retardants: (8)
Brominated flame retardants
OPFRs (Organophosphate flame retardants)
PBDEs (Polybrominated diphenyl ethers)
HBCD (Hexabromocyclododecane)
TBBPA (Tetrabromobisphenol A)
Formaldehyde & Other VOCs
These chemicals can trigger asthma or cause nasopharyngeal cancer. (4)
Regulations On Chemicals That Aren't VOCs
Phthalates
These chemicals can affect your baby's reproductive health. (5)(7)
Mercury, Lead, and Other Heavy Metals
The 2021 issue on heavy metals in baby food enlightened many parents about the presence of these toxic chemicals. But heavy metals can also be found in nursery furniture and your baby's toys.
These heavy metals can cause cancer, heart diseases, behavioral disorders, respiratory problems, and neurocognitive disorders. (9)
Always check the label to ensure you're only buying products free from these toxic heavy metals.
Pros & Cons Of GREENGUARD Certification
Pros & Benefits: How Important Is GREENGUARD Gold Certified?
Aside from sustainability, the products with GREENGUARD Gold certification offer reduced risks of chemical toxicity in indoor spaces.
Choosing GREENGUARD Gold-certified products can offer peace of mind knowing that the item:
Has been screened for 10,000+ chemicals and VOCs
Can be safe for sensitive individuals
Has lower emissions
Doesn't have off-gassing
Is GREENGUARD Certified Safe? Cons & Downsides
GREENGUARD certification doesn't automatically mean that a product is 100% safe. Seeing the logo might give some parents a false sense of security.
Even the GREENGUARD gold certification doesn't check for chemical contents. Instead, these tests focus on chemical emissions. (10)
So, in choosing products for your baby's room and your home, don't just check for the GREENGUARD Gold logo. It's also important to check for lead, PVC (polyvinyl chloride), flame retardants, and other chemicals that can potentially harm your baby.
You can also contact the manufacturer or brand to ask for their products' chemical content and emission details. It might be better to choose those willing to disclose these to their customers.
VOC-Free & No-VOC Products Can Still Emit VOCs
These products can still emit VOCs at very low emission levels of around 0-0.29%. (11)(12)
Products For Your Kids' Rooms & Schools
Nursery Furniture
Knowing that babies are more susceptible to the harmful effects of toxic chemicals, we recommend GREENGUARD gold-certified nursery furniture(cribs, mattresses, bookcases, toy boxes, etc.).
Babyletto products
Colgate Baby products
Tuft & Needle products
Naturepedic products
Flokk products
Strollers & Car Seats
Other Baby Gear & Essentials
Furniture For Schools
Ways to Control & Minimize Indoor Chemical Pollutants
Choose safe furniture pieces & accessories
Open the windows
Use an air purifier
Use an exhaust fan
Install an air quality monitor
Decorate with plants
FAQs
Can Plants Absorb VOCs?
Yes. Certain plants can remove chemicals, including VOCs and cancerous benzene, from indoor air: (13)(14)
Plants in the Ficus genus (such as the rubber tree)
Dracaena plant
Bromeliad plant
Why Is There No Certification For Vinyl Flooring?
Studies show that chemical emissions from vinyl flooring can be stable and no longer a source of indoor air contamination after 10 days of installation. (15)
However, VOCs aren't the only chemicals that can cause harm to humans. The PVC (polyvinyl chloride) content of vinyl flooring and similar products is often the cause of concern.
PVC contains different dangerous chemical additives which can be toxic to your child's health: (16)
Phthalates
Heavy metals like lead and cadmium
Organotins (organic material with tin)
These chemicals can evaporate or leach out over time, posing invisible dangers.
Other Product Safety Certifications
CARB
The CARB (California Air Resource Board) established the legally allowable VOC levels (17)
The standard is used not just in California but also in other products for national distribution
OSHA
OSHA means "Occupational Safety and Health Administration"
OSHA tests for VOCs and other toxic or hazardous air contaminants (18)
Floorscore
Tests for around 35 VOCs
Used for flooring materials
Green Seal
Follows California's VOC legal limits
Green Label Plus
Meets or exceeds California's indoor quality standards by testing 35 compounds and certifying low-emitting products
CertiPUR
For certifying polyurethane foam
Limit for total VOCs: 0.5 ppm (parts per million)
GOTS Certified
GOTS means "Global Organic Textile Standard"
Certification for textiles, fabrics, clothes, mattresses, and personal hygiene products
All products are certified organic and produced in safe working conditions
OEKO-TEX Standard 100 Certified
Another certification for textiles
It tests for 100+ toxic and harmful chemicals
GOLS Certified
GOLS means "Global Organic Latex Standard"
Used for latex products, including farming and manufacturing practices
REFERENCES
(1) https://www.epa.gov/iaq-schools/why-indoor-air-quality-important-schools
(2) https://www.cleanlink.com/sm/article/UL-Environment-Acquires-GREENGUARD-Certifications–12844
(3) https://cdn.scsglobalservices.com/files/program_documents/cdph-iaq_standardmethod_v1_2_2017.pdf
(4) https://www.ncbi.nlm.nih.gov/pmc/articles/PMC2854792/
(5) https://www.nontoxu.com/certifications/non-toxic-certifications-what-do-they-mean
(6) https://www.epa.gov/lead/learn-about-lead
(7) https://noharm-uscanada.org/issues/us-canada/phthalates-and-dehp
(8) https://www.niehs.nih.gov/health/topics/agents/flame_retardants/index.cfm
(9) https://pubmed.ncbi.nlm.nih.gov/30941546/
(10) https://zerotoxics.com/ztkb/certifications/greenguard
(11) https://www.chemoxy.com/about-2/knowledge-hub/what-is-low-voc/
(12) https://ecospaints.net/low-voc-paint-vs-no-voc-paint
(13) https://www.acs.org/content/acs/en/pressroom/newsreleases/2016/august/selecting-the-right-house-plant-could-improve-indoor-air-animation.html
(14) https://www.ncbi.nlm.nih.gov/pmc/articles/PMC5480428/
(15) https://pubmed.ncbi.nlm.nih.gov/10431652/
(16) https://www.state.nj.us/humanservices/opmrdd/health/pvc.html
(17) https://ww2.arb.ca.gov/our-work/programs/coatings/architectural-coatings/voc-limits
(18) https://www.osha.gov/laws-regs/regulations/standardnumber/1910/1910.1000TABLEZ1