Overview
Are you looking for baby boy nursery themes for your little one's room? We've compiled some of our favorite interior design themes for your little man.
While looking for the right nursery design, there are some factors that you need to consider.
For example, you might want to think about whether your little boy will share it with a sibling or if future babies will also use the nursery.
If that's the case, you might consider a neutral color scheme so you can easily convert it into a baby girl nursery without major renovations.
Below you'll find different baby boy nursery themes, including neutral options. We'll also discuss the other factors to consider in styling your new baby's nursery below.
Top 20 Baby Boy Nursery Inspirations
1. Woodland Nursery Room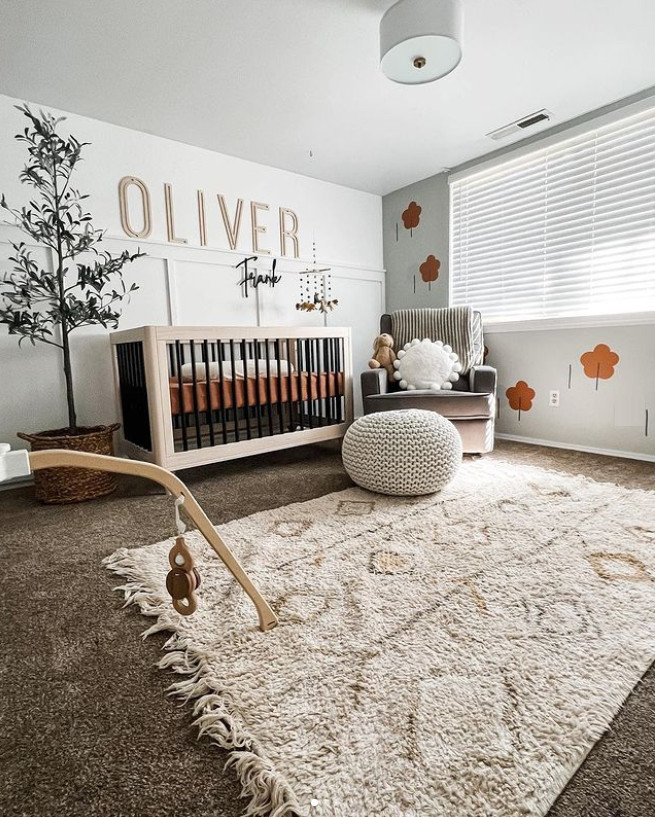 A woodland theme is popular among little boys, and it's easier to decorate because many baby furniture companies offer natural wood products.
You can style this kids' room with furniture, bedding, curtains, and rugs in earth tones. Tree paintings or tree-styled bookcases would be perfect for this kind of nursery.
But don't be afraid to add pops of color to your woodland nursery.
2. White Nursery
Our editor-in-chief's non-toxic, all-white nursery is one of the best examples of this theme, thanks to the Babyletto GREENGUARD Gold Certified nursery furniture pieces that have been thoroughly tested for chemical emissions.
It's not that we're playing favorites, but having a white theme can make it easier for you to decorate if you're going after a gender-neutral nursery.
White furniture pieces, such as a white crib or glider, are easier to find because most furniture companies offer products in white, black, or natural wood colors.
Plus, white can match just about anything, so you don't have to worry about the paint colors clashing with each other.
3. Animal-themed & Safari Nursery
It's fun to have animals in your baby's nursery and playroom. This option is also popular because it's easy to find animal-themed paintings, wallpapers, wall decals, crib beddings, and other stuff you can add to your room decor.
There are plenty of options to buy from online shops like Amazon, including stuffed toys that can also double as room decor and accessories in your little man's room.
4. Blue Nursery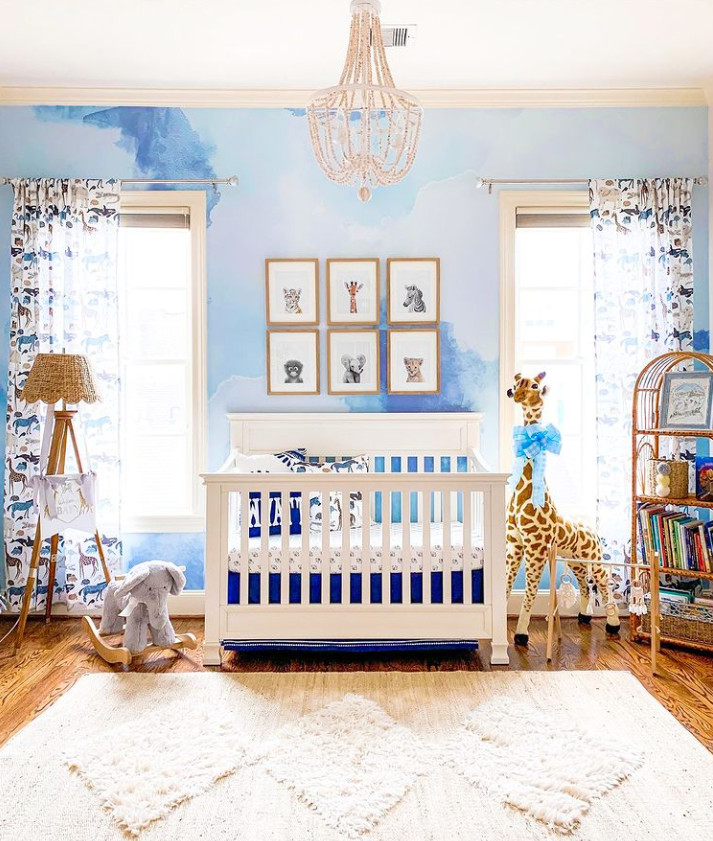 If pink is among the most common colors for a baby girl nursery, it's usually blue for boys (green and yellow are often considered neutral).
Of course, these aren't absolutes because pink paint colors can still be used for a boy's room and blue for a girl's nursery.
As you can see in the photo, you can have several themes in one nursery. This blue boy's room also has a safari theme.
It's up to you to mix and match items to create a fun-filled baby boy room.
5. Boho Nursery
A boho nursery features earth tones and is usually a gender-neutral room.
Although it shares a similar color palette as the woodland theme, the boho nursery theme is more into a brown and grassy look, while the woodland theme leans more into green and trees.
6. Minimalist Nursery
Perhaps the easiest to decorate, the minimalist nursery doesn't need a lot of decorations.
It has the bare essentials and some decor, such as your baby's name and a few shelves, but you keep most of the nursery walls and floors clutter-free.
You can pick any paint color, but most rooms with this theme have monochromatic walls.
7. Hot Air Balloons & Sky-themed Nursery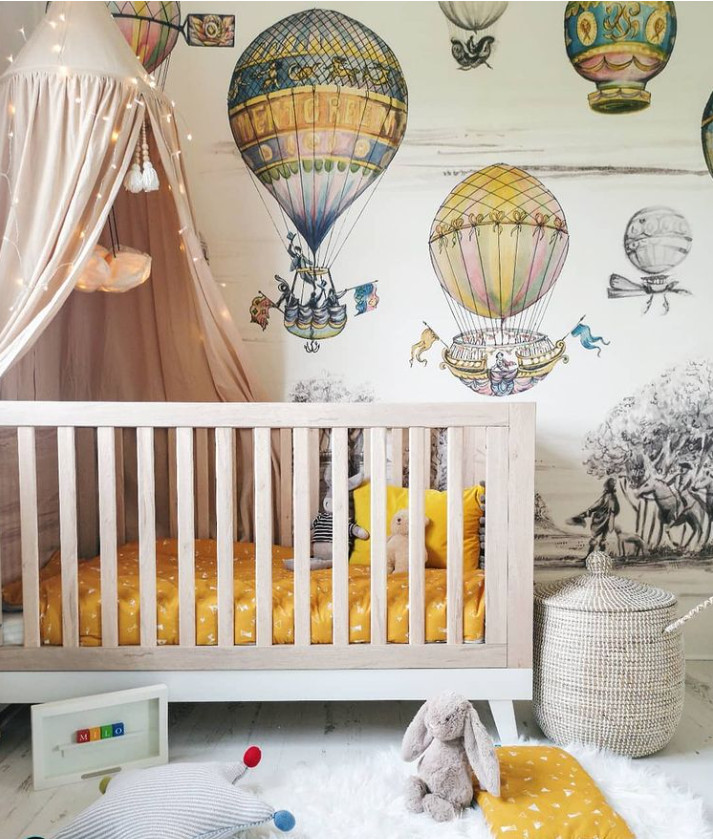 The sky and hot air balloons are synonymous with adventures. These can be a fun theme for a baby boy room.
If you can't find someone to paint a mural, you can opt for wall decals or even printed photos and sketches you can frame.
8. Space-themed Baby Boy Nursery
Many boys' rooms have an adventure theme, and for many, space is the ultimate adventure destination.
Space-themed baby rooms can have a dark sky ceiling, so you can put some glow-in-the-dark stars or use star projectors to create the effect.
Another option is to paint the walls with a mural of the planets, although wall decals would also be nice.
If you're into DIY, a hanging solar system planetarium model might be a fun addition to your little boy's nursery.
9. Gender-neutral Nursery Room Ideas
Many of the themes on our list are gender-neutral options, but other options not listed here can include:
Pastel nursery
Colorful nursery with geometric shapes
Gray nursery
Yellow nursery
10. Polka Dots & Modern Nursery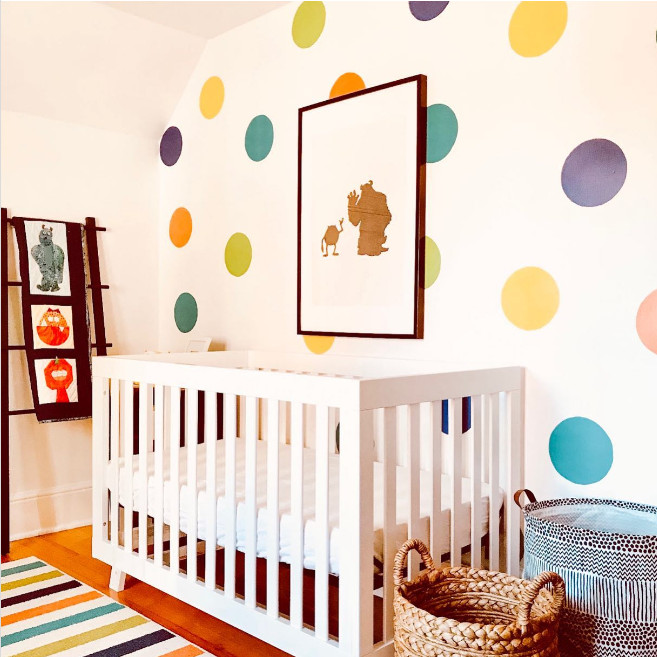 Polka dots can be a fun way to introduce different colors to your baby boy's nursery. These are also easy DIY options to create on the nursery walls.
Like the photo above, you don't have to fill the entire room in polka dots. A white crib can nicely match the other colorful parts of the room.
11. Black-and-White Nursery
Some parents choose to stay away from black because it seems like a sad color for a nursery. However, when mixed with white, black can actually look funand sleek.
For this to work, it's best to choose more white than black in decorating the room. So, you can pick white walls with black accents or a white room with black furnishings.
Toys and crib beddings can bring pops of color to this room without breaking the theme.
12. Explorer & Travel-inspired Nursery
Jumpstart your little man's adventures with an explorer and travel-inspired nursery. You can hang framed photos featuring tourist spots or put maps on the walls.
This theme will also be perfect if you have some souvenirs from your vacations and overseas trips.
There are lots of nursery decor you can pick with this theme, including ones printed with a compass, map, travel bags, vintage cameras, etc.
13. Racing & Car-themed Nursery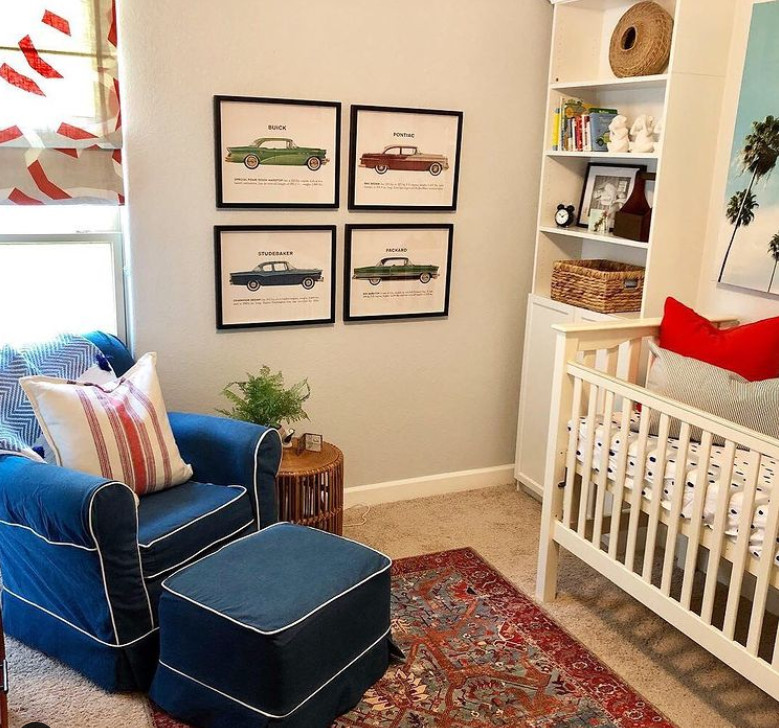 Some people might say that boys and cars are nearly synonymous. So, it's not surprising that racing and car-themed nurseries are popular for baby boys.
Framed car photos and racing wall decals are some fun options for this theme. Some furniture companies even offer car-themed beds, but those are usually for older kids. These can be a nice addition to a shared sibling and baby room.
14. Farmhouse-themed Nursery
Even if you don't live on a farm, having some sheep and other farm animals in your baby's nursery can be a cute addition.
Plus, it can also be an early educational experience for your little one as they're exposed to cute animals whose names they can slowly learn as they grow older.
You can have a farm mural painted on the accent wall or choose brown walls and furnishings. Farm animal plushies and toys are easy to find. They can be cute accessories in your baby boy's nursery.
15. Outdoor-themed Nursery
Another way to fill your nursery with adventure is to create an outdoor theme with mountains or lakes painted on the walls. You can also pick one accent wall to paint with this theme so it won't be too overpowering.
A makeshift teepee or tent-like canopy could be a nice addition to an outdoor-themed nursery. But be careful with real tents because of the possible choking or strangulation risks.
Outdoor toys for 1-year-olds also make a great accessory for this nursery theme but avoid using those that are too big for the room or already used outdoors.
16. Dinosaur-themed Nursery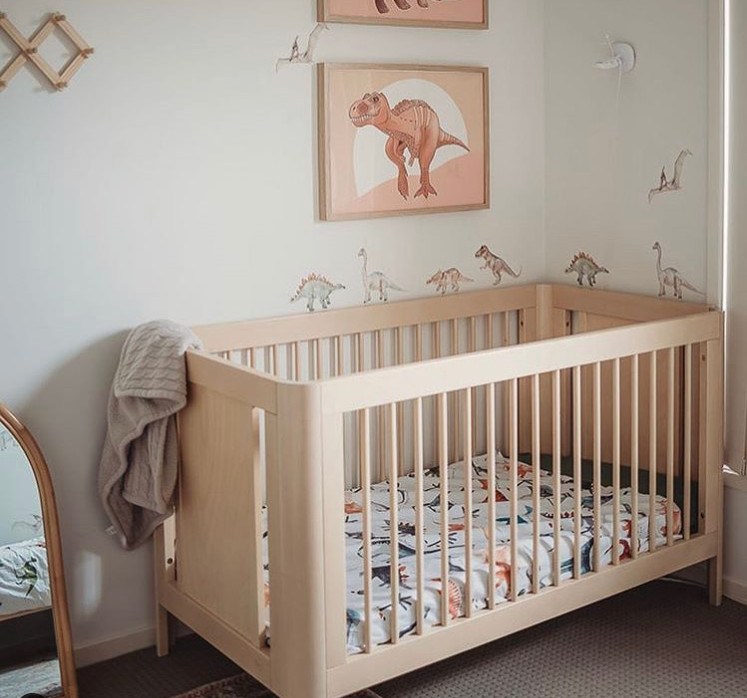 Finding dinosaur toys online or in your local mall can be easy. These are fun items to add to your baby boy's dinosaur-themed nursery.
Make sure you choose toys for 1-year-olds or those without choking hazards.
Some dinosaur toys rated for 3-year-olds might not be ideal for younger ones, but they can look great as nursery decor as long as they're put on shelves that your baby can't reach.
Dinosaur-printed crib beddings and wall decals are also great options to decorate your baby's room in this theme, as shown in the sample photo above.
17. Green Nursery
Green is a popular nursery color because it's ideal for both boys and girls. So it's a nice option for a shared sibling room or if you want to start on your nursery before you know your baby's gender.
This color is also a good base for other themes, such as the woodland nursery. But you can also opt for a green nursery with different shapes painted in varied shades of this color.
What's good about this choice is that you can find plenty of crib sheets, curtains, and other fabrics in green.
Some furniture pieces are also in green, although it's a good idea to check whether non-toxic paints or stains were used for the colors.
18. Nursery With Striped Walls
Unsure about the shapes you want to add to your baby's nursery? Striped walls are a timeless classic.
Vertical stripes can even help make a small nursery look taller than it really is.
Available in different colors, striped walls can fit your chosen color scheme. However, you might also pick monochrome combinations of gray or black and white to prepare for a room that grows in style along with your little one.
19. Marine-themed Nursery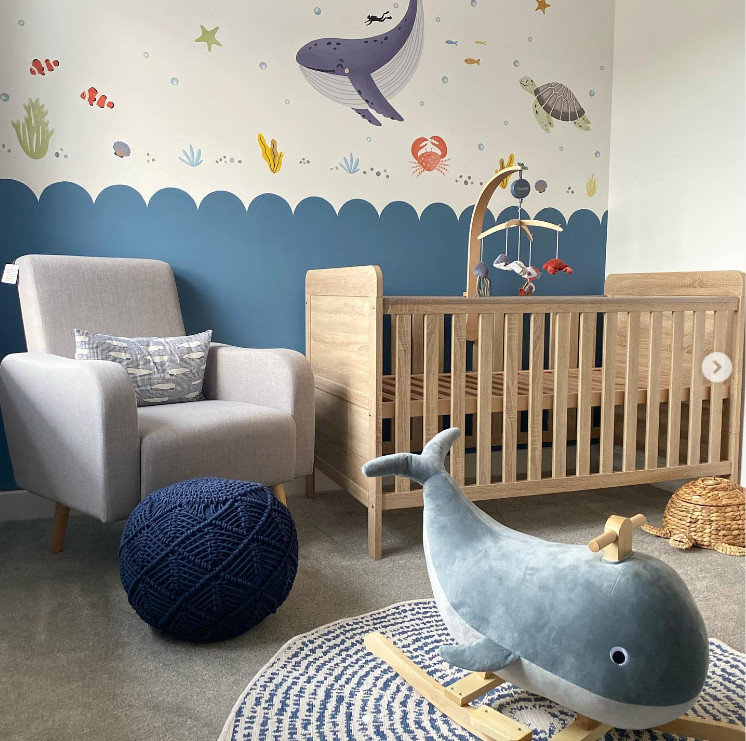 This nursery theme usually uses blue and white paint colors for the walls and ceilings.
Lots of toys for 2-year-olds or other ages have sea creatures that you can add as accessories to your marine-themed nursery.
There are many ways to decorate this kind of room, but you can opt for a white crib with striped blue and white crib beddings.
Framed beach photos, porthole-style windows, or anchor wall decals can complete the look of this nursery.
20. Rustic-themed Nursery
A rustic nursery with a distressed wood accent wall might invoke some fun childhood memories or provide your baby boy with a unique theme amid mostly modern choices.
Natural wood furniture would fit perfectly in this nursery theme, but a steel crib can also be a good idea.
How Do You Make A Baby Boy's Room?
Safety Tips
Always put your baby's safety as the top priority in making and decorating their room.
GREENGUARD Gold Certified products have been rigorously tested against toxic chemicals to ensure that items like floor tiles, crib mattresses,or baby furniture have low emissions and are safe for their little bodies.
It's also important to go through your babyproofing checklist at least twice before your baby's birth to ensure that their nursery is free from any safety risks.
Avoid dangerous products in their sleeping areas, particularly the following which are unsafe for sleeping and have been linked to numerous infant deaths:
Bouncers
Other baby products that aren't designed for sleeping
How Do I Choose A Theme & Color Palette For My Baby Nursery?
You can have fun choosing the theme and colors you prefer, but many parents also choose color palettes close to blue, green, or gray for boys.
Still, if you're planning on using the nursery for your future babies, it's also a good idea to pick a neutral theme.
Choosing a gender-neutral nursery keeps costs low because you might not need to make major renovations or changes to the room if your future babies are of the opposite gender as your firstborn.
Plus, these neutral rooms can be shared by siblings.
What Do You Need In A Nursery For A Newborn?
Here are some of the newborn essentials to prepare:
Baby crib
Nursing chair (swivel glider, rocking chair, etc.)
Changing table
Toddler bed (for shared rooms)
Bookshelf, chairs, and a table for the reading nook
Soft lighting
Nursery Size
It's ideal for the nursery to be the same size as a full bedroom in your house.
However, you can also assign a small room as the nursery and add a crib. The other nursery furniture we list above (such as the changing table, nursing area, and reading nook) can be put in other parts of the house if space is limited.
Function: How Do You Set Up & Lay Out A Boy's Nursery?
If you have space, these are specific zones or stations that are ideal to have in your baby boy's nursery:
Sleeping area (make sure it's a safe space with a firm and flat surface free from choking or suffocation risks such as blankets, crib bumpers, stuffed toys, or other materials and toys)
Changing zone (includes a changing table, diaper pail, and a drawer for clean diapers, wipes, and other baby essentials)
Feeding and nursing area (with a glider, rocking chair, breastfeeding pillow, and side table for feeding essentials like formula containers, feeding bottles, or breast pump)
Reading nook (with nursery chair, lighting, and bookshelves)
Play area (with toys for 1-year-olds or older kids, but check for safety risks)
Study area (for a shared space with preschooler siblings)
Storage Space
Baskets
Storage cart
Nursery closet
How Can I Decorate My Baby's Nursery?
Baby boy nursery decor to brighten up your little man's domain:
Wall decals
Wallpaper
Wall decor
Wall art
Chandelier
Bookshelves
Accent wall
Crib sheets that match the room's theme
DIY mirrors on the nursery wall
Hanging mirrors
Name sign
Wall quotes
Wall mural
Statement rug
Stylish curtains
When Should You Start Preparing My Baby's Nursery?
The second trimester is usually the ideal time to prepare for your baby's nursery. However, you can opt to wait until you know your baby's gender if you're planning on a gender-specific theme.
Some parents also wait until after the baby shower to buy their baby's stuff.