Overview
Preparing your baby's nursery can be an exciting time for many parents, with many preferring to wait until the gender-reveal party or baby shower to finalize the room.
After all, while gender-neutral nurseries are more practical, it's also cute to prepare for the room based on your little one's gender.
There's no right or wrong theme for a baby girl's room, mama. You can pick the one that best suits your little girl or your preferred style.
We prepared this article to share some baby girl nursery ideas with you. We also share some tips for decorating a baby room on a budget, which nursery furniture you need, and the potentially dangerous baby items to avoid.
18 Baby Girl Nursery Themes
1. White Nursery
A white nursery is a lovely neutral option that you can prepare for your baby boy or girl.
It is a great option because you don't have to wait for the gender reveal party to start decorating your nursery. You don't even have to make major renovations for future babies.
Plus, the mostly white theme can make it easier to find furniture that matches. You can opt for a pop of color with some colorful furniture pieces, wall art, or light fixtures.
Here's a photo of our editor-in-chief's non-toxic, all-white nursery: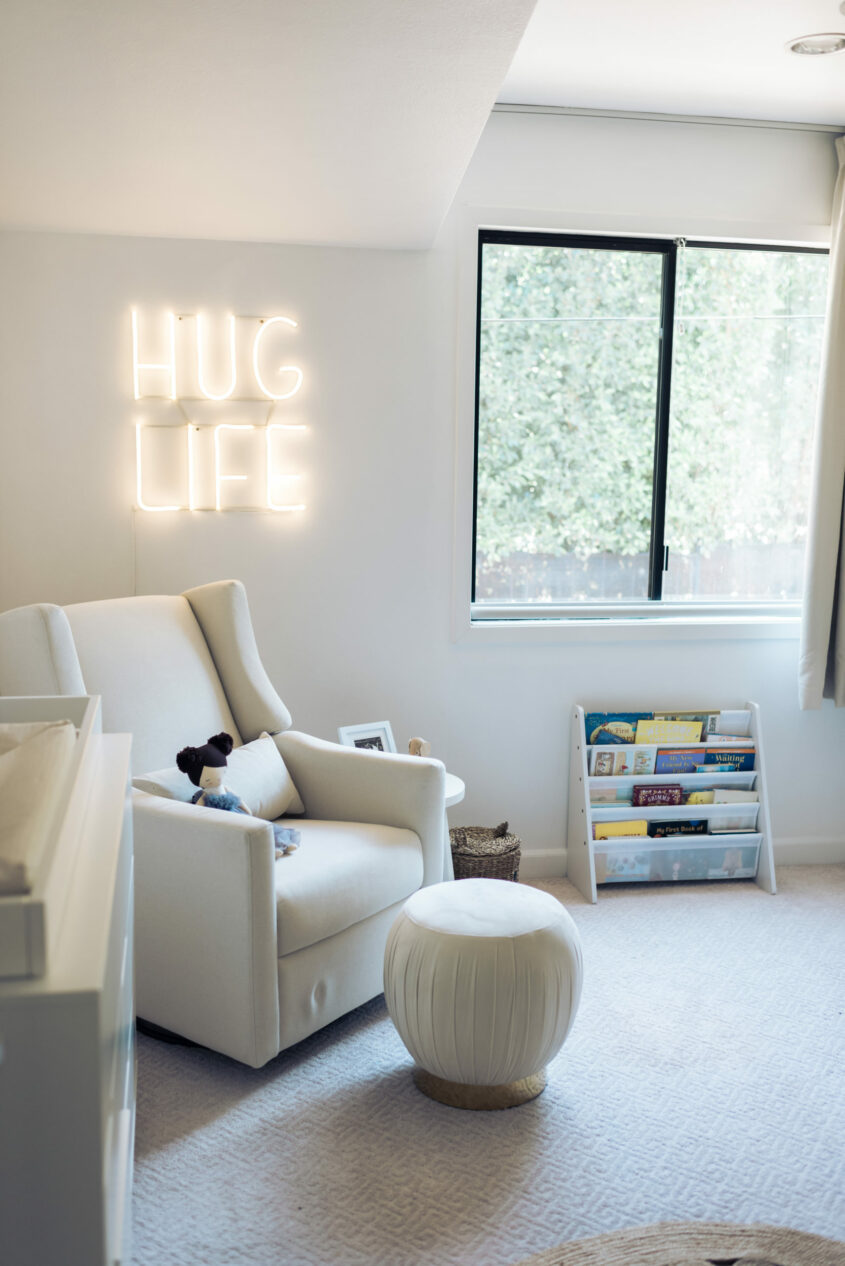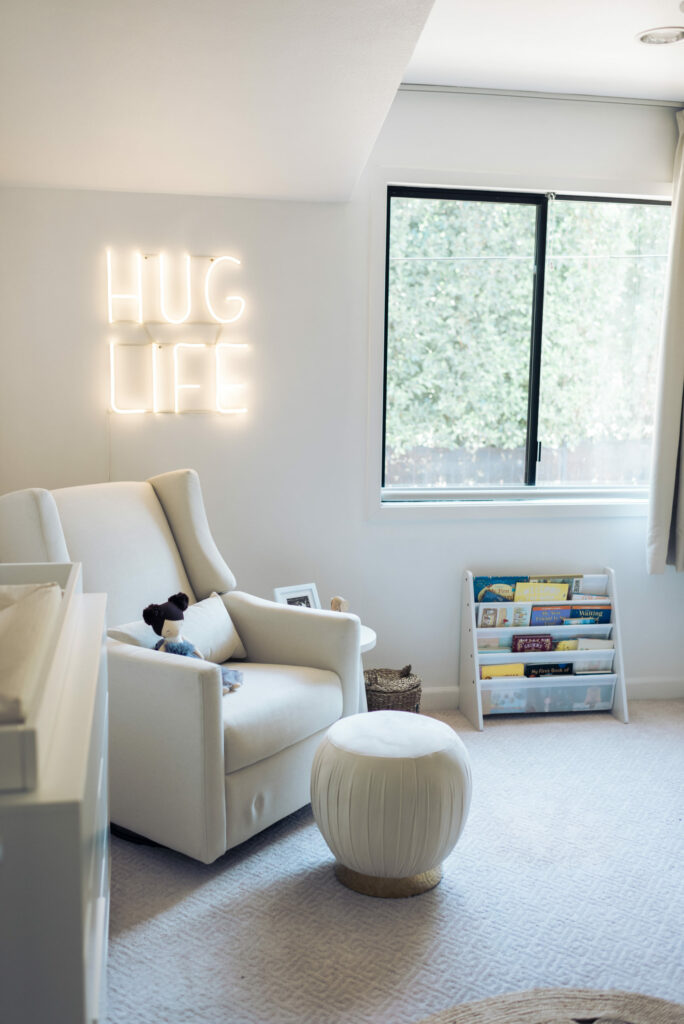 The GREENGUARD Gold Certified Babyletto furniture pieces in this nursery have been thoroughly tested for toxic emissions for peace of mind.
2. Princess Nursery
Did you pick a Disney princess name for your little girl?
You can also get her a matching princess nursery design, although many parents also pick this theme even if their baby girl doesn't have a princess name.
Being one of the most popular baby girl nursery themes, you can find plenty of options for a princess-themed room on online shops like Amazon and Etsy. Some shops even offer personalized options for your little girl's room.
3. Animal-Themed Nursery
An animal-themed nursery is a great option for both baby boys and little girls.
There are several ways you can decorate with an animal theme:
One accent wall with an animal mural (note: opt for non-toxic paint)
Animal-themed nursery decor (framed photos or pictures)
Animal-themed nursery wallpaper
Animal stuffed toys (safety warning: keep them away from your baby's sleeping area)
4. Pink Nursery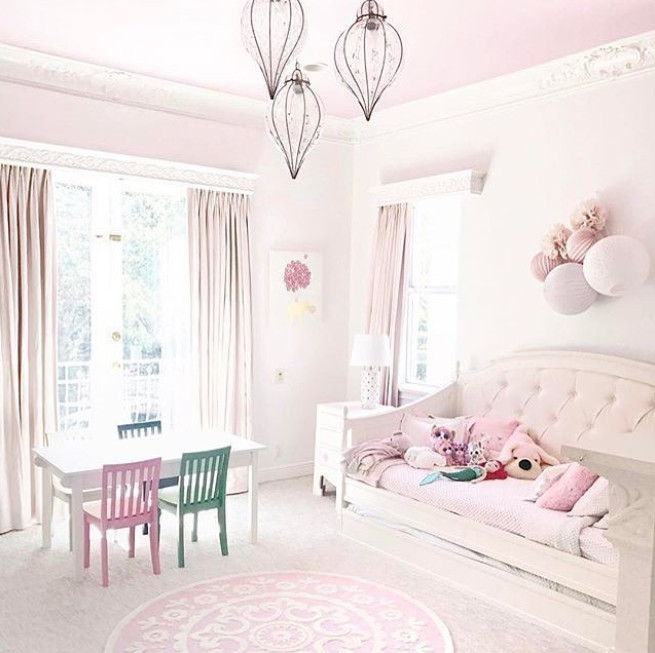 Pink color rooms have long been associated with girls, so it isn't surprising that pink-themed nurseries are also popular.
You can find plenty of pink nursery furniture, decor, and textiles to match your nursery theme.
Of course, your pink-themed nursery doesn't have to be in all pink color. Many furniture pieces are in natural wood. You can always opt for these pieces, then simply add pink crib beddings or throw pillows.
5. Whimsical & Mid-century Nursery
A vintage-themed nursery can also be fun. An old-fashioned chandelier could be the room's focal point, or you can find whimsical nursery wallpaper to complete the theme.
Carved wood furniture would be great for this theme.
You can also opt for a royal or golden color palette for the walls, ceilings, paneling, or furniture pieces like a rocking chair.
6. Glam & Stylish Nursery Room
High-end nursery furniture can easily make your baby girl's room look glamorous. But plenty of less expensive pieces could also look great if you're on a budget.
A pastel-colored canopy, such as one in soft pink, is a great way of adding pizzazz to your nursery or playroom.
You can even make a DIY canopy with a soft cloth or blankets. Just ensure the cloth is firmly attached and isn't likely to fall on your baby.
7. Pastel Nursery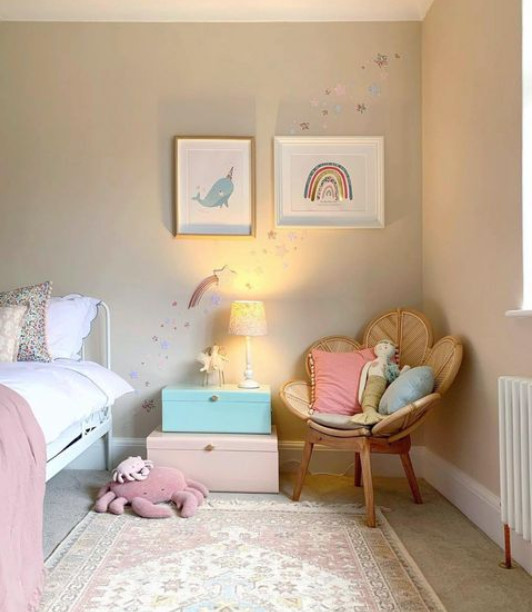 Pastel colors can be pleasing to the eyes and a great option for your little one's room.
Like in the photo above, you don't have to choose everything in pastel because natural wood or rattan furniture can also fit in and match the soft color scheme.
You can opt for crib sheets or wall accents in pastel colors.
Painting the walls, paneling, or ceilings in pastel colors like soft pink or sky blue also works for this color scheme.
8. Floral Nursery
Flowers are often used to symbolize little girls and adult women alike. So, having a floral nursery can also be a good choice for your baby.
There are different ways to create a floral nursery without making the space too overwhelming.
You don't have to fill the entire room with flowers. Instead, you can choose just one accent wall to paint or decorate with flowers.
One option is to have plain-colored walls with flower accents and matching furnishings.
Although floral nurseries are common for baby girls, you might not easily find furniture pieces with a floral theme. Still, you can use flower-themed bed sheets, throw pillows, curtains, and other printed fabrics to decorate your furniture to fit your nursery's theme.
9. Rainbow Nursery
Rainbows are fun, but having so many in the nursery's small space can be overwhelming.
Like the floral nursery above, you can opt just to have one accent wall painted with a large rainbow. Add some rainbow-themed throw pillows and crib sheets to complete the look.
A rainbow nursery is also perfect with unicorns and other stuffed toys or decorations of other magical creatures.
10. Boho Nursery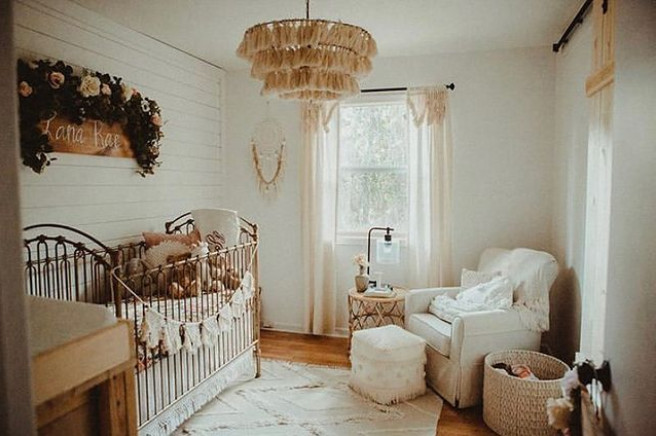 Boho color palettes include earth colors like brown, orange, yellow, gray, white, green, and red. You can also include blue, although it isn't as popularly used as the other colors in this theme.
This nursery theme can be easily achieved using natural wood furnishings, rattan baskets, and plain curtains from the color palette mentioned above.
11. Minimalist & Modern Nursery
A minimalist theme can work, whether you have a large or small space for your nursery. For this theme, you can opt for the basic colors or simply black and white.
Furniture pieces that grow with your child, such as a 3-in-1 crib, could work best in this nursery because you only need to make some adjustments as your little girl grows instead of changing or adding pieces to their room.
12. Space-themed Baby Girl Nursery
Space-themed and adventure themes aren't just for a boy's nursery. They can also be fun for your little girl.
Some furniture companies offer space-themed pieces. However, because these furniture pieces are harder to find, you can choose the basic ones and update them with space-printed crib sheets and matching curtains.
13. Nature-themed Baby Girl Nursery
Furniture pieces and wall decor or nursery wallpaper from the brown and green color palette are popular for the nature theme.
Animal stuffed toys and framed animal pictures or paintings can be a fun addition to this theme.
14. Gender-neutral Nursery Room Ideas
There are many ways to create a gender-neutral nursery for your baby girl. Some examples are:
Polka dots in neutral colors
Animal themes
Walls painted in gender-neutral pastel colors (green, yellow, etc.)
Monochromatic colors (white or black)
Boho theme
Some parents also opt to keep the nursery walls and floors in neutral colors, then pick some pieces for their baby boy or little girl. When the child outgrows the room or shares it with another sibling, new pieces can just be added in that new baby's gender.
15. Monochromatic Shared Nursery
Some parents want to keep the color scheme within the color palette of their first baby's gender. However, that can be tricky in a shared nursery.
Choosing a monochromatic theme is one way of avoiding major renovations when a new baby arrives.
Of course, you don't need to stick to just white or black. You can always add some splash of color with the throw pillows or even your baby's toys.
16. Twin Nursery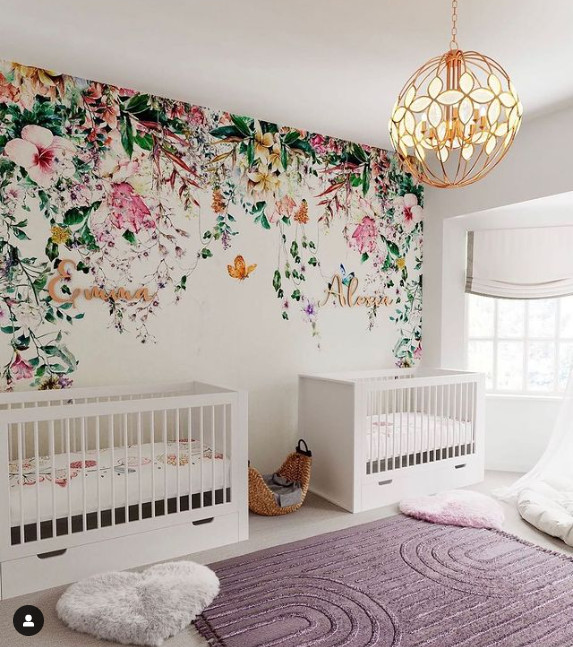 Decorating a twin nursery can be fun, especially if you want each baby to have a unique piece.
It's necessary to divide the room in two, but you can opt to have two themes in a single room.
The babies can also share some common furniture or have one accent wall with both their photos and stuff.
Of course, you can also opt for matching furniture pieces and having the same theme for both sides of the twin nursery.
17. Sibling + Baby Room
Like the twin nursery, this kind of room can have two different themes. However, check for age-appropriate furniture for the older kids.
Some furniture pieces can also grow with your child and require just a few adjustments to transform from a crib to a toddler or kid-sized bed.
18. Three-Sibling Shared Room
For a large room, three separate beds can be a good idea to avoid stairs. However, bunk beds and a crib might also be a good idea for a small space or if you want to maximize the common spaces in the room.
However, be sure to go through your babyproofing checklist at least twice to avoid safety hazards in shared rooms.
How Do You Style Your Baby Girl's Nursery?
There are many different ways to style a baby girl's room, but here are some of the top factors to consider:
Safety
Neutral or gender-specific?
Nursery size
Function (what should a baby nursery have?)
Furniture
Nursery closet
Theme & color scheme
Storage space
Wall decor
Timing (when should I decorate my nursery?)
Let's discuss these factors below.
Safety
Babies are more vulnerable to air pollution and exposure to toxic substances because of their still-developing systems.
For example, 80% of the air sacs in the lungs are developed after birth. Toxic substances in the air can limit their lung growth. (1)
They also have an immune system weaker than an adult's and inhale more air per breath. (1)
So, it's crucial to minimize their exposure to toxic substances and air pollution by choosing safe nursery furniture and other products they're exposed to indoors.
GREENGUARD Gold Certified furniture and construction materials are ideal for your baby's nursery.
You might also consider choosing organic crib sheets, fabrics, and toys for your little one if possible.
Neutral Or Gender-Specific?
Often, it's not a big deal for your first baby because you can pick any theme you want. However, if you're planning to use the same nursery for the next little ones, you might consider a gender-neutral theme to avoid major renovations in the future.
Nursery Size
The nursery size depends on your floor plan and the size of your house, but a typical nursery or playroom can have the same size as the other bedrooms.
Furniture: What Do You Need In A Nursery For A Newborn?
Baby crib
Changing table
Dresser
Nursery chair
Storage
Twin mattress (for toddlers and older kids)
Function: What Should A Baby Nursery Have?
A nursery isn't just about the furniture. It's also important to plan where to put these furniture pieces to create a safe, comfortable, and efficient nursery.
Set specific zones or stations in your nursery:
Sleeping area (safe space with a firm, flat surface free from stuffed toys, blankets, crib bumpers, or other materials that can pose a choking or suffocation risk)
Play area (with toys for 1-year-olds or older kids)
Feeding and nursing area (with a breastfeeding pillow and side table for feeding bottles, formula containers, breast pump, and other feeding essentials)
Reading nook (with a glider, rocking chair, lighting, and bookshelves)
Changing zone (with a drawer for clean diapers and other baby essentials, changing table, and diaper pail)
Study area (if your baby shares space with a preschooler sibling)
Nursery Closet
As a furniture piece that often occupies a big space in the nursery, you can use the closet as a focal point or simply as a background piece that matches the rest of the theme.
Some parents opt to add matching decorations, decals, or stickers on the nursery closet doors.
How Do I Choose The Theme For My Baby Nursery?
It's up to you to decide whether to pick a gender-specific or neutral nursery, but you can find some ideas from the themes we share above.
In picking a color scheme, you can check the color palette to see if the colors match or clash before you buy your furnishings or have the room painted.
As a general rule, pick a neutral theme if you want to start early and don't know your baby's gender yet, or if you want to use the room for future babies.
You can always add some gender-specific nursery decor and crib sheets once you know your little one's gender.
Storage Space
Your baby might be small, but they could need plenty of space for their clothes and toys. Opt for furniture pieces with lots of space.
There are also some modular closets or cabinets that you can reconfigure to match your storage needs.
Wall Decor: How Do You Decorate A Room For A New Baby Girl?
Check for safety hazards such as sharp objects or choking risks
Add a name sign
Add a canopy
Add a teepee
Add baskets (for storage and decoration)
Add space for baby books and a reading nook
Choose a statement rug
Hang shelves
Use the vertical wall space
Use wallpaper
Use mirrors
Use statement lighting
Timing: When Should I Decorate My Nursery?
You don't have to worry a lot about the timing, but it's ideal to have the nursery ready before your baby's birth.
If you pick a neutral theme, you wouldn't have to wait until you know your baby's gender to start decorating their room.
Frequently Asked Questions
How Do You Make A Neutral Nursery Girly?
Decorations or fabrics with pastel colors (especially soft pink), rainbows, and flowers can easily make a neutral nursery girly.
Plus, these can be cheaper and easier to change than picking a gender-specific theme for the entire nursery and having to redecorate it when a new baby is born.
How Do You Decorate A Baby Girl's Room On A Budget?
Use wallpaper or wall decals
Paint a shape on the wall
DIY decorations
Use affordable IKEA photo frames with your own high-quality photos (or you can find plenty of options to print online)
Use mirrors on the wall
Create an accent wall and paint the rest
Repurpose thrift store finds (but check for damage and go through your babyproofing checklist)
What Should You Not Buy For A Newborn?
Avoid products that can be potentially dangerous or harmful to your baby, such as those that pose a choking or suffocation risk.
As much as possible, avoid the following in your baby's sleeping space:
REFERENCES
(1) https://www.lung.org/clean-air/outdoors/who-is-at-risk/children-and-air-pollution