Overview
Infant death is a tragic event that no parent ever wants to experience, yet data from the CDC (Center for Disease Control and Prevention) show that as many as 3,400+ babies die yearly in the US. (1)
These deaths are grouped into three major types: (1)
SIDS (sudden infant death syndrome)

Accidental suffocation and/or strangulation in bed

Unknown causes
The AAP (American Academy of Pediatrics) created the Safe Sleep Guidelines to help reduce these safety risks. They also issued a warning against weighted blankets, among other recommendations. (2)
It seems that these recommendations aren't enough or haven't reached all parents because the AAP recently raised the alarm against weighted blankets in a June 2023 letter addressed to the CPSC (Consumer Product Safety Commission). (3)
What's The AAP's Stance On Blankets?
The AAP doesn't recommend using blankets or other soft objects and loose beddings for sleeping infants, explaining that these products can cause strangulation, suffocation, and entrapment or wedging. (2)
Some of the products that the AAP declared unsafe to use under their Safe Sleep Guidelines: (2)
Loose bedding (e.g., blankets or non-fitted sheets)

Quilts

Mattress toppers

Comforters

Fur-like materials

Pillows

Pillow-like toys
Wearable blankets or sleep sacks can be used, or you can dress your infant with layers of clothing to keep them warm. (2)
What Does The AAP Say About Weighted Sleep Sacks?
In their 2022 updated Safe Sleep recommendations, the AAP declared weighted sleep sacks, blankets, swaddles, or anything with weights potentially dangerous to babies. (2)
The AAP recommends that these products be kept away from babies. Again, this is to help reduce the risks of sleep-related deaths. (2)
AAP Letter To The CPSC
The pediatricians' association recently expressed alarm about the ongoing efforts to develop weighted infant products' voluntary safety standards. (3)
They explained that these efforts, led by ASTM International (American Society for Testing and Materials), might send parents and caregivers the wrong message that these products are safe for babies. (3)
In their letter, the AAP reminded the CPSC that they don't recommend weights or weighted products to be placed on or near a sleeping baby. (3)
With this firm declaration, they opposed developing and creating voluntary standards for weighted products. (3)
They acknowledge that voluntary standards are important for certain products, but AAP policy considers weighted sleep products unsafe. (3)
What Are The Risks Of A Weighted Blanket?
Studies have shown that babies can suffocate and die even with thinner, lighter "ordinary" blankets. (4)
The risk is potentially higher for a heavier product, such as a weighted blanket.
On SaferProducts.gov, one parent shared how their 3-month-old baby nearly suffocated on a Nested Bean Zen One Classic sleep sack. This parent explained that the sleep sack's weighted portion bunched up around the baby's mouth and throat while the little one was squirming. (5)
The incident could have led to asphyxiation. Thankfully, an adult was around watching the baby. (5)
In December 2022, Target issued a recall on Pillowfort Weighted Blankets after the deaths of two girls due to asphyxia while using the products. The children, ages 4 and 6, were reportedly trapped inside the weighted blanket's cover. (10)
Studies On Weighted Blankets For Babies
A 2020 randomized controlled trial conducted on NICU babies and published in the Advances in Neonatal Care Journal showed that using a weighted blanket didn't cause any significant change in the study subjects' respiratory rates. (6)
However, the AAP's letter to the CPSC pointed out that there haven't been any peer-reviewed scientific studies that evaluate the safety of these products on healthy infants or under an unmonitored setting. (3)
They also added that preliminary, non-peer-reviewed data presented to ASTM International suggested that these unsafe products can affect babies' oxygen levels. (3)
Any product that can lower a child's oxygen levels is potentially dangerous. The AAP explained that inadequate oxygen levels, when sustained, can harm a baby's developing brain. (3)
While no studies show that weighted sleep sacks and similar products can be harmful, the AAP believes that this doesn't also mean they're safe. (3)
Is There A CPSC Recall On Weighted Blankets?
As of writing, the CPSC hasn't issued a recall or safety alert against weighted blankets after the AAP's letter.
Brands' Response
Brands Nested Bean and Dreamland Baby stand by the safety of their weighted sleep products.
Nested Bean's founder and president, Manasi Gangan, hopes that the AAP will change their position once more research is conducted on the products. (7)
The brand declares on their website's safety page that their products: (8)
Pass rigorous testing (safety tested by industry standards)

Backed by multiple studies for breathing safety and design; however, they didn't share links or cite references for these studies

Have medical approval and have been tested for babies' pulse rate and oxygen saturation

Have been tested for optimum airflow

Have calibrated weights that are "5x lighter" than other brands
Dreamland Baby's founder and CEO Tara Williams co-chairs the efforts for infant wearable blankets' voluntary safety standards with ASTM. She believes that the AAP's concerns are "speculative" because there isn't evidence showing that these products were responsible for injuries or deaths. (7)
The brand also declares their sleep sacks' safety on their website: (9)
Designed in "close partnership" with NICU nurses (neonatal intensive care unit), pediatricians, and certified sleep consultants

Exceeds CPSC's standards

Rigorously tested (with both "required and non-required testing")

Sold 500,000+ weighted sleep sacks without any reported adverse events

Collaborating with experts on a comprehensive clinical study for the product's safety in a non-clinical sleep environment
Our Recommendations: Non-Weighted Sleep Sacks
Kyte Baby Sleep Bags
Burt's Bees Baby Beekeeper Wearable Blanket
Baby Merlin's Magic Dream Sleep Sack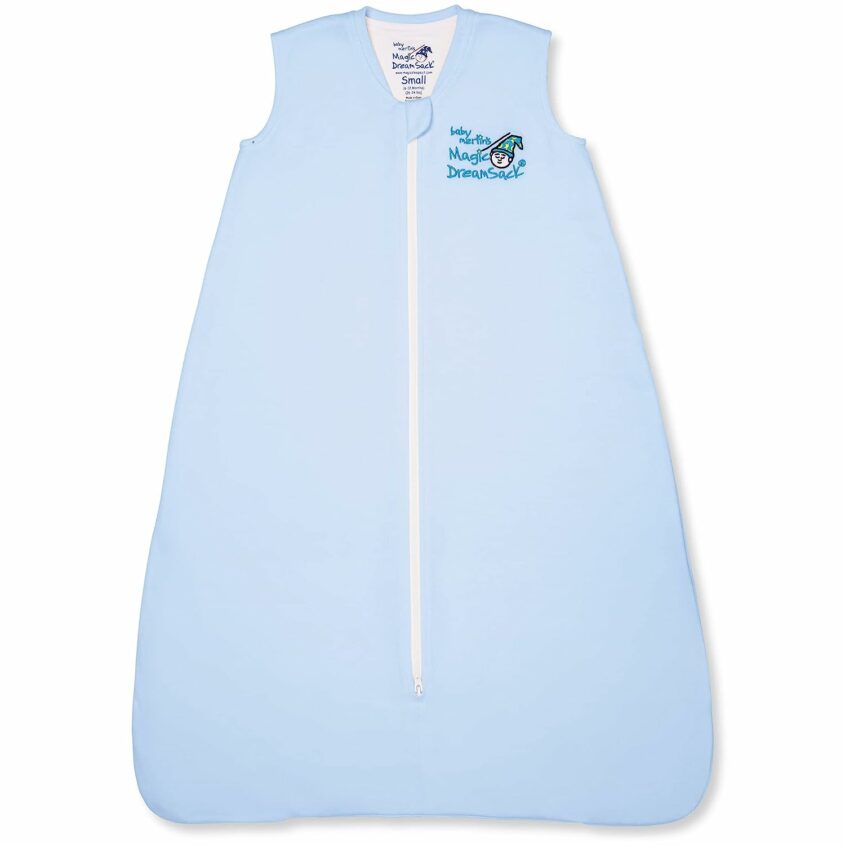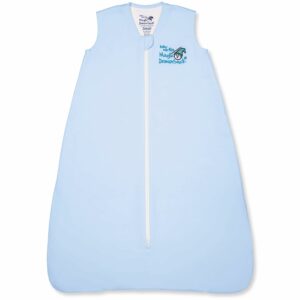 Other Recent Baby Product Recalls & Safety Warnings
Stay informed with the latest news by signing up for our regular Motherhood Community recall alerts so you can make sure you never miss an important recall.
Check these comprehensive lists of product recalls by category:
References
(1) https://www.cdc.gov/sids/data.htm
(2) https://publications.aap.org/pediatrics/article/150/1/e2022057990/188304/Sleep-Related-Infant-Deaths-Updated-2022?_ga=2.124299341.690256761.1687649494-591974572.1686611807%3fautologincheck%3dredirected
(3) https://www.documentcloud.org/documents/23849624-aap-letter-61523
(4) https://www.ncbi.nlm.nih.gov/pmc/articles/PMC3992172/
(5) https://www.saferproducts.gov/PublicSearch/Detail?ReportId=3467145
(6) https://pubmed.ncbi.nlm.nih.gov/32868588/
(7) https://www.nbcnews.com/news/us-news/weighted-sleep-sacks-american-academy-pediatrics-rcna89469
(8) https://www.nestedbean.com/pages/safety
(9) https://dreamlandbabyco.com/pages/safety
(10) https://www.cpsc.gov/Recalls/2023/Target-Recalls-Childrens-Pillowfort-Weighted-Blankets-Due-to-Asphyxiation-Hazard-Two-Fatalities-Reported