Overview
Baby Trend recalled Cityscape Travel Jogger Strollers in September 2022 over safety issues. According to the recall advisory, the parking brakes of these jogger strollers can fail, leading to fall or injury hazards to children. (1)(2)
Were there children injured by these recalled strollers? How can you identify these recalled strollers and process the refund or replacement? Have there been previous recalls of other Baby Trend strollers or car seats?
We provide you with details of these recalls below.
Recall Information: Which Stroller Has Been Recalled?
On September 15, 2022, Baby Trend recalled about 310 units of Cityscape Travel Jogger Strollers, Model TJ75B12A. The parking brakes of these jogger strollers can fail, posing fall or injury hazards to children. (1)(2)
Thankfully, no incidents/injuries have been reported relating to this stroller recall.
How To Identify These Recalled Strollers
Only the travel jogger strollers, Model TJ75B12A, in "Moonstone" (gray) of the Cityscape Travel System (stroller and car seat), are included in this recall. (1)
If you have these strollers, check for the following information: (1)
Lot number: 111444 0122
Manufacturing date: 10 28 2020
These strollers were sold at babytrend.com and amazon.com for about $175 from January 2021 through May 2021.
Where's The Model Number On A Baby Trend Stroller?
The model number is printed on the inside portion of the side stroller frame, while "Baby Trend" can be found on the stroller's frame.
Aside from the model number (Model TJ75B12A), the following information are also printed on the label: (1)
Model name: CITYSCAPE JOGGER TRAVEL SYSTEM
Phone number: 1-800-328-7363
Address: Baby Trend, Inc. 13048 Valley Blvd, Fontana, CA 92335
Lot number
Manufacturing date
Serial number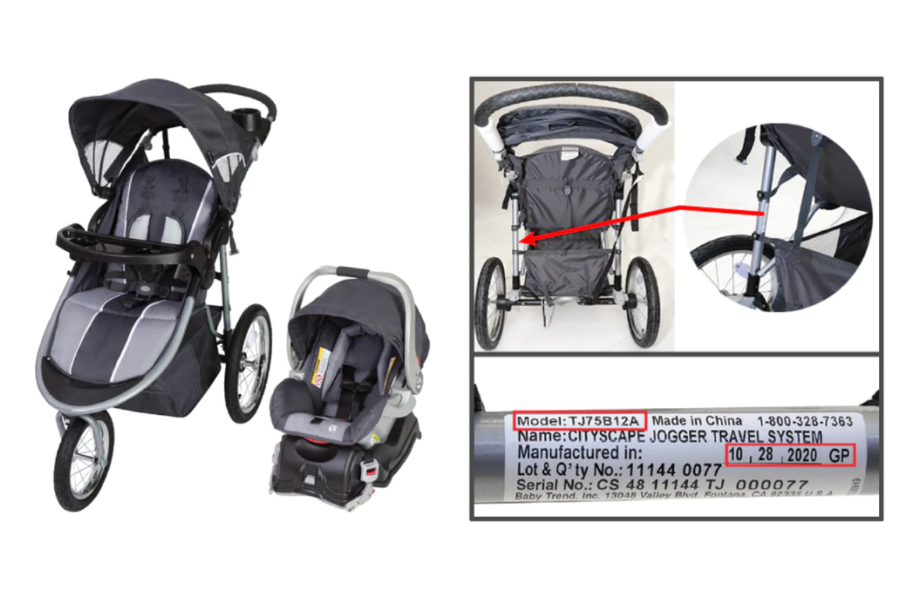 What To Do With The Recalled Baby Trend Strollers
Immediately stop using these recalled strollers and contact Baby Trend or Amazon to process your $175 full refund or e-voucher.
According to the recall advisory, Baby Trend and Amazon are getting in touch with all purchasers to provide instructions on how to return the strollers and get a refund. (1)
If you have this stroller but haven't received communication from Baby Trend or Amazon yet, you can contact Baby Trend through the following channels:
Phone number: 800-328-7363 from Monday through Friday, 9 a.m. to 4:30 p.m. PT
Email: [email protected]
Website: babytrend.com/pages/safety-notices or babytrend.com (click on "PRODUCT RECALLS" located at the top of the page)
Can Your Kids Still Use The Recalled Cityscape Travel Jogger Strollers If They Look Okay?
No. The parking brakes in these recalled units can fail at any time, posing an injury hazard to your child. Don't let them use these recalled strollers even if you inspected the parking brake, and it looked alright.
Baby Trend Stroller Recall 2020
In January 2020, Baby Trend voluntarily recalled certain models of Tango Mini Strollers because the hinge joints could release under excessive pressure. This could make the stroller collapse and pose a fall hazard. (2)
The following model numbers were included in this recall: (2)
ST31D03A
ST31D09A
ST31D10A
ST31D11A
Affected customers were given a refund or free replacement. (2)
Baby Trend Stroller Recall 2004
In May 2004, Baby Trend recalled 11,300 units of the "Passport" Stroller because the fold joint might collapse unexpectedly, posing a fall risk. (3)
The recall included all Passport Strollers with Model Number 1514 and SKN number 190554 that were manufactured from July 10, 2003, to November 26, 2003. (3)
Baby Trend Stroller Recall 2000
In May 2000, Baby Trend recalled 1,500 units of "Road Runner" jogging strollers due to a manufacturing defect. The products were shipped out with the straps not properly secured to the frame. (4)
One child was reportedly injured after falling out of the seat while using the stroller with unsecured straps. (4)
Affected customers were instructed to inspect whether the straps were secured to the stroller frame and to contact Baby Trend for a refund or replacement. (4)
Is There A Recall On Baby Trend Car Seats?
There have been no recalls for Baby Trend car seats in 2022, but the brand has recalled some models in previous years: (2)
Hybrid LX 3-in-1 Booster Seat (2017)
TrendZ FastBack 3-in-1 Car Seat (2014)
Baby Trend Car Seat Recall 2017
In January 2017, Baby Trend recalled 34 units of Hybrid LX 3-in-1 Booster Seats because their center adjusters could detach in the event of a crash. This might happen if the child weighs more than 40lbs and the seat is used in the harnessed mode. (2)
No injuries/incidents have been reported in connection to this recall.
The recall only involved the following model numbers: (2)
FB48417 (Kiwi), manufacturing date of 7/14/16
FB58181 (Centennial), manufacturing date of 7/23/16
Owners of these recalled car seats were provided with a free replacement. (2)
Baby Trend Car Seat Recall 2014
In April 2014, Baby Trend recalled two models (FB60070 and FB60408) of TrendZ Fastback 3-in-1 car seats because the harness crotch buckle could become resistant to unlatching. This might be to exposure to various contaminants (such as food and drinks) with regular use. (2)
Affected crotch buckles might be difficult to unlatch, causing difficulties in removing the child from the vehicle. (2)
No injuries or incidents were reported relating to this recall, but Baby Trend provided replacements for all affected models to ensure the children's safety. (2)
FAQs
Is Baby Trend A Safe Brand?
Baby Trends stands by the safety and quality of its products, declaring that these meet or exceed US safety standards.
Are Jogging Strollers Safe For Newborns?
Newborns and babies younger than four months old have weak neck muscles and spend most of their time sleeping. So, jogging strollers or any other stroller type might not be ideal for them until they reach the four-month mark. (5)
The AAP (American Academy of Pediatrics) recommends safe sleep practices, such as letting your baby sleep on a firm, flat surface rather than in devices that aren't made for sleeping (e.g., strollers, car seats, infant slings, infant carriers, etc.). (5)
Babies develop differently. Be sure to ask your pediatrician's advice if you plan on using a jogging stroller for your newborn baby.
REFERENCES
(1) https://www.cpsc.gov/Recalls/2022/Baby-Trend-Recalls-Cityscape-Travel-Jogger-Strollers-Due-to-Fall-and-Injury-Hazards-Recall-Alert
(2) https://babytrend.com/pages/safety-notices
(3) https://www.cpsc.gov/Recalls/2004/cpsc-baby-trend-announce-recall-of-certain-baby-trend-passport-strollers
(4) https://www.cpsc.gov/Recalls/2000/CPSC-Firms-Announce-Recall-of-Jogging-Strollers-1
(5) https://publications.aap.org/pediatrics/article/150/1/e2022057990/188304/Sleep-Related-Infant-Deaths-Updated-2022