Information About Andrew
Andrew
Name Meaning
"Andrew" is a boy name meaning "strong and manly."
Origin: Is Andrew A Hebrew Name?
No. Although it's a biblical boy name, Andrew isn't a Hebrew name. It's a Greek boy name.
It's derived from the Greek name Andreas, which comes from "ἀνήρ" or "aner," the ancient Greek word for "man."
Pronunciation
What's The Gender Of Andrew?
When spelled as "Andrew," it's mainly considered a baby boy's name.
However, it has several variations as a gender-neutral name (e.g., "Andi" or "Andrea"), so it can sometimes be considered a girl name using these spellings.
US Stats: Is The
Name Andrew
Popular?
Andrew isn't currently on the top 10 popular baby names in the US, based on the latest data (2021) from the SSA (Social Security Administration). It currently ranks as #57. (1)(2)
Andrew Popularity Trend Over The Years
Andrew was in the top 10 from 2000 to 2007. However, its popularity rapidly declined. (2)
According to the SSA, Andrew's popularity peaked in 2003 when it ranked #5. During that year, as many as 22,158 babies were named Andrew. (2)
The name also ranked #5 in the US in 1988, 1991, and 1992. (3)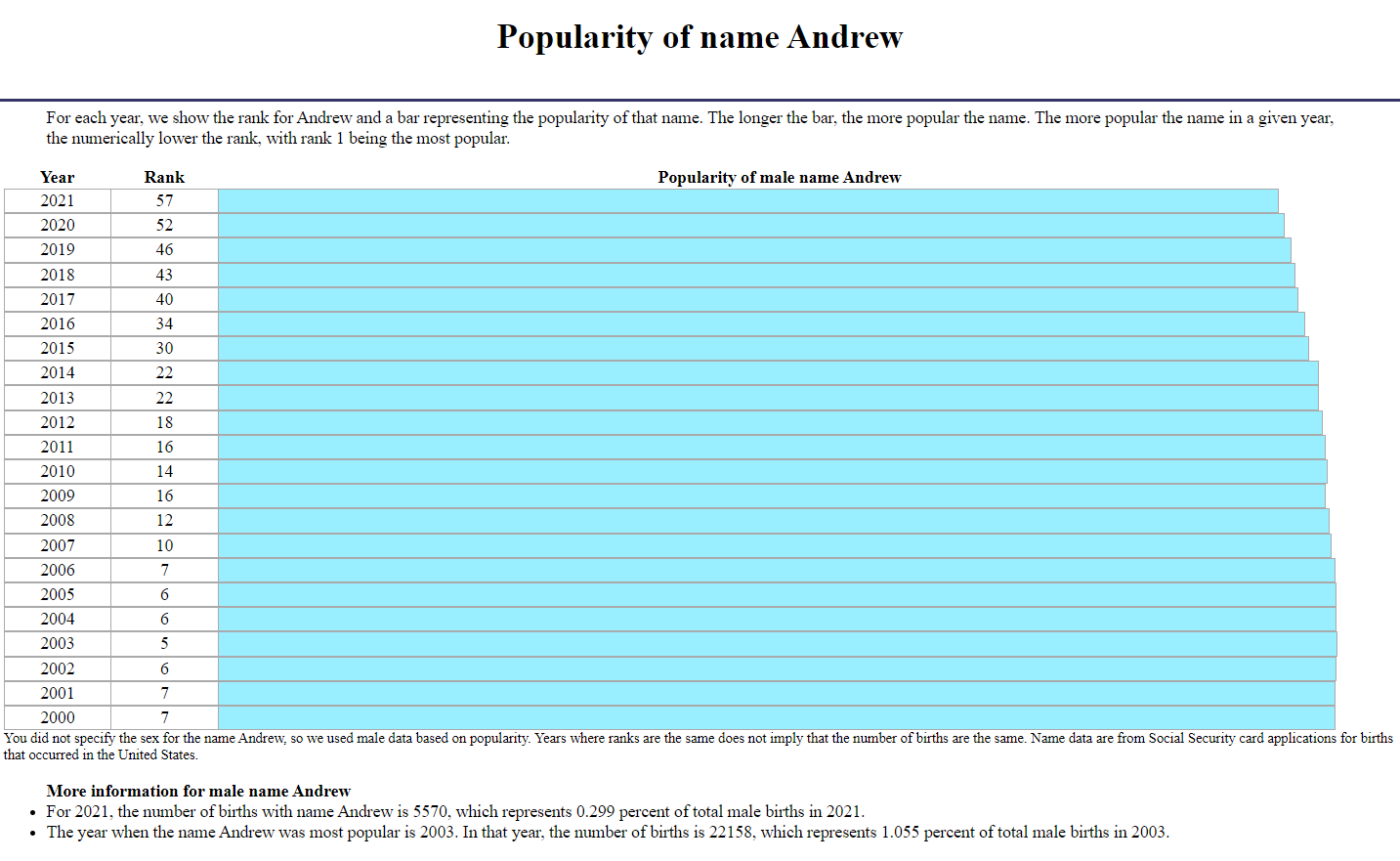 Andrew's Popularity In US States
Andrew didn't rank in the top 5 most popular names in any of the US states in 2021, according to the SSA. (4)
FAQs About Andrew's
Name Meaning
What Does
Andrew Mean
Spiritually?
Andrew is a biblical name mentioned 12 times in the New Testament. These mentions refer to Andrew, one of Jesus' 12 apostles. (5)
According to the Bible, Andrew was the first disciple Jesus called to join His mission. He's Simon Peter's brother, and they were called together while fishing in the Sea of Galilee.
He was later venerated by the Roman Catholic Church and called "Saint Andrew." He's currently the patron saint of Russia and Scotland. (6)
St. Andrew was buried in Patras (modern Pátrai), Greece, but his relics were moved to Constantinople (modern Istanbul) by Roman emperor Constantius II. (6)(7)
Today, the relics are at St Andrew's altar in Edinburgh's Metropolitan Cathedral of St Mary, while other parts of his skull are at St. Andrew's Cathedral by the shore in Patras. (7)
Is Andrew A Powerful Name Choice?
Yes. Andrew is a powerful boy name because several notable people have this name throughout history.
Aside from Saint Andrew, there have also been powerful world leaders with this name, including:
British King Edward VIII (born Edward Albert Christian George Andrew Patrick David) – reigned from January to December 1936

US President

Andrew Jackson

(term: 1829 to 1837)

US President

Andrew Johnson

(term: 1865 to 1869)
Is The
Name Andrew
Attractive & Cool?
Yes. Andrew is a classic boy name that's cool and attractive because of its meaning.
Even if it's no longer in the top 10 in recent years, it's still in the US top 100 names. (2)
What's The Biblical Meaning Of Andrew?
Some biblical scholars interpret the name to mean "the mighty one" or "conqueror." (8)
How Many Andrews Are In The Bible?
There's only one Andrew in the Bible – he's one of Jesus' 12 disciples.
What's The Personality Of Andrew?
Of course, babies can have different personalities that aren't directly affected by their names. However, some people associate Andrew with a religious or God-fearing person.
As one of the apostles, Andrew was a dedicated follower who, like the other disciples, became a committed missionary.
Some people also equate Andrew with leadership and power because two American presidents have had this name.
Is Andrew A Royal First Or Last Name?
No. Unlike "William" or "Edward," Andrew isn't considered a common royal name and is rarely used by the British monarchy.
Prince Andrew, the Duke of York, is one of the rare royal Andrews in the United Kingdom. He's the second son and third child of Queen Elizabeth II and Prince Philip, and the younger brother of the reigning monarch, King Charles III.
What's The Meaning Of
Andrea
In The Bible?
The name Andrew or Andrea means the same in the Bible as its Greek origin: "strong and manly."
Andrew Name Variations
Boy Name
Variations
Aindrea

(

Scottish

Gaelic)

Aindréas

(

Irish name

)

Aindriú (Irish)

Anaru (Maori)

Ándaras (Sami)

Ander

(Basque)

Anders

(Scandinavian)

Andor (Hungarian and

English

)

Andras

(Faroese and Hungarian)

Andra

ž (Slovene)

André

(Portuguese and

French name

)

Andreas

(

German

, Danish, Welsh, Swedish, and

Norwegian name

)

Andrei

(Romanian and

Russian name

)

Andrej (Macedonian and Slovene)

Andreja (Croatian)

Andrejs (Croatian and Czech)

Andres

(Spanish)

Andrés

(Icelandic and Spanish)

Andreu

(Catalan)

Andrey

(Belarusian, Bulgarian, French, and Russian)

Andria (Corsican and Sardinian)

Andries (Dutch)

Andrieu (French)

Andrii (Ukrainian and Russian)

Andrija (Croatian)

Andrija (Serbian)

Andris (Latvian)

Andrius (Lithuanian)

Andriy (Ukrainian)

Andro

(Croatian and Georgian)

Andros

(

Greek

)

Andrus (Estonian)

Anti (Estonian)

Andrzej (

Polish name

)

Antero (Finnish)

Antti (Finnish)

Atte (Finnish)

Bandi (Hungarian)

Dand (Scots)

Dries (Dutch)

Endre (Old Norse, Hungarian, and Norwegian)

Jędrzej (Polish)

Ondřej (Czech)

Ondrej (Slovak)

Tero (Finnish)
Andi

(

English

)

Andie

(

English

)

Andra

(

American

)

Andrea

(

Italian name

)

Andrine (Norwegian, Swedish, Finnish, Danish, and Scandinavian)
What Are The Common
Nicknames
&
Short Names
For Andrew?
Names You Can Pair With Andrew
Dan

Lucas

Thomas

Benjamin
Elijah

Gabriel

Gideon

Michael
Rhyming Or Similar Names
Other Names For Boys That Start With A
Alexander

Anthony

Arthur

Arnold

Aslan
Famous People
Named Andrew & Other Related Names
Famous Andrews
Andrew Carnegie

–

Scottish

–

American

industrialist

Andrew Cuomo –

New York

Governor

Andrew Garfield

–

American

-British actor

Andrew Jackson

– 7th

US president

Andrew Johnson

– 17th

US president

Andrew Lincoln –

English

actor

Andrew Lloyd Webber

–

English

composer

Andrew Poje – Ice dancer from

Canada

Andrew Scott – Actor from

Ireland

Prince Andrew

–

Duke of York
Famous Drews
Drew Barrymore –

American

actress

Drew Carey –

American

comedian

Drew Dober –

American

mixed martial artist

Drew Struzan –

American

artist
Famous Andys
Andy

Garcia –

American

actor

Andy

Roddick –

American

tennis player

Andy Warhol

–

American

artist

Andy

Williams –

American

singer
Fantasy Characters & Andrews In Pop Culture
Andrew Neiman – Character in the movie "

Whiplash

"

Andy

Dufresne – Protagonist in "

The Shawshank Redemption

"
Andrew In Songs
"

A Boy Named Andrew

" by Fantastic Negrito

"

A For Andrew

" by Attack Attack!

"

Andrew's Blues

" by The Rolling Stones

"

Andrew Duffy's Jig

" by Jonatha Brooke
Name Lists With "Andrew" On Motherhood Community
Other
Baby Name
Meanings
Popular Baby Name
Lists
Other Resources For Pregnant Moms
References
(1) https://www.ssa.gov/oact/babynames/index.html
(2) https://www.ssa.gov/oact/babynames/decades/names2000s.html
(3) https://www.ssa.gov/oact/babynames/top5names.html
(4) https://www.ssa.gov/oact/babynames/state/top5_2021.html
(5) https://www.learnreligions.com/saint-andrew-apostle-541673
(6) https://www.britannica.com/biography/Saint-Andrew
(7) https://www.bbc.co.uk/religion/religions/christianity/saints/andrew.shtml
(8) https://www.biblestudytools.com/dictionary/andrew/