Overview
Strollers and car seats are postpartum essentials every parent needs once baby arrives. It's even a good idea to install the car seat when your due date is near, so you can get it ready before your little one's debut.
There are many different types of car seats and strollers, and some parents prefer choosing an option that can be used for both.
The Doona car seat and stroller combo directly converts into either configuration without using connectors or adapters. It can also be used as an infant carrier.
This product has a 5-star rating as a rear-facing car seat from the NHTSA (National Highway Traffic Safety Administration). (1)
Note: Whether you've chosen Doona or another brand, it's good to check stroller recalls. This helps reduce your children's injury risk from items (strollers or other products) with manufacturing or design defects.
What car seats does Doona offer, are these suitable for newborns, how long can you use them, and are they safe for your baby to sleep in?
You can find answers to these questions below.
Doona Infant Car Seat & Stroller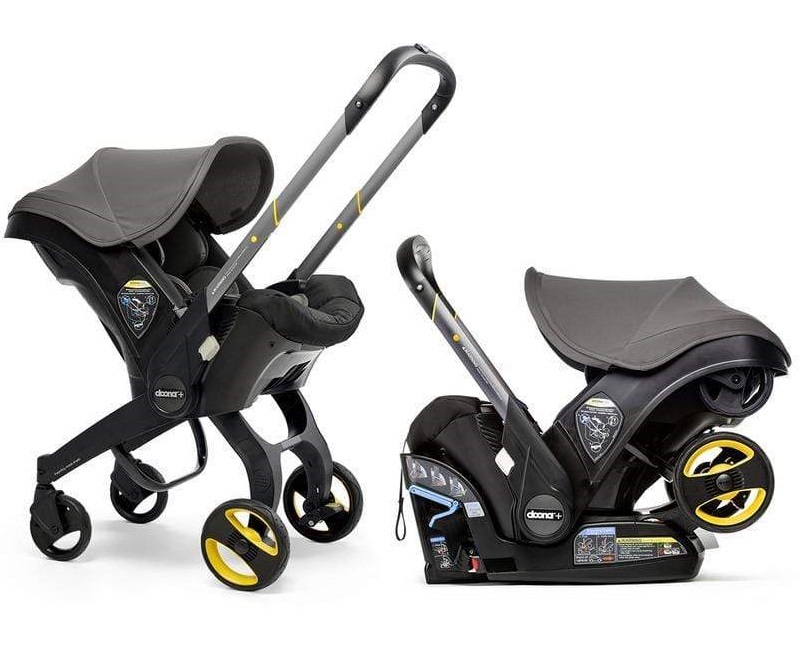 Editions
Core Edition
Midnight, Limited Edition
These strollers have the same dimensions and functionality, but the Midnight edition has more luxurious upgrades:
Diamond-shaped seat cover
Black anodized aluminum frame
Faux-leather touches throughout
Luxurious black faux-leather handlebar cover
Exclusive Doona Midnight Essentials Bag
Available colors for the Core edition:
Nitro black
Flame red
Racing green
Blush pink
Grey hound
Desert green
Royal blue
Pros Of Doona Strollers & Car Seats: What Makes Them Special?
Conversion Options: Stroller mode, rear-facing car seat mode (travel car seat), and infant carrier
Comes fully assembled and can be used straight from the box
Converts in one simple motion
Adjustable handlebar that also acts as an anti-rebound bar for added safety inside the car
Meets quality and safety standards
TUV (safety certification)
FAA (Federal Aviation Administration) aircraft approved for travel
Convenience
Washable cushioning
Key Features
Material: Aluminum frame, Removable and washable textiles, and stretch material for the canopy
Safety Features: Baby-safe materials, breathable textiles and inner foams, UPF 50+ sun protection, free from flame retardants or SVHC (Substances of Very High Concern), 3-layer side impact protection, and 5-point safety harness
Ease Of Installation: LATCH system
Other Specifications
Capacity: Suitable for babies from 4 lbs to 35 lbs
Extra Features: Passes European standards, US standards, and the REACH regulation (Registration, Evaluation, Authorization, and Restriction of Chemicals)
Accessories In The Box
Infant car seat base with the LATCH system (Lower Anchors and Tethers for Children)
Vehicle seat protector
Infant insert
Head support pads provide side impact protection
You can also buy the LATCH base and vehicle seat protector as spare parts at the prices listed above.
Extra Accessories (Sold Separately)
Doona essentials bag

Doona

travel bag

Padded travel bag

Handlebar

cover

Sunshade

extension

360-degree protection

Insect net

Doona snap-on storage

bag

All-

day bag

Doona

rain cover

Footmuff

Wheel covers

Winter cover
Product Recall
Cons Of Doona
Price
This car seat is pricier than other convertible car seat brands that offer more versatile options (such as forward-facing seats and boosters) and/or complete accessories.
Rear-facing Only
This travel system doesn't twist or convert to a forward-facing seat for both the stroller and car seat modes.
No Recline
It's a one-position car seat and stroller, which can be an issue for parents who want to shift their children to another position to make them feel more comfortable.
Weight Limit
It's only designed for use as a rear-facing seat with a weight limit of 35 lbs. That makes this seat suitable only for kids around two years old or younger.
Product Weight
It weighs 17.2 lbs. However, this isn't a major setback because you don't have to carry the car seat around.
If you need to move your baby, you can simply unfold the car seat to extend the frame and wheels for use in stroller mode.
Low Handlebars
Several customers complain that this product has low handlebars. So, it might not be ideal as a travel stroller for tall parents.
The description for "tall" is relevant and varies in different places. However, the average heights in the US are as follows: (2)
5 ft 9 in for men
5 ft 4 in for women
Too Large For Some Cars' Seat Belts
Due to its wheels and unique double-wall structure, the car seat might seem too large for some cars' seat belts for the lap-shoulder belt installation.
No Storage
Because it folds into an infant car seat, this stroller doesn't have built-in storage options.
Although you can buy the extra Doona snap-on storage bag, some parents believe that the car seat already has a high price tag, so storage space should have also been provided. Instead, you have to pay more for the accessories.
No Option For A Double Stroller
If you have twins or plan to use a stroller with two kids, this isn't the right one for you. It doesn't have an option to convert into a double stroller.
Small Wheels
The wheels are designed to be small to fit into the car seat easily. However, this can be a disadvantage, especially when it comes to your comfort in pushing this stroller around.
This 2-in-1 design can make it easier for your car to get dirty because the wheels simply fold into the car seat.
If you had a separate stroller, you could simply put that in the trunk after strapping your baby safely into the car seat in the car.
You do have the option to buy the wheel covers, but some parents think that's too time-consuming to put on and take off the stroller regularly.
What Customers Say
Positive Reviews
"This car seat saved my sons life! We were just in a very bad accident, rear ended by a large truck, pushed into oncoming traffic and hit head on by another large truck then spun into a pole. My car was destroyed and I am severely injured with broken bones but the Doona kept my son entirely unharmed! He was laughing and smiling moments after as if nothing happened. Buying a replacement as required by law but the Doona was perfectly sturdy and intact!" – Reviewer on Doona's website.
"The transformation from car seat to stroller was surprisingly easy. Color is really nice in person. Quality of product is top notch buttons are easy to press. Really good design!" – Reviewer on Target.
"The ease of using this stroller is just incredible. Thia is my third baby and first time splurging on a fancy item!! This was SO worth it!!" – Reviewer on Doona's website.
Negative Reviews
"It's a cool product but needs perfecting. The seat is tight and my 15 pound 9 month old was not comfortable in it. She would not stay in it long before she would wiggle with frustration to get out. It only goes up to 35 pounds so I think 500 for this is crazy. Maybe 300 but definitely not worth 500 dollars in my opinion." – Reviewer on Amazon.
"For the price of this car seat I was Pretty shocked that the poor quality level. This feels more of a cheap stroller/car seat. 549$ and doesn't even have a no rethread harness? Shaky, unstable handle. Cheap wheels and braking system. Thinking about returning it and getting a better car seat and stroller before my daughter is born. Honestly expected so much better." – Reviewer on Doona's website.
"Just had a son with my wife, our 3rd child, and was excited about this product. but it was not worth the price. It was heavy, with very short handle extension (I'm 6″1 tall), and it exposed our baby with out the shade and rain cover accessories. It rained a bit on my boy, and we had to improvise by covering him with a blanket. For over 500 dollars, covering a baby should be standard but this company wants you to spend over 100 dollars in getting the shade and rain covers. I returned it after few days, and now happy with my chicco product for less than 400, with full accessories." – Reviewer on Amazon.
Which Doona Convertible Car Seat Edition Should I Get?
Both the Core and Midnight Limited Editions have the same safety features and dimensions.
Choose Core Edition if:
You prefer the less expensive option.
You want to choose a stroller and car seat in different colors other than black.
You don't mind not having premium, special-edition features.
Choose Midnight Limited Edition if:
You prefer a more luxurious option with upgraded features, such as a black anodized aluminum frame, luxurious black faux-leather handlebar cover, and diamond-shaped seat cover.
You don't mind the higher price tag (difference of

around

$100).
Verdict: Is Doona Car Seat & Stroller Worth It?
The answer depends on your needs and budget.
If you're looking for a car seat that can directly convert into a stroller, then Doona may be worth your money.
However, this combination might not be ideal if you'd rather get a separate stroller and car seat.
Note that some parents don't consider the Doona car seat worth the money because of the following reasons:
It doesn't convert to a forward-facing car seat or booster.
It has smaller wheels than other strollers and can easily make your car's interior dirty because of its 2-in-1 combo design.
It lacks the built-in accessories provided in many cheaper competitor products, including storage space.
It isn't ideal for tall parents because of its lower handles.
It doesn't offer different reclining positions.
It has a lower weight limit than other convertible car seats.
Factors To Help You Choose Your Convertible Car Seat
No recent recalls or safety issues
Safe and durable fabrics (durable fabrics for easy cleaning but with have low chemical emissions; GREENGUARD Gold-certified car seats like

Nuna

RAVA

Convertible Car Seat

are preferable)
Safety indicators (built-in leveling systems, indicators, etc.)
Ease of installation (using a regular seat belt or the LATCH system)
Ease of adjustments (no-rethread harness is preferable)
Higher size limits and more conversion options
Higher rear-facing weight limits – the AAP (American Academy of Pediatrics) and the NHTSA recommend putting your child in a rear-facing for as long as possible until they reach the seat's weight limit because it can be safer than being in a forward-facing car seat (3)
Size and fit (to best suit your needs and fit your vehicle)
Safety extras (such as additional shock absorption padding, an anti-rebound bar, or high-quality materials without toxic flame retardants)
Comfort (padded neck support, a leg rest, and breathable or ventilated seats)
Other extras (car seats with cup holders, etc.)
Traveling With Doona Car Seats
Can The Doona Go On An Airplane?
Yes. You can find airplane approval stickers located on the back of the Doona. However, it's good to inform the airline ahead of time that you're traveling with a Doona.
Different airlines have different policies on car seats. Some allow you to use the car seat installed on the airplane seat, while others will require you to include it with your check-in luggage.
Does The Doona Stroll Down The Airplane Aisle?
Yes. Doona has a width of 17.4 inches, which is less than the minimum airplane aisle width of 20 inches.
Converting Doona Car Seat To A Stroller
Is It Easy To Convert A Doona Car Seat To A Stroller?
Yes. This baby product easily converts from a car seat to a stroller, and vice versa, in just a few seconds.
You only have to push the small lever at the side to move the handlebar and extend the legs. The same lever is used for folding the stroller into a car seat.
Tips For Safe & Easy Conversion
Do the following before converting from stroller mode to car seat:
Remove the snap-on storage bag.
Make sure the wheels are straight, or you can't lock it in the car seat mode.
Put the brake on.
Doona Car Seat FAQs
Can Doona Be Your Baby's Only Stroller For The First Year?
Yes. This product is suitable for newborns and babies up to 35 lbs (around two years old).
Can You Use The Doona Car Seat Exclusively As Your Main Car Seat?
Yes. As long as your child is within the car seat's weight limit of 35 lbs, you can use this product as their main car seat.
Is Doona Car Seat Safe?
Yes. This product is free from flame retardants and SVHC (substances of very high concern), as certified by European and US standards.
It also has an anti-rebound protection system that isn't found in all car seats. This safety feature absorbs the impact and prevents the car seat from rotating towards the back seat to reduce rebound injuries.
What Age Is The Doona For?
This car seat and stroller combo is suitable for babies 0+ to around two years old, as long as they are under 35 lbs or 32 inches tall.
Is The Doona Car Seat Safe For Newborns?
Yes. However, be sure to put the infant inserts and check that the straps aren't covering your newborn's face.
How Long Can A Child Stay In A Doona Car Seat?
They can stay until they weigh at least 35 lbs.
The AAP and the NHTSA recommend putting your child in a rear-facing car seat for as long as possible or until they reach the seat's weight limit. Studies show that rear-facing seats can be safer than forward-facing car seats. (3)
How Does The Doona Drive?
Because of the smaller wheels, it might not ride as smoothly as other strollers. It works best on level surfaces, such as paved roads.
Is The Doona Good For Long Walks?
The Doona stays in one position, making it uncomfortable to use for long walks.
Can Your Baby Sleep In A Doona?
No. Due to suffocation risks, babies shouldn't sleep in a car seat, stroller, sling, or other inclined baby products (including inclined sleepers).
If your baby falls asleep in one, move them to a firm, flat surface clear from any obstruction, even soft toys or blankets, as soon as possible.
How Heavy Is The Doona Car Seat?
This product weighs 17.2 lbs.
Other
Car Seats
To Try
Britax Boulevard ClickTight ARB (Anti-Rebound Bar)
Clek Foonf Convertible Car Seat
Maxi-Cosi Pria All-In-One Convertible Car Seat
Graco SlimFit 3 LX 3-in-1 Car Seat
Britax Allegiance 3 Stage Convertible Car Seat
Peg Perego Primo Viaggio Kinetic
Graco Contender Slim Convertible Car Seat
Britax One4Life ClickTight All-in-One Car Seat
Safety 1st Grow and Go Convertible Car Seat (All-in-1)
Evenflo Gold Revolve360 Rotational All-In-One Convertible Car Seat
Chicco NextFit Zip Convertible Car Seat
Diono Radian 3 RXT All-In-One Convertible Car Seat
Cybex Sirona S
Evenflo Tribute LX
Graco 4Ever DLX 4-in-1 Convertible Car Seat
Graco Extend2Fit Convertible Car Seat
Britax Marathon ClickTight
Evenflo Stratos
Clek Fllo
Cosco Scenera Next
Car Seat Recalls
Stroller Recalls To Monitor
REFERENCES
(1) https://www.nhtsa.gov/car-seat/Doona/Infant%252520Seat/i__137652
(2) https://worldpopulationreview.com/state-rankings/average-height-by-state
(3) https://www.nhtsa.gov/sites/nhtsa.gov/files/documents/carseat-recommendations-for-children-by-age-size.pdf