What's the WanaBana
Recall About?
On October 28, 2023, the FDA (Food and Drug Administration) issued a safety warning against WanaBana apple cinnamon fruit puree pouches due to elevated lead levels. (1)
The following day, October 29, 2023, WanaBana issued a voluntary recall of over 1.7 million units of WanaBana Apple Cinnamon Fruit Purees, which were sold nationwide in 3-pack pouches of 2.5 oz each. (2)
According to the FDA's safety notice, they learned about four cases of children having elevated blood lead levels, which show that they might be suffering from potential acute lead toxicity. These cases are currently still being investigated by the following: (1)(2)
NCDHHS or North Carolina Department of Health and Human Services

NCDA&CS or North Carolina Department of Agriculture & Consumer Services
WanaBana apple cinnamon fruit puree pouches were identified in the NCDHHS investigation as the possible source of exposure for these four children. (1)(2)
UPDATE (November 16, 2023): As of writing, the FDA has received a total of 34 reports of children possibly affected by the recalled WanaBana products. The recall has also expanded to include Schnucks and Weis apple sauce pouches. (6)(7)(8)
Investigation Results
The NCDHHS analyzed multiple lots of the WanaBana apple cinnamon fruit puree as part of their investigation. Extremely high concentrations of lead were detected in many of these lots. (1)(2)
These results were reported to the FDA, and the federal agency agreed with the analytical findings that these elevated lead levels could result in acute toxicity. (1)
Taking action, the FDA shared the NCDHHS test results with WanaBana. (1)
According to the FDA's safety alert, the WanaBana representatives have agreed to voluntarily recall their apple cinnamon fruit puree pouches (all lot codes), regardless of their expiration dates. (1)
WanaBana has also announced in their recall advisory that they're working closely with the FDA to identify the source of this lead contamination problem. (2)
According to the FDA's November investigation update, they tested one WanaBana Apple Cinnamon Puree finished product sample collected from Dollar Tree. They found that it contains 2.18 ppm (parts per million) of lead, which is more than 200x higher than the FDA's action under the proposed draft guidance for fruit purees or similar products made for babies and young children. (8)
The FDA also added that fruit puree pouches without cinnamon from all the affected brands aren't part of the recall. Tests didn't show elevated lead levels in any of these products.
Based on test results, the FDA hypothesized that cinnamon might be the source of the increased lead content in all the affected fruit pouches.
As of writing, however, the FDA hasn't tested the cinnamon source for these recalled products.
Actions being taken by the FDA: (8)
They're still working with Ecuadorian authorities (the products are made in Ecuador) to investigate the source of the cinnamon used for these brands.

Incoming cinnamon shipments from multiple countries are currently being screened by the FDA for possible lead contamination.

They're also investigating where the contamination started and if other products might also be affected. Thankfully, no other reports of elevated blood lead levels or illnesses for cinnamon or cinnamon-containing products have been reported.

They also remind food distributors and manufacturers of their legal responsibility to ensure that all products sold in the US comply with FDA regulations and all Federal Food, Drug, and Cosmetic Act regulations, where applicable.

They also remind food manufacturers that they're responsible for minimizing or preventing chemical hazards by 1) putting preventive controls into place to eliminate or reduce lead in their food products and 2) testing their final products for lead content and other harmful substances.
What
WanaBana Fruit Purees
Are Recalled?
According to the FDA, WanaBana has agreed to voluntarily recall all lots and expiration date codes of WanaBana apple cinnamon fruit puree pouches. (1)(2)
Only this particular flavor is affected by the lead issue. (1)(2)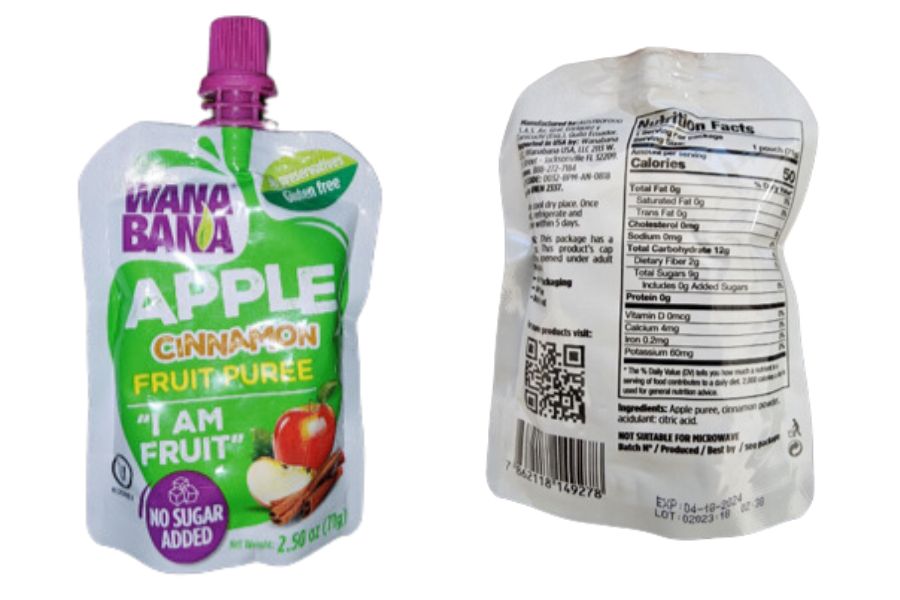 These affected fruit puree pouches were sold nationally and were available through multiple retailers such as the following: (2)
Amazon

Dollar Tree

Sam's Club
How Do I Know If My Child's
WanaBana Fruit Purees Have
Been Recalled?
WanaBana announced that these are the affected batch numbers and the number of units being recalled for each one: (2)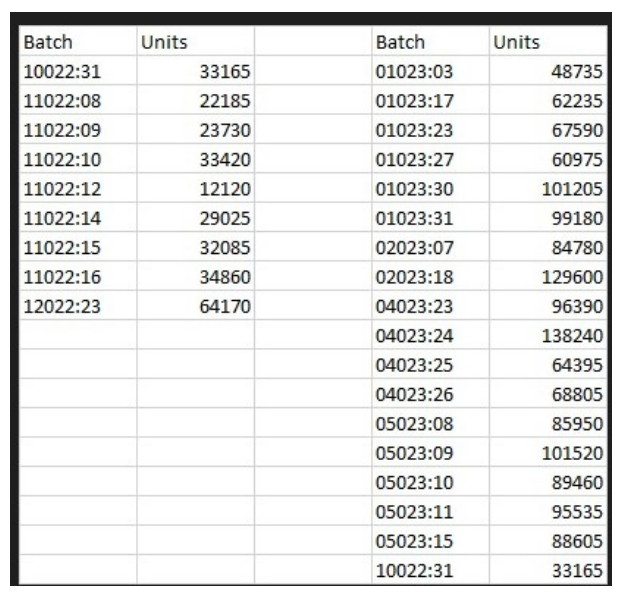 What To Do With My Recalled
WanaBana Fruit Purees
?
Parents and caregivers are advised not to buy WanaBana apple cinnamon fruit puree pouches if they find any on the market. (1)
The FDA also urges parents and caregivers to stop feeding these products to children. (1)
If your children have consumed these WanaBana apple cinnamon fruit puree pouches, the FDA recommends contacting their healthcare provider so they can get a blood test. (1)
Contact WanaBana via email for questions or if you have any of these products: (2)
Are These
WanaBana Fruit Purees
Still Safe To Use?
No. Based on NCDHHS test results, many lots of these fruit purees have elevated lead levels. Be sure to keep them out of your children's reach. (1)(2)
Where Were These
WanaBana Fruit Purees
Manufactured?
WanaBana is based in Coral Gables, Florida. However, according to their website, their products are sourced from a plantation in the Province of Esmeraldas on the Ecuadorian Coast in Ecuador, a country in South America. (3)(4)
FDA Expands Cinnamon Apple Puree & Applesauce Product Recall
Update: November 16, 2023
The FDA has expanded the WanaBana recall to include two more brands of cinnamon apple puree and applesauce products: (6)(7)(8)
Schnucks Apple Sauce with cinnamon (90g pouches)

Weis Cinnamon Apple Sauce (90g)
This recall expansion was issued after the investigation showed that the affected products were also sold under different brand names. (6)(8)
Schnucks Apple Sauce With Cinnamon
According to the new recall advisory, WanaBana also manufactures and distributes apple sauce products under the private-label brand Schnucks. (6)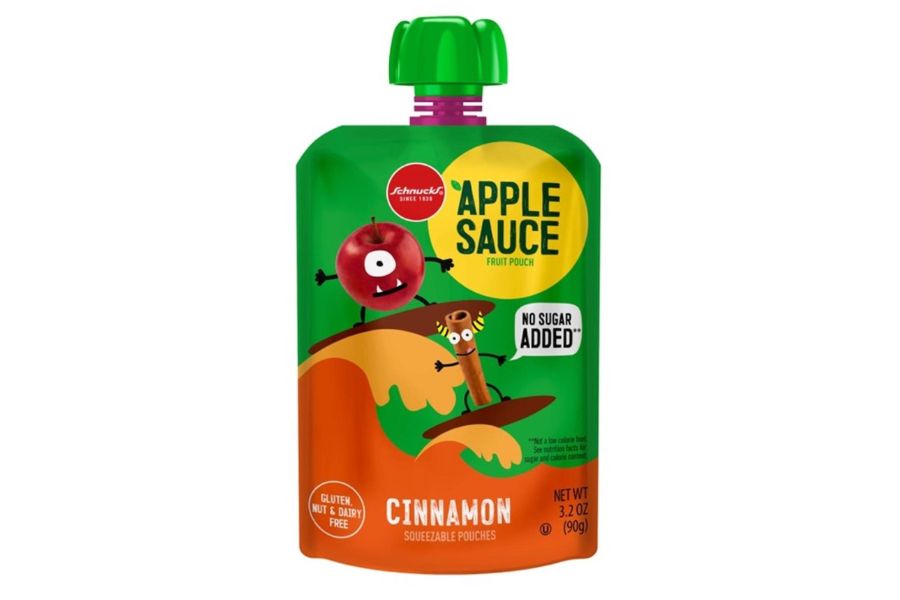 The following lots of Schnucks apple sauce are affected by this product recall: (6)
05023:19

09023:22

09023:24
Here are the UPC codes for these affected products: (9)(10)
UPC: 4131801152 for the Schnucks Cinnamon Applesauce Pouch (12 pk)

UPC: 4131801155 for the Schnucks Cinnamon Applesauce Pouch (4 pk)

UPC: 4131801157 for the Schnucks Applesauce Pouch Variety (20 pk)
These Schnucks products were sold via (online and physical store locations): (6)
Schnucks

Eatwell Markets grocery stores
Thankfully, no injuries or illnesses were reported relating to these recalled Schnucks products. (6)
If you're affected by this recall, you can email the company through [email protected]. (6)
You can also reach the Schnucks Customer Care team via these phone numbers: (10)
314-994-4400

1-800-264-4400
The brand also declared that products sold in the following Schnucks stores aren't included in the recall: (10)
Rockford, Illinois

DeKalb, Illinois

Janesville, Wisconsin
Weis Cinnamon Apple Sauce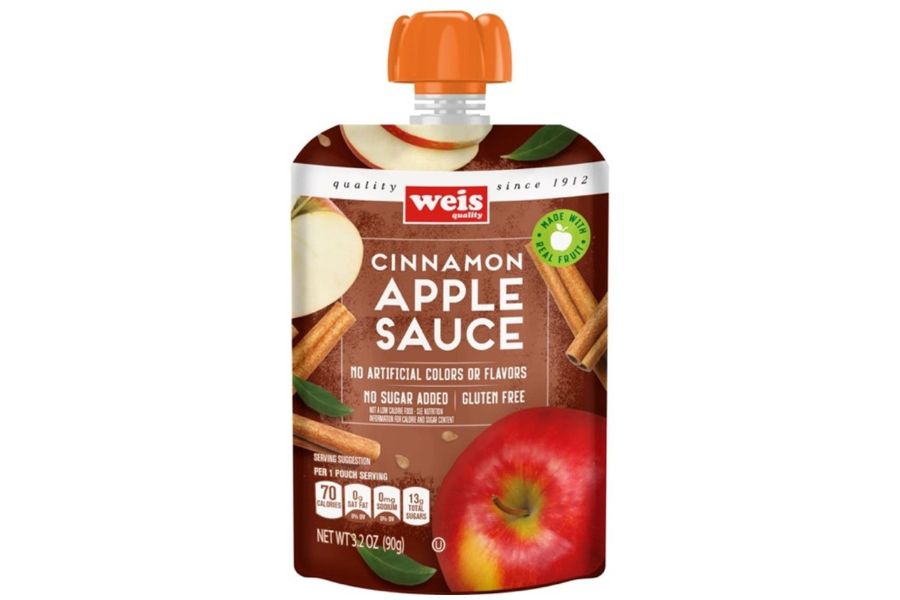 This recall was also expanded to include Weis Cinnamon Apple Sauce 90g. The following lot number is affected: (6)
Here are the UPC codes for these affected products: (9)
UPC: 041497216123 for the Weis Quality Cinnamon Apple Sauce Pouches (20 pk)
These Weis-brand cinnamon applesauce pouches were sold via: (6)
Thankfully, no illnesses or injuries were reported relating to these recalled Weis products. (6)
Affected customers can email the company via [email protected] for this Weis apple sauce recall. (6)
How To Dispose The Recalled Apple Sauce Products
The FDA recommends discarding the recalled apple sauce products and ensuring that no one can salvage them from the trash bin. All product pouches must be carefully opened, with the contents emptied into the trash can before you discard the packaging. (8)
Be sure to clean up any spills and wash your hands after handling the products. (8)
Lead Toxicity Signs & Symptoms
Lead is toxic to humans, regardless of age or health status. (1)(2)(5)
What's alarming is that lead exposure and exposure in children is usually difficult to detect, and most kids don't show any obvious and immediate symptoms. (1)(2)(5)
That's why it's important to talk to your child's healthcare provider about their lead exposure and get a blood test if they've taken these recalled fruit pouches. (1)(2)
It would be best if you also looked out for the lead toxicity signs and symptoms below, although these can vary based on your child's exposure. (5)
Possible symptoms from short-term lead exposure: (1)(2)(5)
Abdominal pain

Anemia

Colic

Headache

Sluggishness and fatigue

Vomiting
Additional symptoms that your child might develop or experience with longer-term lead exposure: (1)(2)(5)
Abdominal discomfort (occasional)

Constipation

Difficulty concentrating

Fatigue

Headache

Irritability

Lethargy

Muscle aches, prickling, or burning

Muscular exhaustibility (progressive weakness)

Tremors

Weight loss
Lead can also lead to the following problems in children: (5)
Developmental delay

Hearing loss

Learning difficulties

Pica or eating things that aren't food, such as paint chips

Seizures
FAQs
Is WanaBana A Good Food Brand?
According to the WanaBana website, they're committed to satisfying their customers and exceeding their expectations with products derived from fresh fruits. They claim that these products meet "quality, safety, legality, and authenticity parameters" based on national and international quality standards. (4)
The company has also received product certifications, including GMP (Good Manufacturing Practice) and USDA Organic (United States Department of Agriculture). (4)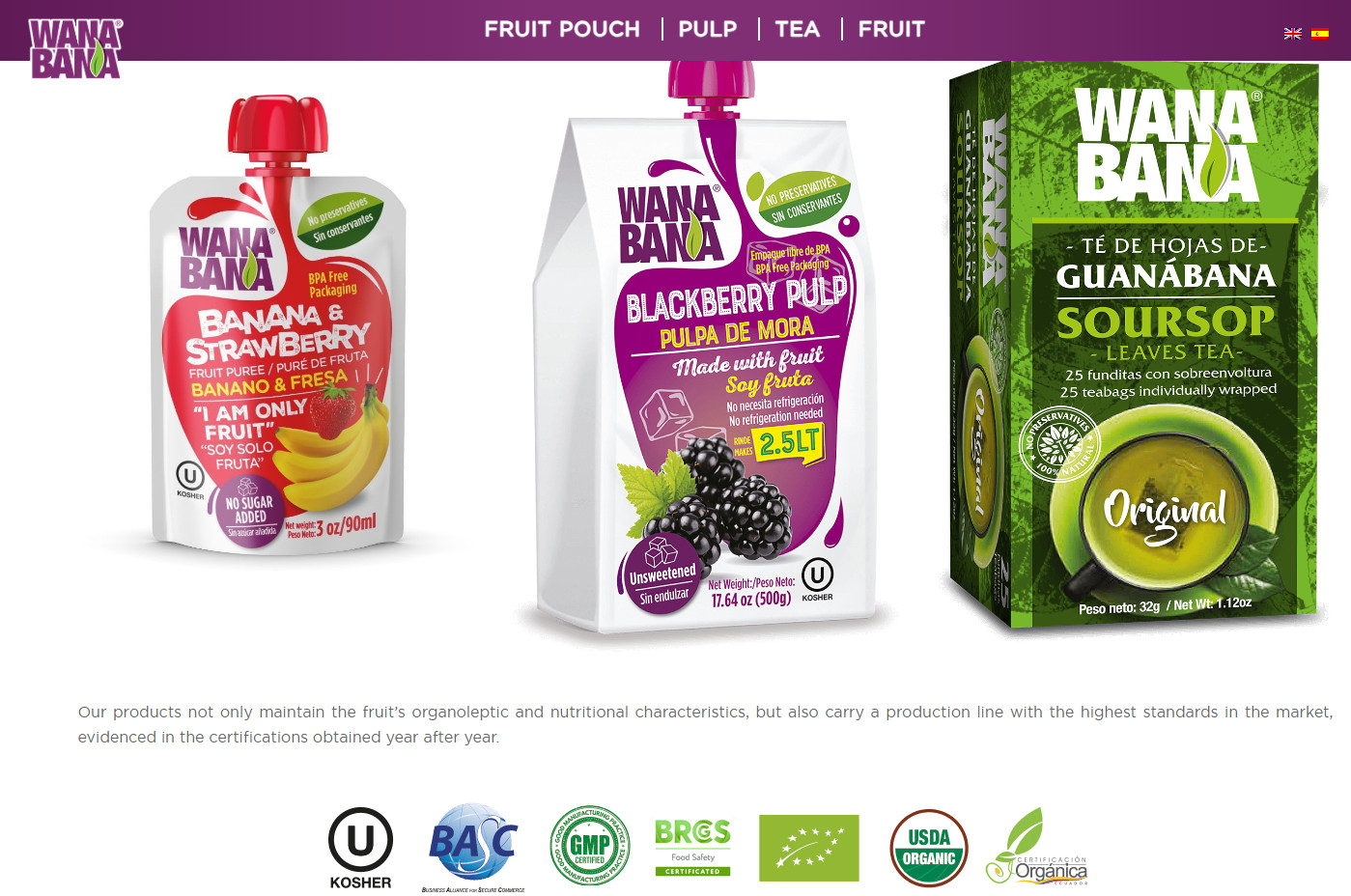 Who Owns WanaBana?
There's no information on who owns WanaBana. (4)
Our Baby Food Recommendations:
We've found the following baby food brands to be safe alternatives:
Which Baby Foods Do Not Contain Heavy Metals?
Here are our recommendations for healthier baby food products that are free from harmful chemicals, including heavy metals:
Serenity Kids
Read our Editor-in-Chief's interview with Serenity Kids' founders here.
Bison Baby Food Pouch with Organic Squash



Grass Feed Beef & Ginger with Organic Pea, Bell Pepper and Broccoli



Cerebelly
Kale Sweet Potato Apple Puree

Beet Carrot Blueberry with Coconut Milk Puree
Amara
Potato and Kale Mash
Ancient Grain Cereal with Fruit Bites
Pitaya Coconut Bowl Baby Blend
Quinoa Raspberry Pudding Baby Blend
Once Upon A Farm
Organic Plant-Rich Meals

Advanced Nutrition Power Bowl
Other Baby Food Recalls
Other Recent Baby
Product Recalls
& Safety Warnings
Stay informed with the latest news by signing up for our regular Motherhood Community recall alerts so you never miss an important recall.
Check these comprehensive lists of product recalls by category:
References
(1) https://www.fda.gov/food/alerts-advisories-safety-information/fda-advises-parents-and-caregivers-not-buy-or-feed-wanabana-apple-cinnamon-fruit-puree-pouches
(2) https://wanabana.com/wp-content/uploads/2023/10/Press-release-Wanabana-Apple-Cinnamon-Fruit-Puree-Recall-Oct-29-2023.pdf
(3) https://abcnews.go.com/Health/wireStory/fda-wanabana-fruit-puree-pouches-dangerous-levels-lead-104477790
(4) https://wanabana.com/about-us
(5) https://www.mayoclinic.org/diseases-conditions/lead-poisoning/symptoms-causes/syc-20354717
(6) https://www.fda.gov/safety/recalls-market-withdrawals-safety-alerts/wanabana-recalls-wanabana-weis-and-schnucks-apple-cinnamon-fruit-puree-pouches-cinnamon-apple-sauce
(7) https://www.weismarkets.com/recalls-safety-information
(8) https://www.fda.gov/food/outbreaks-foodborne-illness/investigation-elevated-lead-levels-cinnamon-applesauce-pouches-november-2023
(9) https://www.usatoday.com/story/money/food/2023/11/06/weis-schnuck-applesauce-pouch-recall/71479776007/
(10) https://schnucks.com/product-recalls/update-schnuck-markets-recalls-select-schnucks-brand-applesauce-pouches