Overview
Are you a busy or working parent thinking about getting a baby food delivery service from Little Spoon but unsure whether it's healthy or if it's the right choice for your little one?
You've found the right place, mama! Let's review the pros and cons of Little Spoon to see whether this organic baby meal delivery service is right for you.
You'll also learn how much Little Spoon costs and whether they have meals available for older kids too.
Key Features
Little Spoon is a food company that offers fresh, organic baby food sent right to your doorstep every two weeks.
Meal plans are custom-made for your baby. It's something that makes Little Spoon different from the other food companies offering meal delivery services for babies and toddlers.
Pricing/Packages
The pricing depends primarily on the type of meal and the plan you subscribe to.
Little Spoon Baby Foods (BabyBlends)
One meal per day = 14 meals delivered for two weeks

Two meals per day = 28 meals delivered for two weeks

Three meals per day = 42 meals delivered for two weeks)
Little Spoon Kid's Meals (Plates)
Four meals per week = eight meals delivered for two weeks

Six meals per week = 12 meals delivered for two weeks)

Nine meals per week = 18 meals delivered for two weeks

Twelve meals per week = 24 meals delivered for two weeks)
Shipping costs a flat rate for BabyBlends and Plates.
Is Little Spoon Sold In Stores?
Little Spoon is a subscription-based service only. It's not available in stores.
Meal Flavors Available & Nutrition Facts
Little Spoon offers BabyBlends, designed to introduce different kinds of flavors that might help keep your baby from becoming a picky eater in the future.
Little Spoon Baby Blends Kale Avocado Green Apple Chia (Moms' Choice)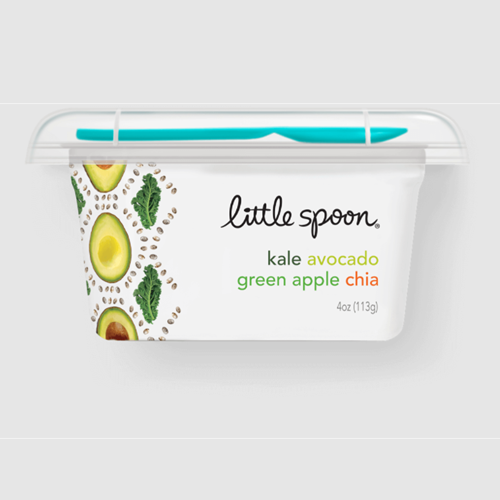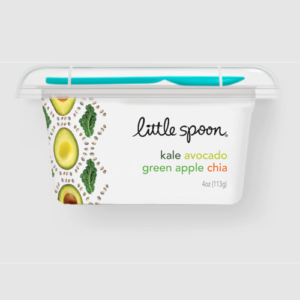 This textured baby food has vitamins and minerals from kale, avocado, green apple, and chia for your baby's brain and bone development.
It's made from certified organic ingredients with no preservatives, no artificial flavors, no heavy metals, no hormones or antibiotics, and no fillers. Everything in this jar is all-natural.
Little Spoon Butternut Squash Puree – (Kids' Choice)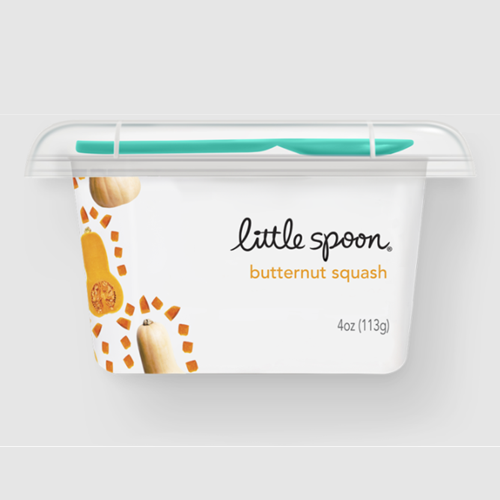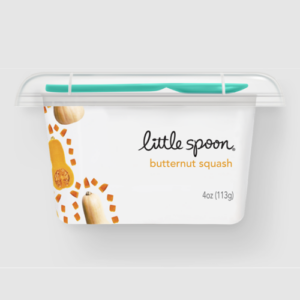 Butternut Squash is a smooth, certified-organic blend that contains potassium and vitamins A, C, and E to help promote your baby's eye development and immunity.
This non-GMO, gluten-free, and sugar-free baby blend has no preservatives.
Little Spoon Apple – (Promotes Better Digestion)
This apple nutritious blend contains soluble and insoluble fiber to help maintain your baby's regular bowel movement. It's good for digestion and can also help boost your child's immunity.
Your baby can get potassium, magnesium, and vitamins C, K, and B6 from this organic red apple blend.
Little Spoon Sweet Potato Apple Blueberry Flax – (Best for Brain Development)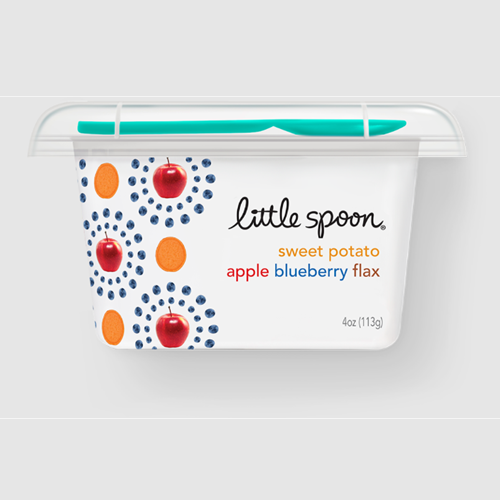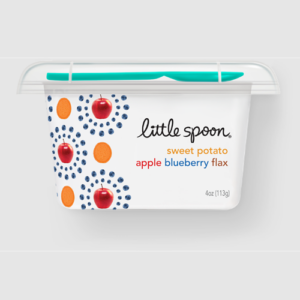 Little Spoon combines sweet potatoes (rich in potassium, vitamin C, and fiber), flax (rich in Omega-3 fatty acids), blueberries (rich in flavonoids and antioxidants), and apples (rich in vitamin C and fiber) in this nutritious blend.
It's good for your baby's eye and brain development. This is also a textured blend that introduces them to different flavors in one meal.
Little Spoon Sweet Potato Apple Red Bell Pepper Turmeric – (Promotes Immunity)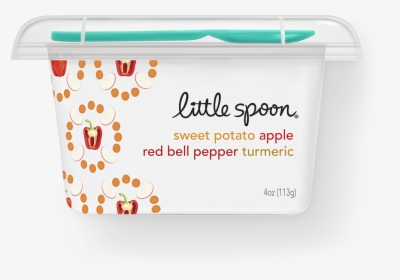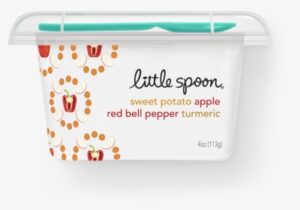 This unique, organic baby food blend of sweet potato, apple, red bell pepper & turmeric is packed with vitamins, minerals, fiber & antioxidants.
These are the choices on the rotating menu (availability changes every season) for the baby food purees and food blends:
Beet, banana, and mango
Blueberries
Blueberry, chickpea, spinach, pear, and rosemary
Broccoli and spinach
Kale
Prunes
Quinoa
Spinach, mango, banana, and hemp
Strawberry and rhubarb
Veggie puree
Zucchini
They also have seasonal flavors, such as:
Cranberry apple pie
Peppermint swirl
Gingerbread cookies
Nutritional facts (% Daily Values) for the butternut squash puree:
Calories: 50
Fats: 0g, 0%
Total carbohydrates: 13g, 14%
Dietary fibers: 2g
Proteins: 1g, 9%
Potassium: 60%
Vitamin C: 50%
Vitamin E: 30%
Vitamin A: 700%
Nutritional facts (% Daily Values) for the strawberry, basil, beet, pear, and chia blend:
Calories: 60
Fats: 1g
Total carbohydrates: 13g
Dietary fibers: 4g
Proteins: 1g, 9%
Potassium: 35%
Vitamin C: 45%
Folate: 70%
Vitamin B6: 20%
Calcium: 10%
Special meal options:
Options for dairy-free foods: Yes
Options for hypo-allergenic foods: Yes
Options for gluten-free foods: Yes
Options for vegetarian foods: Yes
Proteins for BabyBlends are completely sourced from plants: grains, legumes, and seeds.
Unlike some competitors such as Yumi, Little Spoon doesn't offer finger foods in their toddler meals.
But they do have other items not offered by Yumi: vitamins, probiotics, natural remedies for common ailments, and foods for big kids (marketed as Plates).
If your baby is ready for other solid foods aside from puree, you can slowly transition to the kid's meals. Little Spoon will also guide you through this milestone.
Little Spoon Plates Chicken Pot Stickers – (Picky Eater's Favorite)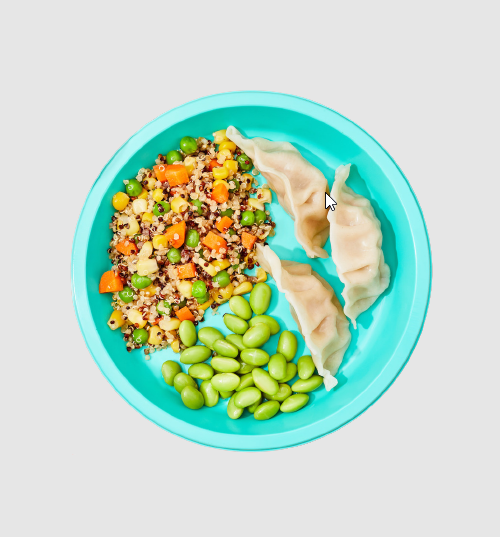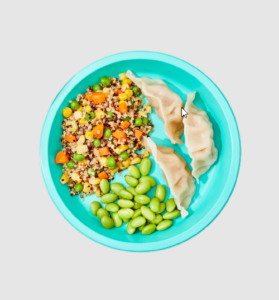 Made from antibiotic-free chicken and organic vegetables, the Chicken Pot Stickers are among the favorite meals from Little Spoon's Plates menu. This plate features chicken pot stickers, light veggie and quinoa stir fry, and steamed edamame. Seasoned with sea salt, this organic finger food has no eggs, no nuts, and no dairy.
Little Spoon Spinach and Cheese Ravioli – (BEST SELLER)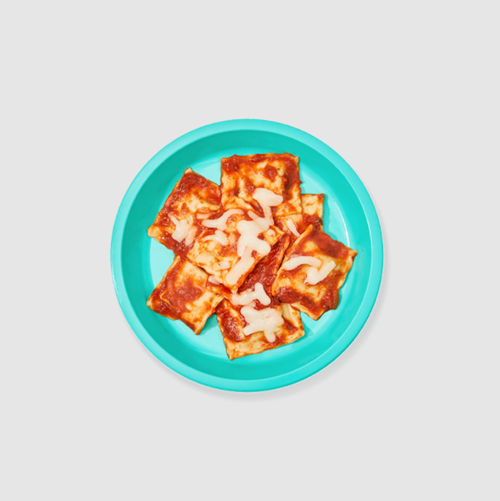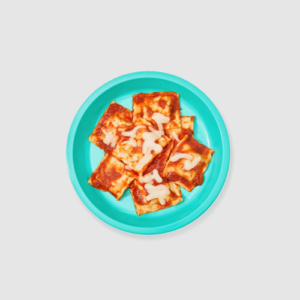 This delicious meat-free and nut-free blend contains fresh baby spinach and creamy ricotta cheese. It's also topped with Little Spoon's signature hidden veggie tomato sauce. Each serving contains protein, vitamin D, calcium, iron, potassium, and dietary fiber
The following are the options for Little Spoon Plates for children up to 10 years old:
Cheesy black bean pupusas with Spanish veggie rice
Beet superfood sliders with peas and sweet potato carrot poppers
Southwest chicken fajita bowl with Spanish veggie rice
Spaghetti and turkey meatballs with kale and broccoli
Three cheese egg bites and sweet potato hash
Turkey taco bowl with Spanish veggie rice
Veggie tenders with broccoli
Nutritional facts (% Daily Values) for the chicken potstickers:
Calories: 240
Fats: 7g, 9%
Total carbohydrates: 31g, 11%
Dietary fibers: 5g, 18%
Proteins: 14g
Potassium: 6%
Iron: 15%
Vitamin B6: 20%
Calcium: 4%
Dietary fiber: 18%
Little Spoon offers the following dipping sauces, certified to have no preservatives and additives found in grocery store brands:
Avocado crema (guacamole dip with nutritious ingredients)
Creamy dill ranch (made with Greek yogurt)
Honey mustard (sweetened with honey and apple butter)
Soy glaze (Asian-inspired dumpling dipper)
Veggie ketchup (with butternut squash, carrots, and spinach)
Fresh & Organic Smoothies
You can pair your baby's food with these delicious organic smoothies that contain superfoods and hidden veggies. They're a healthy on-the-go snacktime drink, with no added sugars or anything artificial.
Let your kids try these fruit and veggie blends plus yogurt recipes for a yummy snacktime variety.
Strawberry Banana Shake
Sunflower Butter + Jelly
Purple Carrot Acai Bowl
Cookies + Cream
Organic Food for Your Little One
Little Spoon uses organic ingredients certified by CCOF (California Certified Organic Farmers) and the USDA (United States Department of Agriculture).
But why choose organic food for your little one? Many moms are unsure whether buying high-quality organic food is worth the high price tag.
Studies show that eating organic foods can reduce the risks of obesity, otitis media (inflammation of the middle ear), and congenital disabilities. It might also reduce risks of infertility, allergic sensitization (becoming sensitive to certain allergens), blood cancers called non-Hodgkin lymphoma, and other types of cancer. (1)(2)
Allergens and Preferences
The baby purees by Little Spoon contain no allergens from the 'Big Eight' (fish, crustacean shellfish, eggs, milk, tree nuts, peanuts, wheat, and soybeans).
Plates (the meals for the big kids) might contain some of these allergens. But these are indicated on the packaging, so you'll know what to avoid.
Is Little Spoon Clean?
All Little Spoon products are free from:
Preservatives.
Additives.
Added sugars.
Artificial flavors.
Fillers.
Food coloring.
Hormones.
GMOs (genetically modified organisms).
Extreme heat processing.
Does Little Spoon Have Heavy Metals?
The company claims that their products are free from heavy metals.
All Little Spoon products are prepared through HPP (high-pressure processing) in allergy-friendly kitchens with strict sanitation practices. Third-party lab tests are performed after each batch of meals, and kitchen facilities are also tested every week.
Extreme heat cooking techniques are avoided because that might reduce the foods' nutritional value.
Each meal, BabyBlends or Plates, is placed in nutrition-preserving packaging that's BPA-free. BPA (bisphenol-A) is a toxic chemical often used in manufacturing plastics.
In addition, all packaging materials are 100% curbside recyclable. The blue plates for the kiddie meals are dishwasher safe and can be reused for meals at home.
How Does Little Spoon Work?
To start your baby food subscription, you have to enter your baby's details:
Name
Date of birth
Food allergies
Other types of food consumed
The milk they're drinking (breast milk or formula)
Meat preferences
It's necessary to enter these details because your Little Spoon subscription is tailored to your baby's needs and personal developmental history by a team of pediatricians and nutritionists.
You can't choose what particular foods are included in your subscription, but you can pick how many meals you want to order per delivery (meals good for two weeks).
Deliveries are done every two weeks.
Delivery to 48 continental states: Yes
Delivery to Hawaii or Alaska: No
After your first order, you are free to modify your subscription anytime before the cutoff at 6 pm EST Saturday (the Saturday before your delivery schedule).
You can pause, skip, modify, or cancel your subscription on your online account, including making a change in your delivery address before the cutoff.
You can also reach customer service through chat, call, text, or email.
Pros & Cons
Pros
All products are made from fresh, organic ingredients for healthy mealtime options.
Little Spoon teams up with pediatricians and nutritionists for tailor-made meal plans for your baby.
Little Spoon Baby Foods are created from tried-and-tested scientific methods to provide nutrition for your baby's needs.
Designed for picky eaters, Little Spoon Kid's Meals are available for big kids up to 10 years old, with some 'invisible' vegetables added to the food.
Natural remedies, vitamins, and probiotics are also available.
Subscriptions are delivered every two weeks.
Cons
Little Spoon controls what foods are sent to your baby, based on the meal plan prepared by their team of nutritionists and pediatricians. Your baby might not like some of the foods they offer.
They don't offer a refund for foods your baby refuses to eat.
Little Spoon Baby Foods are limited to purees. They don't offer finger foods.
Little Spoon Kid's Meals might have allergens, but these are indicated on the packaging.
What Customers Say
Positive Reviews
"Prior to Little Spoon, I made all of Olivia's baby food. I wanted to be sure she was getting the best of the best. After being introduced to Little Spoon, I am no longer spending so much time each Sunday making food for the week. Little Spoon comes up with creations that I would have never thought of. She has been able to enjoy such a wide variety of foods! Olivia loves Little Spoon, and I love it too! The second she sees her Little Spoon food container, she is banging on her tray out of excitement. It almost takes two of us to feed her because she wants to eat it so quickly!" – Reviewer on the Little Spoon website.
"You can edit your order based on what your baby likes/doesn't like; the food is organic and doesn't contain lemon juice (unlike the pouches), and because it's made in small batches/not manufactured to be shelf-stable, it's less likely to get contaminated by heavy metals from machinery (or so they say; some of the organic baby foods that are sold in stores do contain heavy metals according to Consumer Reports). I also like the convenience of not having to think about what foods/flavors to introduce when." – Reviewer on Reddit.
"Little Spoon is one of the first foods Dallas ate, and she absolutely loved all of the flavors! After reading that most baby food has been on shelves had been there as long as Dallas has been alive, I decided I needed to be more conscious about what I feed her. Little Spoon's food is fresh and packed with the nutrients that Dallas needs in order to grow strong and healthy. I love the yummy flavors, too. Her favorite so far are the beets, apple, and rice! I stand behind Little Spoon, and Dallas definitely approves! We look forward to new meals to try with each shipment!" – Reviewer on the Little Spoon website.
Negative Reviews
"The turkey kale sliders with millet poppers and carrots food tastes bad. Honestly, this whole meal tasted like airplane food. The sliders were rubbery and not very good, and the carrots were mushy. I appreciate that Little Spoon tried to make a healthier, millet version of tater tots, but these lacked crunch and were not a hit with either of my kids." – Reviewer on Reviewed.
"Some of their blends contain 3+ ingredients, so if you're committed to introducing each new food separately, you'll need to figure out a way to do that. Sometimes the 2-day shipping actually takes 3-4 days. It's kind of expensive, but my baby likes their stuff." – Reviewer on Reddit.
"It seems like an absurd waste of money. A service like this is going to make money, and taking a look at their website, it seems for a single puree a day, you are blowing $21 a week and close to $40 for 2 per day. You could spend significantly less getting a food processor or blender and buying fresh items at your local grocery store. You can use this as an opportunity to introduce new foods to your kid, rule out any potential allergies, and not waste money on food she dislikes." – Reviewer on Reddit.
Other Healthy Food Brands To Try
Serenity Kids
You can learn more about these healthy foods from our Editor-in-Chief's exclusive interview with the Serenity Kids founders. (Use our code MHC for 15% off first-time orders, too!)
Serenity Kids prepares a variety of healthy children's food prepared with organic veggies, healthy fats, and high-quality, farm-to-high-chair ingredients.
Their nutrient-dense food purée pouches and snack packs are free from added sugars, artificial sweeteners, rice or other grains, antibiotics, hormones, preservatives, GMOs (genetically modified organisms), or allergens like eggs, nuts, dairy, and gluten.
Made from savory recipes, these healthy puffs dissolve in your child's mouth upon contact with saliva, reducing choking risks.
Serenity Kids' products include:
Nutrient-dense food purée pouches
Meat & Veggies Baby Food Pouch Variety Pack
Grain-free baby puffs
Broccoli & Spinach Grain-Free Baby Puffs with Bone Broth

Once Upon A Farm
Once Upon A Farm offers organic plant-rich meals and nutrition-packed meals for babies and toddlers. Some of their products also contain probiotics, which can help boost your child's immune system and promote a healthy gut.
These freshly frozen packs are organic and non-GMO Project verified. They're also free from sugar, additives, or preservatives.
To keep these foods fresh and to lock their texture, nutrients, and taste, the brand uses cold-pressure (HPP or high-pressure processing), instead of heat.
Products include:
Nutrient-dense, multi-ingredient food pouches for kids
Organic Smart Blends
Multi-ingredient, nutrition-packed baby blend
Organic Fruit & Veggie Blend
Meals variety pack
Frozen Organic Baby Food, Fruit & Veggie
You also have the option to get these meals regularly delivered to your doorstep with Once Upon A Farm's food subscription program:
16 meals per order

24 meals per order
Other Alternatives to Little Spoon
Aside from Serenity Kids and Once Upon A Farm, the following are other baby food subscription companies:
Cerebelly
Apple Kale Smart Bars

Purple Carrot Blueberry
Sweet Potato Chicken Broth
Happy Baby Food
Happy Baby Organics Banana & Mango Yogis
Happy Baby Organic Superfood Puffs, Strawberry & Beet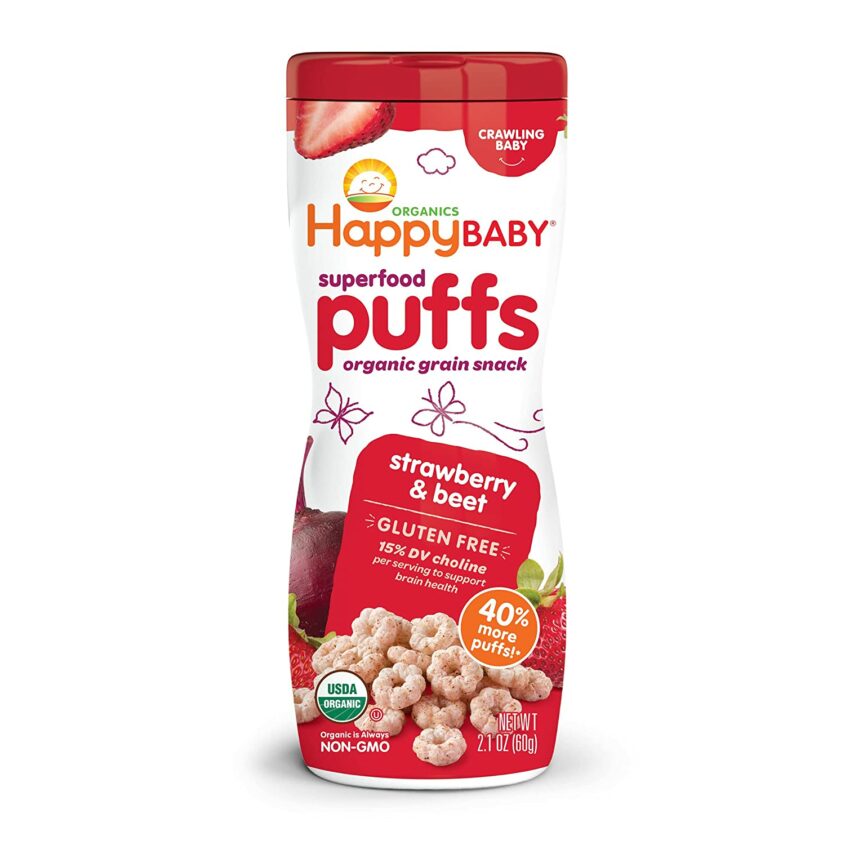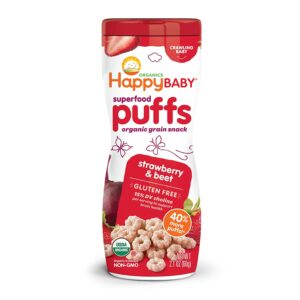 Happy Baby Organics Pumpkin & Tomato Paella Puree with Chopped Squash & Orzo
Sprout Organics
Baby Food Pouch CoComelon Smoothie Peach Banana Yogurt Veggies & Flaxseed
Organic Baby Food Pouch Butternut, Carrot, Apple & Beef Broth
Amara
Superfood for Super Babies Kale Potato Veggie Mash
Superfood for Super Babies Black Bean & Sweet Corn
Organic Smoothie Melts Mighty Sweet Green
FAQs About Little Spoon
How is Little Spoon different from baby food sold in stores?
Little Spoon uses cold-pressure pasteurization for BabyBlends to ensure these fresh food purees stay fresh in your fridge for 14 days.
The baby food sold in stores might contain preservatives and are heavily processed with extreme heat to kill microorganisms so they can last for years on supermarket shelves.
Are Little Spoon baby meal options safe and organic?
All products are also Non-GMO Project Verified and USDA Certified Organic.
These products also come in containers that don't have BPA (bisphenol-A), a toxic chemical often used in making plastic containers and bottles.
Is Little Spoon FDA approved?
Little Spoon adheres to the guidelines established by the FDA (Food and Drug Administration). But they clearly indicate on their website that the FDA hasn't evaluated their statements.
What age are Little Spoon products for?
Baby Blends are for babies six months old and above until they are ready for solid foods at around ten to twelve months old.
Plates are designed for big kids up to 10 years old.
Do you serve little spoon cold?
You can serve it cold, but you can also heat Little Spoon foods (BabyBlends and Plates) in the microwave or a pot on the stove.
When heating Little Spoon baby food and toddler meals, don't open the pack yet because the special Freshlock seal helps keep the temperature even during the process.
How long does Little Spoon last once opened?
According to Little Spoon, their baby purees can last for 14 days in the fridge and up to three months in the freezer. Plates meal kits also last for 14 days in the fridge but only up to two months in the freezer.
Once opened, discard any unfinished food in 24 hours.
What if my baby doesn't like the food?
Note that Little Spoon doesn't refund food packs that your child refuses to eat.
It can be frustrating to see your child rejecting the food you paid for, but Little Spoon recommends that you keep trying. They explained that a baby might need to taste new food at least 15 times before recognizing and developing a taste for it.
They also recommend involving big kids in the meal kit choices because that might make them feel empowered if they're part of the meal planning process.
How can I cancel my Little Spoon subscription?
It's easy to cancel your subscription from Little Spoon. You can do that on your online account or send a message to customer service.
What is Little Spoon's Shipping Policy?
Your first order will be shipped out the following Tuesday after you make the order. Then, your food subscription will be delivered every two weeks after that.
Little Spoon currently delivers to 48 continental states in the US, but not to Alaska and Hawaii.
All meals are delivered with ice packs and placed inside packages made of recycled denim for insulation.
Once your Little Spoon order is shipped, you'll receive the tracking details so you can monitor your delivery.
What is Little Spoon's Return Policy?
Due to the nature of their products, Little Spoon doesn't have a return policy.
Does Little Spoon have a recycling program?
The plates are completely recyclable and reusable. In addition, the food company is planning on launching a send-back program for the plates soon.
How to Contact Little Spoon
There are several ways to contact Little Spoon:
Summary & Recommendation
Little Spoon is a food company that delivers baby food and complete meals for big kids right at your doorstep.
We recommend Little Spoon because it offers a wide range of certified organic baby foods and kids' meals tailored to your baby's nutrition and development needs. But, mama, the final decision is still up to you.
Choose Little Spoon if:
You want to save time in meal planning while also providing your children with healthy, organic foods.
You want to let the experts take control over what your children should eat.
You don't mind paying a higher price for organic food than other store brands.
You want the convenience of getting your children's food delivered to your home.
You don't mind getting your baby food orders every two weeks.
Don't choose Little Spoon if:
You prefer making your baby's food.
You can't find a way to feed your baby new food provided in the meal plan.
You don't like paying more for organic food products.
You want to get your baby food orders delivered every week.
REFERENCES
(1) https://www.ncbi.nlm.nih.gov/pmc/articles/PMC7019963/
(2) https://www.ncbi.nlm.nih.gov/pmc/articles/PMC6583612/