Are There Toxic Heavy Metals In Baby Food?
The baby food industry was shaken up by reports claiming that as much as 95% of total products can contain toxic heavy metals. (1)(2)
Sadly, heavy metals were found in different baby foods based on the following: (1)(2)
2018 tests conducted by Consumer Reports

2019 tests made by Healthy Babies Bright Futures
These alarming test results led to the 2021 Congressional Inquiry, with the companies asked to explain their side (see below). (3)
Surprisingly, no baby food recalls were issued directly relating to the heavy metal contamination found in these tests.
The question is, was something done to correct the problem? Did the companies improve their products after getting called out?
2023 Study Update: Are There Still Metals In Baby Food?
Some five years after the first tests made by Consumer Reports, the consumer advocacy group conducted another round of tests. (1)
They retested seven baby food products identified as "concerning" in their 2018 tests. (1)
They also tested seven products similar to other "concerning" products unavailable on the market. (1)
The results were surprising. (1)
While some products showed a decrease in certain heavy metals, the levels of other harmful metals might have increased. (1)
Based on these new tests by Consumer Reports, baby foods and snacks made using sweet potatoes and rice remain with "concerning levels" of the heavy metals arsenic, lead, and cadmium. (1)
Consumer Reports' food safety research and testing director, James E. Rogers, Ph.D., said: (1)
"In some of the products, declines in certain heavy metals were offset by increases in others, so there was little change in the amount of the foods babies could eat.

And we still found worrisome levels in foods that our last tests showed to be the most concerning, namely rice, sweet potatoes, and snack foods."
Study Results: 2018 vs. 2023
Consumer Reports decreased the serving limits of Gerber Chicken Rice Dinner from 1 to 0.5 per day because they detected lead in the product, something that wasn't in the 2018 results. (1)
They clarified, however, that the "increase" in lead content might be due to the higher sensitivity of the 2023 tests compared to the 2018 tests. So, they can't also say that the lead levels may have increased or decreased. (1)
The good news is that the arsenic levels dropped by 22%. However, because of the lead content detected, the product was categorized as "got worse." (1)
Results for Happy Baby Organics Superfood Puffs (variant: Purple Carrot & Blueberry): (1)
Cadmium levels: reduced by 34%

Inorganic arsenic: reduced by 45%

Lead levels: increased by 60%
Consumer Reports categorized the product under "improved" for its reduced cadmium and arsenic levels. However, due to the higher lead levels, they only changed the limits from 1 to 1.5 servings a day. (1)
Here's a comparison of the results from the products tested by Consumer Reports, presented as their recommended servings per day (see explanation below):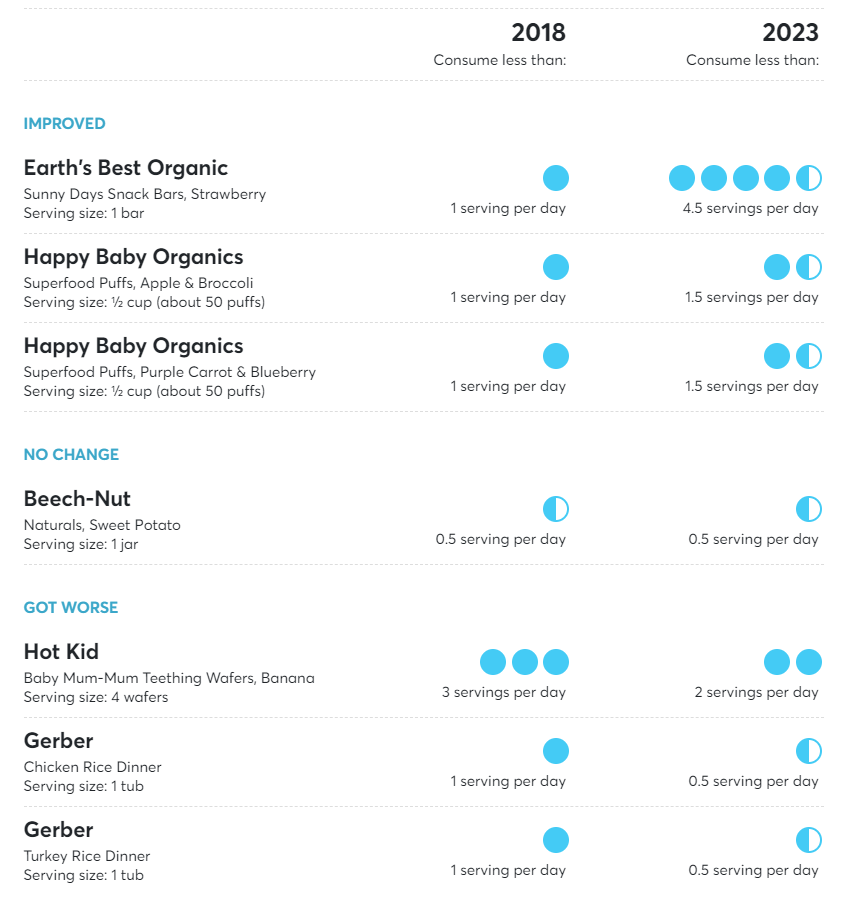 (source: consumerreports.org)
Here are the individual results of the 14 products they tested: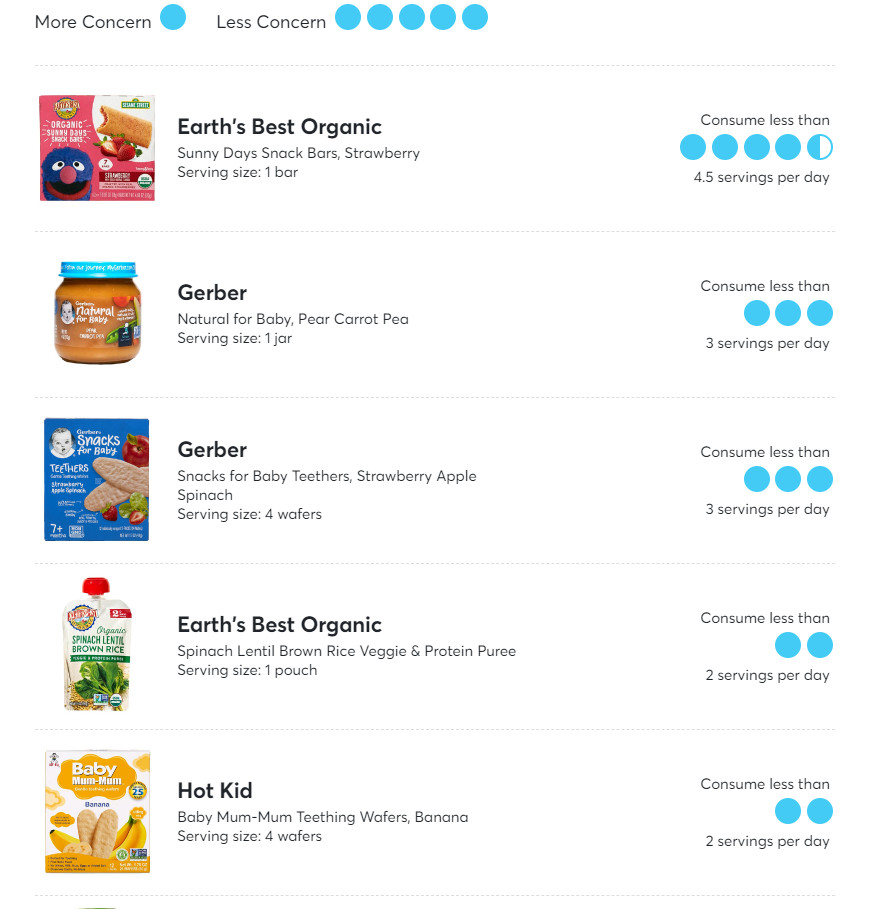 (source: consumerreports.org)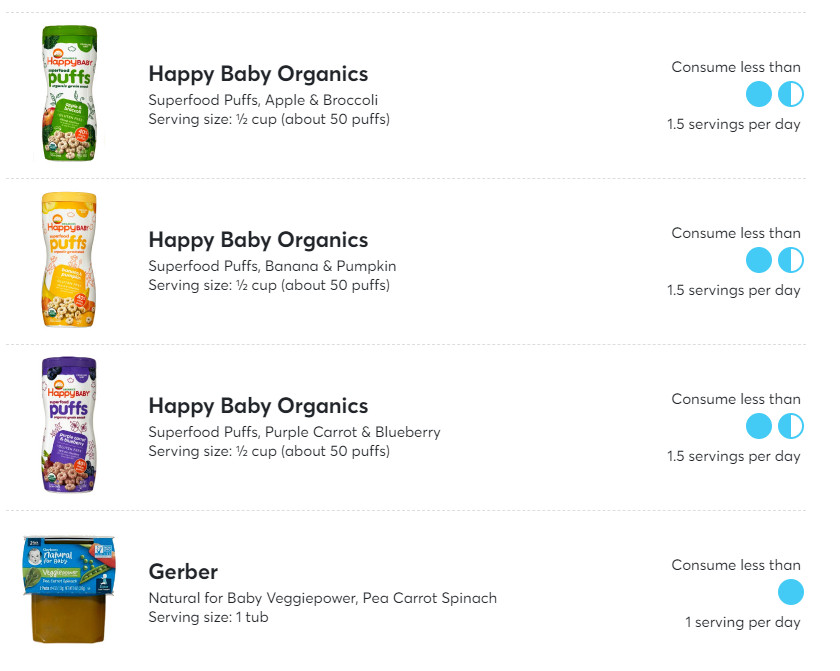 (source: consumerreports.org)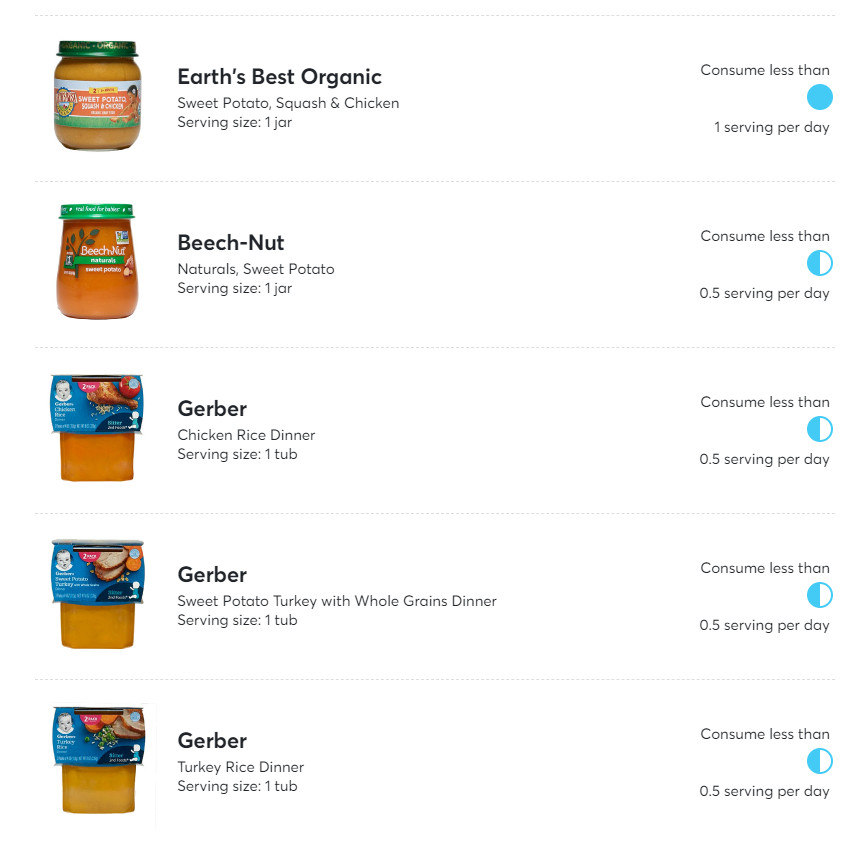 (source: consumerreports.org)
How Did Consumer Reports Determine The Serving Limits?
Here are the factors that helped Consumer Reports' food safety experts determine their recommended serving limits: (1)
How much of that particular type of food do kids typically eat (based on data from the National Health & Nutrition Examination Survey of the CDC*)

Risks from the combined exposure to the heavy metals in that particular food (based on the test results)
*Centers for Disease Control and Prevention
The Baby Food Companies' Response
Consumer Reports informed the companies about the results of their tests. Here are their responses: (1)
Beech-Nut, Earth's Best, and Gerber claim they test the raw ingredients

and

the final products for heavy metals.

Happy Baby claims they test every lot of their finished products, choose farms with lower levels of heavy metals, and press suppliers to test for heavy metals in their raw ingredients.

Hot Kid (owned by Want-Want), the makers of Baby Mum-Mum products, didn't respond.
Which Baby Food Brands Have Heavy Metals?
These major baby food companies were called out in the 2021 Congressional Report over the heavy metal content in their products: (3)
Click the individual article links to read the details of their heavy metal content and response to the Congressional Reports.
Consumer Reports also found heavy metals in some Baby Mum-Mum products.
Safer
Baby Food
Brands
We've found the following baby food brands to be safe alternatives:
Which Baby Foods Do Not Contain Heavy Metals?
Here are our recommendations for healthier baby food products that are free from harmful chemicals, including heavy metals:
Serenity Kids
Read our Editor-in-Chief's interview with Serenity Kids' founders here.
Bison Baby Food Pouch with Organic Squash



Grass Feed Beef & Ginger with Organic Pea, Bell Pepper and Broccoli



Cerebelly
Kale Sweet Potato Apple Puree

Beet Carrot Blueberry with Coconut Milk Puree
Amara
Potato and Kale Mash
Ancient Grain Cereal with Fruit Bites
Pitaya Coconut Bowl Baby Blend
Quinoa Raspberry Pudding Baby Blend
Once Upon A Farm
Organic Plant-Rich Meals

Advanced Nutrition Power Bowl
Baby Food & The Dangerous Effects Of Heavy Metals
Different types of heavy metals can have varied effects on babies, ranging from gastrointestinal issues to kidney problems to brain and nervous system damage. (4)
Heavy metals can be found in water, soil, and other sources. So, it's possible that many foods, including organic products, aren't 100% free from these toxic materials. (1)(4)
Consumer Reports' chemist, Eric Boring, Ph.D., explained that heavy metals are commonly found in various food sources, not just processed baby food. (1)
The bad news is that these metals tend to accumulate in the body, so even small amounts from different food sources can add up. (1)
However, he said there's no reason to panic from the high results of the heavy metal contents in these baby foods. (1)
Dr. Boring advised: (1)
"An occasional serving of even one of the foods with the highest levels is generally okay. Just remember to mix up what your kids eat."
But this doesn't mean regularly feeding your child these highly concerning foods is alright.
Babies have a higher risk of developing health problems or experiencing developmental problems due to heavy metal exposure, explains Columbia University's Mailman School of Public Health environmental health sciences assistant professor Maya Deyssenroth, Ph.D. (1)
These can include autism, ADHD (attention deficit hyperactivity disorder), and other behavioral concerns. (1)
Dr. Deyssenroth added that babies' organ systems are still developing, making them particularly vulnerable to the harmful effects of heavy metals. (1)
Because they can also be exposed to these harmful substances from different sources, it's still best to reduce your baby's exposure by choosing whole, unprocessed foods along with foods that are tested for heavy metals (see recommendations above).
You can also try other brands aside from the products we recommend above. However, be sure to check the label for their ingredients.
Rice and sweet potatoes can have higher levels of arsenic than other food sources. So, try to opt for products that don't contain these foods and also limit products with sweet potatoes and rice from your child's diet.
We also recommend brands with Clean Label Project certification.
This unbiased, science-based nonprofit organization blind-tests the products for 130 toxic chemicals and contaminants, including heavy metals, pesticide residues, antibiotics, and plasticizers BPA/BPS (bisphenol A and B).
Read about the effects of mercury, lead, aluminum, cadmium, and arsenic, and find more information about these toxic metals in Motherhood Community's Health & Safety Philosophy.
References
(1) https://www.consumerreports.org/babies-kids/baby-food/are-heavy-metal-levels-in-baby-foods-getting-better-a1163977621/
(2) http://www.healthybabyfood.org/sites/healthybabyfoods.org/files/2019-10/BabyFoodReport_FULLREPORT_ENGLISH_R5b.pdf
(3) https://oversightdemocrats.house.gov/sites/democrats.oversight.house.gov/files/2021-02-04%20ECP%20Baby%20Food%20Staff%20Report.pdf
(4) https://www.healthychildren.org/English/ages-stages/baby/feeding-nutrition/Pages/Metals-in-Baby-Food.aspx