iCraves High Chair Safety Warning
2023
What's The CPSC's
Warning Against iCraves?
High chairs are among the baby products with the highest numbers of accidents, causing injuries that require emergency room treatment. Around 14,500 ER-treated injuries were reported for high chairs in 2022 alone. (1)
Aside from keeping an eye on your baby while they're using a high chair, it's also important to regularly monitor product recalls and safety alerts.
On August 31, 2023, the CPSC (Consumer Product Safety Commission) issued a warning against using iCraves high chairs due to several safety concerns: (2)
Fails to comply with federal safety standards for high chairs, posing possible entrapment and fall hazards to babies

Fails to comply with the Safe Sleep for Babies Act and the CPSC's Infant Sleep Products Rule (the product is marketed for infant sleep), posing suffocation risks

Lacks a tracking label that contains the required information (e.g., manufacturing date) for children's products
The CPSC advisory didn't indicate whether these iCraves high chairs have been involved in any reported accidents or deaths. However, they can be dangerous for babies and young children to use.
According to the CPSC's safety advisory, their requests to recall the high chairs were ignored by iCraves (sold under the company Brosishop Ltd, of United Kingdom). (2)
Although these iCraves high chairs weren't recalled, the company's website (icraves.com) is no longer operational. (2)
What
iCraves High Chairs
Are Affected?
The affected iCraves high chairs had wheels, a food tray, a 5-point safety harness, and a recline feature that allows your baby to sleep. (2)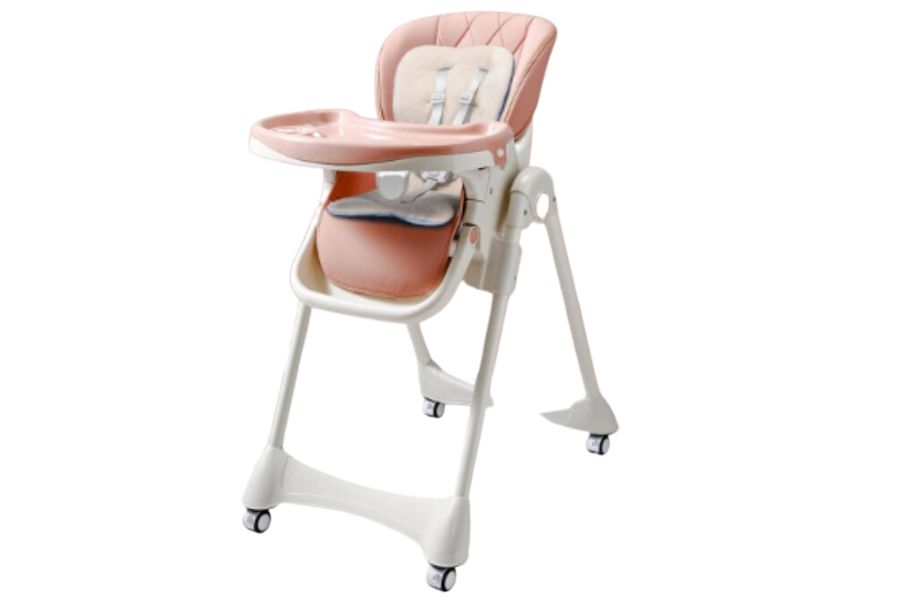 These high chairs were sold in the following colors: (2)
Blue

Green

Peach pink

Purple
How Do I Know If My
iCraves High Chair Is Included
?
The affected units have the markings "Bestbaby" and the model number "BS-806" listed on the packaging. All the labels are in Mandarin. (2)
These high chairs were sold online via icraves.com, though the CPSC advisory didn't indicate the manufacturing or selling dates affected by the advisory. (2)
What To Do With My Child's
iCraves High Chair
?
If you have any iCraves high chairs, the CPSC recommends immediately stopping using them. (2)
You are also urged to dissemble the high chair by removing the seat from the frame, then cutting the padding, and disposing of them separately. (2)
Because this isn't a voluntary recall by the manufacturer, however, it's unlikely that you'll receive a refund for the affected items.
Are These
iCraves High Chairs
Still Safe To Use?
No. Due to the safety concerns highlighted by the CPSC in the advisory, these high chairs can be dangerous to your baby. (1)
Falls, entrapment, and suffocation are major causes of children's injuries and accidental deaths with nursery products. (1)
Let's keep our children safe by taking dangerous products like these iCrave high chairs away from them.
FAQs
What Are The Risks Of High Chairs?
Children can fall after climbing up the seat or sliding through the openings.

Children can fall if the high chair breaks due to manufacturing defects, age (wear and tear from years of use), etc.

The high chair can tilt or tip over if the child rocks it hard.
What's The Most Common High Chair Hazard?
Most injuries involving high chairs are due to falls. These can be particularly dangerous because of the following: (3)
The high chair's height is tall compared to your child's height

Most high chairs are used in dining areas or kitchens, which often have hard flooring

Because kids usually climb up the seat, many are likely to fall headfirst, posing a higher risk for serious injuries
What High Chairs Are Being Recalled?
What Are The Safety Standards For High Chairs?
All high chairs are required to meet the principal performance requirements of ASTM F404-21 (the standard for high chairs): (6)
High chair tray integrity tests

Restraint-system strength and integrity tests

Stability tests to ensure that the high chair doesn't tip over in any direction

Protruding protective components tests

Passive crotch restraint and leg opening tests to ensure that a child can't slide through the seat's front or sides
High chairs must also meet the requirements of the CPSIA (Consumer Product Safety Improvement Act): (6)
Limits on lead: Maximum of 100 ppm or 0.01% in any accessible part; maximum 0.009 percent or 90 ppm in the paint used

Limits on phthalates: Maximum of 0.1% of phthalates (as specified in the safety standard)

Third-party testing and certification

Registration forms for consumers to fill out
Tracking labels (on the product and packaging) must also include: (6)
The manufacturer's name

The manufacturing date and location

The batch, lot, or run number
Permanent markings must also be added to the product showing the following: (6)
The manufacturer's name and contact information

The high chair's model name and number

The product's manufacturing date
Our
High Chair
Recommendations
The following are our high chair recommendations. Read our review on the best high chairs for baby-led weaning for more detailed information about each one:
Graco Blossom 6-In-1 Convertible High Chair


Stokke Tripp Trapp High Chair with Tray
Primo Cozy Tot High Chair
Joovy Nook High Chair
Keekaroo Height Right High Chairs
Abiie Beyond Junior Y High Chair
OXO Tot Sprout High Chair
Other Recent Baby
Product Recalls
& Safety Warnings
Stay informed with the latest news by signing up for our regular Motherhood Community recall alerts so you never miss an important recall.
Check these comprehensive lists of product recalls by category:
References
(1) https://www.cpsc.gov/s3fs-public/Nursery-Products-Annual-Report-2023.pdf?VersionId=1hFBN.iciNSIXQ
4BOcnpk7NtWoFWgJ8g
(2) https://www.cpsc.gov/Newsroom/News-Releases/2023/CPSC-Warns-Consumers-to-Immediately-Stop-Using-iCraves-Infant-High-Chairs-Due-to-Suffocation-Entrapment-and-Fall-Hazards-Failure-to-Meet-Federal-Safety-Standards
(3) https://www.safekids.org/blog/can-your-high-chair-be-dangerous
(4) https://www.cpsc.gov/Recalls/2023/TOMY-Recalls-Boon-Flair-and-Flair-Elite-Highchairs-Due-to-Fall-Hazard
(5) https://www.cpsc.gov/Recalls/2023/Clark-Associates-Recalls-Lancaster-Table-and-Seating-Brand-High-Chairs-Due-to-Fall-Hazard
(6) https://www.cpsc.gov/Business–Manufacturing/Business-Education/Business-Guidance/High-Chairs-Business-Guidance-and-Small-Entity-Compliance-Guide