Is The Otteroo Recalled?
No. There isn't any recent Otteroo recall as of writing, but the product was recalled in 2015 due to drowning risks. (1)(2)
Is The Otteroo Baby Float Safe?
The FDA (Food and Drug Administration) and the CPSC (U.S. Consumer Product Safety Commission) consider Otteroo baby neck floaties unsafe.
Both federal agencies warn parents against using these products because they reportedly fail to meet safety standards. (1)(3)
A six-month-old baby died while using the product, while a three-month-old was seriously injured after allegedly being left alone in the bathtub while using the Otteroo for an extended period of time. (1)
However, Otteroo objects to the safety warnings and reportedly refuses to recall the products, standing by their claim that these infant neck floats are safe for use as long as: (1)
Parents or

caregivers

follow the exact instructions on how these

floaties

are supposed to be used

An adult supervises the baby at all times and is always within

arm's reach
CPSC Warns Against Drowning Risks
On November 22, 2022, the CPSC issued a safety warning for parents and caregivers to stop using the Otteroo neck floats due to the risk of serious injury or possible death from drowning. (1)
The federal agency explains that they're aware of at least 68 reports of babies slipping through the neck floatie during bath time and needing to be rescued to avoid drowning. (1)
CPSC Commissioner Richard Trumka wrote: (4)
"New parents are bombarded with advertising claiming that baby products of all kinds will make their lives easier and keep their babies safe.

Parents should know that CPSC does not evaluate those claims, which are often misleading.

Neck-floaties for babies are not recommended for water therapy, and are especially dangerous for babies with special needs."
Otteroo's Response To The CPSC's Warning
In their defense, Otteroo argues that their product shouldn't be considered unsafe because of these incidents, especially because the babies were reportedly left alone while using the product. (1)
The brand points out that they've placed plenty of safety warnings on their products and packaging to let parents and caregivers know that these neck floaties are only intended for use with full and constant adult supervision. (1)
"CPSC's statement is misleading because mere deflation of the Otteroo is not the hazard CPSC claims. Rather, a hazard may arise only if an adult is not closely supervising the infant while they are in Otteroo in the water." (5)
Direct Response To Motherhood Community
As parents who have used and enjoyed this product ourselves, we wanted to hear directly from the brand regarding this matter.
Our editor-in-chief, Osmara Aryal, personally reached out to the company for a comment and received the following response from the brand's founder, Tiffany Chiu:
"Hi Osmara,

Thank you so much for reaching out and giving us the opportunity to share our perspective – we truly appreciate it.

As a team of fellow mothers, we are deeply saddened to hear of the two incidents mentioned in the CPSC press release. No parent should ever have to go through what they experienced.

We understand everyone at the CPSC has the best intentions – to keep the American people safe. We suspect that they are basing their stance on the two tragic incidents where sadly, the infants were left alone in the tub.

We stand behind our floatie because of the extensive steps we have taken to ensure parents understand the drowning risk anytime a baby is in the water and the inherent risk of deflation for any inflatable, and consequently, the importance of always being within arm's reach of their baby while using Otteroo.

We maintain Otteroos are safe to use as long as parents follow the instructions; in fact, there have been millions of safe Otteroo uses to date with over 400,000 Otteroos filing homes and therapy facilities throughout the country.

We are so truly grateful for all of the support our customers have shown us throughout the years. Many of our customers are parents to little ones with special needs, and they truly depend on Otteroo; and for countless other families Otteroo time is a magical part of their day."
FDA Warns Against Injury Or Death Risks
The FDA also issued a safety warning against baby neck floats last June 28, 2022. (3)
Like the CPSC, the federal agency also warned parents against the dangers of using these neck floaties as swimming aids due to the risk of drowning (death) or injury. (3)
Otteroo's Response To The FDA's Warning
Otteroo points out that the FDA's safety warning isn't for all parents and caregivers but only for those with children who have special needs and using water therapy interventions. (6)
The brand also indicated that the FDA didn't know about the existing peer-reviewed studies on neck floats, including the Otteroo. (More on these later.) (6)
Over 500 Otteroo floaties have also been distributed as part of the care package by Cure SMA (spinal muscular atrophy) through donations from parents whose children benefited from the device, the brand added. (6)
Evidence-Based Research: Is Otteroo Safe?
A 2020 study published in the Journal Of Sport & Exercise Psychology showed that an infant neck floatation device, particularly an Otteroo, can help accelerate the motor development of babies in the first 18 months of life. (7)
Here's a video explanation by the study authors:
Although the study didn't specifically tackle Otteroo safety, it showed that prolonged use has benefits. For example, it can be associated with earlier onsets of specific motor and communicative or speech skills. (7)
Surprisingly, the average total Otteroo use by the 46 infants in the study was 154 minutes. (7)
That's significantly higher than the 99.5-minute average listed in a 2021 Healthcare journal study or the brand's recommendation of 20 minutes (maximum length of continuous use). (7)(8)
The 2021 Healthcare study showed that the Otteroo neck floaties have the potential for use in physical therapy, particularly water therapy, for babies with certain developmental delays and disabilities. (8)
For example, positive effects were observed on kids with cerebral palsy following water therapy, something that they can do using an Otteroo. (8)
The study authors explained: (8)
"As water provides a reduced-gravity environment, it allows infants and young children an opportunity to explore their ability to move and control their bodies more easily than when they are in a 'typical gravity' environment.

We propose that using the Otteroo to allow movement practice in a reduced-gravity environment will allow infants to perform leg movements they otherwise would not be strong enough to perform and this increased exploration and movement practice may have a positive impact on their development."
Otteroo Reviews
The Otteroo floaties are now exclusively sold on the brand's website but were previously available through Amazon and Zulily.
Customer reviews from satisfied parents on the brand's website show that several babies with special needs appear to have benefited from this inflatable device.
Otteroo explains that these individual testimonies might not apply to all users.
Still, these Otteroo reviews show that infants were able to do things they couldn't do without the device.
Some of the Otteroo users whose parents shared positive feedback:
Baby with congenital muscular dystrophy (muscle weakness or low muscle tone)
Baby with Down syndrome (low muscle tone, upward slanted eyes, flighty flattened face, and usually with intellectual delays)
Baby with traumatic brain injury (injuries to the brain usually caused by an external force, such as an accident)
Premature baby with hydrocephalus (large head due to fluid buildup in the brain cavities)
Toddler with cerebral palsy (a group of disorders affecting a person's movement, posture, and balance) with no muscle tone
Toddler with spina bifida (the spine and spinal cord don't develop properly)
Kelly, the mom of Clive (a child with congenital muscular dystrophy), shares on Otteroo's website:
"When you have a child with a disease like this, the biggest thing is he doesn't have cognitive disability, so he wants to do all these independent things as the months go on. We're trying to find equipment and products for him that will give him that. It's not easy to do, especially with a baby, so this was a gem of a find for us."
From Lauren Taylor, the mother of Ariana (born a premature baby with cerebral palsy):
"Because of the Otteroo, I believe my baby got to enjoy being a 'normal' baby for the first time. She didn't have to worry about sitting up, or trying to lift her head. She got to kick and play … and for that, I thank you."
Is Otteroo Safe For The Neck?
Otteroo can be safe for your little one to use during supervised bathtime or swim time, but be sure to consult your pediatrician for any concerns or questions about this device. (6)
On its website, Otteroo explains that it believes the product doesn't increase the risk of neck strain and injury. This can be explained by physics, particularly buoyancy (a body or object's ability to float). (6)
A Guide To Making Otteroo Safe For Your Baby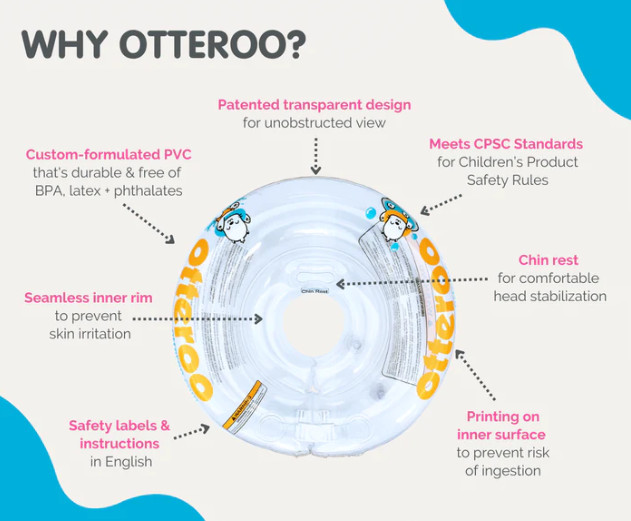 Instructions & Guide To Putting The Otteroo On
Steps to follow:
Inflate the Otteroo like a regular floatie by removing the cap and pinching the valve. Once fully inflated, release the valve, then put the cap back on.
Push the cap down so the top is at the same level as the surface.
Check that the floatie is firm and full.
Check that it doesn't have holes.
Set up the bathtub and prepare everything you need for the bath.
Open the buckle and fit the floatie around your baby's neck.
Make sure the buckle snaps back into place and the fit is snug.
Hold your baby by their body (never by the floatie) and gently lower them into the tub (or pool).
Stay with your baby at all times, never leaving them alone in the bath, even for just one minute.
The floatie might deflate if there's a hole or some defect, causing your baby to slip out and into the water. This can be a drowning risk.
How To Start Each Session Safely
It's very important to make sure that the Otteroo doesn't have any holes before letting your baby use it.
The best way of checking is to inflate the neck float fully, then immerse it in the bathtub or pool. If you see bubbles, there's a hole in the device. Don't use it.
It's also very important to check the water temperature to ensure it isn't too hot or too cold for your little one.
Checklist Before Using The Otteroo
Always go through this checklist before each session:
Check your baby's weight: at least two weeks old and 6-18 lbs for the MINI or at least eight weeks old and 9-35 lbs for the LUMI.
Check for air leakage (by immersing the fully inflated device in water to check for bubbles)
Check that the neck floatie is firmly inflated.
Check that the air valve is fully closed and pushed in.
Check the tub depth (best to fill to the maximum level to let your little float or stand upright).
Check the water temperature.
Check that the water isn't too soapy or bubbly.
Check for protruding objects or sharp toys that can deflate the floatie.
Check that your baby's chin is on the chin rest.
Check that the straps are firmly buckled.
Check the fit by placing your index finger between your baby's neck and the inner rim (it must be snug, not too big or tight).
Check that you have everything you need for the bath (shampoo, towel, soap, etc.) before putting your baby inside.
WARNING: Never leave your baby in the tub alone nor turn your eyes away while they're in the bathtub. Always make sure you're within arm's length of your little one.
Otteroo doesn't recommend using the baby float for more than 20 consecutive minutes.
Regular Use
For your peace of mind, get the go signal from your pediatrician before using the Otteroo. Then, make sure to always follow the safety tips above to reduce the risks of drowning and other accidents.
The brand claims that its product is safe to use regularly if used correctly and with constant adult supervision.
Also, the studies above indicated that regular and prolonged use (we recommend that you stay within the manufacturer's limits) of the Otteroo can help with your baby's development.
What To Do With Doubtful Or Scared Babies
If your baby doesn't appear to like the product, you can encourage them to try it by letting them get accustomed to the device while they're out of the water.
You can also pretend to wear the neck float to show your baby that it's alright to use it.
Gently put your baby in the water and let them feel more comfortable with the device.
Other Details, Concerns, Or Questions
For questions, concerns, clarifications, or further information and details about the product, you can contact Otteroo through the following channels:
Phone: (415) 236-5388
Email: [email protected]
Website: otteroo.com
Mail: 490 Post Street, Suite 71, San Francisco, CA 94102
Social media: facebook.com/otteroobaby
REFERENCES
(1) https://www.cpsc.gov/Newsroom/News-Releases/2023/CPSC-Warning-Stop-Using-Otteroo-LUMI-and-MINI-Infant-Flotation-Rings-Due-to-Drowning-Hazard-One-Infant-Death-Reported
(2) https://www.cpsc.gov/Recalls/2015/Otteroo-Corp-Recalls-Inflatable-Baby-Floats
(3) https://www.fda.gov/medical-devices/safety-communications/do-not-use-baby-neck-floats-due-risk-death-or-injury-fda-safety-communication)
(4) https://www.cpsc.gov/About-CPSC/Commissioner/Richard-Trumka/Statement/Otteroo-Infant-Neck-Floaties-Pose-Drowning-Hazard
(5) https://wgntv.com/news/cpsc-issues-warning-about-infant-floatation-rings-after-reported-death/
(6) https://otteroo.com/blogs/stories/updates-on-our-talks-with-the-fda-on-baby-neck-float-safety
(7) https://repository.ubn.ru.nl/bitstream/handle/2066/221422/221422.pdf?sequence=1
(8) https://www.ncbi.nlm.nih.gov/pmc/articles/PMC7909761/