Why Are Snacks Healthy For Kids?
Childhood is a time for critical growth and development. Healthy snacks give your little ones important nutrients and boost their energy between meals. (1)
Nutrition is vital to your child's cognitive functioning and proper physical development. (2)
A 2016 review study published in Preventive Medicine Reports showed that healthy diets and physical activity in early childhood can lead to better cognitive and academic outcomes in young children. (3)
In addition, a 2019 Nutrients study showed that consumption of less healthful food groups (e.g., highly processed foods, sweet snacks, and sweetened beverages) can lead to poorer academic achievement, including lower math and English standardized test scores. (2)
What's A
Healthy Snack
For Kids?
Think unprocessed, whole foods. Fruits, veggies, and foods rich in vitamins and minerals, including vitamin C and calcium, are healthy snacks to include in your child's diet.
Choose options and combinations that are high in protein, quality fat, and fiber. Avoid options that are high in sugar.
Healthy breakfast items like toast with fruit toppings or nut butter also make nutritious school snacks in their lunchbox.
What's The Healthiest Thing To Snack On?
These are our top picks for the healthiest and perfect snacks for your kiddos:
Fruits and

veggies

, preferably organic with smashed avo or hummus as dips

Whole foods

Low sugar, unprocessed or minimally processed snacks like Serenity Kids puffs, Simple Mills crackers, or Birch Benders Waffles

Naturally gluten-free

food (especially if there's a family history of celiac disease)

Foods with

healthy fats

(e.g.,

avocado

, chia seeds,

eggs

, flaxseed, nut and seed butters, fatty fish, dark chocolate, walnuts, etc.)

Organic, preferably raw

cheese

s such as Swiss cheese, fresh

mozzarella

(not low-moisture

mozzarella

), Monterey Jack,

parmesan

,

cottage cheese

, romano,

cream cheese

, goat cheese, cheddar (mild), and ricotta

Healthy complex

carbs

(e.g.,

bananas

,

carrots

, potatoes, prunes, quinoa,

oats

,

sweet potatoes

, pumpkin, etc.)
Make Life Easier By Creating A
Snack Ideas List
Creating a list of options to prepare for the week or month can help make snack time easier, healthier, and more fun for your kiddos.
The list lets you monitor what foods your children are eating, add snack food variety, and introduce new kid-friendly snack ideas to their diet.
Most kids are likely to choose less healthy snacks, such as sweets, if the selection is up to them. They get to make nutritious choices if you have a healthy list they can choose from. (1)
Some moms find it useful to let their older kids and picky eaters choose veggies, fruits, and healthy snacks to buy from the grocery store. Doing so helps encourage them to eat the foods they picked, and it also helps them feel included in the process. (4)
70+ Healthy &
Kid-friendly Snack Ideas
Easy Snack Ideas
For Home & School
Snack preparation can be time-consuming. Here's a hack for the easiest healthy snacks for your preschoolers and older kids: nutritious, pre-packed snacks.
Here are some of our top recommendations:
Serenity Kids

Grain-Free Puffs

Yumi

Stage 7: Nutrient-Dense Bites

Little Spoon

Organic Smoothies

Happy TOT Organics Toddler Snacks

Happy BABY Organics Baby Snacks
Serenity Kids Grain-Free Puffs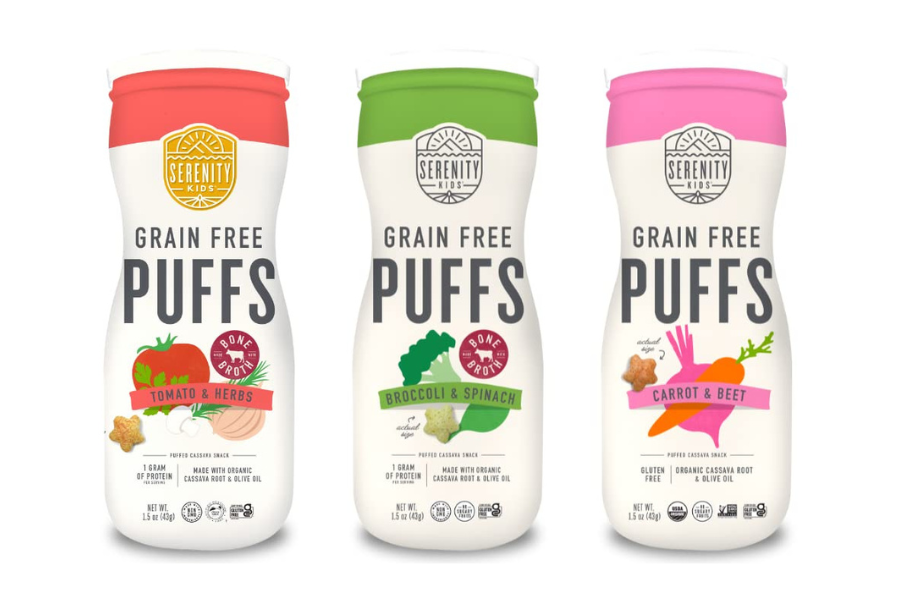 Serenity Kids prepares these grain-free puffs with organic veggies and healthy fats.
These puffs are free from added sugars, rice and other grains, eggs, nuts, dairy, gluten, antibiotics, hormones, preservatives, artificial sweeteners, and GMOs (genetically modified organisms).
They're made from savory recipes. These healthy puffs also dissolve upon contact with saliva to reduce choking risks.
Options available: one-time purchase or a 20% discount for subscriptions:
One flavor (six containers)

Variety pack with different flavors (six containers)
Yumi Stage 7: Nutrient-Dense Bites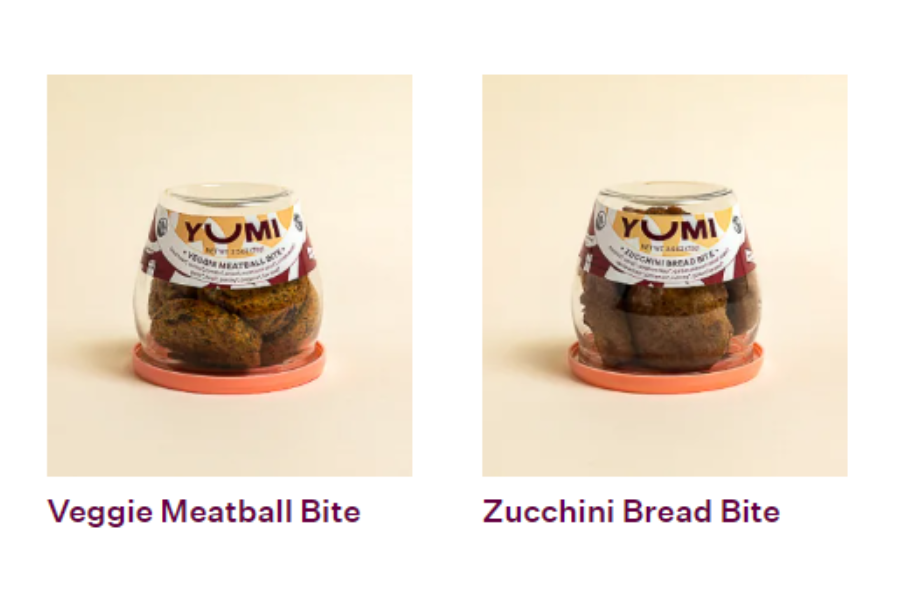 Yumi offers nutrient-dense bites with healthy ingredients like:
Sweet potatoes

Mushrooms

Lentils

Butternut squash

Beets

Chickpeas

Black beans

Zucchini

Lemon

Flax seeds

Thyme

Gluten-free

oats

Gluten-free

oat flour
These snacks are rich in vitamins and minerals such as iron, fiber, copper, magnesium, and vitamin A.
These nutrient-dense bites are made from certified USDA (United States Department of Agriculture) organic ingredients and are free from added sugars, dairy, gluten, GMOs, and preservatives.
Yumi is a subscription-based, organic food company that delivers healthy snacks and meals to your doorstep.
Meal plan prices depend on the products you pick and the frequency of your orders.
Little Spoon Organic Smoothies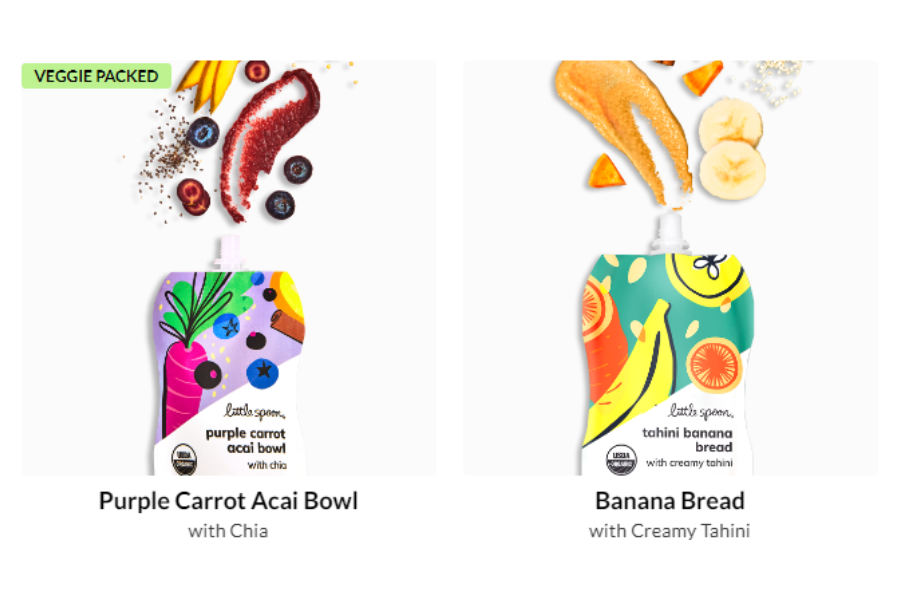 Little Spoon offers cold-pressed, certified organic smoothies that make easy, on-the-go healthy snacks for your kiddos.
These smoothies have hidden veggies and superfoods in snacktime varieties. They don't contain artificial ingredients or added sugar.
Ingredients can include:
Bananas

Acai

Peaches

Purple carrots

Sweet potatoes

Carrots

Oat milk

Chickpeas

Quinoa

Pears
You can add these smoothies to any Little Spoon organic food subscription.
Happy TOT Organics Toddler Snacks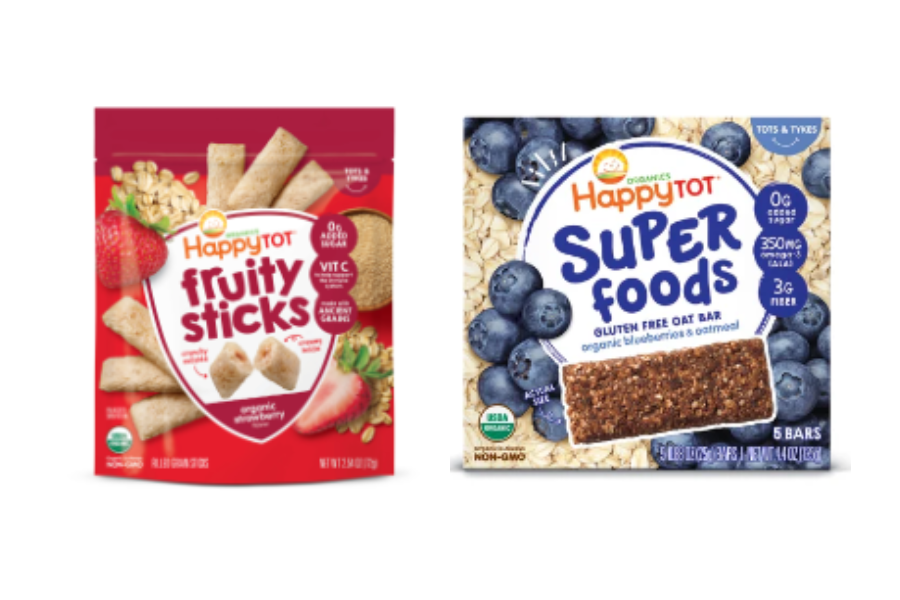 (source: happyfamilyorganics.com)
These healthy snacks are USDA-certified organic and contain nutrients, including vitamin C, iron, calcium, and potassium.
Happy Family packed snacks under the Happy TOT line include the following, available in different flavors:
Fruity sticks

Multi-grain cookies

Fruits,

veggies

, and oat bars

Oatmilk pudding
Happy BABY Organics Baby Snacks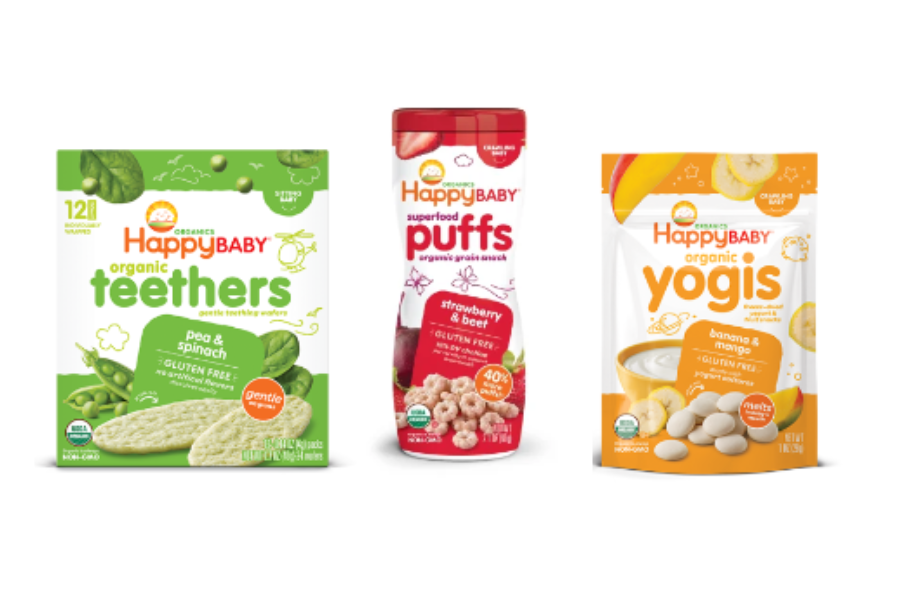 Formulated as healthy snacks for babies, the Happy BABY line is also made using USDA-certified organic ingredients. They're also packed with nutrients, including choline, iron, calcium, potassium, and vitamin C.
Baby snack options from Happy Family Organics include:
Teethers

Puffs

Yogis (freeze-dried, organic yogurt drops with fruity flavors)
What Are Some
Healthy Snack Ideas
For School?
These are some delicious, healthy snacks you can prepare for your kiddos' snacks in school:
Apple slices and almond butter

Hard-Boiled Eggs and sausage

Celery With

Peanut Butter

& Raisins

Baked

Sweet Potato

Fries with Hummus for dipping

Baked Potato with cheese

Crackers with cheese and olives

Ham and cheese rollups with cucumber sticks
Apple Slices & Almond Butter
Almond butter and apples aren't just easy to make but are also a healthy and delicious combination. Apples are rich in vitamin C and fiber, while almond butter offers less saturated fat than peanut butter and is a great source of protein.
You can peel the apples, cut them into age-appropriate sizes, and then top them with almond butter.
Hard-Boiled Eggs
Hard-boiled eggs are among the easiest and most nutritious foods your child can eat for snacks or lunch.
Be sure to peel the hard-boiled egg and cut it in half or quarters before putting it in your child's lunchbox. A few slices of cherry tomatoes or cheese can also make a good addition to this snack.
Celery With Raisins &
Peanut Butter
Spread peanut butter on top of a celery stalk and arrange some raisins. This snack, also known as "ants on a log," can be a playful way to encourage your kids to eat veggies.
Baked
Sweet Potato
Fries
Air-fry or bake sweet potatoes to create this snack item. It's a good idea to use healthy oils if you opt to fry them.
Sweet potatoes are rich in potassium, vitamins, and dietary fiber.
Baked Potato
You can prepare baked potatoes in similar ways you did for the sweet potatoes. This starchy tuber is also rich in fiber and has antioxidants.
Crackers With Cheese & Olives
Another snack that's so easy to make, you can prepare this by simply topping some crackers with cheese slices and olives.
You can also pair this snack with some chicken slices in your child's lunch box.
Ham & Cheese Rollups With Cucumber Sticks
Make your child's snack more interesting by creating roll-ups using ham and cheese with some cucumber slices inside.
Snack Ideas
For Kids To Enjoy At Home
These foods make snacks fun at home, but you can also use these as snack ideas for school:
Yogurt with chia seeds and blueberries

Baby carrot

sticks and celery with

hummus

Banana

slices

with

peanut butter

Quesadilla

with cheese & beans

Strawberries with

cottage cheese

Tortilla chips &

guacamole

Meatballs

and Marinara with dip

Toast with Cream cheese and ham

Turkey & avocado roll-up

Smoothie with blueberries, spinach, milk, chia seeds, and hemp seeds

Crunchy air-fried

chickpeas

Breaded cauliflower bites with marinara sauce

Whole-grain bread

with

almond butter and low-sugar jam

Sausage links (organic, grass-fed, preservative-free) and olives

Tuna salad sandwich
Yogurt With Chia Seeds & Blueberries
Add chia seeds and blueberries to your child's yogurt snack. These make the yogurt treat more flavorful and interesting and increase the snack's protein, fiber, omega 3s, and other vitamin and mineral content.
Baby Carrot
Sticks With
Hummus
Baby carrots are sweet and crunchy. They make a great pair with hummus and celery sticks.
You can cook them until soft instead of giving them raw to your child.
Banana
Slices
With
Peanut Butter
Spread peanut butter (or other nut butters) on a banana slice. Top with another banana slice to make a cute but delicious little banana 'sandwich.'
Quesadilla
With Cheese & Beans
Another option is to use cheese and beans in your quesadilla.
Strawberries With
Cottage Cheese
Cottage cheese comes in low-fat, fat-free, or full-fat options. Those with lower fats can have higher protein content.
No matter which one you choose, cottage cheese is a good option to add to your children's snacks because it's rich in calcium.
Strawberries are also a good choice because they're rich in vitamin C.
Tortilla Chips &
Guacamole
Tortilla chips have lower calories and fats than potato chips. They can make a good combination with guacamole made from avocado.
Meatballs & Marinara With Dip
Meatballs are a nutrient-dense snack rich in protein, iron, and good saturated fats and cholesterol essential to your child's brain development.
For the healthiest meatballs, we recommend choosing meat from grass-fed or pasture-raised cows and certified organic ingredients.
Toast With Cream Cheese And Ham
Top a piece of toast with sliced ham and cream cheese.
Choosing healthy bread options such as sourdough and sprouted grain is good.
Try to avoid bread with nuts and seeds that can be choking hazards to your child. Choosing bread with sugar and other sweeteners is also not a good idea.
Spinach And Egg Cups
Prepare the eggs as if you're making scrambled eggs or an omelet, but pour them into muffin tins instead of cooking them in the pan. You can add some chopped tomatoes and red bell pepper for taste and texture.
Turkey & Avocado Roll-Up
Wrap a thin turkey slice around an avocado slice. You can use a toothpick to let the roll stay in position. Bake or air-fry until golden brown.
Chicken & Cheese Roll Up
Instead of turkey, you can opt for chicken. Use this to wrap an avocado slice or any veggie your child likes. You can also use cheese instead of a veggie slice.
Smoothie With Blueberries, Spinach, Milk, Chia Seeds, & Hemp Seeds
Make your child's smoothie healthier by adding blueberries, spinach, chia seeds, hemp seeds, and milk.
You can also opt for other healthy additions like baby kale and coconut milk.
Crunchy Air-fried
Chickpeas
Sprinkle seasonings like garlic powder, ground black pepper, or some light chili (if your child likes it spicy) on chickpeas and air-fry for 20-30 minutes or until crispy.
Breaded Cauliflower Bites With Marinara Sauce
Prepare breaded cauliflower and it pair with marinara sauce. You can sprinkle some cheese on this snack for added flavor.
Whole-Grain Bread
With
Almond Butter & Low-Sugar Jam
If your kiddo doesn't have nut allergies, almond butter can be another good option for their snacks. Also, top with a spoonful of low-sugar jam.
Sausage Links (Organic, Grass-Fed, Preservative-Free) & Olives
Sausage links made of organic, grass-fed, and preservative-free meat can be a healthy and yummy snack for your little one. You can add some olives.
Tuna Salad Sandwich
An all-time snack favorite, a tuna salad sandwich is easy to make. Simply mix pre-cooked tuna with mayonnaise, relish, pickles, and chopped bell peppers to prepare the spread.
You can also add lettuce.
Fruit Snacks For Kids
Fruits are rich in vitamins to boost your child's immune system. It's good to add fruits to your child's diet, but there's a caveat. Though nutritious, fruit is also full of natural sugars, which, taken in large amounts, can affect your kid's blood sugar balance.
We recommend fruit not be eaten alone but rather be "coated" with good fats like nut butters, proteins, and fibers such as veggies.
Here are some ways to do this:
Sliced pears with ricotta cheese

Apple slices with

almond butter

Banana slices with peanut butter and coated in hemp seeds are a good source of protein.

Applesauce mixed with coconut yogurt

Olives are a great fruit option because they're actually savory rather than sweet.

Frozen berries made into a smoothie with chia seeds, hemp seeds, yogurt, milk, and a touch of raw honey.

Smashed avocado mixed with cocoa powder and a touch of honey or maple syrup. This makes a deliciously rich chocolate mousse and hides the "healthiness"!
Which Chips Are Good For Kids?
Although we don't recommend chips as a regular go-to snack, choosing the right kind of chips can give you peace of mind when it comes to your little one's health.
Choose organic and watch the oils. Stay away from highly inflammatory and processed industrial seed oils like canola oil (aka rapeseed oil), vegetable oil, or soybean oil.
Choose products cooked in avocado oil or coconut oil.
It's best to keep this snack food as a treat rather than a staple.
MC recommended "healthier" potato chip brands are:
Boulder Canyon

Spudlove

Thrive Market

Jackson's
You can also choose other chip variations:
Root vegetable options like Terra Chips

Plantain chips

Kale chips

Organic and non-GMO corn tortilla chips

Crispy seaweed snacks

Grain-free chips like Siete Chips
Healthy Crackers
Organic, whole-grain crackers are a healthier choice than those made with refined flour. Also, choose options that are free of processed oils, preservatives, and additives.
Our favorite MC-approved options are:
Simple Mills

Hu Kitchen

Mary's Gone Crackers

Wasa
You can add some healthy toppings for added taste and texture:
Nut butters

Cheese

Guacamole

Hummus

Ranch dip

Cream cheese
Healthy Snack Ideas
For Kids' Parties: Bars & Packs
The snack ideas we listed above can make a great choice for kids' parties, but you can also add the following to your list:
Homemade

granola bars

Raisin snack packs & other

dried fruits mixed with nuts and seeds

Meatballs

Turkey and cheese with tortilla rolls

Beef burger sliders

(Air)Fried cheese bites

Organic, non-GMO popcorn

Simple Mills cookies

Organic frozen pizza options like Amy's, Capello's, and Caulipower
Dairy
Snack Ideas
For Kids
If your child doesn't have a dairy allergy, these are some dairy snack ideas to try:
Yogurt

(e.g.,

Greek yogurt

) & yogurt drinks

Cheese sticks & other snack cheeses

A piece of cheese (

cottage cheese

, fresh

mozzarella

, etc.)
Road Trip
Snack Ideas
Make road trips fun and healthy with these snack ideas:
Pretzels

Muffins

with

blueberry

&

chocolate chips

Homemade

trail mix

Fresh fruits

(e.g.,

apple slices

, bananas, etc.) with nut butter dips

Peanut butter

& jelly sandwich
What Should A 5-Year-Old Eat Daily?
Your preschooler needs to eat a well-balanced, nutritious meal daily to meet their energy and growth needs.
Choose whole foods that are high in fiber, good fats, and proteins.
Think whole fruits and veggies, protein sources like eggs, chicken, and beef, and good fats like avocado, yogurt, and olive oil.
Try to stay away from or minimize processed foods that contain hidden sugar, inflammatory oils, and preservatives.
But don't feel bad if you can't cook or prepare everything for your kiddos, mama. Healthy store-bought foods are also good options for your kids (or yourself).
Guide To Choosing The Best
Healthy Snacks
for Kids
There isn't a perfect snack that suits everyone. Here are some ways to pick healthy snacks for your little ones:
You can prepare freshly squeezed juices or smoothies at home. Freezing these overnight or for a few hours can keep them cold until your child's

snack time

.

Whole foods

, including

whole grains

,

fresh fruits

and

veggies

, and other unprocessed foods, are an ideal choice.

Add texture to

veggies

and fruits using hemp seeds, chia seeds,

hummus

, and

guacamole

. Avoid using store-bought sugar sprinkles.

Check the portion or serving size.

Protein and

healthy fats

can help your child feel fuller for longer.
Safety Tips & Snacks To Avoid
Foods Known To Have Contained High Levels of Heavy Metals
When choosing store-bought snacks, monitor food recalls and safety alerts.
Some popular name brands selling baby foods and snacks for toddlers or older kids:
Potential Choking Hazards
Popcorn

Hard, large chunks of meat,

veggies

, or fruits

Long, stringy food such as melted

mozzarella

cheese or uncut spaghetti

Round, slippery food like uncut berries (you can slice or smash them to

reduce choking risks

)
Unhealthy Snacks
Try to avoid foods with added sugars or processed foods, including:
Processed

fruit juices

Candies

Soda
Allergy, Sensitivity, & Intolerance
Some children have allergies, sensitivities, or intolerance to certain foods. Monitor your child for symptoms such as: (5)
Wheezing

Difficulty breathing

Rashes

Stomach pain

Hives

Tingling or itching in the mouth

Swelling of lips, mouth, or throat

Rapid pulse

Dizziness
References
(1) https://healthyeating.sfgate.com/benefits-children-eating-snacks-during-school-4999.html
(2) https://www.ncbi.nlm.nih.gov/pmc/articles/PMC6893423/
(3) https://pubmed.ncbi.nlm.nih.gov/27419040/
(4) https://www.mayoclinic.org/healthy-lifestyle/childrens-health/in-depth/childrens-health/art-20044948
(5) https://www.mayoclinic.org/diseases-conditions/food-allergy/symptoms-causes/syc-20355095