Why People Are Turning To Essential Oils for Cold Symptom Relief
Due to their multiple medicinal properties, high-quality, organic essential oils are considered one of the most effective natural remedies for the common cold or flu symptoms.
Think of essential oils (EOs) as part of Mother Nature's pharmacy.
They're highly concentrated aromatic compounds that are extracted from tree or plant material such as bark, leaves, flowers, roots, resin, fruit, or nut.
EOs have been considered a form of herbal medicine for hundreds of years by multiple cultures around the world.
Their therapeutic application is referred to as aromatherapy.
While this is an emerging field of research, studies to date show that multiple EOs may be effective as alternative therapies for treating respiratory conditions and also bacterial, fungal, and viral infections that can cause cold or flu-like symptoms.
(Always seek medical advice or consult with your doctor if your symptoms are worsening.)
How EOs Work To Provide Cold Relief
EOs offer a two-pronged approach to cold relief.
The first is by helping keep your body as balanced and healthy as possible in order to prevent getting sick in the first place.
How EOs support cold prevention:
The second is by helping to alleviate symptoms like respiratory problems, stuffy noses, persistent cough, and achy bodies.
Inhaling EOs can help you breathe better by opening up airways.
Diffusing the oils is an effective way to achieve this.
Easing Symptoms:
Reduce cough (antitussive)
Reduce fever (febrifuge)
Reduce inflammation (anti-inflammatory)
Loosen mucus (expectorant)
Pain relief/ sore throat relief (analgesic)
Clear sinus, nasal passages, and respiratory tracts (decongestant)
The 10 Best Essential Oils for Colds & Flu Season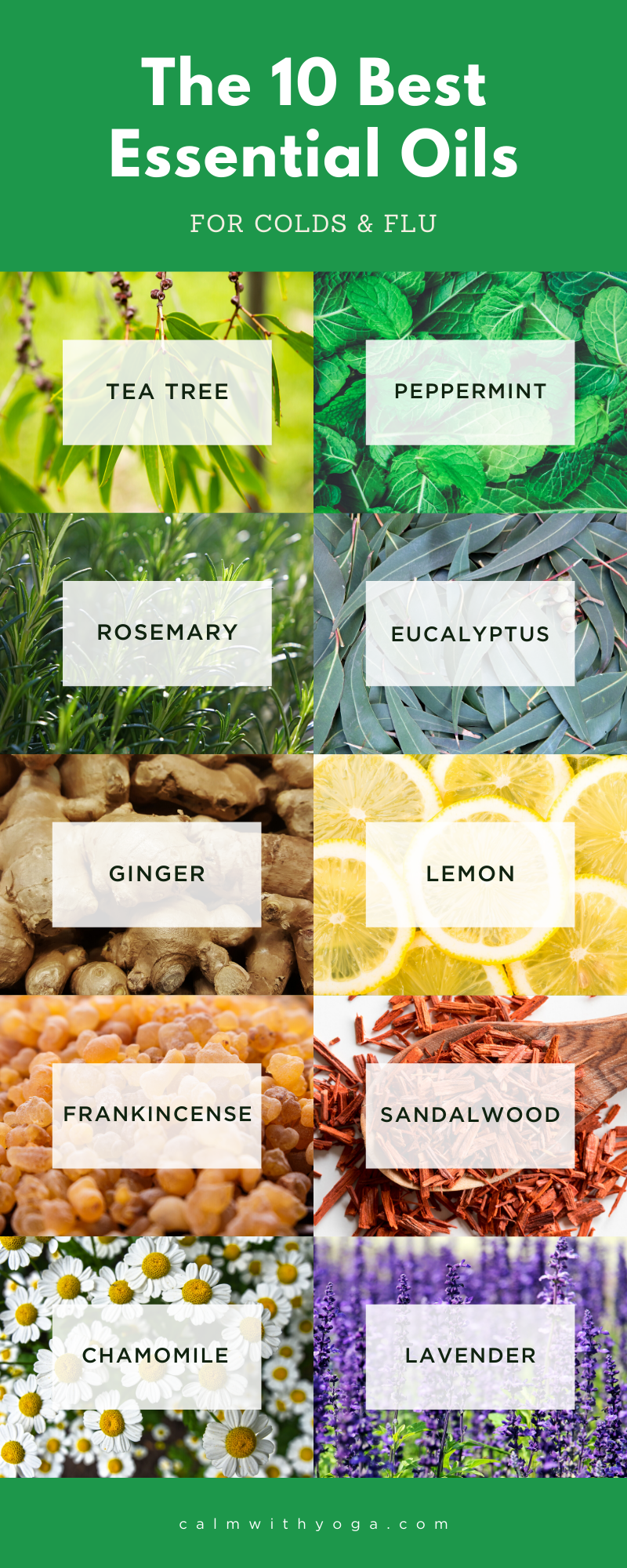 Tea tree oil (Melaleuca alternifolia)
Pain reliever
Antibacterial
Antifungal
Anti-inflammatory
Antiviral
Cough suppressor
Decongestant
Expectorant
Stimulates the immune system
Studies also indicate tea tree essential oil has a protective effect against the influenza virus. (1)
It's also used for respiratory tract infections, sinusitis, rhinitis, laryngitis, & bronchitis.
Contraindications: Toxic if ingested, may cause irritation (perform a patch test before)
Peppermint oil (Mentha piperita)
Pain reliever
Antibacterial
Anti-inflammatory
Antiviral
Cough suppressor
Decongestant
Expectorant
Fever reducer
Menthol, the active compound in peppermint essential oil, is a sore throat soother and cough silencer which is why it's included in so many cough drop formulas. (2)
Other therapeutic uses include headache, migraine, sinus congestion, sinusitis, mental and physical exhaustion, and tension relief.
Contraindications: children under 6 years old, high blood pressure, pregnant and breast-feeding women
Rosemary oil (Rosmarinus officinalis)
Pain reliever
Antibacterial
Antifungal
Antiseptic
Antiviral
Cough suppressor
Decongestant
Expectorant
Stimulates the immune system
In the peer-reviewed journal Alternative Therapies in Health and Medicine, the active ingredients in rosemary essential oil, such as 1.8-cineole and linalool, possessed powerful antimicrobial properties that appeared to be effective against many harmful bacteria and fungi including E.coli and drug-resistant mutants of Candida albicans. (3)
Therapeutic uses include aches and pains, headache, migraine, respiratory system support, and sinus congestion.
Contraindications: Pregnant women, epilepsy, high blood pressure, can be toxic if ingested in large quantities.
Eucalyptus oil (Eucalyptus globulus, Eucalyptus radiata)
Pain reliever
Antibacterial
Antifungal
Anti-inflammatory
Antiseptic
Antiviral (respiratory tract)
Cough suppressor
Decongestant
Expectorant
Fever reducer
Stimulates the immune system
When inhaled or taken orally, the major active component in eucalyptus essential oil, 1.8-cineole, can provide relief for inflammatory respiratory problems such as bronchitis, rhinosinusitis, asthma, and COPD (chronic obstructive pulmonary disease). (4)
It can also reduce infection-induced mucus secretion. (5)
Other therapeutic uses included respiratory tract infections, colds, flu, fever, aches and pains, headaches, and fatigue.
Mix 2-3 drops of eucalyptus oil per 1 teaspoon of coconut oil and create your own DIY chest rub. (Add in peppermint and rosemary for added effect.)
Contraindications: Those with high blood pressure, epilepsy, pregnant and breastfeeding women, children under 6 years old
Ginger oil (Zingiber officinale)
Pain reliever
Antibacterial
Anti-inflammatory
Antioxidant
Antiseptic
Cough suppressor
Expectorant
Fever reducer
Stimulates the immune system
Ginger oil can help a compromised immune system by enhancing the antibody immune response according to a study on mice with compromised immunity. (6)
Its anti-inflammatory properties make it an excellent option for bodily aches and pains, colds, chills, flu, sinus congestion, cold limbs, and fatigue.
Contraindications: Might cause skin irritation if directly applied to the skin, use a carrier oil, and perform a patch test.
Lemon oil (Citrus limon)
Antibacterial
Antifungal
Antioxidant
Antiseptic
Cough suppressor
Decongestant
Fever reducer
Lemon essential oil is effective at stimulating the lymphatic system, which is an important part of the immune system because it stores and transports white blood cells throughout the body via lymph fluid.
The more lymph is able to move freely throughout your body, the better your chances of preventing infections, colds, and disease.
Contraindications: Non-distilled lemon oil is phototoxic – avoid direct exposure to sunlight at least 12 hours after applying topically, may cause skin irritation (perform a patch test)
Frankincense oil (Boswellia carterii)
Pain reliever
Antibacterial
Anti-inflammatory
Antiseptic
Antioxidant
Cough suppressor
Expectorant
Stimulates the immune system
Frankincense's therapeutic uses include respiratory conditions, coughs, common cold, bronchitis, and mental fatigue.
Its vapors open the nasal passages.
Frankincense can stimulate the immune system by stimulating immune cell activity, and one study found it to increase lymphocyte (white blood cell type) activity by 90%. (7)
Contraindications: none are known
Sandalwood oil (Santalum album, Santalum spicatum)
Pain reliever
Antibacterial
Anti-inflammatory
Antiviral
Antiseptic
Calmative
Expectorant
Fever reducer
Sedative
Therapeutic uses of Sandalwood include coughs, sore throat, insomnia, anxiety, nervous tension, and depression.
Contraindications: None known
Chamomile oil (Matricaria recutita, Chamaemelum nobile)
Pain reliever
Antibacterial
Antifungal
Anti-inflammatory
Antiseptic
Antistress
Calmative
Fever reducer
Sedative
Stimulates the immune system
Some studies have indicated that steam inhalation using Chamomile can alleviate common cold symptoms. (8)
Contraindications: None known
Lavender oil (Lavandula angustifolia)
Pain reliever
Antibacterial
Antifungal
Anti-inflammatory
Antiseptic
Antistress
Antiviral (respiratory tract)
Calmative
Cough suppressor
Decongestant
Stimulates the respiratory system
Lavender essential oil is an excellent option if you're also having trouble sleeping or are experiencing increased stress and anxiety along with your symptoms.
Contraindications: Spike lavender (Lavandula latifolia) should be avoided during pregnancy
Other oils that may be beneficial:
Lemongrass
Bergamot
Clove oil
Oregano oil
The Pros & Cons of EOs for Coughs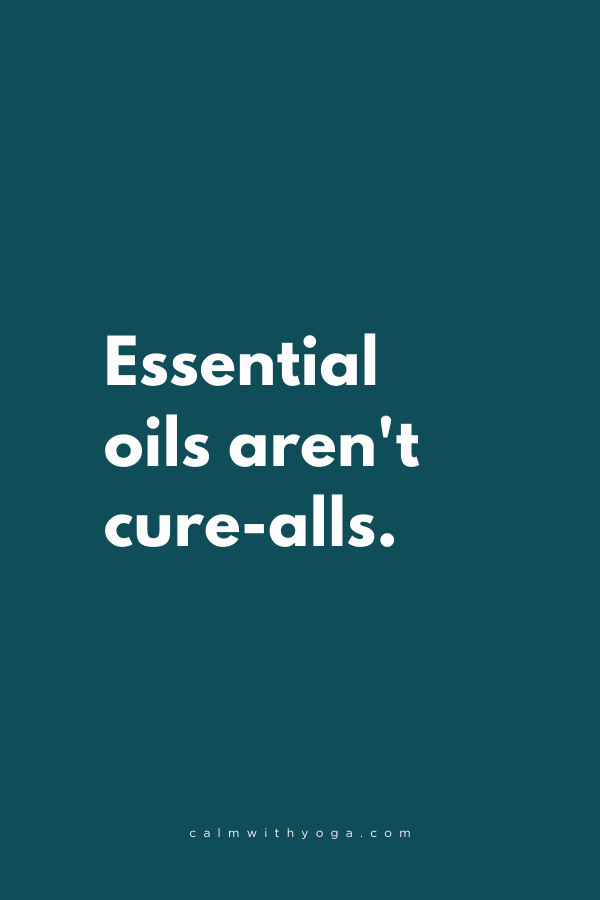 The Pros:
EOs are potent little cold-busting agents – a little goes a long way. For example, did you know that it takes a pound of peppermint leaves to fill one small 15 ml bottle? And about 45-60 lemons to fill one bottle. Just one drop offers multiple active compounds that can influence the way your body functions after just a few minutes.
High-quality EOs should be 100% natural, unfiltered, and organic – especially if you're using them for medicinal or therapeutic purposes.
If you use EOs mindfully and consume them with care and are aware of the contraindications, you'll likely experience little to no side effects. (Unlike most over-the-counter cold and flu meds.)
Think of EOs as your first line of defense and preventative health care that's relatively affordable and accessible. And unlike medications, you can blend multiple oils together to maximize or enhance their healing and immune-boosting effects.
The Cons:
EOs are potent – using the wrong kinds, using them the wrong way, or using too much can cause them to become irritants and may even make your cold and flu symptoms worse.
Unfortunately, there are many adulterated EO products out in the market that feature misleading claims and labels. It's estimated that more than 75% of all EO on the market are either diluted or contaminated with synthetic material. (9)
Even though EOs can offer multiple medicinal and therapeutic benefits they aren't cure-alls. (If you're dealing with a serious or persistent cough or fever, have difficulty breathing, or your symptoms are getting worse consult with your physician or medical provider prior to using them.)
Be mindful of the contraindications for each oil you use – many of them aren't suitable for babies, young children, or pregnant and nursing women.
Since research in the field of aromatherapy is relatively new, most studies are animal studies. Even though anecdotal evidence and long-term use in folk medicine indicate EOs' efficacy more research is needed to fully explore the oil's power and potential.
Using EOs With Other Natural Alternative Cold Treatments
Because they're not a cure-all, EOs by themselves won't cure you of your cold or flu. (There really is no cure once you catch these bugs, the only thing left to do is ride it out and manage symptoms.)
The best way to maximize EO's therapeutic potential is by using them as a regular part of a multi-faceted, well-rounded approach to healing and wellness.
In Yoga, we view healing as a multi-layered experience that requires working on multiple levels – physical, energetic, and mental/emotional.
Here's how you can put this into practice:
Physical:
Drink 'The Elixir of Life' which contains powerhouses like lemon and turmeric
Salt and warm water gargle
Make time for laughter
Make time for snuggles
Drink bone broth
Supplement daily with high-quality probiotics
Stay hydrated (2L of water daily)
Use immune-boosting asanas (yoga poses)
Eat raw manuka honey
Supplement with Vitamins C & D, echinacea, and elderberry
Get quality sleep
Here are 5 additional surprising science-backed hacks for when you're sick.
Energetic: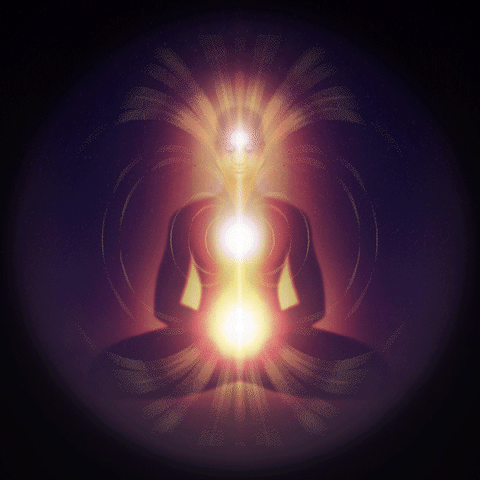 Yogis believe that physical symptoms are the outward manifestation of energy flow (prana/chi) issues.
There are seven energetic centers (chakras) in the yogic tradition that run up the centerline of the body.
These centers are vortices for subtle vital energy and life force to travel through our body's channels.
When energy flows without blockage through the body's channels there is wellness, health, and wholeness.
Physical symptoms arise as a result of blocked or stagnant vital energy/prana.
One way to move energy through the body and ensure a healthy flow is by practicing Pranayama (yoga breathing) for a few minutes a day.
Just 3-5 minutes of breathing techniques can help you feel better.
Mental/emotional: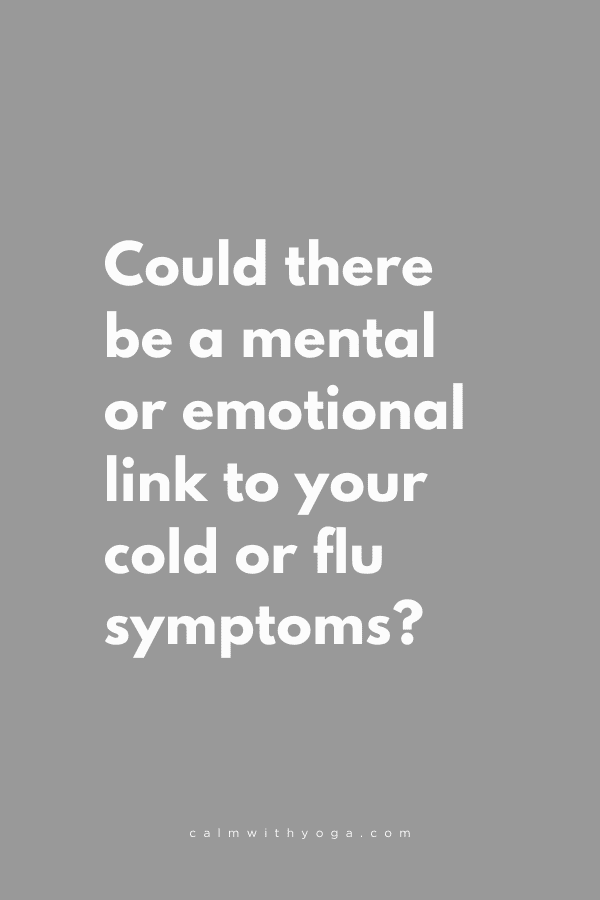 Psychosomatic illness refers to the way your emotions, thoughts, beliefs, and subconscious perceptions create a state of dis-ease and dis-comfort in the body.
Author and founder of Hay House Publishing Louise Hay wrote an entire book connecting psychosomatic factors to different kinds of symptoms and health states.
In "Heal Your Body" she suggests that a cold or flu may be connected to these thought patterns:
Common cold
Too much going on at once
Mental confusion, disorder
Small hurts
The belief that "I get three colds every winter"
Influenza
Response to mass negativity and beliefs
Fear
Belief in statistics
She offers the following affirmations and new belief patterns to help relieve the symptoms:
I allow my mind to relax and be at peace
Clarity and harmony are within me and around me
All is well
I am beyond group beliefs or the calendar
I am free from all congestion and influence
How To Choose the Right High-Quality EOs for Colds & Flu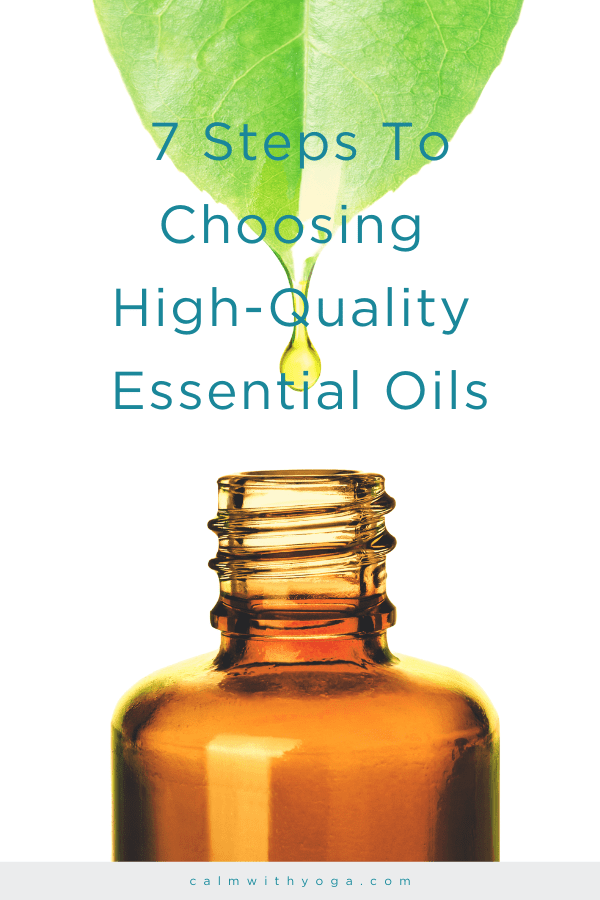 If you're using EOs for medicinal purposes it's very important to choose high-quality organic brands that you can trust.
Unfortunately, the EO market isn't regulated by authorities like the FDA (Federal Food & Drug Administration) so there isn't much quality control.
Here are 7 tips to help you know which oil is right for you:
Always choose certified organic and therapeutic grade
Beware of marketing tactics that label oils as "natural" but not therapeutic or certified organic.
Synthetic oils are the lowest grade of oil types and their anxiety-relieving effects are minimal if any.
This is why people often perceive that EOs don't work.
Oils labeled as "natural" and "pure" are one step above synthetic but tend to be so overly processed they lose their therapeutic power.
Therapeutic grade oils are less processed than "natural" oils but may come from herbs and plants containing pesticides and chemicals.
Check quality assurance via testing
The most effective test is called GC/MS (gas chromatography and mass spectrometry).
GC/MS testing can detect additives, mixed oils, solvents, and other chemicals.
It also gives a measured and detailed account of an oil's chemical constituents.
Look into the company – are they reputable?
Do they disclose testing results?
Do they disclose where the oil is sourced?
Are the plants and herbs harvested at optimal times to maximize quality and efficacy?
Again, be mindful of good marketers vs good products.
Check the label.
Is the 'certified organic' stamp on it?
Is the Latin name on it along with the common name?
Does it state if it's for therapeutic purposes?
Does the label indicate if it can be used for internal purposes or if it's for topical or aromatic use?
Don't skimp or cheap out.
Is the price similar to other similarly sized products on the market?
A noticeably low price is often a warning sign that the oil is low-quality or adulterated.
This is your health – you don't want to skimp or go cheap on EOs.
Higher-quality oils can command a premium price, which is worth it if you're after the highest-quality and medicinal potency.
Make sure the oil's Latin name is on the label.
It's often the case that a plant type can have the same or similar common names but different varieties.
Different varieties often offer different chemical compounds and different benefits.
The Latin names for EOs are known as their scientific names.
Latin names tend to be in italics.
Observe your body's feedback and trust your intuition.
Learn to be your own judge and use your senses to assess the oil.
If you experience an 'off' reaction to the smell or the oil doesn't absorb on your skin consider that a red flag.
Pay attention to how your body responds to the oil.
Use your intuition and trust it when you get feedback.
Note – people can have different reactions to oils.
Just because an EO is known to have a calming effect, it doesn't mean each person will experience that same effect.
We're all made up differently and have our own unique biochemistry that interacts with the oils.
H2 2 DIY Essential Oil Blends To Treat Your Cough Naturally
Steam Inhalation Therapy: Cold Rescue Blend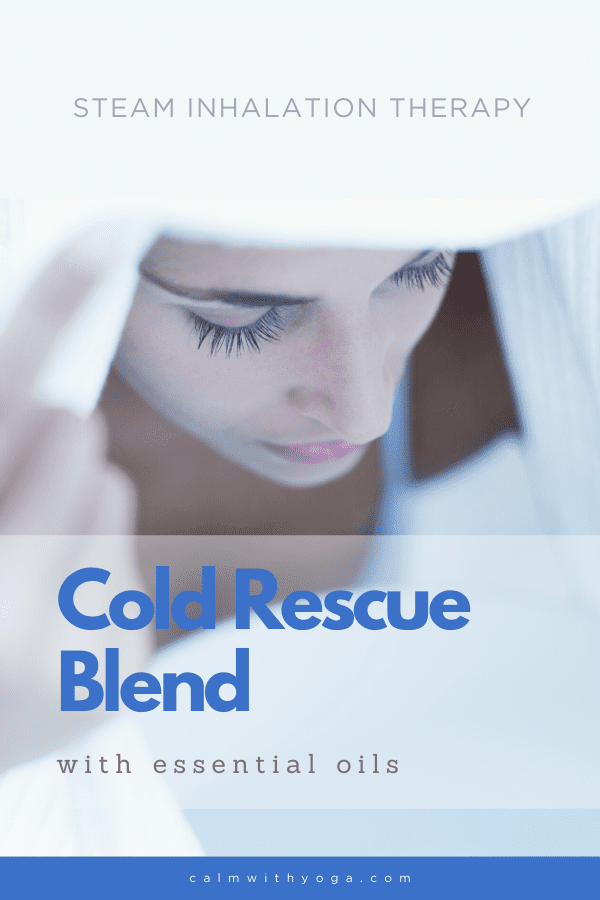 This is perfect for nasal congestion, sore throats, coughs, or any respiratory or lung issues.
All you'll need is some boiling water and a bowl.
Cold & Flu Diffuser Blend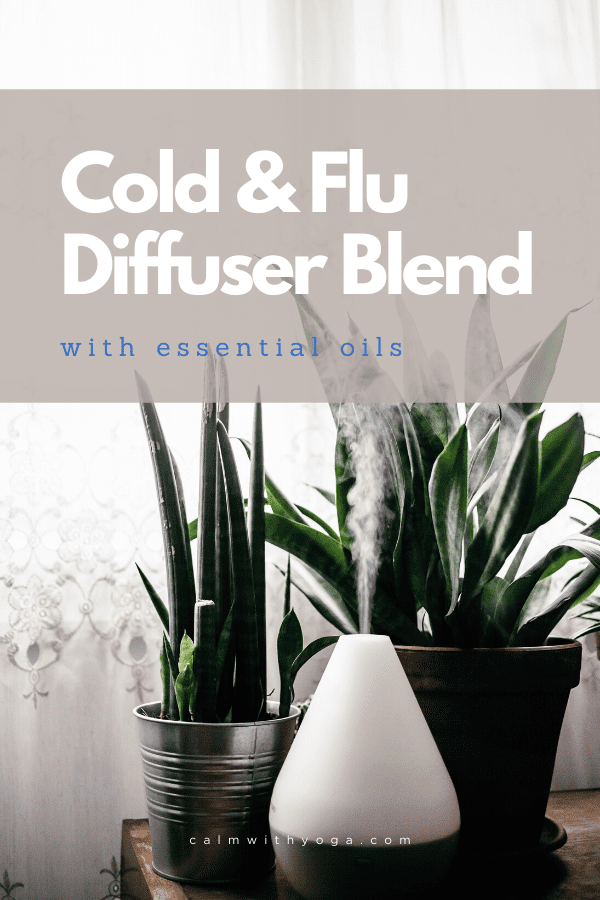 Essential oil diffusers work by aerosolizing the active compounds into the air.
By using the following oils with potent antiviral and antibacterial properties you're helping to cleanse the air around you.
Not only do diffusers work as environmental antiseptics, as you inhale the aromatic compounds you're also sanitizing your respiratory tract, which is where colds and viruses begin.
Mixture:
3 drops Eucalyptus
3 drops Rosemary
3 drops Frankincense
2 drops Lemon
Instructions:
Add to 200 ml of water in your diffuser
REFERENCES
:
(1) https://www.ncbi.nlm.nih.gov/pubmed/21095205
(2) https://www.sciencedirect.com/topics/neuroscience/antitussives
(3) https://www.ncbi.nlm.nih.gov/pubmed/17900043
(4) https://www.ncbi.nlm.nih.gov/pubmed/20359267
(5) https://www.ncbi.nlm.nih.gov/pmc/articles/PMC4514714/
(6) https://www.ncbi.nlm.nih.gov/pubmed/19589240
(7) https://www.ncbi.nlm.nih.gov/pubmed/12710734
(8) Saller R, Beschomer M, Hellenbrecht D. Dose dependency of symptomatic relief of complaints by chamomile steam inhalation in patients with common cold. Eur J Pharmacol. 1990;183:728–729.
(9) Essential Oils Revolution Online Summit, Interview with Robert Pappas, "Essential Oil Preparation"