Overview
Are you searching for a hands-free wearable breast pump for your breastfeeding needs so you can pump even if you're off to work or on the go? You've come to the right place, mama.
We aim to help you find a quiet, discreet, yet strong wearable breast pump that you can use to express your breast milk anytime and anywhere.
Your co-workers might not even know you're doing your pumping sessions while you're having a meeting or busy with other tasks at work.
So, which wearable breast pump is the best? Are Willow pumps worth or is the Momcozy Wearable Breast Pump better? Can you pump while lying down with Elvie or Willow? Can you use standard double electric breast pumps as wearable pumps?
We'll answer these questions below and help you learn more about these wearable pumps for discreet, hands-free pumping on the go.
Main Differences
Did you know that there are manual breast pumps that can also be used as wearable hands-free pumps? Here are some of the popular options:
However, in this review, let's focus on finding the best wearable breast pump that uses rechargeable batteries for pumping. We review the best manual breast pumps in a separate article.
The following are the best hands-free breast pumps that have built-in collection cups you can insert in a regular nursing bra (no need to buy a pumping bra that's usually worth around $20 to $30):
Which of these is the best wearable pump with longer battery life, better expression mode, and more space inside the milk collection cups? Continue reading to find out.
Momcozy S9 Pro Wearable Breast Pump (Long Battery Life)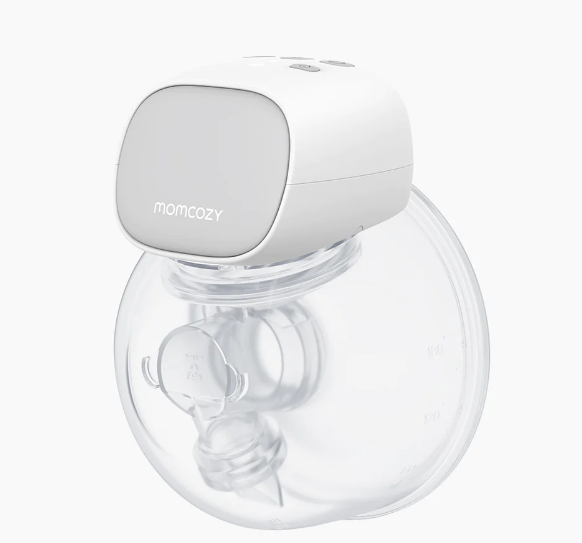 Key Features
Weight: 2.16 lbs (according to Amazon)
Spill-Proof Cups: Yes, soft food-grade silicone caps
Apps: None
Pump Type: Single, cordless pump
Capacity: 6 oz; but the best-recommended capacity is 4 oz
Batteries: Lithium Polymer rechargeable battery (power adapter 5V-2A, Type-C; with a charge time of around 2.5 hours) that can be used for up to 180 minutes or around 6-8 pumping sessions at one charge per day
Portability Options: Yes
Pump System: Closed
Grade: Hospital grade
Settings: Two modes (massage and letdown) plus nine adjustable suction levels, with memory function and 30 minutes scheduled or automatic shut-off timer when not in use (saves battery)
Display: Backlit LED screen
Pump Strength: Smaller motor (20% smaller) than the previous model but with a pump strength of around 280 to 300 mmHg
Pump Controls: Buttons
Noise Level: Quiet; under 50 dB
Warranty: Not indicated
Bottles and Accessories in Box:
One pump and milk collector (includes all accessories parts)

One 24mm silicone flange

One linker

One silicone diaphragm

One duckbill valve

One bra adjustment buckle

One USB cable

One instruction manual
Bag and Cooler: Storage bag
Pros & Cons
Pros
Directly pumps into the container cups, with a special design that prevents backflow.

This pack only contains one pump; however, it's still cheaper to buy two of these single pumps to create a double pump than to get a high-end wearable double pump brand

The USB battery charger allows recharging using a laptop, powerbank, or car USB charger

All pump parts (except the pump motor) are dishwasher-safe and sterilizable.

The closed system ensures that the pumped milk doesn't backflow to other sections of the pump, especially the motor.
Cons
Some moms complain that the pump's suction is too strong and painful, even at the lowest settings.

Even if it's portable, the pump has a bulky top for the motor and controls, which can be a challenge for discreet pumping in public.

Some complaints about leaking despite the cups being supposedly spill-proof.

Also some complaints that the pump doesn't last long, with a few already broken after two months

Plenty of parts (around seven pieces per pump) to clean.

Limited information on the warranty
What Customers Say
Positive Reviews
"This is my 3rd wearable pump. I should have start here. Busy moms and working moms this is the original pump all the others are copies. THE PARTS, are made differently to stay intact and in place. The suction is powerful enough I use it on 5 and it hurts. Get you a smaller flange and you are good to go !! . And when it's sealed , NO LEAKS, you won't need an extra shirt. WORTH EVERY PENNY!!!" – Reviewer on Amazon.
Negative Reviews
"This is my second set of momcozy pumps and both sets have died within less than a month. First time I thought it was a coincidence or the fact it was an older model. But these cracked within a week." – Reviewer on Amazon.
Willow Generation 3
Key Features
Weight: 5.59 lbs
Spill-Proof Cups: Yes
Capacity: 4 oz
Apps: Yes
Pump Type: Single and double electric
Batteries: Built-in lithium batteries that are rechargeable and can last up to five sessions
Portability Options: Yes
Pump System: Closed
Grade: Comparable to hospital-grade
Settings: Seven adjustable suction levels, including a sensitivity setting
Display: None, but connects with a smart app for control and monitoring
Pump Strength: Up to 245 mmHg
Pump Controls: Buttons and through the app
Noise Level: Quiet and discreet to use, but a bit louder than the Elvie Pump
Warranty: One year
Bottles and Accessories in Box:
Two Willow wearable breast pumps
One 24mm breast flange
One 27mm breast flange
Two flex tubes
Two (4 oz) collection cups
20 (4 oz.) spill-proof breast milk bags
Charger
Two cleaning brushes
Bag and Cooler: None, but it easily fits in any tote bag.
Pros & Cons
Pros
It comes with spill-proof cups that you can use in any position.
The box comes with breast milk storage bags.
It's a quiet wearable pump that you can use for discreet pumping.
You can connect it to an app for smart pumping.
It uses BPA-free, dishwasher-safe plastic.
There are only three pump parts to clean.
You can pump directly into the reusable milk containers or the milk collection bags.
The pump automatically stops when the container or bottle is full. So you'll know it's time to change the collection kit if you need to express more milk.
It can pump more milk in less time compared to other wearable breast pumps.
Cons
It's expensive. Unlike the Elvie Pump, you don't have the option to buy just one hub/pump.
The milk container is only 4 oz.
It only has a one-year warranty.
Some moms experienced errors during pumping and had to make adjustments mid-session even if they latched the pump correctly.
There's only one AC charger with the box. So you can't charge both pumps simultaneously.
It doesn't have an option for USB charging.
What Customers Say
Positive Reviews
"I can get so much done around the house AND take care of my baby, all while pumping away. It's so quiet and gives me 360° mobility." – Reviewer on Target.
Negative Reviews
"I have purchased all three flange sizes as well as purchased silicone inserts to try and find the correct size to soften the experience for myself, and no matter what I've tried, the Willow hurts my nipples and/or doesn't empty my breasts." – Reviewer on Target.
Elvie Pump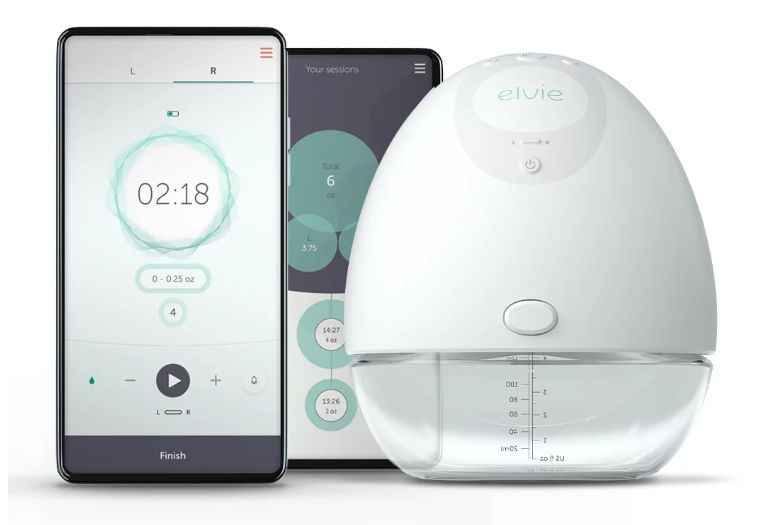 Key Features
Weight: 0.50 lbs
Spill-Proof Cups: Yes, but best used in an upright position
Capacity: 5 oz
Apps: Yes; monitors milk volume in real-time, controls the pump remotely, and tracks pumping history for each breast
Pump Type: Single or double, depending on the number of hubs you buy
Batteries: With built-in batteries that can last up to 2.5 hours; two-hour charging time using a micro-USB
Portability Options: Yes, no tubes or wires
Pump System: Closed
Grade: Not hospital grade
Settings: Seven intensity levels; it automatically switches from stimulation mode into expression mode
Display: No display, just buttons; but can be linked with a smart app on your phone
Pump Strength: Up to 220 mmHg
Pump Controls: Buttons
Noise Level: Quiet
Warranty: Two years
Bottles and Accessories in Box:
One hub (a pump with a breast milk collection cup)
Two bottles (5 oz, BPA-free or no harmful bisphenol-A chemicals)
One 24mm breast shield
One 28mm breast shield
Two seals
Two storage lids
Two bra adjusters
Two valves
Two spouts
One USB charging cable
Instructions for use
Bag and Cooler: One small carry bag for each hub
Pros & Cons
Pros
It's easy to use and clean, with only five parts to clean and assemble per hub.
It has adjustable suction levels.
It's wearable and connects to an app on your phone.
It can be controlled using the app but also works using the buttons.
It can be used with three flange sizes (21 mm, 24 mm, and 28 mm), with two already included in the box.
It's made with BPA-free plastic. BPA is bisphenol-A, a harmful chemical used for manufacturing plastics.
It's dishwasher-safe.
You can use your FSA/HSA debit card to buy this breast pump.
It's smaller than the Willow and Freemie pumps.
Cons
It's an expensive pump. The cost of just one hub is still more expensive than popular but non-wearable hospital-grade breast pumps such as the Spectra S2.
It's usually considered an upgrade by insurance companies. So, you can't get it for free through insurance, but your policy might still partially cover the costs.
If you only buy one hub, you'll need to wait at least 60 minutes before you can use it on your second breast.
You can buy two hubs/pumps for less hassle, but that makes the entire system more expensive.
You can't use this while charging because of the automatic shut-off safety feature.
You can only pump directly into the milk bottle, not with milk bags.
Lights on the pump can be visible beneath your clothes.
What Customers Say
Positive Reviews
"Okay, so I LOVE these for the convenience factor. When I have a meeting or need to be on the road for work, these are a lifesaver (so I do not have to miss 30 minutes to go pump)." – Reviewer on Amazon.
Negative Reviews
"These stupid things will stop working for no reason and shortly after purchase, even after updating the firmware and checking the charging cords, etc. Contact the company, and they will ship you a new one. I had to replace BOTH of mine during the first month. I hate them." – Reviewer on Amazon.
Freemie Liberty Wearable Breast Pump System
Key Features
Weight: 0.5 lbs
Spill-Proof Cups: Not entirely spill-proof but has leak-resistant next-generation cups with a closed system
Capacity: 8 oz
Apps: No
Pump Type: Double electric
Batteries: The battery pack can be charged using a micro-USB and AC adapter
Portability Options: Yes, with a clothing clip
Pump System: Open
Grade: Hospital grade
Settings: 100+ settings with turbo mode capacity and three reprogrammable memory settings
Display: LCD display panel with sleep timer, nightlight, and automatic shut-off
Pump Strength: Up to 280 mmHg
Pump Controls: Buttons
Noise Level: Quiet, uses noise reduction technology
Warranty: One year
Bottles and Accessories in Box:
Freemie Liberty pump
One 25mm breast flange
One 28mm breast flange
One standard cup set
One pump connection kit
One power adapter kit
One clothing clip
Bag and Cooler: Carrying bag
Pros & Cons
Pros
The Freemie Liberty Wearable Breast Pump System was designed and made by a working mom for working moms.
Emergency physician and Stanford alumna Dr. Stella Dao created the pump after the birth of her preemie twins in 2013.
It uses larger reusable containers (8 oz) than the standard 4 oz or 5 oz used by other wearable pumps.
It's cheaper than the two other top brands: Willow Pump and Elvie Pump.
It's compatible with other breast pumps, so you still use the Freemie cups even if your Freemie pump is no longer working for some reason.
Cons
The battery life only lasts for about an hour.
There's no trial program or refund for the pumps. Once you open the pump package, you can't return it to get your money back even if it doesn't work for you.
The pump isn't as powerful as other brands' motors, especially when compared with hospital-grade pumps like the portable (but not wearable) Spectra S1.
It only has a one-year warranty.
It doesn't come with an app.
Some moms noted that the cups tend to leak more than the Willow. This happens if you move around too much, such as changing your position while pumping.
The valves might also be more susceptible to breaking down.
The open system can get milk into the tubes, which can be difficult to clean.
What Customers Say
Positive Reviews
"I typically pumped 25-30 min with my Spectras, and I do at least 30-40 min with the Freemie. I got about 1-1.5 oz less than with my Spectra. It's worth noting that the timer counts down (not up) and high suction with low speed helped me get the most out." – Reviewer on Amazon.
Negative Reviews
"The suction was so little that I got one drop out of milk after 20 minutes. I'm returning it." – Reviewer on Amazon.
FEISIKE Wearable Breast Pump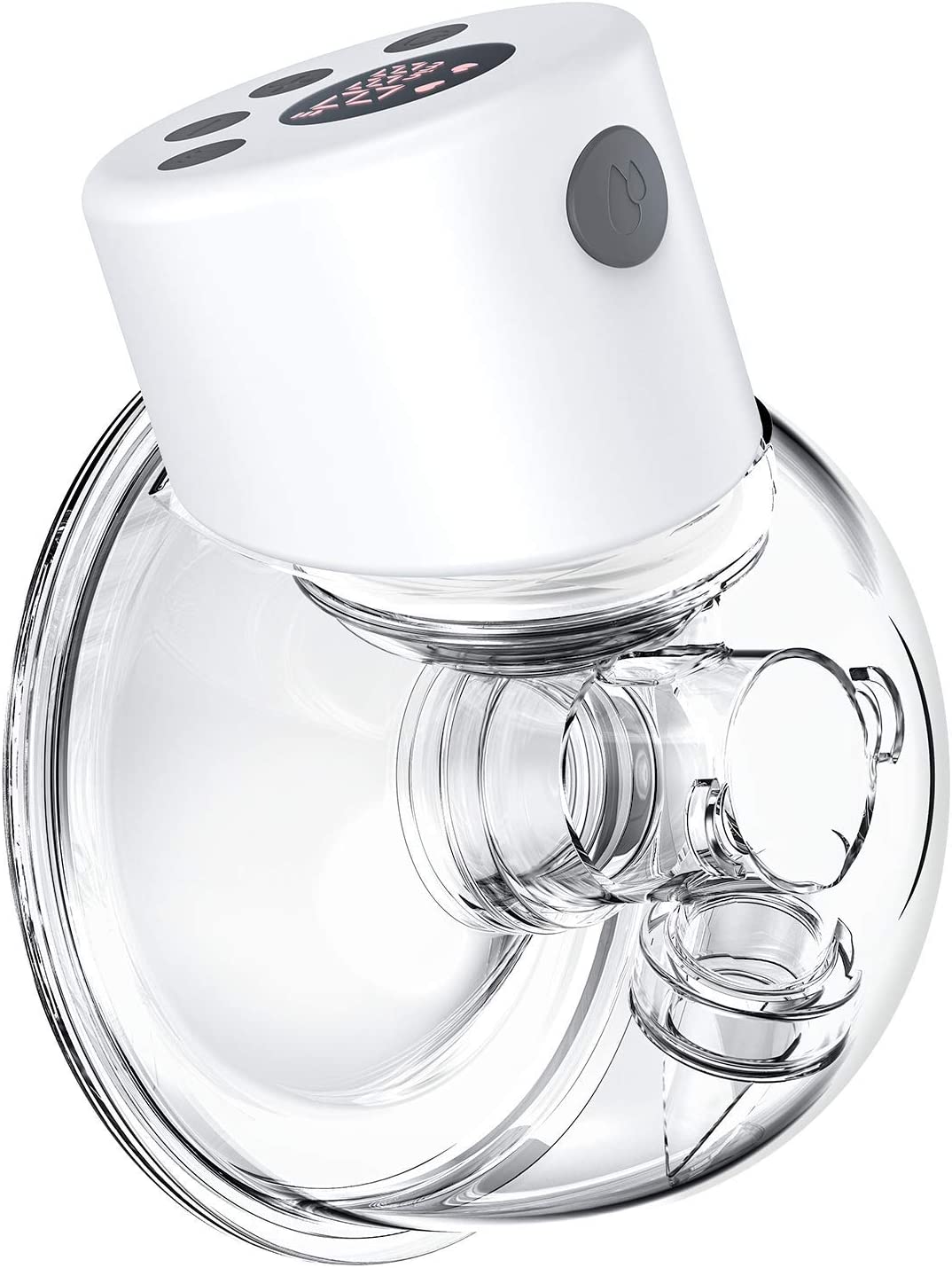 Key Features
Weight: 0.88 lbs
Spill-Proof Cups: No, there's a hole in the collector that can cause the milk to spill if you use it while lying down
Capacity: 6oz
Apps: None
Pump Type: Single
Batteries: 1000 mAh battery powered for use up to four times
Portability Options: Yes
Pump System: Closed system with an anti-backflow valve
Grade: Not hospital grade
Settings: Two modes (massage and letdown) and nine suction levels
Display: Touch panel
Pump Strength: Up to 335 mmHg
Pump Controls: Digital touch panel buttons
Noise Level: Loud
Warranty: No warranty; parts are recommended to be replaced every two months
Bottles and Accessories in Box:
One pump motor
One 24mm (or 27mm) silicone shield
One silicone diaphragm
One linker
One USB cable
One duckbill valve
One milk collector
One bra adjustment buckle
Bag and Cooler: None
Pros & Cons
Pros
It's a pump that's cheaper than the popular wearable brands.
It has a strong pump (up to 335 mmHg).
It's made from food-grade silicone that's BPA-free (no harmful bisphenol-A chemicals).
Cons
The motor can be loud.
It doesn't have a spill-proof collection cup. So you shouldn't move around too much while pumping.
Some moms complain about the pump quickly losing suction after a few sessions.
The manufacturer recommends replacing the pump parts every two months.
What Customers Say
Positive Reviews
"I love this breast pump! I wanted a wireless Breast Pump, but I wasn't willing to pay $500.00 for it. It has done me well so far. It does the job, and I am satisfied." – Reviewer on Amazon.
Negative Reviews
"The suction on these is SO intense it just hurts my nipples. I can only turn it to the 2nd setting before feeling like it's going to rip my nipples off. It would be one thing if the suction made me produce more milk, but with these, I'm lucky to get an ounce in 30 MINUTES, a waste of time and money." – Reviewer on Amazon.
Best Wearable Breast Pump FAQs
Can You Use Standard Double Electric Breast Pumps As Wearable Pumps?
Regular double electric pumps such as the Medela Pump in Style and the portable Medela Freestyle Flex can be used as hands-free pumps but not as wearable pumps.
What's The Difference Between Wearable Vs. Hands-Free Breast Pumps?
Some moms might be confused about the difference between wearable and hands-free pumps.
All wearable pumps are hands-free, but not all hands-free pumps are wearable.
The true wearable breast pump is something that can be worn discreetly inside your clothes, without others noticing that you're pumping even if you're in a public place.
Many hands-free breast pumps are used along with pumping bras but are not discreet or wearable. The milk bottles could stick out from the hands-free pumping bra unless you wear milk collection cups.
Are Wearable Pumps Easy to Use?
Unlike traditional breast pumps, you might need more time to get used to wearable pumps. Some moms report difficulty in latching, especially if they haven't established lactation yet.
Though some moms report leaks during the first few times of use, they improved latching and pumping in the next sessions.
Will My Insurance Cover Wearable Pumps?
Most insurance policies won't cover wearable pumps because they are considered upgrades.
But it's best to contact your insurance company to ask how much they're covering or if they'll cover the cheaper wearable pumps listed above.
What Accessories Do I Need For Wearable Breast Pumping?
Unlike traditional pumps, you won't need a lot of accessories for your wearable pump. But you'll need the following:
Nursing bra
Soft brush for cleaning
Drying rack
Replacement parts
Are Wearable Breast Pumps Good?
Advantages
The pump doesn't need to be plugged with an AC adapter to the wall, so you don't have to stay in just one spot during the pumping session (usually for 10 to 30 minutes).
It lets you pump even if you're busy doing other tasks.
It can let you pump discreetly in public.
It lets you build up your milk supply even if you're spending time away from your baby.
It helps boost your milk supply.
Most wearable pumps are designed with a closed system that prevents backflow.
The milk flow isn't hampered because the pump is directly connected to your breast.
Disadvantages
Most wearable pumps are more expensive than regular breast pumps.
Wearable breast pumps are considered upgrades and are typically not covered by most insurance plans. So, you're likely to pay for the pump unless FSA or HSA funds are accepted.
There are lesser pump parts used, but the curved cup design might be harder to clean.
The levels of suction might be limited compared to standard breast pumps.
Some moms find it difficult to latch with the wearable hands-free pump. This could lead to leaks or decreased amount of milk collected.
The cups aren't always spill-proof. So you'll still need to stay in one position while pumping so that you won't spill the milk.
Most of the pumps won't work when charging. So, you'll have to make sure they're properly charged before the pumping session.
Tips When Using A Wearable Pump
Keep the breast pumps charged so you won't need backup if the pump loses power in the middle of a pumping session.
Wash your pump parts right after each use. Cleaning the parts can be difficult if milk hardens in some sections.
It's a good idea to buy an extra charger.
Use the correct flange size for better latching and suction.
Summary & Recommendation
So, have you chosen the best breast pump from the wearable pumps we reviewed above?
Here's a guide to help you choose:
Which Wearable Breast Pump Is Best?
Expensive But Discreet Pumps
If you're willing to pay at least $279.99 for a single pump or up to $499.99 for a double pump, then you should choose from these quiet pumps with a discreet design:
Is Willow Or Elvie Better?
The Willow Pump is the most discreet of these three, but it only has a 4oz collection cup.
We rated the Elvie Pump as the best bag-free wearable pump in a previous review, but the lights on the pump make it less discreet than the other pumps.
The Freemie pump is the cheapest of the three and has 8oz cups, but it only has one-hour battery life.
Cheaper But Not-So-Discreet Pumps
These pumps cost just around $100 for a pair, but their designs aren't as discreet as the more expensive pumps above. They can also be loud and may not be ideal for pumping in public places.
But if you just want to have cheap, wearable pumps you can use at home, then you can choose from these pumps:
Are Hands-Free Breast Pumps Worth It?
Some hands-free breast pumps can be several times more costly than traditional pumps but can be quite handy if you want to pump discreetly while in public or on the go.