All About The Hello Bello Brand
Hello Bello bills itself as a company that sells plant-based premium baby products at non-premium prices.
Who Owns Hello Bello?
Hollywood actors and husband and wife team Kristen Bell and Dax Shepard co-founded Hello Bello for their two daughters.
Is Hello Bello A Good Diaper Brand?
Yes. Hello Bello is a cruelty-free brand that prioritizes non-GMO ingredients (free from GMOs or genetically modified organisms) and uses as many organic ingredients as possible.
According to the brand's help desk, they're currently in the process of getting Non-GMO Project Verified and are already following the Project's best practice standards.
Hello Bello Diapers & Training Pants
Pricing/Packages
All diapers and training pants (pull-ups) are available for $8.99 per pack or $69.99 per bundle.
The number of items varies per pack or bundle (see below), depending on the diaper sizes and types.
Daytime Baby Diapers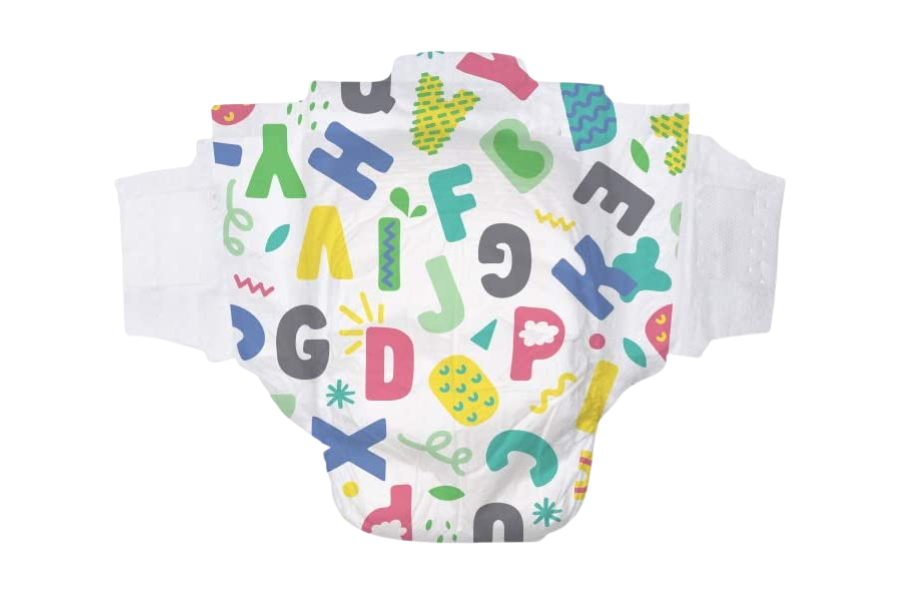 Size N or newborn (up to 10 lbs), 32 diapers per pack or 224 per bundle
Size 1 (8 to 12 lbs), 32 diapers per pack or 224 per bundle
Size 2 (10 to 16 lbs), 30 diapers per pack or 210 per bundle
Size 3 (14 to 24 lbs), 25 diapers per pack or 175 per bundle
Size 4 (22 to 37 lbs), 21 diapers per pack or 147 per bundle
Size 5 (27+ lbs), 18 diapers per pack or 126 per bundle
Size 6 (35+ lbs), 17 diapers per pack or 119 per bundle
The diapers are available in seven packs per bundle (can be mixed with overnight diapers).
Nighttime (Overnight) Baby Diapers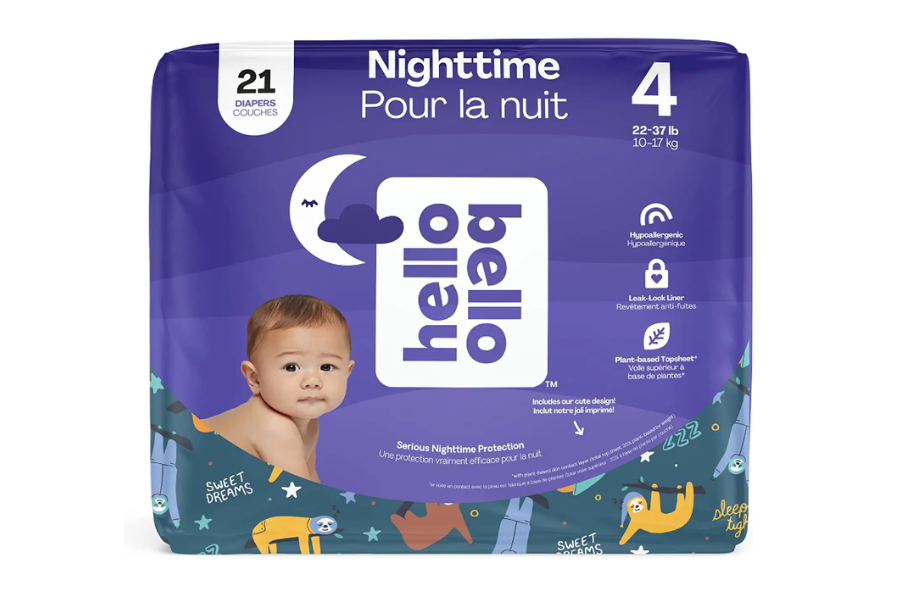 Size 3 (14 to 24 lbs), 23 diapers per pack or 161 per bundle
Size 4 (22 to 37 lbs), 20 diapers per pack or 140 per bundle
Size 5 (27+ lbs), 17 diapers per pack or 119 per bundle
Size 6 (35+ lbs), 16 diapers per pack or 112 per bundle
Training Pants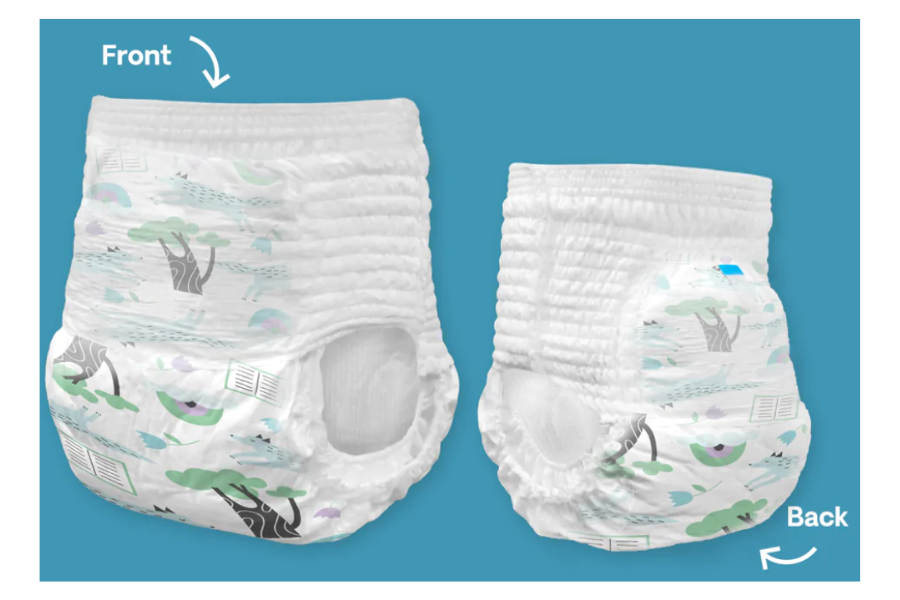 Size 12-24M (16 to 28 lbs), 27 training pants per pack or 162 per bundle
Size 2T-3T (18 to 34 lbs), 24 training pants per pack or 150 per bundle
Size 3T-4T (32 to 40 lbs), 21 training pants per pack or 132 per bundle
Size 4T-5T (38+ lbs), 18 training pants per pack or 108 per bundle
The pull-ups are available in six packs per bundle.
Swim Diapers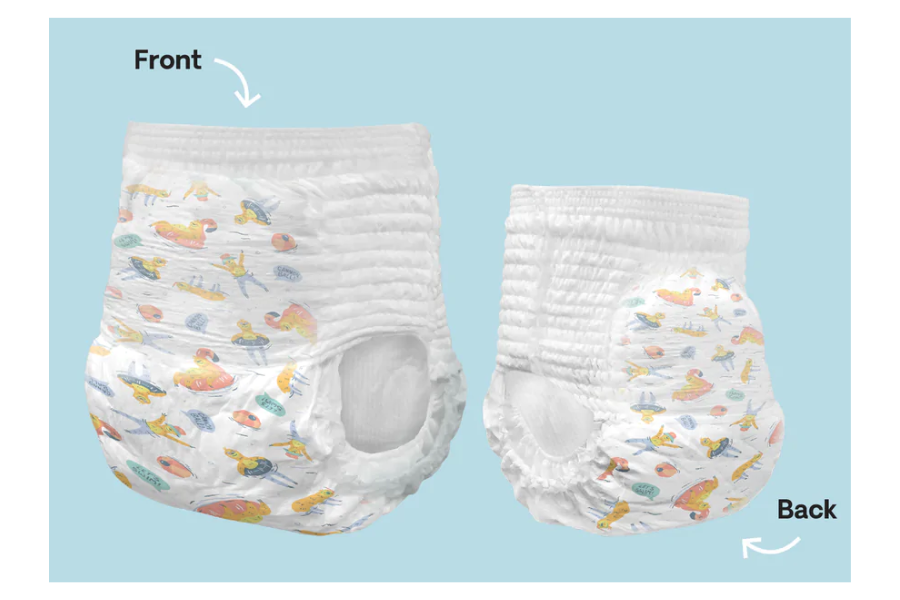 Small (diaper size 3 or 12-24M, 14 to 24 lbs), 20 swim diapers per pack
Medium (diaper sizes 4-5 or 2T-3T, 22 to 37 lbs), 18 swim diapers per pack
Large (diaper size 6 or 3T-4T, 35+ lbs), 17 swim diapers per pack
What Makes It Special?
Non-Toxic Ingredients
All Hello Bello baby diapers and training pants are unscented, hypoallergenic, and made with cruelty-free, eco-friendly ingredients that are free from:
Latex
Phthalates
Lotions
Artificial fragrance
Parabens
TBT (tributyltin)
DBT (dibutyltin)
MBT (monobutyltin)
The brand also assures consumers that these disposable diaper products have undergone 100% chlorine-free processing.
These hypoallergenic products can be gentle on your baby's sensitive skin.
Right Fit
Hello Baby disposable diapers and training pants are available in various sizes. You get to pick one that can provide the best fit for your baby.
Available In Bundles With Other Baby Essentials
You can save money by buying the Hello Bello products in a bundle.
Each bundle costs $69.99 and comes with:
Seven packs of diapers or six packs of training pants
Four packs of Hello Bello baby wipes
Getting the bundle makes you eligible for additional perks:
Early access to exclusive or seasonal prints (some not found in stores)
Surprise freebies from time to time
Fun boxes that convert into kids' toys (e.g., the 2019 holiday box converted into a gingerbread house)
15% discount off add-on products of other baby essentials (you can mix and match up to five each bundle)
20% discount for military families and first-responders
Print Variety
Daytime diapers:
Alphabet soup
Sleepy sloths (white background)
Nighttime or overnight diapers:
Snoozy sloths (green background with sleep texts like "ZZZ" and "sleep tight")
Sleepy campers
Training pants:
Heart eyes
Li'l barkers
Cloud party
Cool dudes
Bedtime Stories + Space Travelers
Sugar Rush + Tea Time
Soft & Absorbent (Reduced Blowouts)
The brand claims its diapers are super absorbent and have a soft, cloth-like feel inside and out.
The stretchy, comfy fit also helps reduce blowouts.
Shipping Box Transforms Into A Toy
Hello Bello uses creative boxes that can transform into a toy for your kids.
For example, they can convert into a gingerbread house, rocket, airplane, barn, etc.
Key Features:
Materials: Sustainably harvested fluff pulp, plant-derived absorbent core liner, super absorbent polymer, plant-derived PLA (polylactic acid) nonwoven fiber, spandex strands, an elastomeric film, and polypropylene/polyethylene/polyester nonwoven fibers
Product Safety: Hypoallergenic; free from artificial fragrance, phthalates, parabens, lotions, latex, TBT, DBT, MBT
Size Range: N to size 6 for baby diapers; sizes 12-24M to 4T-5T for training pants
Fit: Stretchy, comfy fit with adjustable tabs
Absorbency: Premium absorbency
Absorb Channels: Not indicated
Wetness Indicator: Yes, but only for N to size 2
Leak Protection: Yes, the ruffles around the legs are designed for leak protection
Air Channels: Not indicated
Umbilical Cord Notch: Not indicated
Hours of Protection: Not indicated
Other Special Features: Available in a wide range of prints
Product Recall
Cons
Average Overnight Absorption
Some customers complained that the daytime baby diapers have average overnight absorption.
Hello Bello offers overnight diapers only for sizes 3 to 6, but none are available for the smaller sizes.
Limited Retailers: Is Hello Bello Exclusive To Walmart?
No. Although Hello Bello is available from limited retailers, it isn't exclusively sold at Walmart. Other stores and retailers selling this brand include the following:
Hello Bello online store
Kohl's
Meijer
Amazon
CVS
Albertsons
Hyvee
Not 100% Organic
The diapers aren't 100% organic.
Summary & Recommendations: Should You Buy These Diapers?
Choose Hello Bello Baby diapers and training pants if:
You prefer a cruelty-free brand that prioritizes non-GMO, eco-friendly ingredients
You like that this brand features hypoallergenic diapers free from toxic ingredients such as latex, phthalates, lotions, artificial fragrances, parabens, TBT, DBT, and MBT
You're looking for a brand that offers a wide range of sizes from newborns (up to 10 lbs) to size 6 (35+ lbs for baby diapers, 38+ lbs for training pants)
You want baby diapers in different prints
You prefer a brand that offers diaper bundles with baby wipes and other baby essentials
You want a brand that offers or accepts gift cards (available on their official website, hellobello.com)
You want options for daytime, overnight, or swim diapers and pull-ups
You don't mind that it isn't 100% organic
You're a fan of Kristen Bell and Dax Shepard
FAQs
Do Hello Bello Diapers Have A Pee Indicator?
Yes, but only for the smaller sizes (N to 2).
The brand's help desk explains that they only provide the wetness indicator in the smaller diapers because the visibly swollen, warped shape of full diapers can be easier to see for the larger sizes.
They advise parents to change diapers anytime they look swollen.
Did Walmart Stop Selling Hello Bello?
No. Walmart still sells Hello Bello diapers.
Hello Bello Vs. Other Diaper Brands
Which Is Better: Hello Bello Or The Honest Company?
Both brands offer plant-based, eco-friendly diapers that you can buy a la carte or in bundles. They also have similar size options (N to size 6).
Advantages Of Hello Bello Diapers
They cost less. Here's a comparison of the prices for a pack of 32 newborn diapers:
$8.99 per pack for Hello Bello
$11.99 for The Honest Company
Advantages Of The Honest Company Diapers
Some Honest Company diapers have the following extra features:
Quick absorb channels that can help prevent leaks
Quilted bubble liner that can quickly draw wetness away from your baby's skin
Poo pockets as a double backup to help prevent blowouts
Cost Comparison Vs. Other Brands
Diaper costs can vary depending on the brand, size, and type (e.g., daytime vs. overnight diapers).
Here are some examples of the daytime diaper (newborn size) prices among different brands:
Mama Bear (Amazon brand): $7.74 per pack of 30 diapers
Hello Bello: $8.99 per pack of 32 diapers
Huggies Little Snugglers: $9.94 per pack of 31 diapers
The Honest Company: $11.99 per pack of 32 diapers
Pampers Pure Protection: $11.99 per pack of 31 diapers
Other Hello Bello Baby Wellness & Personal Care Products
Baby wipes
Vitamins
Hand soap
Baby shampoo and wash
Hair conditioner
Everywhere balm
Mosquito repellent
Baby lotion
SPF 55+ (sun protection factor) sunscreen lotion
SPF 50 baby mineral sunscreen spray
SPF 30 sunscreen stick
Organic baby powder
Baby oil
Bubble bath